Before we say hello to 2015, it's time for some much-needed year-end reflection. In July I completed my first-ever personal mid-year check-in and now with the arrival of the new year later this week, it's time for a full-on Get Gutsy annual review.
Every year, I detail my top highlights from the year (see 2012 here and 2013 here), but for 2014, I'm taking it a step further and sharing highlights, numbers, lessons learned and getting honest about how I really felt throughout the year.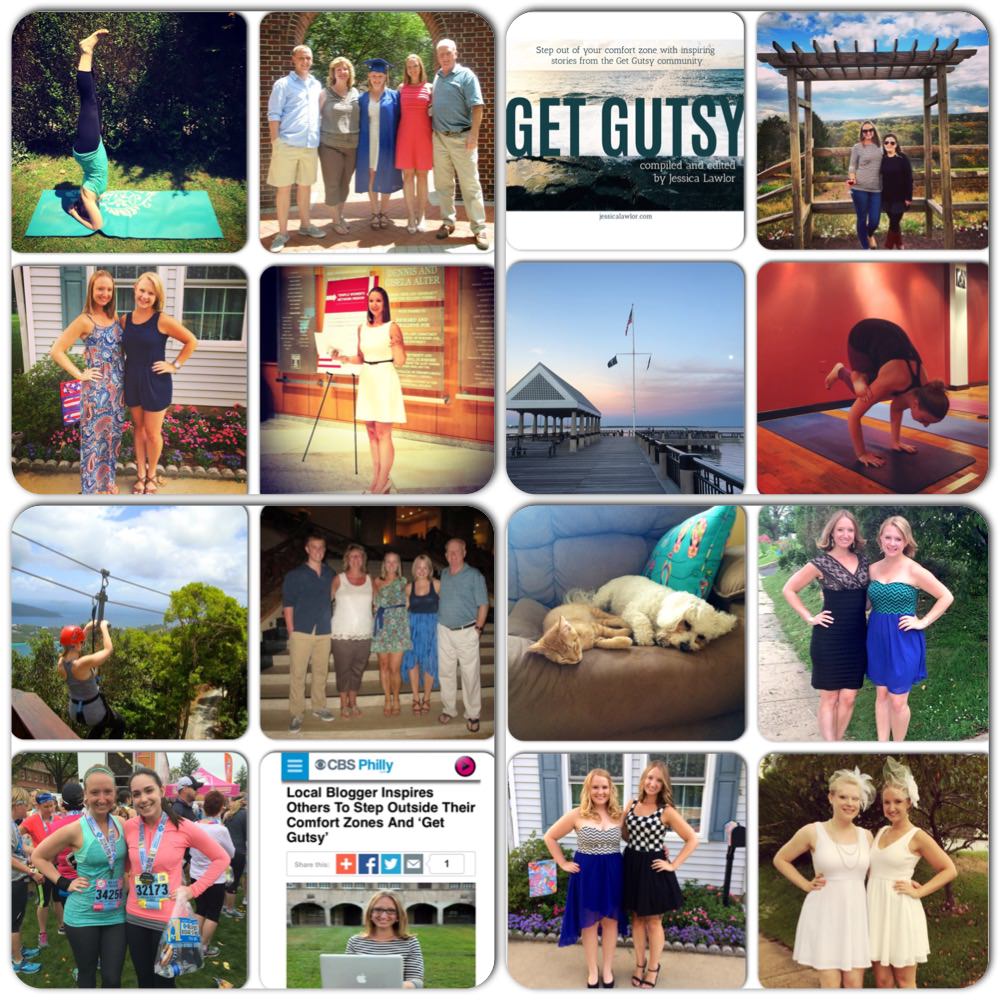 After spending some time reflecting on the year that was, here are my top 10 highlights from 2014:
1. I truly fell in love with yoga. If 2014 had a theme, it would have to be yoga. Yoga completely transformed my life and priorities throughout the past year. It changed the way I think, the way I process emotions and the way I look at each day of my life. While yoga is a practice and I'm constantly striving to better myself, I did achieve a few notable yoga milestones this year, including finding crow pose, figuring out how to do a headstand, doing flying crow pose for the first time and taking my 100th hot yoga class in just under a year of practicing. In 2015, I will start yoga teacher training and I can't wait to deepen my practice even more. Thank you to Dana Hot Yoga and my wonderful teachers for providing such a transformative experience in 2014.
2. Travel played a big role in my year with trips to Punta Cana, a cruise to five different islands, Charleston, SC, Tampa, FL, Ocean City, NJ, and Hershey, PA. I can't get enough of traveling and exploring new places and 2014 brought a ton of travel my way! The year kicked off with a family vacation to Punta Cana for a week of complete relaxation. In the summer, my mom, sister and I went on a cruise to celebrate Jamie's college graduation- we visited five different islands over the course of a week! I also visited Tampa for work where I got to meet awesome blog friend Stephany, took a mother-daughter trip to Charleston this fall and went on my first-ever solo getaway to Hershey, PA in November.
3. We added a new member to the family- a cat! After saying goodbye to our beloved cat Jasmine in 2013, we were finally ready in August to welcome a new kitty into our family. I didn't think I could love an animal as much as I love our pup Buddy, but my heart has grown even bigger with the addition of little Axel. We adopted him from a local shelter and he has completely captured our hearts. He is such a playful, funny and active cat…he gets himself in a lot of trouble (think: almost knocked down the Christmas tree) but you can't help but adore him once you meet him.
4. My love/hate relationship with running continued with four races completed in 2014. In past years, running has been a major priority for me, but in 2014, it did take a backseat to yoga. I realized I burned myself out running 12 races in 2012 and 13 races in 2013…in 2014, I took a step back and only ran when I felt like it and because I wanted to. However, I did still keep up with racing and participated in four fun races: the Broad Street Run (for the third year in a row), the Sunset Run 5K, the brand new Philly 10K and the Thanksgiving Gobble Wobble 5K. I'm looking forward to running more in 2015 without any set goals or races on my agenda.
5. I helped to launch the newly-formed Temple Women's Network and now serve as president. One of my most proud accomplishments from 2014 was being part of the founding group of women to start Temple University's first-ever alumnae society for women. I was part of the steering committee to get the group off the ground and then in late summer, I was elected president of the society. It is such an honor to represent Temple Women all over the world in this role. The group has already hosted several successful events and I can't wait to see what we can do in 2015 and beyond.
6. I launched the Get Gutsy ebook. Another extremely proud moment for me this year was launching the free Get Gutsy ebook! I had this book in my heart and mind for a long time before finally gathering the courage to contact a designer and get to work. The book features 19 inspirational stories directly from you, the Get Gutsy community. The reaction to the book has been amazing and I can't wait to put together the second edition this fall! If you'd like to have your story included in the next edition, please be sure to enter the Second Annual Get Gutsy Essay Contest (the deadline is approaching on January 13!)
7. The Get Gutsy brand was elevated to a new level with several features and exciting opportunities. Wow. 2014 was truly an amazing year for the Get Gutsy brand and community. Not only did our little community grow by leaps and bounds, it also attracted the attention of the media and other thought leaders! This year, the blog was featured on CBS, I was invited to teach a course with Quistic on freelance writing and personal branding, I was interviewed on three different podcasts, hosted a One Woman Shop Google Hangout and was included on lists like the 100 Best Websites For Writers and Eight PR Up-and-Comers.
8. I developed my first product (a course), ran a beta version of the course and am ready to launch it publicly in 2015. I spent most of the fall working on my first product, an email course called '30 Days of Gutsy.' I ran the course with a beta group of 26 people from November to December and am now getting ready to launch it for real in 2015! The creation process was so much more daunting than I imagined, but the best way to describe how I felt when all was said and done is "totally drained in the most fulfilling way possible." It was incredible to see what the students learned throughout the 30 days and I can't wait to share this course with you! If you think you might be interested in joining the course when it opens, add your name to this list and I'll share more details and give you the opportunity to register first as soon as it opens.
9. Personal branding, speaking and feature writing became three major parts of my service offerings. On the freelance side of my business, three new services became a major part of my offerings to clients. After being asked to speak about personal branding to several groups and organizations, I developed a Personal Branding Bootcamp to offer one-on-one coaching to those looking to enhance their personal brands. Speaking also became a core part of what I offer with nearly 10 engagements in Pennsylvania, New Jersey, Illinois and more. Lastly, I landed a new client writing feature articles for a magazine and am really enjoying the process of interviewing spokespeople and getting creative with my writing.
10. I got a promotion at work and won two awards. I don't talk about my full-time job too often here on the blog, but of course, when I'm not busy with my side hustle and yoga, I'm spending 40 hours a week as the communications manager for a tourism office outside of Philadelphia. This year, I was promoted from a coordinator to a manager and my responsibilities shifted to be focused mainly on media relations, which I absolutely love! I also received two awards this year- the Young Alumni Diamond Excellence Award from Temple University and the PR Fast Track Award from the Philadelphia Public Relations Association.
Blog/Biz Growth and Stats
It's always fun to look at the numbers! Here are some key stats from the Get Gutsy blog/biz:
The Get Gutsy email community more than doubled in 2014 with a 123% increase in subscribers.
27 emails were sent to the Get Gutsy community in 2014. My average email open rate is 44.7%.
The blog had a 13% increase in page views, a 9% increase in sessions and a 5% increase in unique visitors. Readers also spent much more time on my site in 2014 with an average time spent of one minute and seven seconds.
These 10 posts were the most popular published in 2014, but these three posts written in 2013 continue to be the most popular of all time:
I wrote 30 guest blog posts this year for sites like Spin Sucks, Muck Rack, Scribewise, Brazen Careerist and more. See some of the highlights on my portfolio.
How I Really Felt In 2014:
Let's be real here. The list of above highlights and accomplishments is awesome and certainly something to be proud of, but what's most important is how you FEEL throughout a year. While I definitely want to continue to accomplish new things in 2015, I'll also be paying more attention to the way I feel.
Here's how I really felt in 2014:
Drained in the most fulfilling way possible. A common theme in 2014 was feeling drained or stressed out. I tend to take on too much (I'm working on the whole saying no thing) and I spent a lot of the year feeling rushed to get things done or jumping from one project to the next with little time for reflection. The thing is: I love the work I'm doing. I love this community. I love my clients. The work I completed was fulfilling, but the way I went about it was stressful.
Proud. Despite feeling overwhelmed for much of the year, I also am extremely proud of the things that happened in 2014. Not only did my business and brand grow, my relationships with family and friends deepened and I learned to prioritize and balance my personal/professional life a bit better to focus on the things that are truly important to me.
Exhausted. To be totally honest, 2014 has left me very tired. Between being literally tired (waking up at 5 a.m. every day isn't easy, even when it becomes a habit) and being mentally tired, I'm ready for a little break. Luckily, I'm heading to Mexico next week for some R&R and hope to come back ready to tackle 2015 with a little more kindness to myself than I showed in 2014.
Comfortable in my own skin. The best part of 2014 was coming to terms with who I am. It's taken awhile to get to this point, but I've been honestly able to say lately, "I really like myself." After years of figuring out who I am…and sometimes trying to be someone else, I feel like I'm finally comfortable embracing my true self. I know I'll continue to change and evolve, and that's totally okay, but it feels good to say, "Hey. This is who I am and I really like it."
Lessons Learned:
Prioritize sleep and exercise. I'm a much happier and more productive person when I've had a full night's sleep and regularly exercise. Sometimes I prioritize work over these things thinking that's what's most important, not realizing that sleep and exercise will actually help me do the work BETTER.
Not everyone is going to love your decisions. I struggle when people don't agree with or like my decisions, especially those closest to me. For some reason, I want everyone to understand why I do what I do…but the reality is, that's not the case and it's something I need to accept and move on from. As long as I love my decisions, that's all that matters.
Say no to projects that don't light you up inside. I've said yes to a lot of projects over the past year that don't necessarily excite me, but I feel will be "good" for my business. These end up being the projects that make me feel the most drained. It's okay to say no to these things.
Get the most important thing done first in your day. I know by now that I'm an extreme early bird, but still, I'm constantly reminded that when I accomplish my most important task first thing, I set myself up for a great day ahead.
It's okay to DO LESS. A theme in 2015 for me will be doing less, but doing it in a smarter and more strategic way. I have a long list of accomplishments from 2014 and I naturally feel a pull to "do more, do more, do more" in 2015, but I'm working very hard to be comfortable with doing less.
A Check-In On My Three Words for 2014:
Every year, I choose three words to guide me through the year. These strong and powerful words are always on my mind (and set as my phone lockscreen), allowing me to focus on the bigger picture. Let's see how my 2014 words fared:
1. Radiant. I am still 100 percent in love with this word. (You'll see when I reveal my 2015 words that one of them is very closely aligned with this one). I think about this word all the time, especially with doing yoga so frequently, and I feel I was able to hold this one close throughout the year.
2. Clarity. Just when I thought things were getting more clear in my life, the universe clearly had other plans. I started the year with a lot of clarity about my direction, but some things have changed since then (in good ways!) and I'm working on embracing uncertainty.
3. Instinct. I definitely could have done a better job trusting my instinct in 2014. Deep down, I know my instinct is right, but my habit of overthinking and overanalyzing things tends to take over and pull me into a spiral. I'm still working on this one, but it's a word that I still love and have 100 percent trust in.
Stay tuned! Later this week, I'll share my three words for 2015!
Whew! That was a lot of information to take in. If you've stuck around 'til the end, thank you! Have you ever conducted an annual review? If you've done something similar on your blog, feel free to share the link! I'd love to see it.
Want more gutsy content delivered straight to your inbox twice a month? Be sure to sign up for my FREE #GetGutsy e-newsletter filled with inspiration, ideas and action items to get out of your comfort zone. When you sign up, you'll also be sent a FREE copy of the Get Gutsy ebook, filled with 19 inspirational stories to help you get gutsy.