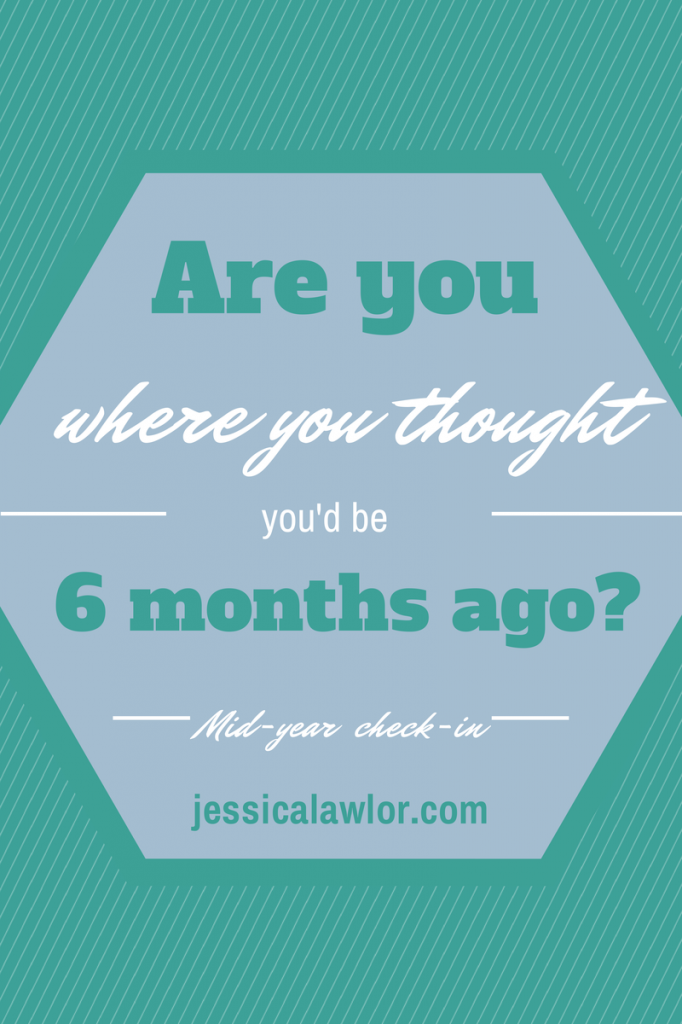 Happy July 1!
If you're doing the math correctly, we've officially reached the mid-point of 2014.
(Whoa. When did that happen?)
It's time for a mid-year check-in!
Now's the perfect time to spend an hour or so with yourself to reflect on the first half of 2014 and see if you're where you thought you'd be six months ago.
A check-in on my three words for 2014
For the second year in a row, I chose three words to guide me through 2014. These strong and powerful words are always on my mind (and set as my phone lockscreen), allowing me to focus on the bigger picture.
1. Radiant: The word radiant was inspired by one of my favorite yoga poses and really has to do with opening up your heart and mind to all that life has to offer. I think I still have some work to do when it comes to opening up, but I definitely feel I've made progress with accepting and embracing change (and there's been a ton of that over the past six months). The definition of radiant also uses words like "bright" and "shining" and I have strived over the first half of this year to shine and inspire whether it be through my work in my career or here on the blog encouraging others to #GetGutsy.
2. Instinct: Learning to trust my gut and instincts was one of my biggest goals for 2014- that feeling you get in your stomach when you need to make a big decision can be very telling. I still struggle with overanalyzing decisions, but for the most part, I listen to my gut. I've also learned to trust my instincts when it comes to standing up for myself in certain situations. In the past, I may have let things go more easily for the sake of avoiding conflict, but my growing confidence in getting to really know myself and trust my instincts has allowed me to better express what I need and want even when it may be uncomfortable to say those things out loud.
3. Clarity: I am most proud of how far I've come with this specific word over the past six months. At the beginning of the year, I felt unclear about a lot in my life, but was slowly starting to see things coming into focus. Now, more than ever, I have a complete vision and plan for what I want to happen over the next year and a half. I'm not ready to detail all of those plans publicly yet, but I've been thinking really hard about what I want from life and what *really* matters to me and I'm ready to make some gutsy changes to get closer to the life I dream about for myself.
My most proud accomplishments from the first half of the year
While I don't set goals or resolutions at the beginning of the year anymore (instead I set those weekly and monthly), I do think it's important to look back and reflect on all that you've accomplished in the past six months.
If anything, your personal list of accomplishments can serve as an amazing reminder of how much you've really done, especially at times when you may be feeling down. If your list isn't as robust as you had hoped, the great news is, you still have so much more time to nail those accomplishments (and it doesn't matter if it's by the end of 2014 or continues into 2015). These six month and yearly check-in points are great calendar reminders, but remember, you can set new goals ANY time of year.
I've deepened my yoga practice, attending nearly 60 classes and finally nailing some challenging poses, including crow pose and my most-feared headstand!
My professional growth in my PR career has accelerated quickly in the first half of the year with getting a promotion at work to communications manager and winning two awards- one from my alma mater, Temple University, and the other from the Philadelphia Public Relations Association.
I had my highest-ever traffic month on the blog- more than 14,000 pageviews in the month of April!
I taught my first online video course about using personal branding to launch a freelancing career.
My website was named to the list of the top 100 websites for writers.
I hosted the first-ever Get Gutsy Week and essay contest.
I was a guest on my first podcast.
My freelance business continued to grow with a client I've worked with for more than a year now and a new client I began working with on a monthly basis at the beginning of 2014.
My alma mater featured me in a spread in the School of Media and Communications alumni magazine.
I improved my public speaking with several different speaking engagements this past winter in New Jersey, Pennsylvania and Illinois.
I made time for relaxation and recharging with two amazing vacations- a family trip to Punta Cana in January and a girls trip with my mom and sister on a cruise in June.
I completed my third Broad Street Run.
What I hope to achieve in the second half of 2014
Here are a couple of the most pressing things that have been on my mind that I can't wait to dive into in the second half of this year.
Take my freelance business up a notch: land a new monthly recurring client and officially launch my personal branding bootcamp sessions as a service.
Revamp my blog's About, Portfolio and Work With Me pages.
Continue deepening my yoga practice with more classes and maybe even a few workshops.
Begin outlining a book proposal I can't stop thinking about.
Now that I'm adjusted into my new role at work, I have some big goals when it comes to media relations and media outlets I'd love to work with.
Have a post published by the Huffington Post- this is a goal I've been steadily working out without much success (yet!) in the first half of this year and I'm determined to become a HuffPost blogger by the end of 2014.
Are you where you thought you'd be six months ago? Let's keep each other accountable! Go ahead-share your accomplishments and goals in the comments.
Want more gutsy content delivered straight to your inbox twice a month? Be sure to sign up for my FREE #Get Gutsy e-newsletter filled with inspiration, ideas and action items to get out of your comfort zone.