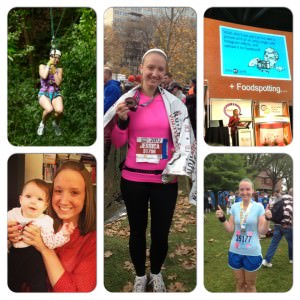 2012 was quite the year.
In fact, I've declared it the year I "conquered the impossible" because so many of the things I did pushed me way out of my comfort zone (in case you haven't noticed, that's kind of a theme around here).
While it's hard to believe another year is coming to a close, with only a few days left in 2012, I took some time over the holidays to reflect on what I'm most proud of accomplishing this year.
In 2012, I…
1. Ran the Broad Street Run. When I was 30 pounds heavier and could barely run a few minutes without struggling, I set my sights on Philadelphia's iconic race down Broad Street. I began training last February and after months and months of training runs, I completed the Broad Street Run.
2. Conquered the Philadelphia Half Marathon. In the midst of Broad Street Run training, I became more and more confident in my running abilities and registered for my next big challenge: a half marathon. In November, after a grueling three months of training, I crossed the finish line after 13.1 miles.
3. Launched a new blog. After years of blogging, I have finally found a place where I can truly be myself and write about whatever I want under one theme: getting gutsy and living life to the fullest. Finally discovering my "niche" and rebranding my blog is perhaps one of my proudest accomplishments of 2012.
4. Spoke to a room of 100 people at #SoMeT12. Talk about getting out of my comfort zone. Public speaking is a skill I want to continue improving upon, so presenting at the Social Media Tourism Symposium in November seemed like the perfect fit. I won't lie; I was terrified to get on that stage, but when all was said and done, I felt fantastic…and want to seek out more speaking opportunities!
5. Became a Godmother. In June, I became a godmother! I was honored when my cousin Andrew asked me to be the godmother to his family's newest addition, Charlotte Jane. In just six months, she's already become such an adorable little person (see that cutie on the bottom left in the above photo) and brings so much happiness to so many.
6. Traveled to Jamaica. For months, I anxiously anticipated my trip to Jamaica in March for a family friend's wedding. Nearly 40 friends and family descended to the island for the wedding of the year. Between the beautiful weather, delicious food and drinks and total relaxation, I can definitely promise that I'll be heading back to Jamaica at some point in the future.
7. Ziplined through Jamaica. File this under things I thought I'd be way too scared to do in my lifetime. When I was in Jamaica, my dad and I toyed with the idea of going ziplining. It's something we both wanted to do, but I wasn't sure if I'd muster up the courage to actually do it. As I looked out from the high perch at the thin line I'd glide across to the other side, I was terrified, but after letting go, I was able to relax and enjoy the ride. What a thrilling experience.
8. Ran (almost) 12 races and 700 miles throughout the year. 2012 was the year I got VERY serious about running. Running became so much of a priority that 5 a.m. wake up calls to head to the gym became the norm and Sunday mornings were reserved for long training runs. I set a goal to run 12 races in 2012 (more on that coming next week) and ran 700 miles (200 more miles than in 2011!) this year.
9. Took on a leadership role in PPRA. After graduating from college in 2010, I immediately got involved with the Philadelphia Public Relations Association (PPRA). In the past two years I've served as the social media chair and college relations chair. This year, I was excited to be elected Vice President of Programs. It's a challenging role, but I'm lucky to work with a fantastic team who have been putting on great events for our membership.
10. Embraced the small moments. This year, I made a conscious effort to appreciate the small, every day moments with family and friends that may not have been life-changing or groundbreaking, but are just as important as those major accomplishments. As I scrolled through my iPhone's photo stream today, I was flooded with fun memories from throughout the year. From the simple joy of going ice skating with my siblings to a girl's day out with my mom to dinner dates with friends, these are the often overlooked moments that are just as meaningful to me as the other nine items on this list.
Your turn! What are you most proud of accomplishing in 2012? Let me know in the comments below. If you wrote your own post, be sure to share the link!