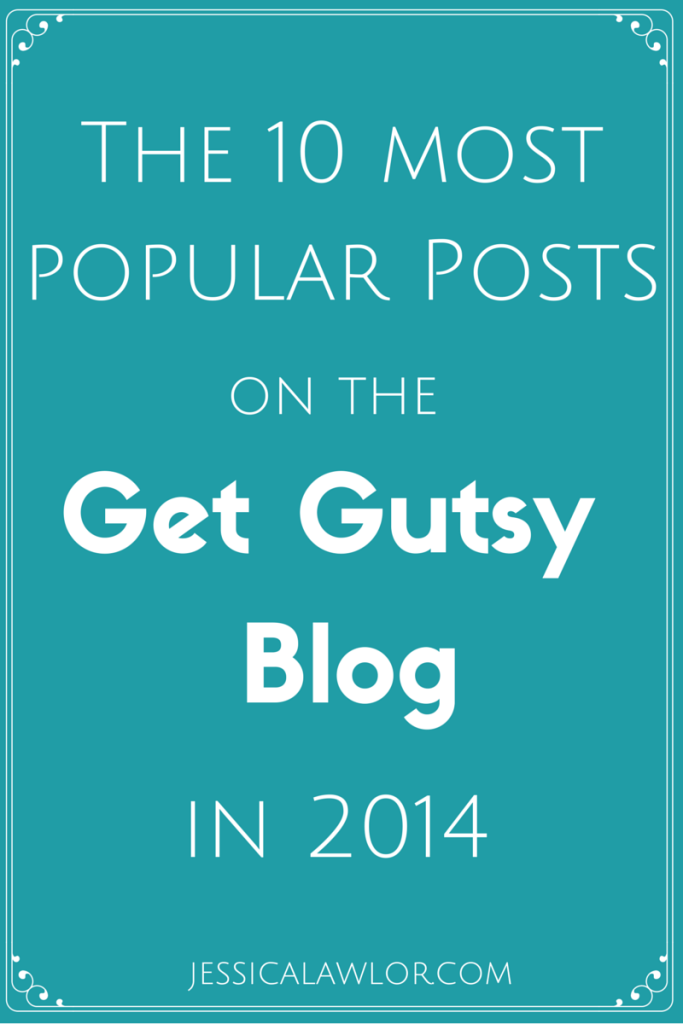 What an amazing year it has been here on the Get Gutsy blog! (Thank you!)
In 2014, this site turned from a mostly personal blog into a full-fledged community of go-getters supporting one another to get gutsy and reach their goals. I couldn't be more proud.
Last year, I published more than 120 posts.
Each week, I continued publishing the Start Your Week Right Sunday feature, sharing links and goals to help set the tone for your week. We even reached a milestone, publishing the 100th Start Your Week Right Sunday in the fall! I also checked in monthly with a recap from the previous month and a preview of the month ahead.
In the days between those regular features, the Get Gutsy blog featured everything from celebrating the first-ever Get Gutsy Week, the launch of my first ebook, an entire week dedicated to personal branding, a new monthly Get Gutsy interview series, lots of yoga talk and tips on freelancing, energy management, productivity and more.
Here are the 10 most popular posts on the Get Gutsy blog in 2014:
1. 100 Lessons From 100 Yoga Classes
2. The #1 Way I'm Able To Pack So Much Into a Day: Energy Management
3. The Truth About Social Media
4. Here's What I'm Struggling With Right Now (PS- I Do Not Have It All Together)
5. A Day In The Life of a Side-Hustling Solopreneur
6. How To Deal When Things Aren't Okay
7. Letting Go Of The Things That No Longer Serve You
8. How To Do PR For Your Personal Brand
9. Get Gutsy With Julia Paddison: "I Quit My Job To Pursue My Dream of Teaching Yoga Full Time"
What I can take away from this list (and how you can do the same for your blog):
Not only is this list a fun way to see which posts resonated most with the community in 2014, it also teaches me a lot about the type of content you like and would potentially want to see more of.
This information, coupled with that of the survey nearly 70 of you kindly took last month, will help me shape the direction of the Get Gutsy blog moving forward in 2015. Speaking of that survey, I'm still sifting through the data (and will plan to share the lessons learned in early 2015), but wanted to announce the winner of the 30-minute "pick my brain" session: Kayla Sheely! (Kayla- I will email you!)
Find out which of your posts were most popular in 2014! Adam Singer from The Future Buzz makes it super easy with this one-click report using Google Analytics. Note: this post is from last year, so when you click the report, you'll need to change the date range to 2014.
Here are a couple of lessons I've gleaned from this list:
You especially like when I'm my most vulnerable. It's not always easy to be real online, but I pride myself on being authentic and honest with all of you even when it doesn't feel good. Three of the posts included above have me at my most vulnerable: sharing my weaknesses with you in the post about what I'm struggling with, posting my yoga blooper photos for the world to see and a post about how to deal when things just aren't okay.
You like posts about yoga. Three of the posts featured above have to do with yoga, including the #1 post on the blog from 2014 featuring my 100 lessons learned from 100 yoga classes. I'm glad to see you're enjoying the yoga posts because I'll be participating in yoga teacher training in 2015 and would love to detail the process on the blog.
You're enjoying the Get Gutsy Interview Series. I was excited to see the first interview of the Get Gutsy Interview Series featured in the top 10! We published our third interview just last week and this monthly feature is picking up steam! I'm always looking for recommendations for other gutsy people to interview, so please send me a note if you know of someone I should talk to.
You like posts about productivity and side hustling. Many of you still enjoy this blog for the freelancing, public relations, personal branding and productivity tips, as evidenced by my energy management, day in the life and PR for your personal brand posts included above. I absolutely love that! I want for this blog to be a mix of tactical, how-to tips and tricks for getting gutsy and reaching your goals in business, while also serving those who come here for inspiration and motivation.
Want to see my most popular posts from 2013? Here's last year's top 10.
Thanks for an amazing year here on the Get Gutsy blog! I would love to check out your most popular or favorite posts from 2014! Feel free to drop a link or two in the comments below.
Want more gutsy content delivered straight to your inbox twice a month? Be sure to sign up for my FREE #GetGutsy e-newsletter filled with inspiration, ideas and action items to get out of your comfort zone. When you sign up, you'll also be sent a FREE copy of the Get Gutsy ebook, filled with 19 inspirational stories to help you get gutsy.