If 2012 was the year of conquering the impossible, 2013 was truly the year of getting gutsy.
Of course, getting gutsy is kind of a theme around here, but in 2013, getting gutsy took on a new and deeper meaning in both my day-to-day life and here on the blog.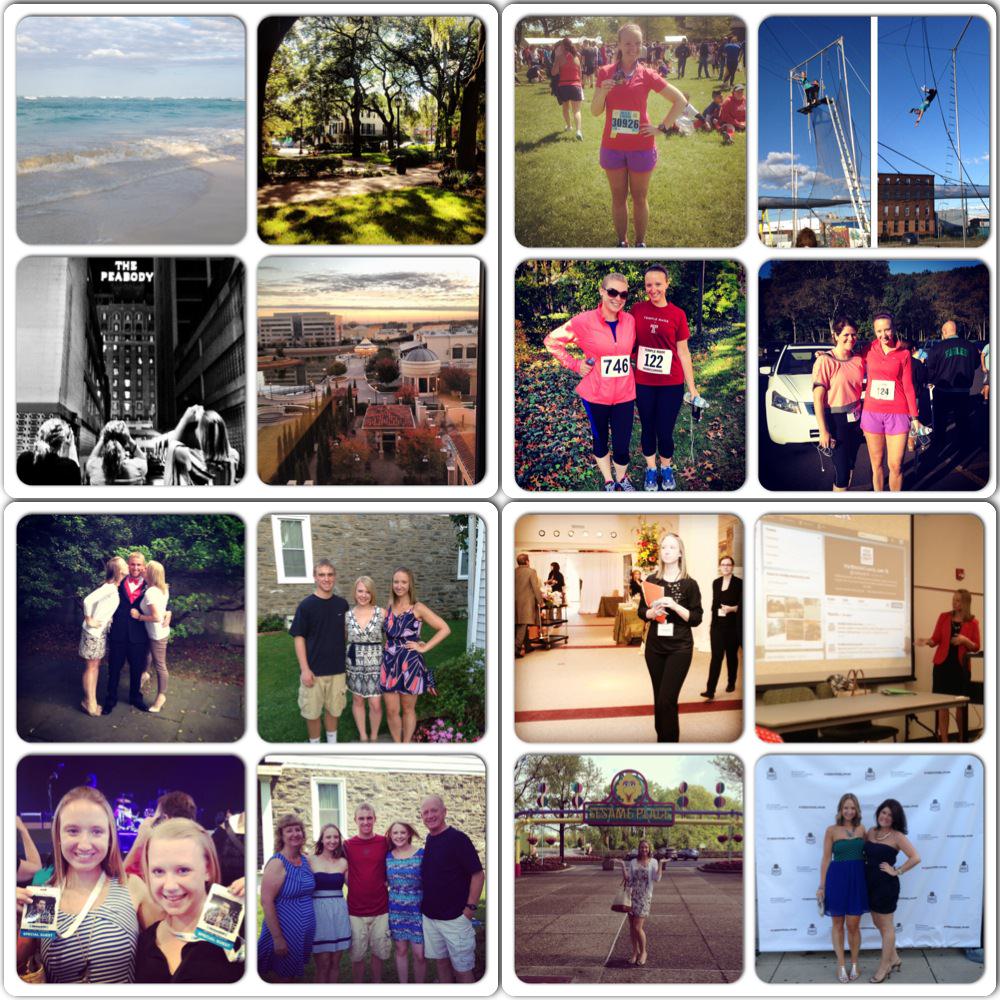 After spending some time reflecting on the year that was, here are my top 10 highlights of 2013.
1. Ran 14 races in 2013, including the Broad Street Run. Improving my running was definitely a priority in 2013, as I set out to run 13 races throughout the year. I'm proud to share that I actually exceeded my goal and ran a total of 14 races in 2013, including beating my previous best time at the Broad Street Run in May. After completing my yearly goal, I decided to take on the Runner's World Holiday Run Streak challenge (which ends this week!) to push myself even further out of my comfort zone by running at least one mile every single day for 35 days. I'll have a more detailed post on my year in running in the coming weeks.
2. Took trapeze lessons. Perhaps the most gutsy thing I did in 2013 was take trapeze lessons to celebrate my blog's one year anniversary! I was completely terrified (and I'm pretty sure I never want to do this again!) but I felt completely exhilarated and free once I was flying through the air. I even managed to hang upside down and do a backflip off of the trapeze. What a unique and awesome opportunity; an experience I'll truly never forget.
3. Found yoga. After trying (and hating) yoga three years ago, I gave it up and discovered running. But in the summer, I tagged along with a friend to a free yoga class and fell in love. In the fall, I began practicing hot yoga and instantly became hooked. I love yoga now for so many reasons- I get an amazing workout (sweating in a 95 degree room for 90 minutes? Yeah, that's a solid workout), I clear my mind AND I leave so inspired with new ideas for my blog and business. Hot yoga has been a physical, mental and emotional challenge and I look forward to continuing my practice more seriously in 2014.
4. Grew personally/professionally. I was blown away by how much this blog, my e-newsletter and personal brand grew in 2013. This blog was mentioned or linked to more than 50 times by other bloggers, I was named to a few lists I'm super proud of (Top 10 Pennsylvania PR Pros to Follow on Social Media by PRSA, Top PR/Marketing Women to Follow on Twitter by JobZook and Top 25 Content Marketers Under 30 by UpCity) and I was featured as Geekadelphia's (a blog I seriously love) Geek of the Week in May. I also launched my Get Gutsy e-newsletter in May and sent out nearly 20 emails to my growing list. I look forward to sharing even more private insights with this amazing community (get on the list here!) in the coming year.
5. Landed a major new client (plus several other freelance gigs). From landing a major new client (managing Muck Rack's feature content on their blog for PR pros/journalists) to having two articles published in a Temple University alumni publication to writing several ghostwritten articles and guest blog posts, my side business grew beyond my wildest expectations in 2013. Because I began taking freelancing even more seriously in 2013, I shared answers to common freelancing questions in a two-part special e-newsletter for my email community. I'm excited to see where my freelancing takes me in 2014, but I am absolutely loving the side hustle.
6. Celebrated my 25th birthday in Punta Cana. What better way to welcome a quarter-life crisis (ahem…I mean quarter-life opportunity) than with a mother-daughter trip to the Dominican Republic? In March, my mom and I traveled to Punta Cana for five days of sun, sand and tasty cocktails. I had the opportunity to run barefoot on the beach, had an entire resort sing Happy Birthday to me in Spanish and enjoyed day after day of pure relaxation. Being unplugged in Punta Cana also reminded me of the importance of disconnecting from time to time.
7. Executed a major event for work. In 2013, I celebrated two years at my job working in travel/tourism PR. I feel so lucky to have a job I truly love and learn from each and every day. Needless to say, sometimes my job pushes me way out of my comfort zone, like in February when I planned and executed a major event (a Bridal Show with three dozen exhibitors and nearly 600 attendees). This was the first event I've been solely responsible for of this magnitude and it was an incredible (and sometimes stressful) learning experience. I have a serious level of respect for those who plan events for a living. It is NOT an easy task!
8. Honed my public speaking skills. It's no secret that I love public speaking. In 2012, I gave my first BIG presentation to a room full of more than 100 people at a major conference. In 2013, I took to a smaller stage, but presented nearly 10 times over the course of the year to college students about social media, travel/tourism public relations and personal branding. I enjoyed speaking at Temple University (my alma mater!) SIX times in 2013! I hope to do even more speaking in 2014.
9. Attended lots of concerts. 2013 was the year of live music! I saw Maroon 5, Train, Gavin DeGraw, The Script, John Mayer, Phillip Phillips and Ben Rector in concert. Most importantly, I saw John Mayer (I have just a teensy-tiny obsession, in case you weren't aware) three separate times this year…and one of those times was at a PRIVATE concert where I had the opportunity to sit in the second row. In early December, Skype Moments offered me tickets to see John Mayer (again!) in Baltimore, where I had the opportunity to share my experiences on social media. Music is such an important part of my life and each time I have the chance to see my favorite artists live, I fall even more in love with music and am reminded of how powerful it can be.
10. Traveled to Memphis, TN, Savannah, GA and Huntsville, AL. 2013 brought me to three new cities here in the U.S. First up, I traveled to Memphis for a work conference, where I discovered the beauty of getting comfortable with being alone. I also enjoyed BBQ at every meal, a tour of Graceland and lots of awesome networking. In the fall, my mom and I took another trip to Savannah, a place that has long been on my list of must-see destinations. I fell in love with Savannah's sweet Southern charm and can't wait to get back to the South soon! November took me to Huntsville for another work conference, where I had the chance to visit Space Camp USA, also known as the U.S. Space & Rocket Center. There's nothing more exciting to me than exploring new places, so I hope more travel is on the horizon in the new year!
I'd be remiss if I didn't let you know how sincerely grateful I am to each and every one of you who read this blog and support me in my efforts to spread the word about getting gutsy. I couldn't have had such a successful 2013 without your encouragement and motivation over the past 12 months. Thank you!
Your turn! What are you most proud of accomplishing in 2013? Let me know in the comments below. If you wrote your own post, be sure to share the link!
Want more gutsy content delivered straight to your inbox twice a month? Be sure to sign up for my FREE #Get Gutsy e-newsletter filled with inspiration, ideas and action items to get out of your comfort zone.
PS- This post also serves as my Annual Review, part of Chris Guillebeau's yearly post encouraging readers to reflect on their year.