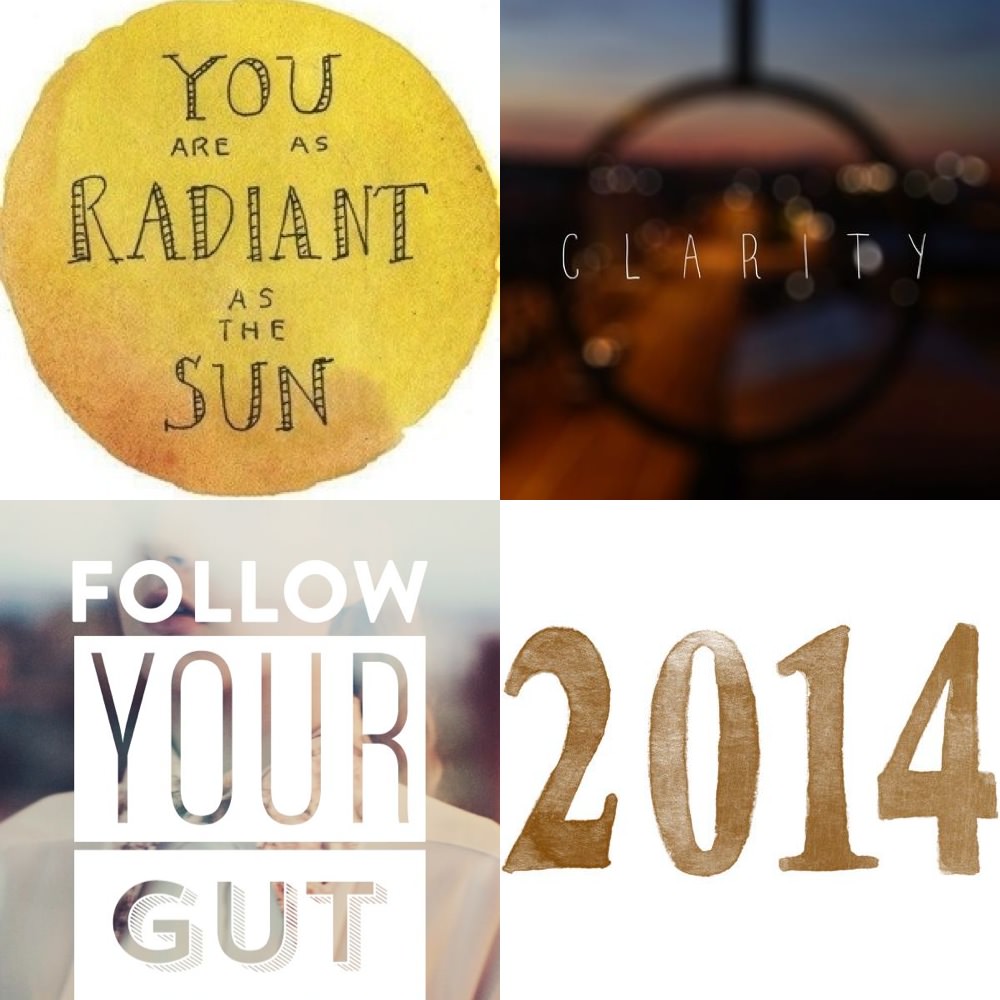 Last January, for the first time ever, I didn't sit down on New Year's Day to set my resolutions for the coming year.
For this goal and list-loving girl, it felt like a strange thing not to do, but it ended up working out even more beautifully than I had hoped.
You see, I came to this realization that my goals for the year were very tactical. And while tactics are important for breaking down big goals to get things done, I knew I wanted my year to be more strategic. (If you like this concept, click here to tweet it).
And that's where my three words for 2014 come in.
Instead of setting a list of arbitrary goals for the year (don't worry! I'll continue to set them on a weekly basis in my Start Your Week Right Sunday posts and on a monthly basis in my monthly check-ins), I chose three strong and powerful words to constantly keep in mind throughout the year to keep me focused on the big picture.
In 2013, my three words were: passion, simplify and balance.
Here are the three words that I'd like to guide me through 2014:
1. Radiant: In yoga, we do a pose called Radiant Warrior that inspired me to select this word. This pose begins in Warrior II and then can transition to Radiant Warrior when you flip your palm and sail your arm back, completely opening your body up to the energy in the room. I think this pose is incredibly powerful because when you "radiate" you open your body, heart and mind up to everything- the good, the bad and the uncomfortable. The actual definition of the word radiant uses words like "bright and shining" and "having or showing an attractive quality of happiness, love and health." As soon as I read the definition and paired it with my yoga analogy, I knew this was my first word for 2014.
2. Instinct: Over the past year, I've done a lot of thinking about how important it is to trust our instincts at all costs. If something doesn't feel right, it usually isn't. I've found that this is true almost 100 percent of the time when it comes to all things including my career, relationships, business decisions, friendship and more. Our gut is way more powerful than even we know. I love this quote from a post by Alexis Grant about trusting your gut: "If you have a feeling in your gut, it's for a reason. Even if you can't put your finger on that reason or articulate it to a friend, it's there, ready to guide you." In 2014, I want to do less overanalyzing and more trusting my instincts.
3. Clarity: When I think of clarity, I picture a foggy car window, wiping it clear and being able to see, even if the view is a little hazy. For me, clarity has a double meaning. First, in 2013 I learned a lot about myself. I certainly don't have it all figured out, nor do I ever expect to, but I finally feel like I have a clear vision of who I want to be and where I want to go. That's clarity. The other meaning of clarity is "the quality of being easily understood, remembered and heard." What an absolutely beautiful way to describe exactly what I strive to do here on the blog- inspire others to get gutsy, reach their goals and discover and accept who they really are.
For more inspiration behind my three words, check out my 2014 Pinterest vision board.
What are your three words for 2014? Do you believe in setting goals or making resolutions for the New Year? If so, I'd love to see them! Share your goals or words in the comments below.
Want more gutsy content delivered straight to your inbox twice a month? Be sure to sign up for my FREE #Get Gutsy e-newsletter filled with inspiration, ideas and action items to get out of your comfort zone.