*UPDATED FOR 2015!*
Three years ago, I published a blog post detailing my journey to the Broad Street Run, Philadelphia's iconic race and the largest 10 mile road race in the country. I wrote:
I'm doing the Broad Street Run for the girl who could barely make it through the mandatory mile run in high school.

I'm doing the Broad Street Run for the girl who dreaded clothing store fitting rooms, unhappy with what she saw in the mirror.

But most importantly, I'm doing the Broad Street Run because now, I CAN. I'm doing this run for the incredible sense of pride and accomplishment I know I'll feel when I cross that finish line on May 6 and am rewarded with that sweet finisher medal around my neck.
[Edited to add 4/28/15: While I'm not running Broad Street this year in 2015, I hope these tips will help you have an amazing race day! Enjoy this iconic Philadelphia race!]
On Sunday, I'll complete my third Broad Street Run. But this year, I'm a little wiser, a little faster and a lot more prepared. I have more than 20 races under my belt, one of them a half marathon. I am ready.
If you're participating in the race this weekend, you will receive an email this week with tons of information about race day. It can definitely be overwhelming! Let me help break it down for you.
Here are the top 10 tips I wish I knew as I was preparing to participate in my first Broad Street Run a couple of years ago. Good luck, runners!
10 Tips for Broad Street Run Newbies (And Seasoned Racers)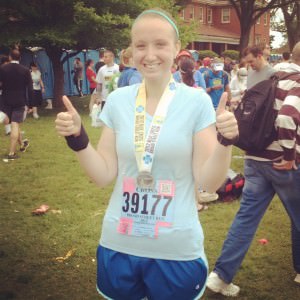 1. Get to the race early, but not too early. The race begins at 8 a.m. this year in 2015. My first year, I arrived at the starting line at about 6:30 a.m. (for an 8:30 a.m. start) Major fail. Way too early. As a first-time Broad Street Run participant, I was super nervous about the transportation situation (taking the subway from the Center City area to Olney) and seriously overestimated how long it would take. The truth is, this race is a well-oiled machine. There are PLENTY of subways to get all racers to the starting line. While that doesn't mean you can wait until the last minute and expect to make it to the start on time, there's no reason to get to Olney at the crack of dawn. Also, if you're from the suburbs, consider parking your car at Fern Rock Transportation Center (massive parking lot) and take the subway one stop to Olney. From the end of the race, hop on the subway and take it all the way Northbound back to Fern Rock. Easy-easy!
2. Don't forget your race day essentials. Want bargaining power in the porta-potty line? Bring your own roll of toilet paper and you'll be everyone's best friend. While there are tons of facilities available near the start, there are also 40,000 runners, so TP runs out fast. As my very smart friend Gia taught me, bring your own and you'll find yourself moving your way up in the line and making plenty of new friends along the way.
3. No matter the weather forecast, bring a throwaway sweatshirt. Even though the weather is slated to be nice (67 and sunny!), it WILL be chilly when you get to the start line. You'll want to keep your muscles warm, especially when preparing to run 10 miles. Bring an old sweatshirt that you don't mind throwing away prior to the race starting. Clothes-Pin, a Philadelphia non-profit, will be collecting all discarded clothing prior to the race, so it goes to a great cause!
4. Consider bringing a snack to eat before the race. With the race beginning at 8 a.m. and most runners leaving their homes at least an hour and a half prior to that time, you may have long digested your breakfast before toeing the start line. Last year, I brought a Trader Joe's peanut butter bar to eat about a half hour before the race to give me that little bit of extra fuel, since I had eaten my standard pre-race breakfast more than two hours earlier. Worked like a charm.
5. Know that you won't start running at exactly 8 a.m. Unless you're in the first corral (if so, congratulations speedy!) you won't be starting the race at 8 a.m. Like most major races, Broad Street divides runners into corrals based on speed. This year there are eight corrals (here's a corral map). From my experience last year, the time between each corral starting was around 5-7 minutes. I was in the second to last corral and crossed the start line around 9:05 a.m. (when the race began at 8:30 a.m.) about 35-40 minutes after the official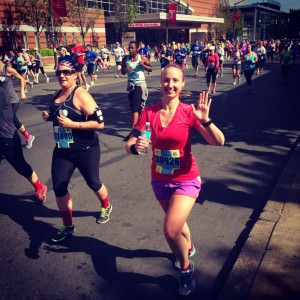 start of the race.
6. Be sure to pinpoint exactly where your cheer squad will be ahead of time. The best part about the Broad Street Run are the thousands of people who come out to spectate. The crowds are very thick, especially near City Hall, South Philly and the Navy Yard, so it may be difficult to spot your friends and family. Pick a location before the race or have your cheer squad text you their exact location so you don't miss them as you run by. My family spectates at Temple University- it's about 4 miles into the race-
the crowds have thinned out at this point and it's easier to spot people while running.
7. Stay hydrated. There are SEVERAL water and gatorade stations (10, in fact!) so you don't need to worry about getting dehydrated. HOWEVER, if you're comfortable carrying your own water bottle and run with one regularly when you train, as I do, you may want to consider bringing your own. The water stations are great, but they get VERY crowded and most people stop to walk, as they go through them. The water station areas are littered with discarded cups and at the stations with Gatorade, the ground can get very slippery and sticky. If you have a specific time goal for the Broad Street Run, bringing your own water bottle may allow you to stay far to the other side of the road during water stops, so you can keep running, without interruption.
8. Don't be discouraged, but when you get to the Navy Yard entrance, you still have a ways to go. Getting to the Navy Yard entrance is SUPER exciting. The crowds pick up, the finish line photographers begin snapping pictures and your adrenaline is through the roof. However, know that once you hit that spot, although it SEEMS as though you've reached the finish line, there is still .25 miles left in the race. This obviously isn't a long distance (especially after running 9 miles, you rockstar, you) but mentally prepare yourself to know that you have a little bit of running left to go before the finish.
9. Pick a meeting spot at the Navy Yard. Last year, I wasn't prepared for the sheer craziness of the finish line. I'd actually never been to the Navy Yard, so I wasn't sure what to expect. After finishing and receiving my medal, I pulled out my phone to call my friend who I had come to the race with, but quickly learned that due to the number of people in the area, service was extremely spotty. I wasn't able to get a phone call or text message through, but after a couple of attempts, I was able to email my friend. If you can, pick a meeting spot in the area ahead of time to make it easier to reconnect with your group. Check out the Broad Street Run finish area map here to help pick a spot. Last year, my friends are I met in front of the petting zoo; this year I think I may use the Dunkin' Donuts truck as a landmark- drink free iced coffee samples while waiting for friends? Yes please!
10. Prepare to walk another mile from the Navy Yard to your car or the subway. If you park at the stadiums or plan to take the subway back to Center City, know that the Navy Yard is about a mile walk from both of those locations. Believe me, you'll be so pumped to have finished the race that you may not even notice the distance, but it's best to know ahead of time so you aren't surprised that there's a bit of a walk.
And a bonus tip…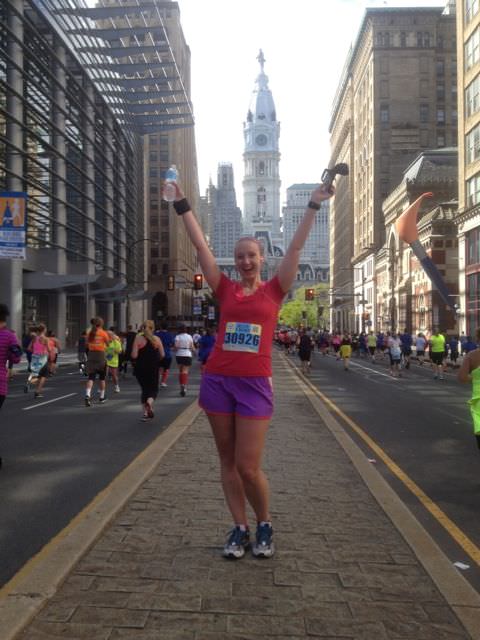 11. HAVE FUN! This race is ICONIC. When will you ever get the chance to run down the full length of Broad Street with literally thousands upon thousands of people cheering for you again?! Take it all in and embrace the experience. If you're not chasing a PR, consider stopping for photo ops along the way. Last year, I took just a few seconds off my time to take a photo with Philadelphia's City Hall in the background- I'm glad I did.
Looking for even more Broad Street Run tips? Jen Miller wrote a great piece for Philly.com last year and this year and Philly Mag's blog, Be Well Philly, has lots of posts about the race. Oh and here's my race recap from 2013 and one from last year, too.
Are you participating in the Broad Street Run this weekend? If so, good luck! Share your tips in the comments below.
Want more gutsy content delivered straight to your inbox twice a month? Be sure to sign up for my FREE #GetGutsy e-newsletter filled with inspiration, ideas and action items to get out of your comfort zone. When you sign up, you'll also be sent a FREE copy of the Get Gutsy ebook, filled with 19 inspirational stories to help you get gutsy.