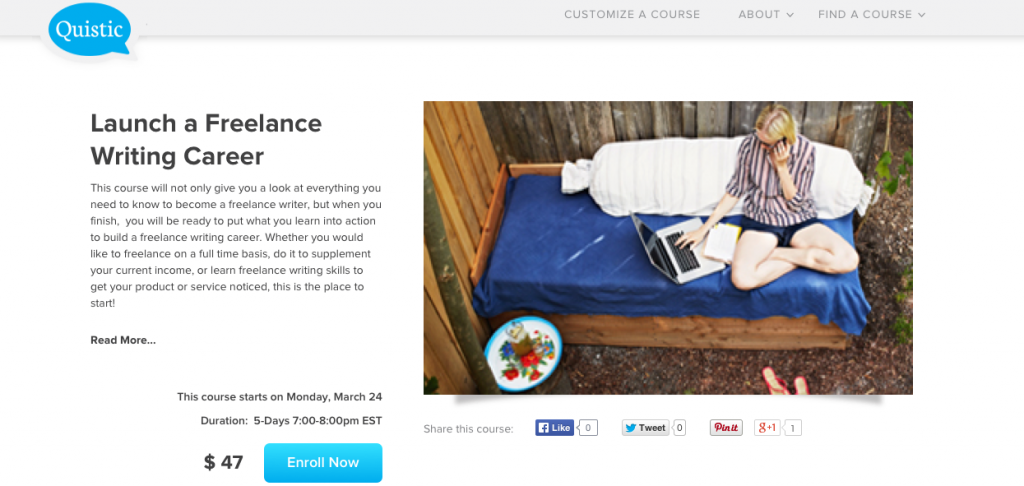 I'm THRILLED to share that I've been invited to teach a session on personal branding for freelance writers during the week-long Launch A Freelance Writing Career course  put on by Quistic (Penelope Trunk's latest startup!)
Personal branding is a topic very close to my heart…and one that I speak about to PR groups and college students quite frequently, so I'm excited to have the opportunity to teach aspiring freelance writers why personal branding is so important when building a business online.
Here's what the course is all about:
This course will not only give you a look at everything you need to know to become a freelance writer, but when you finish,  you will be ready to put what you learn into action to build a freelance writing career. Whether you would like to freelance on a full time basis, do it to supplement your current income, or learn freelance writing skills to get your product or service noticed, this is the place to start!
It's taught by FIVE freelance writing experts and each session features a different topic:
Day one: The Basics: Creating a Path for Your Freelance Writing Career with Lauren Tharp
Day two: Online Marketing For Freelancers with Dana Sitar
Day three: Find New Clients By Carving a Niche with Steph Auteri
Day four: Personal Branding For Freelance Writers with Jessica Lawlor
Day five: How Not To Go Crazy When You Decide to Freelance with Kelly Gurnett
The Details:
This course is taught exclusively online through video.
It costs only $47! A steal when you consider you're getting five hours of instruction from five experts.
The course will begin on March 24- no worries if you can't make the sessions live! They will be available to you forever and ever via video.
Interested in registering for the course? Sign up here! But hold on, I'm sweetening the deal! If you sign up through any link on this blog post, you will get a few extra goodies!
Anyone who signs up through my link (and sends me an email with their receipt/course confirmation) will receive:
A tell-all Freelancing e-guide with more than 20 questions and answers about getting started with freelancing, dealing with clients, promoting your freelance services, freelance resources and more.
My personal branding checklist that I ONLY give out at speaking engagements and haven't made public on the blog.
And for the first 7 people to register for the course, a very special freebie:
A 30 minute personal branding bootcamp session with me either on the phone or via Skype or Google Hangouts.
So hurry up and register! When you sign up through my link, please send me an email at [email protected] with your receipt/course confirmation so I can make sure to send you your goodies!
Because I'm teaching this course next week and then keynoting TWO different PR conferences on personal branding on March 29, I thought it would be appropriate to declare this week Personal Branding Week here on JessicaLawlor.com.
Stay tuned all week long for posts on how to use Facebook, Twitter, Pinterest, LinkedIn, Google+ and your own blog to build your personal brand.
Help Me Spread The Word
Interested in helping spread the word about this course? Thank you!
Click here to tweet about it or copy and paste the below tweet:
Interested in freelancing? @jesslaw is teaching a course on personal branding for freelance writers! Check it out: http://ctt.ec/MqcKm+
Thank you so much for your support! This is the first live course I'll be teaching and I can't wait to spread the word about why personal branding is so important for those looking to build a freelance writing career! Again, if you're interested, here's the link to register for the course!
*This is my first foray into affiliate marketing- I'm not getting paid to teach this course, but when you sign up through MY unique link (any link included in this post) I will receive a commission. I will always continue to provide free content here on JessicaLawlor.com but in an effort to grow my business, from time to time, I will share an affiliate link (which means I get credit if you make a purchase- at no extra cost to you!). Don't worry; I will ALWAYS disclose when that is the case and I will only do this for products or services I truly believe in!