For those who are just catching up, in December, I made a career (and life) changing announcement. I resigned from my job working in public relations to take my business, blog, brand and teaching full time. I'm bringing you along for the ride, giving you a glimpse behind-the-scenes of the exact steps I'm taking to make solopreneurship work in the Becoming CEO series.
You can check out previous posts in the Becoming CEO series here: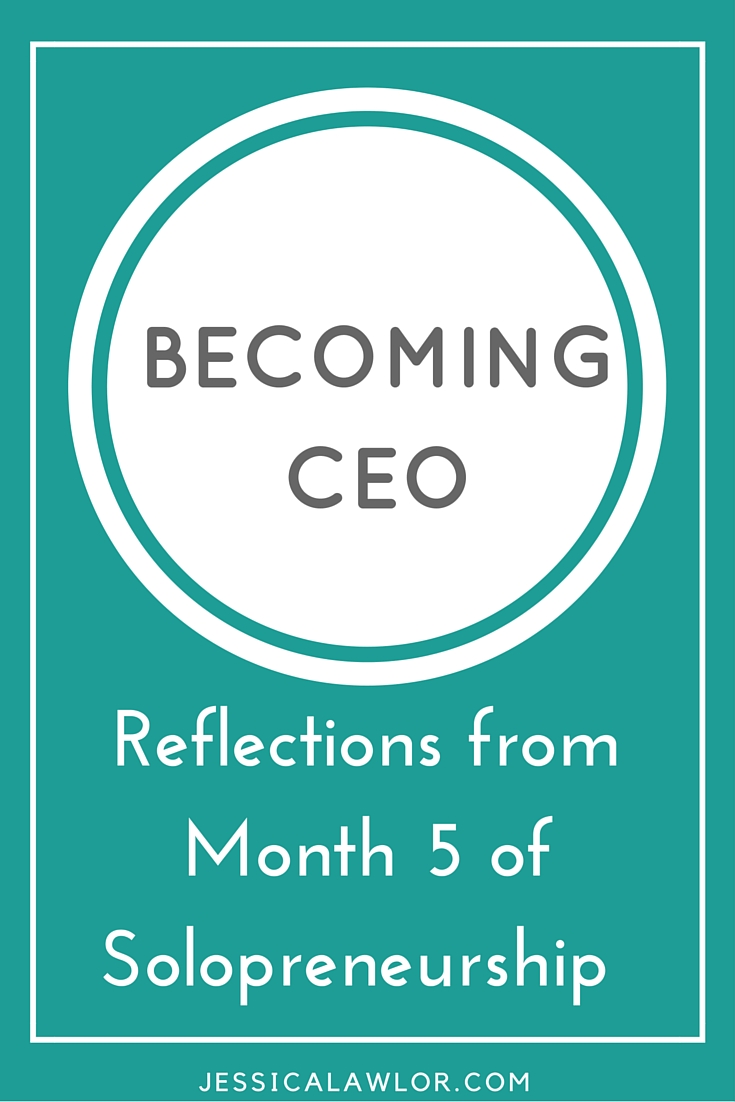 Let's take a look at month five of solopreneurship! Here's my month by the numbers, an income breakdown, lessons learned, the ups, the downs and how I'm feeling.
Month Five By The Numbers:
10 phone/Skype calls (as compared to 10 last month)
2 in-person meetings (as compared to 6 last month)
12 meetings total (as compared to 16 last month)
14 yoga classes taught
Month Five Income Breakdown:
Each month, I share a percentage breakdown of my income.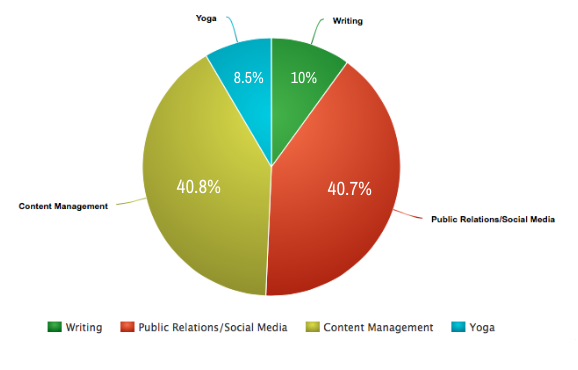 A few thoughts on this month's income breakdown:
For the first time since I started my business, I went from 5-6 income streams to 4 income streams. To some, this might be alarming, but I actually see it as a good thing! Instead of spreading myself super thin, trying to do all kinds of tasks, I'm beginning to streamline my services and really hone in on a couple of core areas. The missing income stream from June is because I didn't do any "consulting" (Personal Branding Bootcamps or Pick My Brain sessions), but I was quite busy with other client work, as you can see.
I welcomed a new content management client (YAY!), which now makes this service and public relations/social media almost equal in income. I love that my core services are starting to emerge!
I changed "blog management" to "content management." Many people were confused and thought blog management meant income I was making from this blog. Blog management is a service I offer where I manage and edit the blogs of other people/companies. However, I changed the name of this service because I'm not *just* managing blogs. My two major content management clients have me managing their blogs, but also developing other content (landing pages, email content, social content), running social media channels and other marketing tasks, so I feel "content management" better explains this offering than blog management.
I hit a personal financial milestone in June! At this time, I don't plan to share finance-related specifics (gotta keep some things private, ya know?), but I'm proud that I hit a goal I didn't think I'd hit this soon in starting my business.
Lessons Learned from Month Five:
Test projects can be an awesome way to determine fit. In June, I completed a test projects with a company with the potential to continue on to do bigger projects and long-term work with them. I had never done a test project up until this point, but LOVED the experience. Completing a smaller test project that is similar to the work you might do for that client long-term is an excellent way to determine a few things: Do you like the work? Is the client responsive? Can you work well with the client? Are they clear in their expectations? Is this something you can handle on a larger, more long-term scale? After the test project, it's totally cool to say, "Hey, I don't think this is a great fit" or to move forward and sign a contract for more work. See below to find out who I completed a test project for because they are my newest client! 🙂 Important note to remember: if you are doing a test project, you need to be paid for that work, so negotiate a fee upfront. For test projects, I invoice half the project upon signing the contract and the second half upon completion of the project.
Reward yourself. Too often, we don't stop to recognize and celebrate our wins and successes. I took my own words to heart and gave myself a random Thursday off in June to indulge in a spa day with my sister who was celebrating a promotion. I felt a little nervous taking a whole day off in the middle of the work week, but I worked a couple extra hours the weekend prior and made sure all my work was complete so I could fully enjoy the day. I will admit, I may have sent a few emails from the sauna (oops) but for the most part, I disconnected. It felt so good to take time to recognize and reflect on all that I've accomplished over the past few months. Treat 'yo self!
Confidence is key. Each month that goes by, I grow more and more confident in how I speak to potential clients/clients, the language I use in emails/proposals and in general, the way I communicate about my business. Sentences like, "That's outside the scope of our current agreement, but I'd be happy to provide a quote for this project" and "I'm currently at capacity for social media work right now, but I'd be happy to refer you to someone else who may be able to help you" are becoming part of my regular vocabulary. It feels really good to have this newfound confidence, especially as my business continues to grow. I know it's super important for me to continue staying strong and firm in my values, in the work that I want to take on and in the relationships that I want to develop.
The Highs and Lows:
There are always going to be good days and of course, there will always be not-so-hot days. Here are the things that made me super smiley and excited this month, along with some challenges I faced.
The Highs:
I welcomed a brand new major client! I am so excited to announce that I'll be managing content, developing a blog and writing landing pages for Jetpack. If you use WordPress, you've likely heard of this plugin (it has so many different awesome features for bloggers). Stay tuned for more details!
I began teaching at a new yoga studio! Check out my up-to-date yoga schedule if you're in the area and would like to practice together!
Hitting an income milestone in June made me super proud this month.
My guest post for The Penny Hoarder (I Made $40K From My Side Hustle While Working Full Time. Here's How.) went viral!
I was invited to speak at the upcoming Pennsylvania Conference for Women in Philadelphia in October! I'll be leading a roundtable discussion around branding your business. More to come!
I enjoyed a luxurious and relaxing spa day with my sister.
I celebrated one full year as a yoga teacher.
The Lows:
I struggled a bit with making time to work out- some weeks were better than others, but I'm having trouble prioritizing fitness when I feel overwhelmed with client work.
Procrastination. I know I'm a procrastinator (and I truly do believe it leads me to produce better work) however, it does not help my anxiety one bit. I know this is something I need to work on.
I set a goal this summer to improve my Pinterest game, but I haven't dedicated much time to this yet.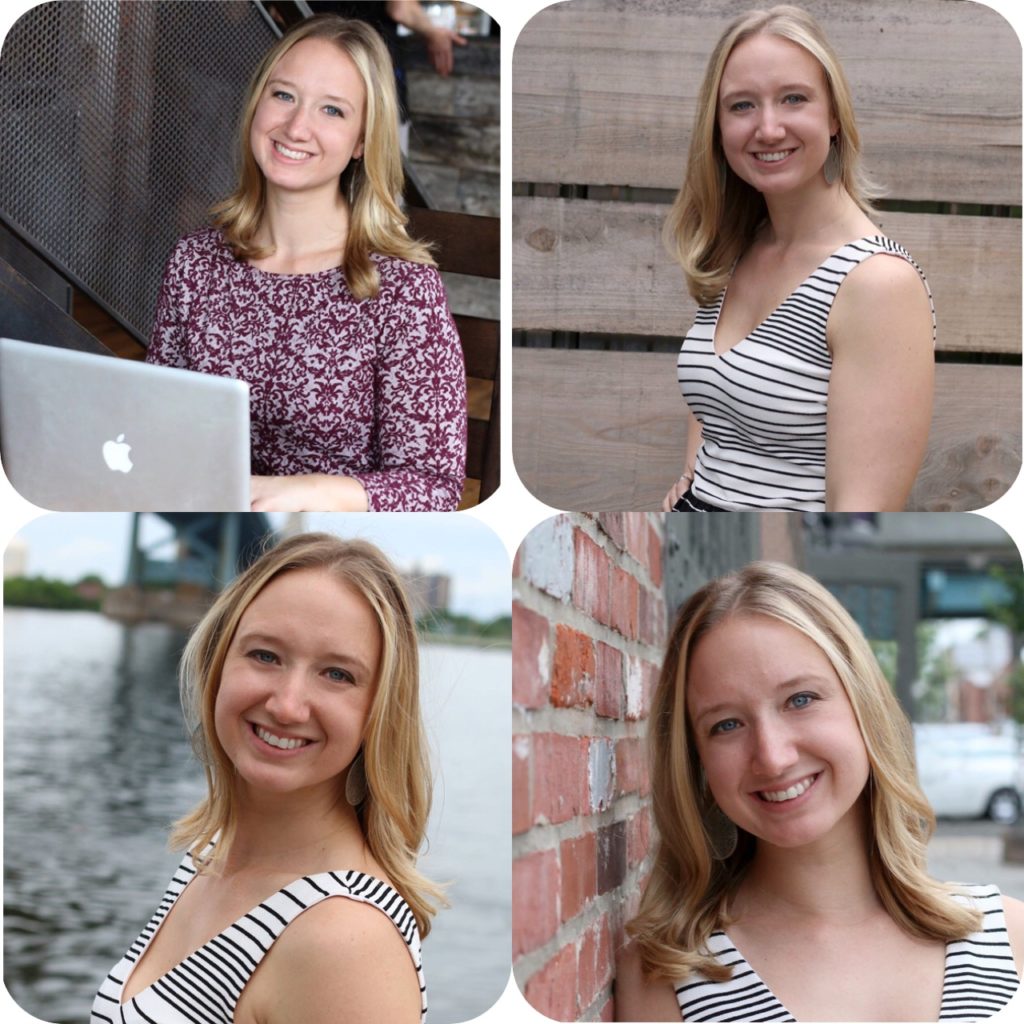 How I Feel:
I'm feeling *really* good heading into the rest of the summer. I was super worried that work would slow down in the summer, but it's actually picked up to the point that I am almost at my capacity.
The amount of work I've taken on excites me, but does overwhelm me a bit. I have a plan in place over the next month to get me back to a place where things feel more manageable, but in the meantime, I'm going to be over here working extra hard. I know it will be worth it.
I'm spending the majority of the month of July living/working in Ocean City, New Jersey, so I'm excited to revamp my schedule again to take advantage of the warm weather and time at the beach. I'm feeling extra grateful that this is my life now and I can truly work from anywhere in the world that I have my laptop and an Internet connection.
Onto Month Six! Stay tuned- I'll continue sharing these recaps monthly.
Have any questions about becoming CEO and my fifth month in business? I'd love to answer your questions and hear your thoughts about this journey!
Want more gutsy content delivered straight to your inbox twice a month? Be sure to sign up for my FREE #GetGutsy e-newsletter filled with inspiration, ideas and action items to get out of your comfort zone. When you sign up, you'll also be sent a FREE copy of the Get Gutsy ebook, filled with 19 inspirational stories to help you get gutsy.