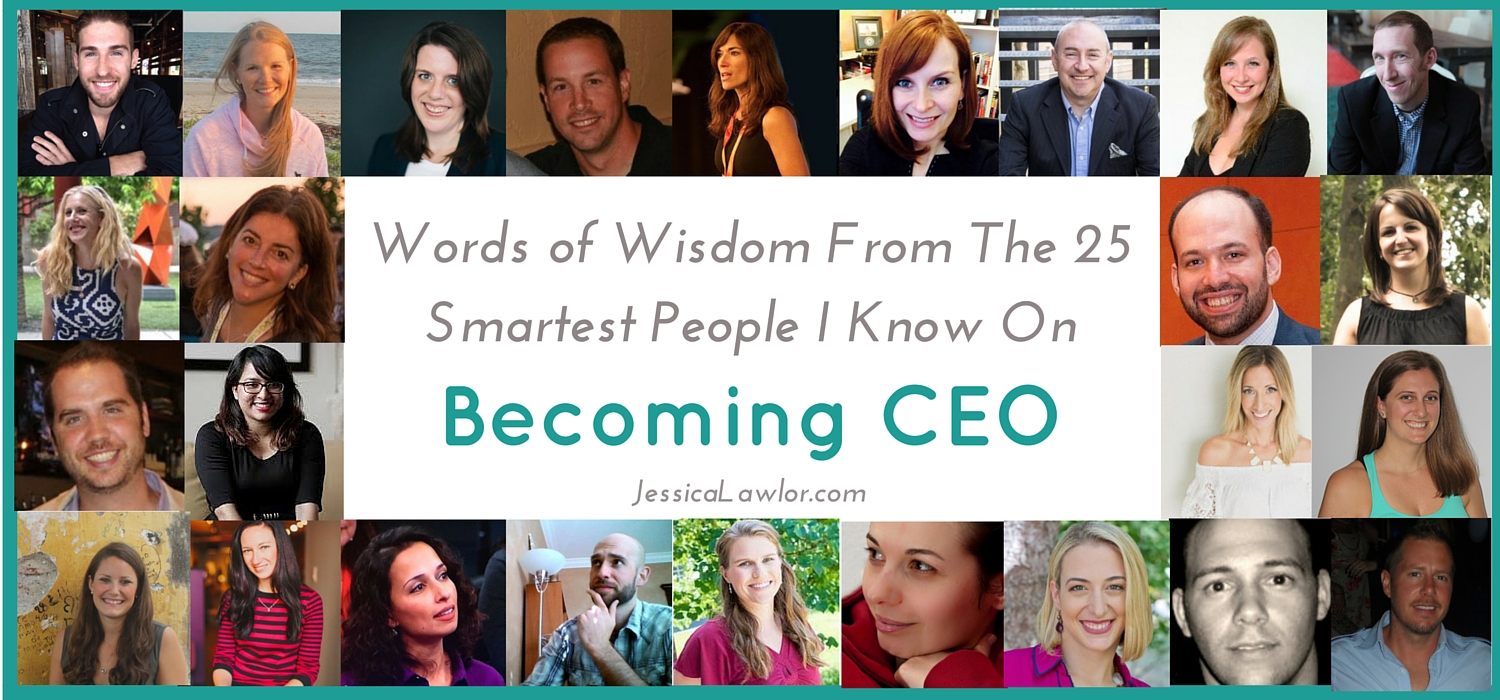 In December, I made a career (and life) changing announcement that I resigned from my job working in public relations to take my business, blog, brand and teaching full time. I'm bringing you along for the ride, giving you a glimpse behind-the-scenes of the exact steps I'm taking to make this work in the Becoming CEO series. You can check out previous posts in the Becoming CEO series here: 
Three weeks into my journey as a solopreneur, I've had the pleasure of chatting with more than 25 inspiring and smart fellow entrepreneurs over breakfast, coffee, drinks, Skype, phone chats and more.
These people are solopreneurs, agency owners, marketers, public relations professionals, yoga teachers, startup founders, sought-after speakers and authors. These people are my friends. My mentors. My network.
They say the best way to learn is by doing and while I agree, I also think when we set off on a new adventure, there's a lot we can learn from others. In my conversations with these savvy business owners, I asked each of them to share with me the top piece of advice they wish someone had told them when they set off on their solo journey.
I feel lucky to count these 25+ amazing people as part of my community. Now, you can benefit from their wisdom, too.
(Want to get to know these folks even better? I created a handy Twitter list so you can follow and learn from the best!)
Here are words of wisdom on becoming CEO from 25 of the smartest people I know.
On Making The Leap
"Have some sort of regular income on the side before you take the leap–whether that's one bigger client on a monthly retainer, a few weekly pilates or yoga classes that you teach, or a weekly shift at a local coffee shop–just so that your financial livelihood isn't 100% reliant on your budding business venture right from the get-go. Also, the earlier you can learn how to say no to the opportunities that aren't a good fit, the better! Oh, and give it time…patience is key." -Mary Catherine Starr, Starr Struck
On Running Your Biz
"Strike the word 'freelancer' from your vocabulary. You run an agency. In a world where people are constantly looking for reasons to discount you and to pay you less, you need to demand the respect you rightly deserve. That begins with defining yourself as a company and not as a person-for-hire. Otherwise, you are setting yourself up for disrespectful behavior (such as an expectation of working all hours) and a lower paycheck. Make it easier on yourself. Be an agency." -Betsy Decillis, Chief Content Officer, BAD Consulting
"When you start your own business you have to have laser-sharp focus and play to your strengths. You cannot be all things to all people. Think about the products or services you want your company to offer (your passion and what you do really well) and set your goals against growing these areas first. But don't just think about just one overarching business goal … go deeper. I divided my business into four quadrants.  Each of the four quadrants, which represent my core services, have overarching, big picture goals. Then, I set several prioritized process goals for each quadrant, which need to be achieved daily/weekly. By committing the time and resources necessary to achieve your process goals, you will be setting yourself up to successfully meet and/or exceed your overall business goals." -Deirdre Breakenridge, CEO, Pure Performance Communications
"As your own boss you need to remember that you are responsible for all aspects of your business. You need to schedule time each week for 1) Time to work on client projects and deliverables 2) Work on your business (website, blogging, billing, accounting, etc.) 3) Prospecting for future business. This is one of the most overlooked but projects that start in three monthsbegin with networking today." -Ed Donovan, PR/Marketing Professional
"Never let one client amount to more than 30 percent of your business. If you do and you lose that client, you're screwed. Remember that cash is king. Always have three months of expenses in your bank account. I know it's hard to do, but you'll appreciate having that kind of cash available." -Gini Dietrich, Founder & CEO, Arment Dietrich
When it comes to pricing, scope everything out to a T—this is where processes come in handy. You know what to expect and can accurately communicate the value being delivered. People who argue price will argue price whether its $10,000 or $1,000. Never negotiate down based on value—only negotiate down by taking away deliverables." -Ben Butler, Founder, Top Hat IMC
On Sticking To Your Guns
"You have to go into business understanding that you're not always going to have all the answers, and that that's okay. The fear of making the wrong decisions, hiring the wrong people, or working on the wrong projects can be debilitating, and is what holds many entrepreneurs back from growth. But you have to remember that every successful entrepreneur had to take risks and learn from their own mistakes. No one can tell you the right thing to do for your own business. You just have to listen to your gut, make thoughtful decisions, and pivot whenever something isn't working. Give yourself permission to make changes and don't beat yourself up if you don't get it right the first time. It's YOUR business after all, no one can take that away from you!" -Jess Ostroff, Director of Calm,  Don't Panic Management
"Be honest with yourself. Don't let what others have done be the mirror for what you think YOU need to do. Take it all in, then make your business your own. Success is built on learning, not mirroring!" -Jason Mollica, President, JRM Comm
"You do you. As you're building your business, you'll hear a lot of "shoulds", and it's easy to get swept up by what everyone else is doing. But remember: It's your business. Find what works for you — from your accounting software to your blogging frequency and everything in between — and go after it." – Sara Frandina, sarafrandina.com
"Figure out what you believe in and what you want to do and stick to it no matter what someone tells you. Listen to people, but don't let them tell you what to do." -Arik Hanson, Principal, ACH Communications
"Learn to say 'no.' It's really tempting to take every project that comes your way, especially when you're first starting out. Remember you're auditioning clients as much as they are auditioning you, so if something doesn't feel right, or they seem too demanding, or it's not the best fit, just walk away. Something else will come along. I do this regularly with my classes and other projects–anything that drains your energy and is on the lower end of what you're being paid–cut it. Something will always pop up in its place!" -Laura Scholz, Writer
On Time Management
"Time management can prove very difficult and lots of experts recommend time blocking. Consider these three recommendations as you try to manage your time. Be sure to include non-work activities in your time blocking – exercise, family/friend time, reading, whatever you like to do. Your natural inclination will be to overwork, which can lead to quick burnout. It's important to maintain the other aspects of your lifestyle. Next, prepare for your detailed, pristine, well-planed time block plan to get blown to pieces. Things come up in life and in business. As an entrepreneur, you'll get great ideas and want to chase them down right away. Sometimes you won't feel like doing the work you've planned to do in a given time slot. These and other factors will derail your timing plan. For this reason, and in general…cut yourself some serious slack. You will feel overwhelmed and will sometimes wonder where the time went. Don't freak out. Eventually you will get into a general routine, but be able to stay nimble and opportunistic and roll with the punches. If you've made the decision to go out on your own, you probably have the will to make it work. It just takes some time. " -Darren Behuniak, Marketing Executive
On Motivation
"As an entrepreneur, you have to be intrinsically motivated. You cannot rely on validation from team and/or clients (although when you get it, it's certainly OK to celebrate it!) I say this because it's a roller coaster. You're going to have high highs, and low lows. Some mornings, you're not going to want to wake up and face the day, other days, you feel like a rockstar. It can be lonely, especially during those lows. And those are the times you'll need yourself more than ever. Those are the days you'll have to dig deep and boost your own self. There are a few ways I do it. I have a gold star (not kidding!) file in my email client where I save emails that remind me of my awesome-ness. This comes in handy when I can't remember. Another way is to look back at what I've accomplished instead of what I'm still trying to accomplish or even more importantly, instead of what others have accomplished. Get good at this and you've got this business ownership thing in the can. " -Lisa Gerber, Founder, Big Leap Communications
"Control the narrative. As Shakespeare said, 'There is nothing either good or bad, but thinking makes it so.' You have no boss anymore to tell you if you're doing a good job or not. You can't rely on any single friend, family member or even customer to tell you if your business is on track. It's up to you to decide if things are going in the right direction, and if you decide it's not then change course as quickly as possible." -Greg Galant, Muck Rack
"We grow up being told what it means to be a good son or daughter, mother or father, husband or wife, friend, employee or boss. It's impossible to excel at everything, which is why we often feel like we can't have it all. People will try to tell you that you have to choose between family, friends, the company, your health, volunteerism — and a host of other things vying for your time. They say you can't have it all. They're wrong. Can you have it all? Absolutely, but first you need to get crystal clear on your priorities. Define your all. Don't let anyone else define success for you." -Heather Whaling, Founder/President, Geben Communication
"You are responsible for your own success. The amount of work you put into your business is directly correlated to the amount of success you'll experience. Just believe in yourself." -Paul Reiser, Cascade Pool Service
"Be prepared for the ups and downs. It doesn't matter how much you plan, life will throw a wrench in them and the best leaders pick themselves up, adapt and forge ahead." -Yasmine Mustafa, Co-Founder & CEO, ROAR for Good
On Networking and Building a Community
"Get out and go to in person events, conferences and meetups as much as possible. Working from home, remote or on the road can be lonely at times, so networking can help. More importantly, it helps to expand your mind and grow your community. I don't think enough freelancers or remote workers give this lesson enough importance. Networking is not dead, in fact it's more important then ever." -Renee Warren, CEO and Founder, Onboardly
"Don't go it alone. It can be tempting to try to do it all yourself, but community is key as you build your business. Find a community of like-minded solopreneurs who can push you outside of your comfort zone, hold you accountable, and provide support — and don't be afraid to ask for help when you need it." – Cristina Roman + Sara Frandina, One Woman Shop
"Being CEO is awesome, empowering, and rewarding — but it's lonely. Find a peer group, network, or mastermind community of like-minded people to bounce ideas off of and get feedback and direction on your projects and priorities. Combine your forces to lift everyone up!" -Nick Loper, Chief Side Hustler, Side Hustle Nation
"Keep asking for advice from others. You'd be surprised how helpful some people can be when you need them! By doing so, you also extend your network, and having a large network of friends is so important as you run your own business alone." -Melissa Alam, Founder + Editor-In-Chief, Femme & Fortune
On Self-Care as a Solopreneur
"The most important thing is to take care of yourself. Sleep enough hours to feel rested, eat healthy and train daily. You need energy and the only way to have it is to take care of yourself." -Corina Manea, Founder, Nuts PR
"If you're feeling sick, tired, or uninspired, get help immediately. Don't try to barrel through and work if you're unwell. Prioritize your own health, and the excitement and energy will follow." -Cat Alford, Personal Finance Expert
On Dealing With Doubt
"Don't listen to the doubters. There will be lots of people who won't think you can make it. Unfortunately, some of the people doubting you are the people you would expect to support you the most. Ignore them. Follow your intuition." -Julia Paddison, Julia Paddison Yoga
"When things get challenging, I remember, I'm part of the small percentage of people who said, 'Screw it. I'm going to do this.' It's not always easy, but if it was, then everyone would be doing it. It's allowed to suck. Not every day will be amazing." -Rich DeMatteo, Co-Owner, Bad Rhino
"You will doubt yourself! Expect that, and then when you do, you'll figure out how to get past it." -Alexis Grant, Executive Editor, The Penny Hoarder
Fellow biz owners: have additional words of wisdom to share? I'd love to hear it! Please leave your advice in the comments below.
Want more gutsy content delivered straight to your inbox twice a month? Be sure to sign up for my FREE #GetGutsy e-newsletter filled with inspiration, ideas and action items to get out of your comfort zone. When you sign up, you'll also be sent a FREE copy of the Get Gutsy ebook, filled with 19 inspirational stories to help you get gutsy.