Two BIG announcements before diving into your awesome questions.
1. Launch Week! I am launching something BIG on Thursday. It's my Personal Branding Checklist. I've been working on this baby of mine for months and I'm finally ready to share it. However, here's the kicker. I am *only* sharing it with my email list on Thursday, and Thursday, only. After that, the checklist will only be distributed to clients who book a Personal Branding Bootcamp session (which I'm also launching in detail on Thursday!) and those who attend my speaking engagements.
So…if you'd like a FREE copy of the checklist, subscribe to my email list now and you won't miss out! 🙂
2. My first-ever Blab session. Tomorrow (Wednesday, May 18) at 12:30 p.m. EST my accountability partner, Sara Frandina, and I are hopping on Blab to chat LIVE about our paths to solopreneurship. Our show, "From freelancing to full-time solopreneurship," will cover our individual paths to business ownership, the defining moment we knew we had to go all in with solopreneurship, the biggest lessons we've learned along the way and what we're super excited about in our businesses in the months ahead.
Click here to subscribe to be notified when we go live or to catch the broadcast after the fact, if you can't watch it at 12:30.
---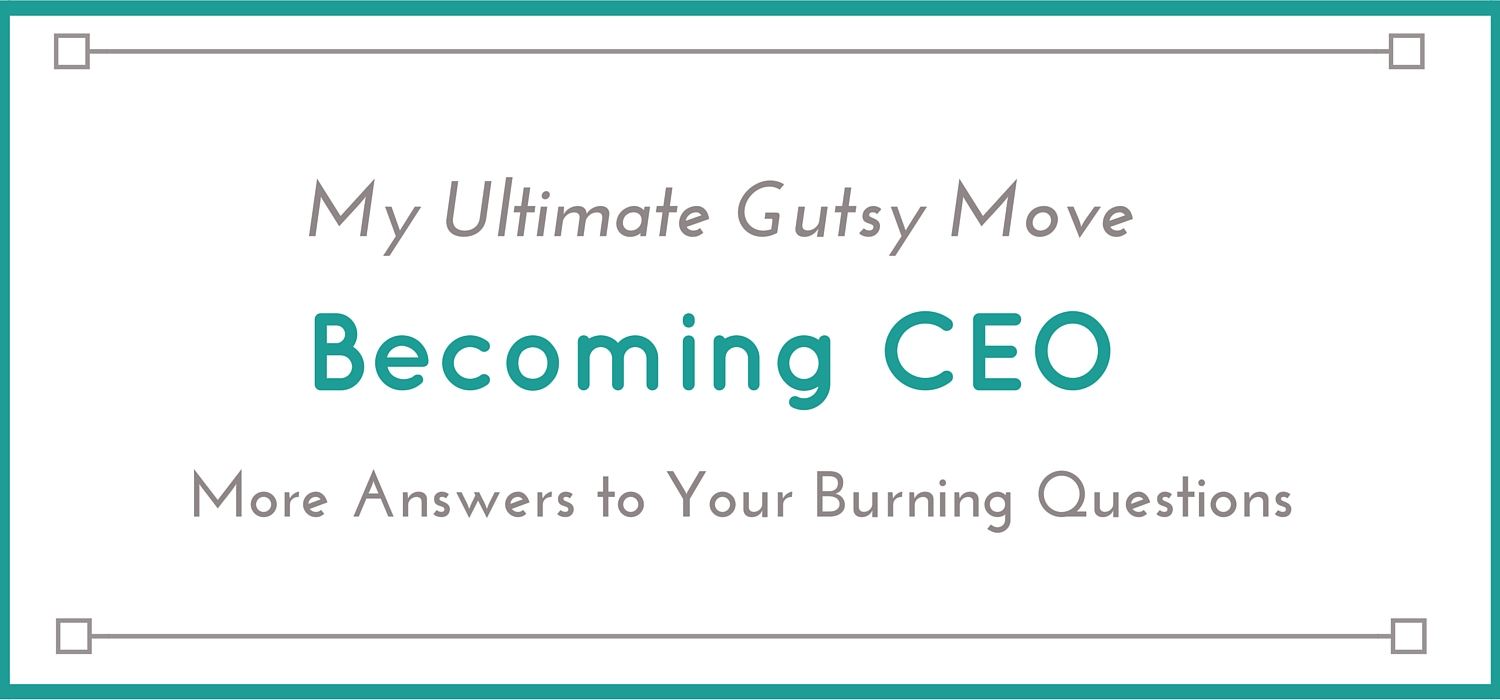 For those who are just catching up, in December, I made a career (and life) changing announcement. I resigned from my job working in public relations to take my business, blog, brand and teaching full time. I'm bringing you along for the ride, giving you a glimpse behind-the-scenes of the exact steps I'm taking to make solopreneurship work in the Becoming CEO series.
You all know that I love me some transparency. (I even wrote an entire blog post about why I love it so much and why I'm spilling ALL when it comes to this Becoming CEO journey.)
Back in January, I answered many of your questions about how I was preparing to quit my job and start my own business. Since I've been running my solo biz for almost four months, I thought it was time to put the call out for MORE questions, now that I'm fully entrenched in this new world.
Once again, you delivered. I received some amazing questions from my email newsletter list, blog and social media.
Here are the answers to even more of your burning questions.
Why I Quit and How I'm Feeling
Was there a specific tipping point or a moment that you knew you had to quit your job?
Yes, there actually was ONE specific moment I knew I *had* to make the leap.
Of course, there were a thousand little moments leading up to it, along with years of planning ahead knowing one day I'd be my own boss, but one defining moment does stick out in my mind.
It was October 2015. I was in my car on a 2.5 hour drive for a two-hour work meeting that I wasn't particularly thrilled to be driving five hours roundtrip to attend. I was pulled over on the side of the turnpike taking a catch-up call with my boss, jotting down notes and to-dos from our meeting that happened to take place during the middle of my drive. In that moment, I felt so scattered, stressed and unhappy.
After that, I resumed driving and called one of my best friends, Julia, who also runs her own business. I vented to her about my work trip, my endless to-do list and all the little things about my job that made my unhappy and she said to me, "Jess, what are you doing? Quit your job. Take your own business full-time. You can do it. I believe in you." She had said these words to me a thousand times before, but in that very moment, they struck me differently.
We spent the rest of my long drive making a plan. As many of you know, I didn't actually quit my job until December, so this was not a rash decision, but that defining moment got my wheels spinning, gave me the boost I needed to take next steps and set me on the path.
What is one thing you absolutely love about where you're at and one thing you wish you could change.
I absolutely love getting to choose the work I do and the clients and people I work with. Sure, there are some parts of the work I don't love, but for the most part, if someone requests a specific service and I'm not pumped about the work, I have the freedom to say NO. If a client is difficult, when our project comes to an end, I can choose not to work with them again.
As for one thing I wish I could change, this is completely in my control, but I need to work on managing my anxiety/stress levels. I often create my own stress by having unrealistically high expectations for myself. I also don't set realistic deadlines, leading me to feel crazed trying to accomplish an absurd number of things in a given day or week. I'm learning a ton about my capacity and what I can and cannot do, so I am working on this, but if I could change one thing, this, for sure, would be it.
Is there anything that you miss about your old job or working in a 9-5?
There are definitely a couple of things I miss:
I miss the people. I worked with some amazing people, especially the gals on my team, so I miss seeing them every day.
I miss feeling "part of something." This is a weird feeling that I've only really noticed in the past few weeks, but being a consultant means only being a very small part of an already existing team for the companies you work for. I loved being the "go-to" person at my job because I had been there for so long and had so much expertise. It's sometimes weird not to feel completely immersed in the world of whatever I'm doing, but then I remind myself, it's my job to have that distance and be able to offer a different view that a client can't see because they are so deep into the work.
This might sound bad, but I miss having downtime. If you work in a 9-5, you know that you don't spend the full eight hours you're at work working. There's lots of "water-cooler" talk, meetings that last longer than they should, lunch breaks, etc. I truly don't have that downtime in my new career. When I'm working, I am 100 percent working.
Habits and Doing The Work
What are your daily rituals? What does a day in your life typically look like?
My days vary, but here are some things I do every day:
When I wake up, I immediately make my bed. I heard on a podcast from someone who makes their bed first thing every day that it gives them the feeling of already accomplishing something small, yet tangible. Plus, I love coming back to a freshly made bed each night.
Then, I meditate. I use the Calm app (more on meditation coming on the blog soon). I'm currently meditating for 10 minutes daily, but may bump that to 15 minutes soon.
After I meditate, I check email/social media (NOTE: this is *never* the first thing I do in the morning).
Then I head downstairs to make coffee and breakfast. I usually allow myself 15-20 minutes of guilty pleasure TV while I'm doing these tasks. I continue watching whatever I was watching while I eat breakfast and once I'm done eating, I get to work.
I generally work from 6:30 or 7 a.m. until 11 a.m. or noon without stopping. As a general rule, I do not schedule morning phone calls or meetings, so my mornings are spent writing and doing client work. Around 11 or noon, I'll stop for a lunch break (and resume my guilty pleasure TV watching for another 20 minutes or so) 🙂
In the afternoons, I continue doing client work or perhaps take phone calls or go to a meeting.
I try to go to yoga most nights for the 5:45 p.m. class to make sure I have a clear stopping point for my work day. However, I also teach yoga, so some nights the work continues, just in a bit of a different fashion.
Have you been tracking your hours and if so, how much are you working each week? Do you think you work more or less than when you had an office job?
I have not been tracking my hours. I do track hours for some clients, so I know how long I spend on them, but overall, I have not tracked total working hours. Perhaps I should do that for a week as an experiment?
I can 100 percent say that in this moment, I work MORE than when I had an office job. This is a give and take. I'm only four months in to starting a business, so naturally, my focus is right here, right now. Hopefully, six months from now or a year from now, I'll have a little bit more balance.
Do you have set work hours?
Gah. No. Not at the moment.
As I mentioned in my daily schedule above, I try to work from around 6 or 7 a.m. until noon without stopping, so that's already six solid hours of work. I pick up work in the afternoon and sometimes the work continues into the evening with teaching. I do work on the weekends from time to time, but for the most part, stick to a Monday-Friday schedule.
However, even though I don't have set work hours, the beauty of all of this is that I can change my schedule at any time.
Yesterday, I met my mom and brother for lunch and didn't feel bad about taking time off in the middle of the day. Last week, I worked a half day Wednesday and went to Bethlehem to go to the Ellie Goulding concert. In April, I took three days off to participate in a yoga teacher training. In July, I'll be working from Ocean City, NJ and plan to try to work only mornings, so I can take advantage of beach time in the afternoons.
So yes, sometimes I work harder than I would in a typical 9-5, but I also allow myself a ton of freedom and flexibility when I want to take time off to do something awesome.
Will you grow as much as possible or stay small?
I am honestly not sure. Right now, I am happy with this being a solo venture, but know that eventually, I'll need to bring on an assistant, at the very least to help me stay organized and take on the administrative tasks that quickly suck up my time.
Maybe down the line, I'll want to grow this into more of an agency with employees, but for now, I'm loving the flexibility of only having to answer to and manage myself.
Never say never, though 🙂 I'm open to all of the possibilities.
The Practical and Financial Stuff
Do you use a tax pro? 
Yes, and thank goodness! I would never attempt to figure out my taxes myself as a solopreneur. There is way too much room for error.
I keep very meticulous records of my income, as well as my expenses for write-offs and at the end of the year, will hand over those records to my accountant to work his magic.
I also pay quarterly taxes, so this makes the burden of tax time a little bit easier. Again, my accountant was the person who helped me figure out how much I owe the government, state and local government every quarter. It's not fun to write those checks, but it makes all the difference when I don't owe a HUGE amount at the end of the year.
How do you pay yourself?
I pay myself when clients pay me (this varies; most clients pay me monthly or upon the start or completion of a project). Money comes in at different points throughout the month and I immediately put it into my bank account. Some goes into checking; some into savings. I also put aside money to pay my quarterly taxes, mentioned above.
My next steps include opening a business bank account so that I can truly "pay myself" a salary and be more strategic about saving money and planning for my future.
Did you consult a financial advisor before or during your switch to self employment? How do handle future savings and retirement? 
No. This is another thing on my business to-do list. I am currently not contributing to a 401K or planning for retirement. I'm sort of just trying to get my bearings, although I know how important future planning is, too.
Finding Work/Client Relations
How have your clients reacted to your tendency for transparency regarding your solo venture? Are you concerned it could sway some potential clients from seeking your services? 
No, I am not concerned at all.
I don't share actual numerical figures in my income updates, so no one knows how much a client is actually paying me. Similarly, I always check before I include a client in a blog post (like in this recent client update). Most of my clients are thrilled to be featured here!
In addition, I am confident in myself, my personality and the way I do business. If someone doesn't like my style of transparency, we probably aren't a match to work together anyway. I'm more interested in working with individuals and brands who align with my values, so I'm happy to decline work that doesn't fit into that bucket.
According to your monthly updates, you're reducing the number of meetings you have each month. Are your clients okay with this and has it been a turn off to any of them that you don't jump on a call with them whenever they want to?
Meetings can be great, but they can also be a huge time-suck.
In my first month of business, I had more than 30 meetings. YIKES. Never again. Most of these meetings stemmed from my big announcement. Many people in my network simply wanted to chat to congratulate me or offer me their words of wisdom, which was awesome and so appreciated. I wanted to take advantage of the momentum of people being excited for me and wanting to talk to me, so I did. A lot of my initial client work stemmed from those calls and meetings. However, I quickly realized that when you fill your days with meetings, you don't have time to do the work.
In terms of client meetings, I find we can often accomplish what we need to through organized, detailed emails (I'm a big fan of sending my client easy-to-read, buttoned-up, email updates) and quick phone calls. I do try to touch base in person with my clients once every few months because it's great to have face to face interactions, but none of my clients have requested more in-person meetings. Most of them are quite busy, too, and appreciate that we can get our work done via email and phone.
Similarly, if a client says, "can we jump on a call today?" and I have a free afternoon, sure, I can make that happen, no problem. However, if I honestly have a busy day or other engagement, I say, "I'm sorry, I'm not available. How's tomorrow afternoon?" and no one has given me any type of pushback.
Again, I think this goes back to choosing the right type of clients and people you want to work with. I work with very understanding folks (many of whom are also entrepreneurs and small businesses) so they tend to get it.
How YOU Can Do This Too
I want to get into freelance copywriting + social media management. As a blogger, I have my own content as a portfolio, but nothing else. How can I get started?
Awesome! Having your own content is an excellent starting point.
I'd recommend doing two things:
Pitch your content ideas to blogs and websites that accept submissions. The Write Life has tons of resources pointing folks to blogs and sites that accept submissions (some paid opportunities, too!) Getting clips is much easier than you might think.
Volunteer. The social media piece might be a bit more difficult if you don't have existing work to point to, so volunteer. Join a professional association or alumni group and see if you can help with their social media. Similarly, if there's a cause you're passionate about, non-profits are always a great place to seek volunteer opportunities.
I am doing a small speaking gig to a group who isn't very social media savvy. How can I leverage that opportunity to find client work?
Public speaking is an excellent way to showcase your expertise.
First off, do a killer job on your presentation. That speaks volumes. They'll remember an amazing presentation.
Bring your business cards and any other marketing materials you may have to share.
At the end of your presentation, let the audience know that you are available for individual consulting. Ask for their business. If you don't tell them what you do, don't assume they will just know.
Collect emails for your email list and send the group a follow-up email perhaps including the slides from your presentation and additional resources. Within that email, remind them that you offer consulting services and link to that page on your website. Consider offering them a special discount if they book your services within a certain period of time after the speaking engagement.
Are there any groups or associations I should join if I want to make a similar move?
There are individual groups and associations for every single industry out there, but the one group I recommend to every person looking to start their own biz is One Woman Shop. OWS is an incredible resource- you get access to courses and all kinds of perks, but it's worth it solely for the private Facebook group.
Here in Philadelphia, I'm also a member of the PHLBloggers, which is an amazing group that has offered me so many benefits.
It has also been on my list to join Solo PR Pros, an industry-specific group.
I question whether the world needs yet another blogger/solo CEO interested in how people achieve their dreams. Do you ever think about that?
Nah. Often I think that's a story or excuse we sometimes tell ourselves to keep us from chasing our dreams.
Even if there are a million bloggers or solopreneurs out there, there's only one YOU and you're going to put your unique spin and style on whatever it is that you do.
Have additional questions? I'd love to answer them! Leave them in the comments below!
Want more gutsy content delivered straight to your inbox twice a month? Be sure to sign up for my FREE #GetGutsy e-newsletter filled with inspiration, ideas and action items to get out of your comfort zone. When you sign up, you'll also be sent a FREE copy of the Get Gutsy ebook, filled with 19 inspirational stories to help you get gutsy.