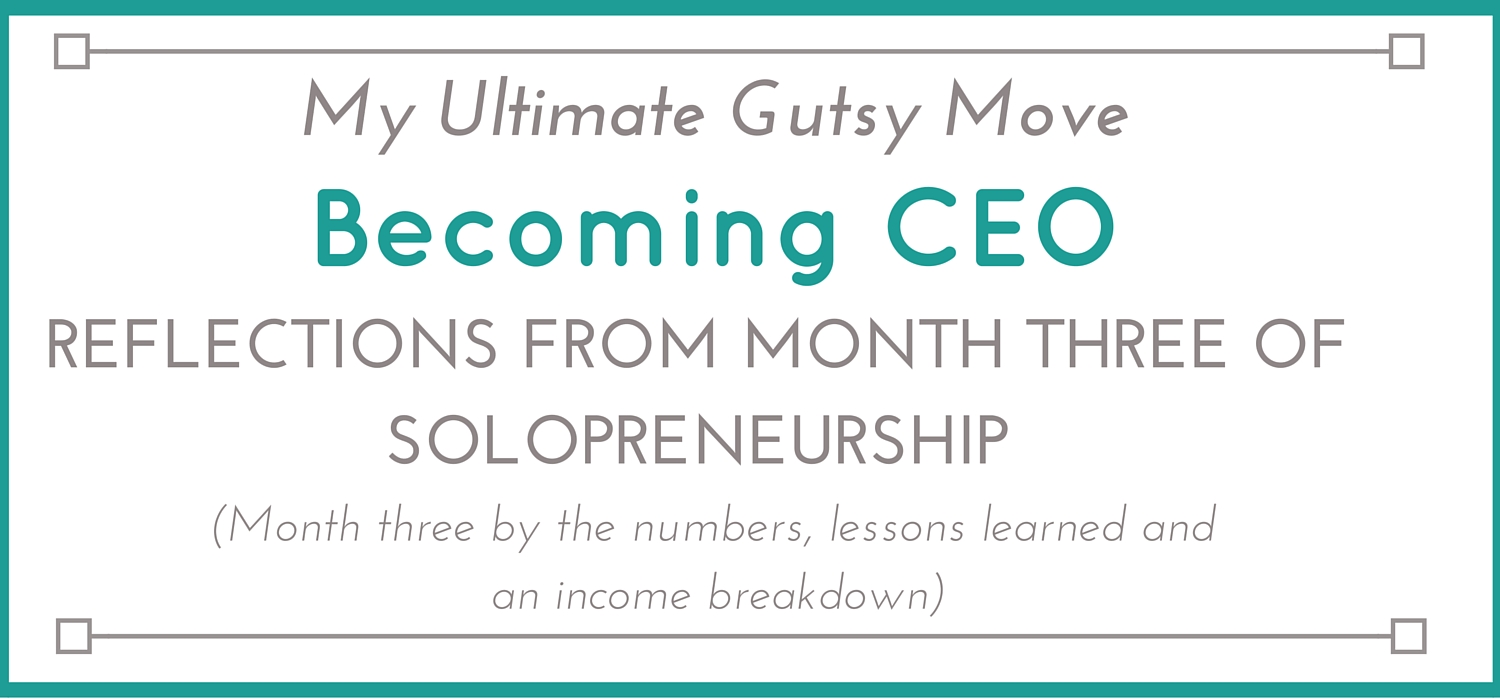 For those who are just catching up, in December, I made a career (and life) changing announcement. I resigned from my job working in public relations to take my business, blog, brand and teaching full time. I'm bringing you along for the ride, giving you a glimpse behind-the-scenes of the exact steps I'm taking to make solopreneurship work in the Becoming CEO series.
You can check out previous posts in the Becoming CEO series here: 
Let's take a look at month three of solopreneurship! Here's my month by the numbers, an income breakdown, lessons learned, the ups, the downs and how I'm feeling.
Month Three By The Numbers:
4 phone/Skype calls (as compared to 13 last month)
5 in-person meetings (as compared to 5 last month)
9 meetings total (as compared to 18 last month)
14 yoga classes taught
1 yoga workshop taught
2 trips to New York City for client events/meetings
2 speaking engagements
1 podcast interview recorded and one from March that came out (Listen here to my interview about becoming a yoga teacher for the Say Yes Podcast)
1 "Pick My Brain" consulting session completed
Month Three Income Breakdown:
Each month, I'll share a percentage breakdown of my income. As you can see, I have multiple streams of income, so as time goes on, I'll be curious to see which areas develop more than others, as well as what NEW areas might be added.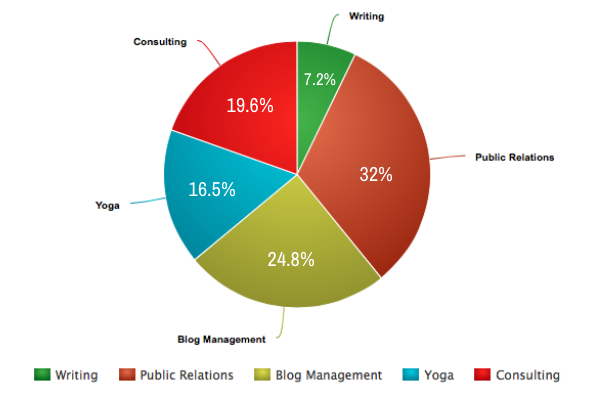 A few thoughts on the income breakdown:
I don't plan on sharing actual income figures (gotta keep some things private, right?) but I am super proud that in April, I increased my income from March by 6 percent. I know things likely won't continue to grow every single month, but in these first few months in business, the momentum is exciting!
I feel like I am starting to figure out my groove when it comes to the services I offer. I really like that certain areas are emerging and growing. Exciting!
Noticeably, writing is my lowest form of income for the month of April. It's probably not a secret that writing projects tend to pay by post or per word. It's becoming more lucrative for me to seek out retainer monthly clients doing other things like PR/social media/marketing, rather than chasing many small writing projects that eventually add up. I LOVE to write and will continue to seek out writing assignments because I enjoy them, but wanted to point out that it's more strategic for me NOT to try to write 10-15 posts a month to make that income add up to some of the other areas of my business.
Yoga is thriving! I taught several classes at three different studios this month, along with my first-ever workshop. I am so happy to see this area of my business growing.
The "consulting" category includes a "Pick My Brain" session, along with a bucket of hours a client purchased from me to consult on social media and other marketing initiatives. To me "consulting" means helping with strategy and offering ideas (with limited implementation- more like, give the client want they need and then let them execute on their own) My major consulting client at the moment is transitioning over to become more service-based (AKA, I'll be implementing the work, myself now) so this category may change in the months ahead. I may I know the phrase consulting can often be vague, so I wanted to clarify what exactly that means to me.
Lessons Learned from Month Three:
Take on less clients overall, but seek out higher-quality, higher paying relationships. This is a new strategy I'm beginning to implement. In my first few months of business, I seriously considered *almost* every potential project that came into my inbox. Naturally, I was worried about having enough work and making ends meet, so I wanted to say yes to everything. I quickly realized it wasn't realistic to try to satisfy 10-15 clients a month. It was a lot of jumping from project to project and I felt like my energy was scattered all over the place. A few months in, I'm starting to work a little smarter. Instead of chasing lots of smaller projects and clients, I'm focused on bringing on 3-4 bigger (and therefore, higher-paying) clients that need more of my time and services. This will nicely fill up my work time, keep me focused in 3-4 different areas and still leave time to grow my blog and take on other personal projects. Yes, this can also be scary because if one client drops off, that's potentially a big chunk of my income, but I have to trust that if and when that eventually happens, I will find a new project to fill that space. I'm pumped about this strategy and already making some headway.
Under-promise, over-deliver. I'm still really struggling with setting realistic deadlines for myself. When I have a call with a potential client who requests a proposal, I'm often only giving myself a couple days turnaround time, which then leads to me feeling frazzled and stressed out. My friend Caroline (a fellow solopreneur) reminded me that a better approach is to under-promise and over-deliver. I'm working on giving myself at least a week for these types of projects/proposals and then if I can complete them sooner, that's a big win and makes me look even better to a potential client!
Speed wins. Here's a hard lesson I learned last month. A potential client reached out about a project. At the time she emailed, I was having a very busy week and my inbox was out of control. I saw her message, skimmed it and made a mental note to reply that day. Somehow the day got away from me and I forgot and a week later, I was cleaning out my inbox and saw her note. AH! I quickly responded, said I was interested and would love to learn more. She replied that she had already filled the role. Yikes. I'm fine with not landing this specific project, but I'm not fine with the fact that I took too long to respond and lost a potential opportunity. I'm working on building a potential client intake process, even if I respond right away and buy myself a little more time by creating an autoresponse saying something like, "Thanks for reaching out and for your interest in working together! Please allow 48 business hours for a response to new client inquiries." (Not those exact words, but you get the point)
Trust your instincts. At the very beginning of my solo journey, a prospective client reached out to me with a project that seemed interesting. This potential client asked me to put together a proposal (very typical), so I did. After putting in quite a lot of work on the proposal and various phone calls explaining parts of the proposal, the contact informed me that they weren't ready to implement on these ideas and would get back to me at a later date. Yes, this is also typical and can certainly happen for legitimate reasons, but throughout the process, my gut was telling me that something was off. This contact reached back out to me recently and wanted to initiate a different project. I let them know that the project didn't seem like a fit for me. My instincts told me not to get involved, so I listened.
The Highs and Lows: 
There are always going to be good days and of course, there will always be not-so-hot days. Here are the things that made me super smiley and excited this month, along with some challenges I faced.
The Highs:
I hosted my first yoga workshop!
I taught a yoga class at Lululemon.
I started meditating daily. It has been life-changing. More to come on this.
I took three full days off of work (eeks!) to participate in an advanced yoga teacher training.
Travel! I went to NYC twice (once for the Shorty Awards) and another time for a client meeting. I got to meet the fabulous Jenny Blake in person!
I increased my work with one of my favorite and long-time clients. Super excited to take things to a new level!
My blog was named to One Woman Shop's 100 Best Sites for Solopreneurs for the second year in a row.
I spoke to the PHLBloggers about boosting your brand and participated on a panel at The Blog Connect Conference.
The Lows:
Health insurance, man. Signing up for insurance using healthcare.gov was initially no big deal and was actually a pretty seamless process. However, since then, I get incessant emails and phone calls from them insisting they need more information from me even though I've provided everything they need, according to my online account. It's hard to get straight answers from them. Not fun to deal with.
Quarterly taxes. I know it's a nasty reality of working for yourself, but writing that quarterly check to Uncle Sam was no fun. I know that it will be worth it come tax time though when I hopefully don't owe much next year.
I am still struggling with making time to work out. I still practice yoga 5 or so times a week, but really need to add in other forms of cardio/strength.
A general feeling of "Oh man, am I letting people down?" when I feel like I can't respond quickly enough or do everything that I want to do.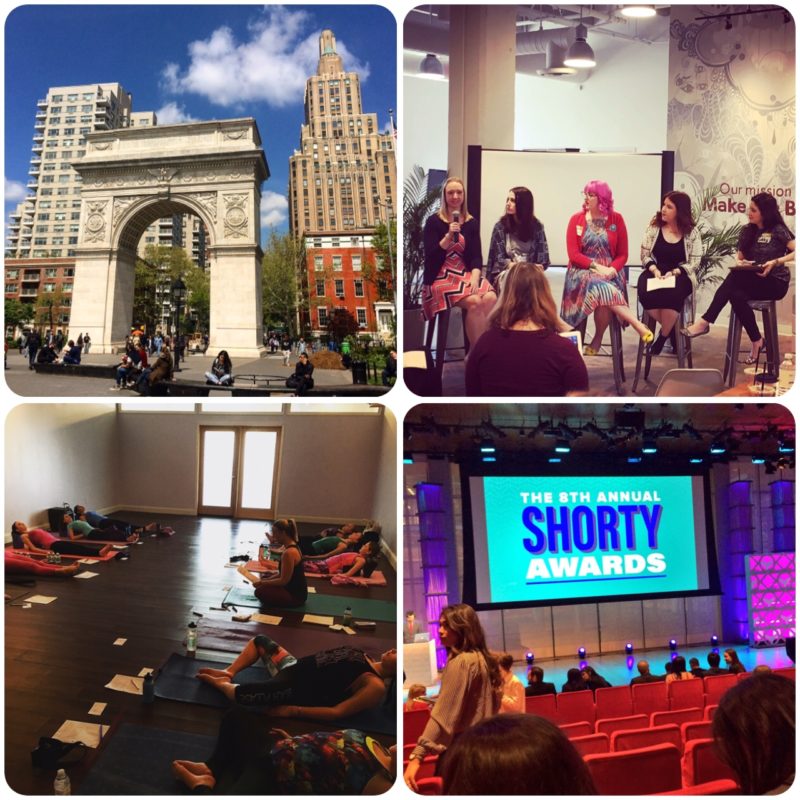 How I Feel:
With a full quarter of working for myself behind me, I'm feeling good! I'm beginning to feel more confident, I'm starting to develop routines and I'm getting more comfortable communicating in uncomfortable situations.
I'm loving the feeling of FREEDOM. It's so wonderful to be able to take a 9:30 a.m. yoga class in the middle of the week or to travel to NYC on two day's notice just because. In April, I took three full days off from working to attend a training and during that time, I actually landed a new contract! It just proved to me that when you have your own business, it's okay to give yourself time off to do what you love and as long as you've put in the work, your business keeps moving without you.
Of course, the anxiety never goes away. I'm working on managing these feelings. I'm slightly nervous that with the upward trajectory I've been on, I'm going to beat myself up if I have a month where my income is down or a client moves on. I'm trying to mentally prepare myself for these realities (because they are realities) and not let myself get too disappointed when something doesn't go my way.
I'm most proud that I'm starting to work SMARTER. As I mentioned in the lessons above, I have a plan to manage my client workload moving forward and I've been protecting my time and energy way more than I did in previous months. In Month One, I took 35 meetings, in Month Two, I took 18 meetings and in Month 3, I took 9 meetings. Each month, I've halved my number of meetings! Woohoo. Yes, meetings (with clients, prospective clients and simply networking) are important, but they can also be a time-suck. I'm being very strategic about with whom and how I'm spending my time.
Again, most of all, I feel grateful, proud and beyond excited about what's ahead. These first three months in business have just been a small taste of what my future can be like if I continue to hustle and make my dreams a reality.
Onto Month Four! Stay tuned- I'll continue sharing these recaps monthly.
Have any questions about becoming CEO and my third month in business? I'd love to answer your questions and hear your thoughts about this journey!
Want more gutsy content delivered straight to your inbox twice a month? Be sure to sign up for my FREE #GetGutsy e-newsletter filled with inspiration, ideas and action items to get out of your comfort zone. When you sign up, you'll also be sent a FREE copy of the Get Gutsy ebook, filled with 19 inspirational stories to help you get gutsy.