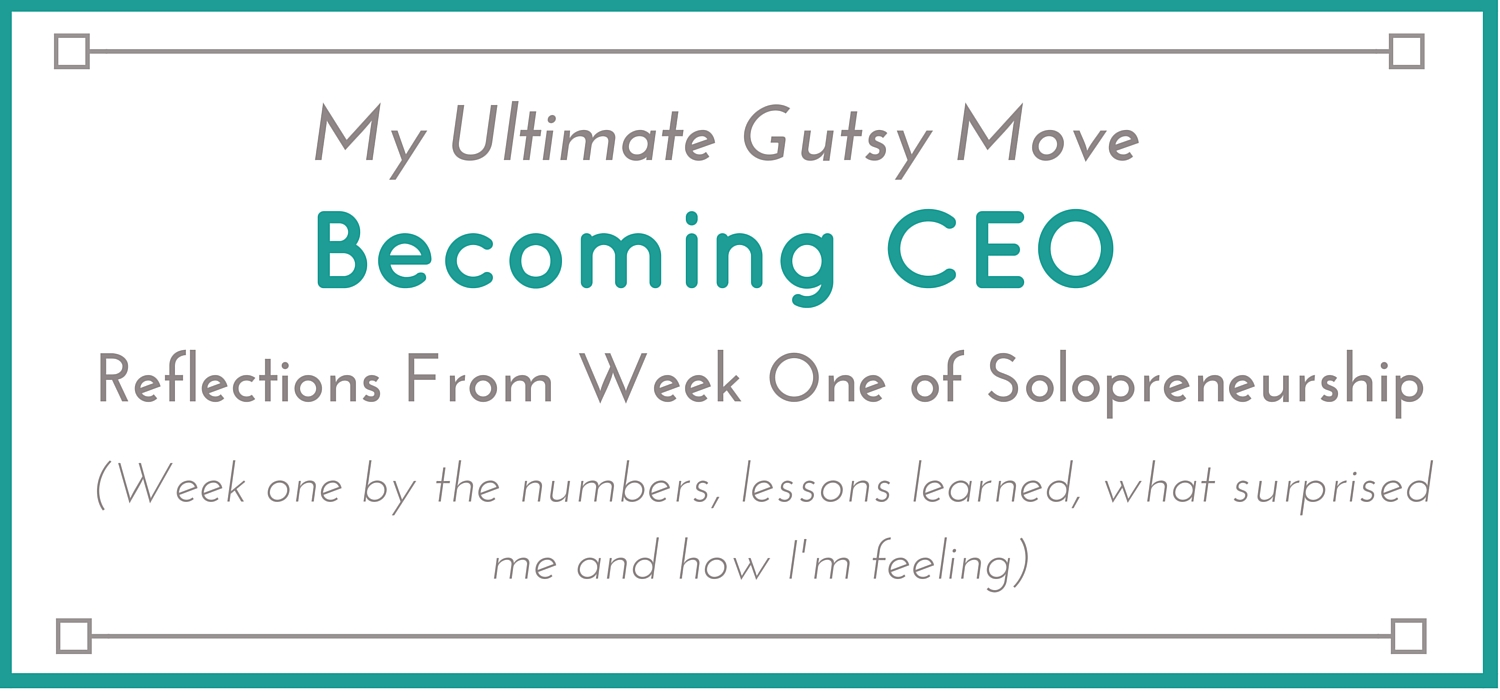 Hello from the other side! (Of self-employment that is). I officially have one week of full time solopreneurship under my belt.
In December, I made a career (and life) changing announcement. I shared that I resigned from my job working in public relations to take my business, blog, brand and teaching full time. I'm bringing you along for the ride, giving you a glimpse behind-the-scenes of the exact steps I'm taking to make this work in the Becoming CEO series.
You can check out previous posts in the Becoming CEO series here:
Let's take a look at week one of solopreneurship! Here's week one by the numbers, lessons learned, what surprised me and how I'm feeling.
Week One By The Numbers:
13 phone/Skype calls
5 in-person meetings
3 yoga classes taught
1 new proposal sent
2 revised proposals sent
3 new clients landed
2 articles/blog posts written
1 pitch sent out to the media on behalf of a client
Lessons Learned from Week One:
Break up my to-do list into categories. Almost immediately, I became overwhelmed by my growing to-do list. The list seemed completely disjointed, filled with action items like "proposal for X", "send Get Gutsy newsletter" and "write new yoga class flow." I had no idea where to begin or how to prioritize. To help myself see my work in different buckets, I broke my to-do list into four different categories: client work, potential clients, blog/brand and yoga. As soon as I revised my to-do list, I felt like a weight had been lifted off of my shoulders. I could clearly see (both visually and mentally) what needed to get done in each category of my new business. I plan to continue to think of my business in quadrants, ensuring I spend time every week in each category.
Don't schedule meetings every single day. Major mistake #1 committed: I completely overbooked my entire week. As you can see above, in total, I had 18 meetings last week. Whoa. While meeting with clients, potential clients and simply connecting with those in my network is super important, I also need to leave time to….work. Crazy, right? I know that these first few weeks I'll be a bit more overbooked than normal (I want to take advantage of the momentum of people learning about my news and wanting to chat) but I also quickly learned that scheduling back to back meetings or leaving 30 minutes in between meetings is definitely not conducive to actually sitting down and getting large chunks of work (especially writing) complete.
Leave the morning open for creative work. I've long known through my energy management practices that mornings are when I am most creative and productive. It's when I get my best writing done. Moving forward, I plan to try as hard as possible to keep my morning hours clear from meetings and calls so I can focus on writing and client projects. I know that in the afternoon my energy and creativity tends to wane, so I'll plan to use that time to be a bit more social, networking and connecting with clients and potential clients. I know it will be challenging to keep mornings clear, especially if clients/potential clients want to meet then (I know I'll need to make exceptions from time to time), but I plan to be pretty strict about this so that I can maximize my time and energy.
Cushion in extra time for assignments and projects. Last week, I said yes to pretty much everything. "Can you get that proposal to me by tomorrow?" YES. "Can you finish that blog post by Friday?" YUP. Somehow I thought that last week I'd be able to take 18 meetings, travel to the Lehigh Valley for an event, teach yoga classes, write a bunch of proposals, complete five articles, send out a pitch to the media and still keep up with my blog/newsletter? LOL. It was completely unrealistic to think I could accomplish that much in one week. I need to be a little kinder to myself and cushion in extra days, so that I'm keeping my clients happy, but also managing realistic expectations.
Treat yourself like a client. In my head, I *know* how important it is to treat myself like a client and still stay focused on my own blog, brand, newsletter and social media accounts, but when it came down to time constraints last week, my blog was quickly pushed to the backburner. I *do not* want that to happen. This blog/brand is the reason I was able to quit my job and make a go at this solopreneurship thing in the first place. However, I'm also reminding myself that I don't need to do everything all in one week. Last week, I wanted to write a blog post, send out a newsletter, live Snapchat my entire week (?!?), carry the One Woman Shop baton (see my posts from the day here, here, here, here, here, here and here) and Periscope twice. Uh??? Hello! Jess, are you crazy?! Unrealistic expectations. Now, I'm focusing on spreading out those initiatives, while still maintaining an active presence.
What Surprised Me:
How quickly the time flew by. When I pictured getting approximately 50 hours back in my week, I wondered how I'd even fill all of that time. It felt endless to me. Oh man, I was wrong. If anything, the days fly by even *quicker* than they did when I was at my 9-5. I haven't quite figured out why the time is flying, but I'm guessing it might be that 1. I'm super excited and passionate about everything that I'm working on at the moment and 2. I am responsible for my own success, so I'm putting a lot of pressure on myself to get everything done. There is no official start or end time at my new job, so at the moment, there are really no boundaries other than the ones I've set for myself.
The number of things there are to keep track of. There is SO much to keep track of when it comes to owning your own business. I think I have about five different spreadsheets going right now; I have separate sheets for my income, my expenses (think: gas mileage, business meals, memberships), my yoga class hours, my master networking spreadsheet, media clip document and more. Tracking takes much more time than I expected, but I am trying my best to be super organized and I know I'll be grateful for these processes I'm putting into place later.
My network! I know I shouldn't be surprised by this, but oh man, my network has come through in a BIG way. I've said it before, but ever since making my big announcement, I've been inundated with kind emails, well wishes and excitingly, new business opportunities. At the end of the day, it really is all about people and all about relationships. I feel grateful and proud to have such strong relationships with those around me. It has made this journey much less stressful to know I have an amazing support system.
Yoga opportunities. I knew that I wanted teaching yoga to be a major part of my new business, but I've been surprised at the number of incredible opportunities that have popped up in this space as soon as I had more time in my weekly schedule. I'm subbing a crazy number of classes, I was asked to teach a corporate class,  I have auditions at two studios for potential teaching spots and I'm co-developing my first workshop with a friend- a yoga for teens series.
How I Feel:
My first week of solopreneurship was much different than I thought it would be. When I envisioned my first week, I saw myself waking up with boundless energy, powering through my inbox, sending off proposal after proposal, writing blog post after blog post and documenting it all along the way on social media like a boss. I thought I'd feel light, free and happy the entire week.
Needless to say, when I took off my unrealistic rose-colored glasses, week one was much more difficult than I anticipated. I spent much of the week feeling overwhelmed and anxious.
Monday, my first day of full-time solopreneurship, was especially difficult. I felt like a lost puppy for most of the day flitting from one project/call/meeting to the next, never quite feeling like I was fully completing anything. I didn't eat lunch until 2 p.m. because I had no idea how to properly structure my day. The rest of the week improved from there- I quickly figured out some of the above lessons and already implemented changes in my schedule to help maximize my time.
However, I'm trying to be gentle with myself. As several friends told me last week, "Cut yourself some slack!" Another friend told me, "If you WEREN'T feeling anxious, I'd be concerned."
I'm reminding myself that this is a MAJOR life change. After six years of working at a 9-5, this is not a life change I'll get used to in a matter of just a few days. It's not something I'm going to excel and thrive at from day one. Like starting any other new job, there will be a learning curve. There will be days I feel endlessly busy and there will be days I feel like I accomplished nothing. It's all part of the process and I'm trying to learn to be okay with that.
On the other hand, I did have several moments of pure joy last week. Teaching a 9:30 a.m. yoga class on Friday felt completely indulgent. I felt like I was playing hooky from work, except then I realized: this IS my job now. I also seriously enjoyed coworking with a fellow solopreneur at a delicious cafe, without needing to worry about getting back to an office after my hour lunch break.
Don't get me wrong, I'm still 100 percent confident and excited about my choice to make a go of solopreneurship. However, as promised, I'm sharing the brutally honest ups and downs of this journey and the challenges of week one definitely fit into the "down" category. Hopefully I've made it through one of the most difficult parts of the journey and things are looking up from here!
What's Next?:
Ready to keep following along on this journey? Here's a look at what's to come:
Join me on Periscope tomorrow (Wednesday, February 10) at 10 a.m. EST. I'll be jumping on the livestreaming app to chat about all things solopreneurship. I'm happy to answer any of your questions about this journey as well, so feel free to leave a comment below or to join the discussion and ask your question on Periscope. You can watch a Periscope stream directly through Twitter or download the Periscope app and follow me there.
Hear from others who have made the leap. Next week, I'm bringing you the best advice I've received from all the super smart fellow solopreneurs I've been chatting with. You won't want to miss this one.
Stay tuned for my next detailed Becoming CEO update in March. I'm not sure how frequently I'll share these types of updates on the blog (I'd love to hear how often you'd like to read them in the comments below!), but I know I'll definitely share reflections from one full month of solopreneurship, so stay tuned for that post sometime in the first week in March.
Have any questions about becoming CEO? I'd love to answer your questions and hear your thoughts about this journey!
Want more gutsy content delivered straight to your inbox twice a month? Be sure to sign up for my FREE #GetGutsy e-newsletter filled with inspiration, ideas and action items to get out of your comfort zone. When you sign up, you'll also be sent a FREE copy of the Get Gutsy ebook, filled with 19 inspirational stories to help you get gutsy.