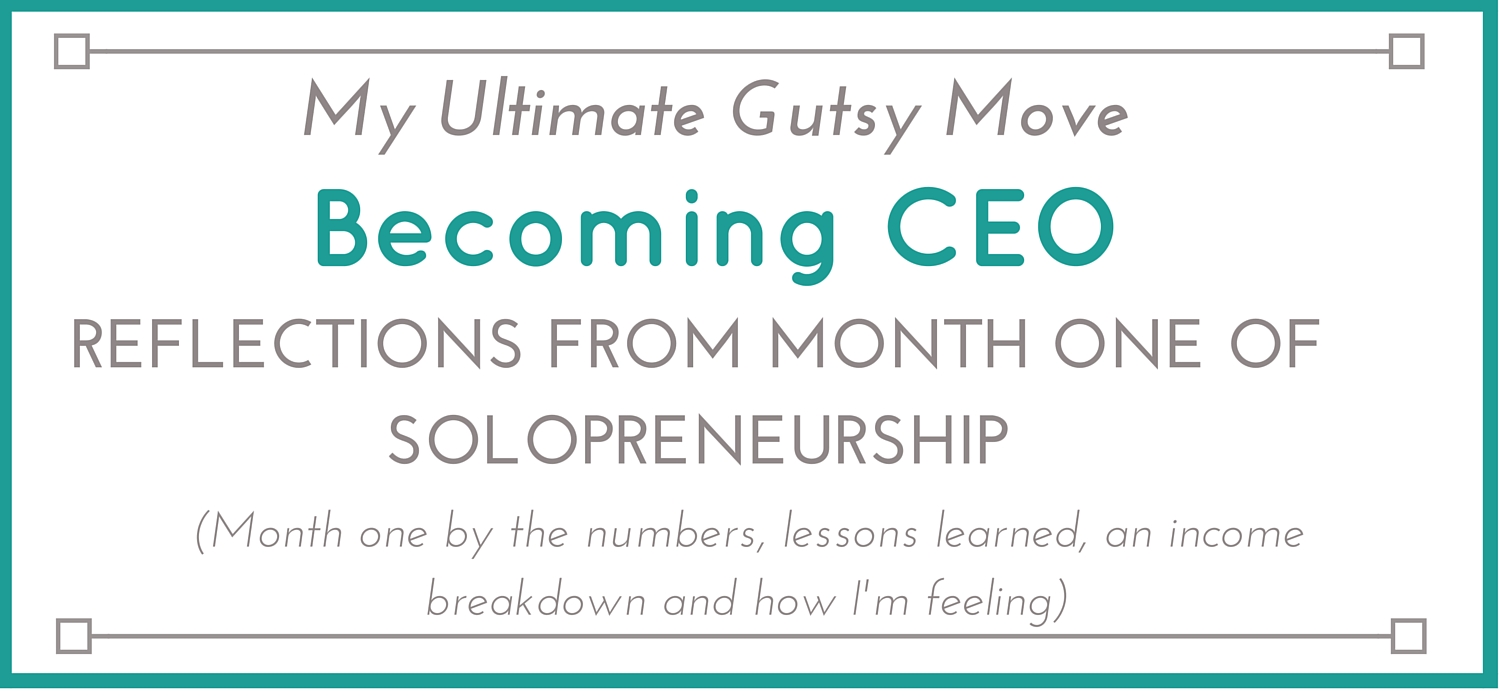 One month down as CEO! Where did the month of February go? It's crazy to think that four weeks of being out on my own, running my own business, have already passed.
For those who are just catching up, in December, I made a career (and life) changing announcement. I shared that I resigned from my job working in public relations to take my business, blog, brand and teaching full time. I'm bringing you along for the ride, giving you a glimpse behind-the-scenes of the exact steps I'm taking to make this work in the Becoming CEO series.
You can check out previous posts in the Becoming CEO series here: 
Let's take a look at month one of solopreneurship! Here's month one by the numbers, an income breakdown, lessons learned, the ups, the downs and how I'm feeling.
Month One By The Numbers:
24 phone/Skype calls
11 in-person meetings
35 meetings total (WHOA)
13 yoga classes taught
5 new proposals sent
1 Personal Branding Bootcamp session completed
2 personal design projects kicked off (biz cards + personal branding checklist coming soon!)
Thousands of puppy kisses and snuggles- Buddy is my favorite coworker
Month One Income Breakdown:
Each month, I'll share a percentage breakdown of my income. As you can see, I have multiple streams of income, so as time goes on, I'll be curious to see which areas develop more than others, as well as what NEW areas might be added.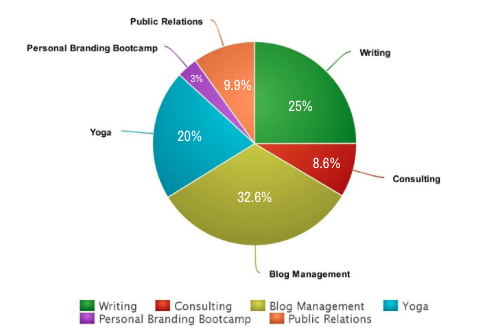 It was super eye-opening for me to look at my February income broken down in this way. A few thoughts on the income breakdown:
Blog management and writing are my top two income streams- this comes as no surprise to me as these are the two areas I've really been pushing. Content management/development is something I feel I excel at and these are two parts of my business I'd love to grow even more.
Hey there, teaching yoga! I think I'm most surprised by the percentage of time spent and income brought in from teaching yoga. I'm super happy about the way the yoga side of my business is developing and I hope it continues to grow!
My Personal Branding Bootcamp sessions are obviously a very small percentage of my income breakdown right now, but I'm getting ready to re-launch this service (along with an awesome FREEBIE for you!) later this month, so I'll be curious to see if this area increases in the months ahead.
One thing noticeably missing? Affiliate/blog income. One of my major goals is to monetize this blog in a way that feels authentic to me and stays true to the community I've built. I don't plan to pepper the blog with ads, so I'm moving slowly on this one and making sure I do things right to maintain the trust and level of quality we've built here together.
Lessons Learned from Month One:
Know your worth (and don't be afraid to turn down work). As a new business owner, naturally I want to say YES to every project that comes my way. Earlier this month, I faced a tough situation when a connection (and someone I really respect) presented me with an exciting project- a pretty lengthy article for a magazine. Unfortunately, when she shared the rate, I was a little bit surprised. The rate was quite low for the length of the piece and the amount of work involved in writing it. I expressed that the rate seemed low and she agreed, but said that she was unable to go any higher. After thinking about it for a few days, I ended up respectfully declining the project. I hated turning down this article (because I potentially lost a client) but at the same time, I know the value I bring and the set price wasn't going to be worth my time and energy. While turning down work isn't fun, I will say, I felt like a TRUE business owner, making a smart and strategic decision, when I shared that news with the client.
Take time to think things through before making a decision. When I get an email (especially one that makes me feel uncomfortable or nervous), my instinct is to respond right away because I want it be handled ASAP. I want to resolve whatever the issue is and get my thoughts out on the table. However, I've learned that it's more important to take time to think things through before responding or making a decision. This really came into play in the above scenario- instead of accepting (or rejecting) the writing assignment right away, I took a few days to think it over. At the end of the day, my gut already knew the answer (decline the piece), but I still gave my brain a few days to catch up.
Protect your time. I mentioned in my week one update that I seriously overbooked myself, scheduling meetings and calls, all day, every day. I quickly learned that the only way I'm actually going to get work done is by setting aside time to do it. That's why I've implemented a "no morning meetings" rule. I am keeping my morning hours free for writing and client work and scheduling meetings/calls for the afternoon when I have less creative energy. I've made a few exceptions here and there, but for the most part, my mornings have been set aside for me, and it's working wonderfully. It's easy to let other people dictate your schedule if you aren't strict with your time.
You never know when the work you're doing is TRULY making an impact on somebody's life. As I go about my day, writing blog posts, sending newsletters, chatting strategy with clients and teaching yoga, I rarely stop to think about the impact of what I'm doing might have on someone's business or life. After all, it seems silly that a blog post or email could actually change someone's world. However, I was reminded of this fact earlier this month when a student came to me after a yoga class and shared a story. She told me that the quote I read in class the week before (this that my friend Cait shared on Instagram) inspired her to take the next step to start the business she's been dreaming about for awhile now. I was SO thrilled that she shared this story with me and it reminded me that no matter what type of work we do, we need to know our WHY and be aware of the difference we can make. After all, isn't that what makes it all worth the effort and energy?
The Highs and Lows: 
There are always going to be good days and of course, there will always be not-so-hot days. Here are the things that made me super smiley and excited this month, along with some challenges I faced.
The Highs:
I was invited to speak at a few different events (and more in the works!)
I confirmed my first yoga workshop: Yoga For Teens
My FOURTH GRADE teacher sent me an email out of the blue to say she's proud of me. Month = made.
I was added to the sub list at two more yoga studios!
I had the chance to catch up with my friend Jeff and be interviewed for his podcast, Intentionally Wandering. My episode comes out on March 18!
A yoga student told me that a quote I read and message I shared in class gave her the push she needed to officially start her own business after months of thinking about it.
I connected with some super awesome fellow entrepreneurs- grateful for all of the fellow biz owners who have shared their time and wisdom with me!
The Lows:
One major struggle I never expected? Over-snacking! I am constantly hungry and without much structure in my day, I'm finding it challenging not to mindlessly munch.
I'm still working to find a schedule/structure that works for me. I know this one may take more than a month to figure out.
Taxes, man. I think I have 2015 all figured out with my accountant now, but I'm putting processes in place to make this process much more seamless for 2016.
Figuring out the business-y side of running a business. Sometimes I wish I had someone to hold my hand and say, "Okay, this is what you do next" when it comes to things like deciding if I should become an LLC, figuring out finances and legal stuff.
How I Feel:
It's such a cliche, but truly the only way I can describe entrepreneurship is as a rollercoaster. The highs are EXTREMELY high and the lows are EXTREMELY low. One day is AMAZING and the next day straight up sucks.
Case in point: one day this week, I felt like I couldn't do anything right and felt like I was letting everyone down. Breakdown central. The next day, I landed a new client, was offered a SUPER exciting speaking opportunity in Florida (more details forthcoming!) and had a general "I got this!" feeling.
Up and down. Up and down.
I told my two entrepreneur friends this and they both said, "Welcome to your new life. This is your new normal."
Overall though, I feel good and I know I made the right decision. There hasn't been a day this month that I wish I was back in my old job. I'm feeling super excited about all of the possibilities ahead.
Onto Month Two! Stay tuned- I'll share these recaps monthly.
Have any questions about becoming CEO and my first month in business? I'd love to answer your questions and hear your thoughts about this journey!
Want more gutsy content delivered straight to your inbox twice a month? Be sure to sign up for my FREE #GetGutsy e-newsletter filled with inspiration, ideas and action items to get out of your comfort zone. When you sign up, you'll also be sent a FREE copy of the Get Gutsy ebook, filled with 19 inspirational stories to help you get gutsy.