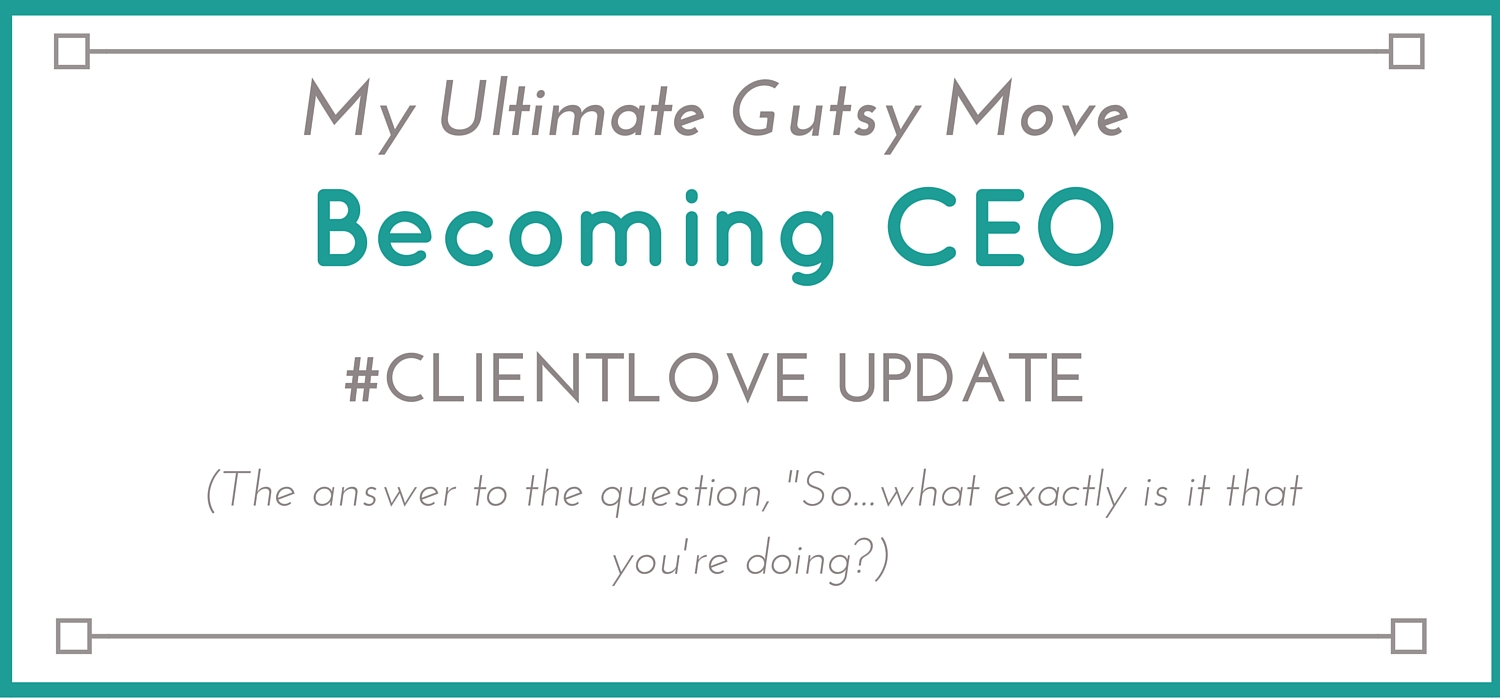 For those who are just catching up, in December, I made a career (and life) changing announcement. I shared that I resigned from my job working in public relations to take my business, blog, brand and teaching full time. I'm bringing you along for the ride, giving you a glimpse behind-the-scenes of the exact steps I'm taking to make this work in the Becoming CEO series.
You can check out previous posts in the Becoming CEO series here: 
Since quitting my job in December and officially starting out on my own in February, the most common questions I hear from people are "How's business?!" and "What exactly are you doing?"
I laugh because when people ask what I'm doing, my answer is always a little scattered, but that's because right now, I'm doing LOT of different types of work from media relations to ghostwriting to branding consulting.
To help answer that all-important question, every so often, I'll pop in with a #ClientLove update, a glimpse into the work that I'm doing for some of my clients.
Public Relations
Crossing Vineyards and Winery:
I'm excited to be handling media relations for Crossing Vineyards and Winery, an awesome winery in Bucks County. The winery puts on tons of events throughout the year, so much of our pitching thus far has been centered around their event calendar. We landed some great local media clips around Valentine's Day and St. Patrick's Day and now, we've turned our focus to the winery's extensive roster of spring events.
I'm particularly proud of this great story we landed in the Harrisburg Patriot-News (PennLive.com) "No surprise: Crossing Vineyards spring schedule packed with variety." The journalist behind the piece, Paul Vigna, allowed the winery to share a behind-the-scenes update AND he detailed all of the upcoming spring events. Huge win! (Thanks, Paul!)
Addicted 2 Dance/Sweet Rose Studios: 
Are you familiar with virtual reality? If you're not, get yourself in the loop because this trend is about to EXPLODE in the next several months.
My friend, Sean Rose of Sweet Rose Studios, jumped on board with the technology and filmed a 360 degree video of a boys hip hop class for his client, Addicted 2 Dance, a dance studio in Ambler, PA.
Seriously, check out this video. It's SUPER cool. If you watch the video on your smartphone, use your finger to "move" around the scene and tilt your phone in various directions for different views. On your desktop, use your mouse to click and drag your way around the scene.  
Sean brought me on to pitch the story here locally, as well as to some key tech publications.We're still in the midst of following up with media, but already had a great story air on KYW, as well as a fantastic piece in the Ambler Gazette.
Writing & Content Development
The Write Life:
I'm writing 2-3 articles a month for one of my absolute favorite websites about writing, The Write Life. Lisa Rowan, editor of the site, is absolutely AMAZING to work with. She's incredibly encouraging and provides awesome feedback and edits to make pieces even stronger.
Here are my last few posts for the site:
Scribewise:
I write monthly blog posts for a great content marketing firm based here in Philadelphia, Scribewise. Scribewise is a part of Trellist Marketing + Technology. I love writing for Scribewise because I'm able to stay in-the-know on all things content marketing, a super important piece of my business.
A couple of my latest Scribewise pieces:
Blog Management
Muck Rack:
Muck Rack is a long-time client; we've been working together almost three years! I serve as the features editor, recruiting writers, maintaining an editorial calendar, editing/publishing posts and scheduling and posting social media updates to promote new content. Essentially, I manage Muck Rack's awesome blog by filling it with smart and savvy pieces from excellent contributors about public relations, journalism and social media.
I'm especially proud of a few awesome posts from our team of writers this month, like this one about the best productivity apps for journalists and this one about why your LinkedIn presence sucks.
Interested in writing for Muck Rack? Check out our guidelines and give me a shout!
Personal Branding Consulting
Cara Bradley and On The Verge: Wake Up, Show Up, and Shine:
My work with author, yoga teacher and entrepreneur Cara Bradley began as personal branding and social media consulting, but has morphed into so much more as she prepares to launch her book, On The Verge: Wake Up, Show Up, and Shine on April 12!
I started working with Cara a few months ago, helping to develop a social media strategy and training her team on social media best practices. Now, we've increased our work together and I'm handling social media and public relations here locally for Cara's book launch! We're also working together on some email marketing, which has been super fun.
Cara's writing is really inspiring, so I encourage you to check out her blog.
Jennifer Kreatsoulas and Chime and Resilience Yoga:
Jennifer Kreatsoulas and I began working together back in the late summer as she was preparing to launch her yoga mentoring, therapy and editing business, Chime. Since then, Chime has evolved many times over (as most new businesses do!) and Jennifer recently announced a new venture, Resilience Yoga, yoga-inspired healing for eating disorders.
My work with Jennifer has included helping her set up her email marketing program, teaching her social media best practices (she's rocking it on Facebook and Twitter!) and helping with her blog/content strategy.
I can't wait to see where Jennifer takes Resilience, since I know this is a cause dear to her heart!
Jessica Lawlor and the Get Gutsy Brand
One thing I quickly realized when starting my own business is that it's really easy to allow your own personal projects to take a backseat when client work comes into the mix. However, I know that my blog/brand is the reason I was able to quit my job to actually do this thing, so I treat myself as my own client to ensure I'm focusing on my brand, too.
These are a few things I'm working on personally and behind-the-scenes here on the blog:
Yoga: I launched a dedicated yoga page last week and shared an update featuring 7 awesome things happening in my yoga world.
Personal Branding Bootcamp and Checklist: I'm working with designer Brigette Indelicato on revamping my personal branding checklist (coming your way soon!) so that I can re-launch and share details on my Personal Branding Bootcamp offering. Stay tuned for more details!
Public Speaking: I've been doing a lot of speaking lately (check out my recap from Temple's PRSSA TU Invite) and have a couple more engagements coming up in April. In a few weeks, I also have some BIG news to share about an upcoming speaking gig.
Feeling honored and excited to be working with so many wonderful clients- and this is just a sampling of what I'm doing (and what I'm able to share publicly!) More updates to come!
Have any questions about the work I'm doing? I'd love to answer them in the comments.
Want more gutsy content delivered straight to your inbox twice a month? Be sure to sign up for my FREE #GetGutsy e-newsletter filled with inspiration, ideas and action items to get out of your comfort zone. When you sign up, you'll also be sent a FREE copy of the Get Gutsy ebook, filled with 19 inspirational stories to help you get gutsy.