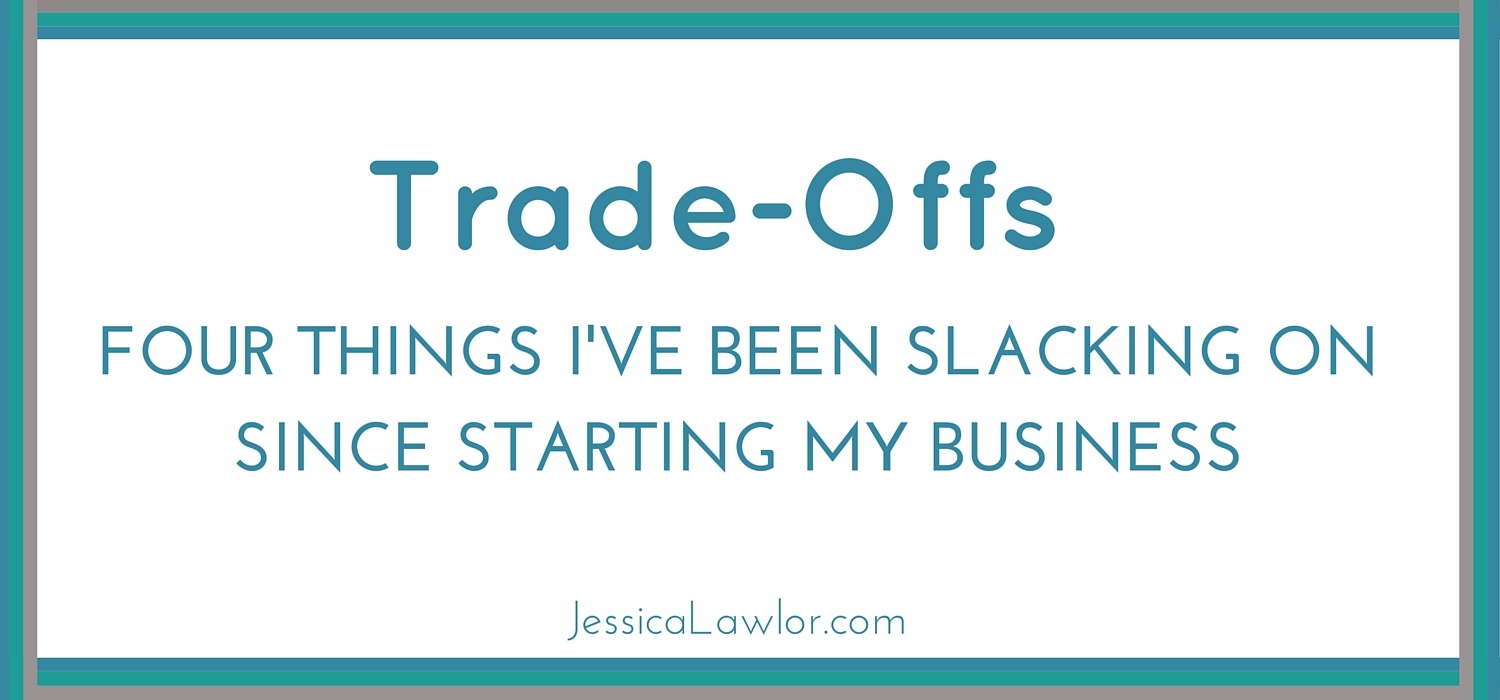 A few weeks ago, I sent out a super personal email to members of the Get Gutsy e-newsletter community.
Pssssst- I do this every two weeks! Are you on this list? If not, what are you waiting for?!
When I sat down to write that day, all I could think about were my unanswered emails, my endless to-do list and all the people I felt like I was "letting down."
So, I decided to write about it. I wrote about all the things I felt I was slacking on since quitting my job to run my own business.
For a second, I thought to myself, maybe it's not so smart to send out an email a list 1,300 people strong to tell them all the things you're terrible at (and then to subsequently publish it on your website for the whole Internet to read), but then I said, "the hell with it."
This is my reality as a new solopreneur. And I want to share that with you. When I started the Becoming CEO series, I promised it would be real- filled with the highs and the lows of solopreneurship. Sometimes the lows are low.
Let's be real, you can't be good at everything.
Especially when you're building a business. Or writing a book. Or kicking off a project. Or starting a new job. Or embarking on any major life change, really.
I was super inspired by Jenny Blake's podcast episode, Trade-Offs: 5 Things I Was Terrible At While Writing a Book. In the podcast, she says "Any big project requires trade-offs."
That's for sure. When you're so focused on ONE BIG THING, naturally, other aspects of your life fall by the wayside. When one area blossoms, we have to accept that other parts of our life take a backseat, at least for the time being. Ebbs and flows, right?
So, with that being said, while I love my growing business and brand, here are the trade-offs I've made. These are the things I haven't been so great at over the past few months.
1. Personal projects. I promised myself when I started my business that I wouldn't let my blog or personal projects take a backseat. I've totally failed on that promise to myself. While I've definitely kept up the blog (hooray!) two big personal projects on my radar are currently on the backburner. One is my personal branding checklist, which I *really* wanted to re-release in March. Sigh.  The second project is revamping my 30 Days of Gutsy course; I ran it twice as an email-based course in 2015, but want to bring it back in a new format. Someone hold me accountable for these two projects, okay?
2. Waking up early. Most people who know me well know that I'm an insane early bird. My most popular blog post ever is one I wrote on why I wake up at 5 a.m.Waking up at 5 a.m. wasn't hard for me when I had a day job because I knew I only had 2-3 solid hours to work on my blog/client projects before needing to leave for work. It turns out, when you have endless hours of a day stretched in front of you, it's quite challenging to force yourself out of a warm and cozy bed at the crack of dawn. Most days, I'm up and about by around 6:30 (still early-ish) but I'd love to make my way back to early bird status.
3. Dating. LOL. What is dating? What is love? I kid, I kid, but seriously, dating was one of the first things I stopped spending time on when I went into full #girlboss mode. That's not to say I don't want to be in a relationship; actually, I would really *love* that, but at this moment, dating (especially online dating) takes up precious time and energy I truly don't have to give. Hey, who knows…maybe the whole "you'll find it when you stop looking for it" adage will hold true here.
4. Emails. One of my most-commonly-used phrases these days is, "So sorry for the delay in responding to this email!" I cringe every time I type it. I love emails (especially from members of this community, so please keep sending 'em) but my response time is definitely not where I'd like it to be. Especially now that I'm managing multiple inboxes, I'm finding it harder than ever to keep up with it all. I don't like feeling like I'm keeping people waiting or letting them down, but I'm trying my hardest to prioritize, and emails unfortunately are a bit lower on the list.
While it's never fun to feel like a slacker, I wouldn't change a thing. I feel so grateful that my new business is growing and thriving. After nearly three full months out on my own, I can honestly say I feel fulfilled.
There hasn't been a day I've regretted the decision to make my dreams a reality. I guess that makes all the trade-offs in the world worth it, right?
Welp. Now that I've told you all the things I'm slacking on, make me feel a little better about myself and tell me some of YOUR recent trade-offs in the comments below!
Want more gutsy content delivered straight to your inbox twice a month? Be sure to sign up for my FREE #GetGutsy e-newsletter filled with inspiration, ideas and action items to get out of your comfort zone. When you sign up, you'll also be sent a FREE copy of the Get Gutsy ebook, filled with 19 inspirational stories to help you get gutsy.