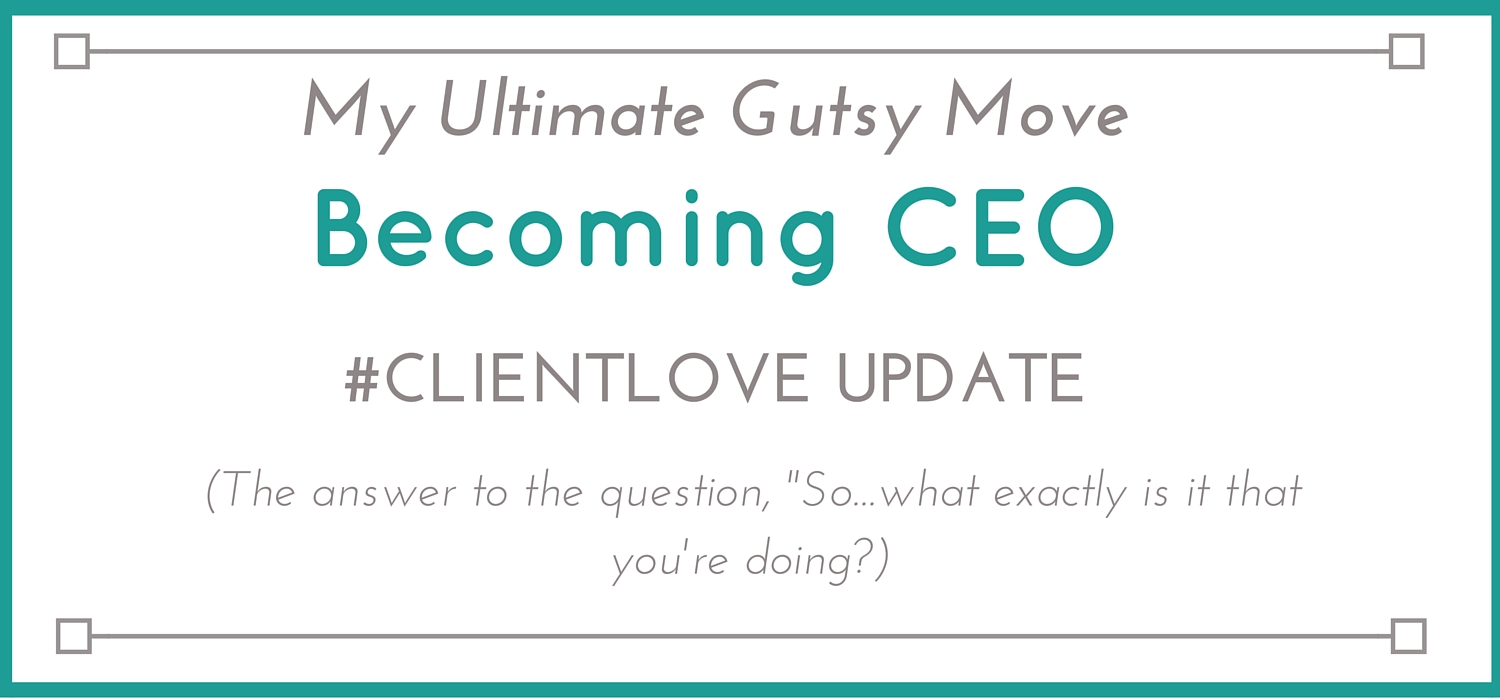 For those who are just catching up, in December, I made a career (and life) changing announcement. I resigned from my job working in public relations to take my business, blog, brand and teaching full time. I'm bringing you along for the ride, giving you a glimpse behind-the-scenes of the exact steps I'm taking to make solopreneurship work in the Becoming CEO series.
You can check out previous posts in the Becoming CEO series here:
Since quitting my job in December and officially starting out on my own in February, the most common questions I hear from people are "How's business?!" and "What exactly are you doing?"
I laugh because when people ask what I'm doing, my answer is always a little scattered, but that's because right now, I'm doing LOT of different types of work from media relations to ghostwriting to branding consulting.
To help answer that all-important question, every so often, I'll pop in with a #ClientLove update, a glimpse into the work that I'm doing for some of my clients.
Public Relations:
Crossing Vineyards and Winery:
I've been working with Crossing Vineyards and Winery since the very beginning of my Becoming CEO journey (they were my first new client to come on board!) and we've been rocking and rolling with media relations ever since.
Crossing Vineyards is known for their amazing events and their Wine + Yoga and Cycle + Sip offerings caught the attention of our local Philly media.
I'm especially proud of this 6ABC FYI Philly segment featuring both of these awesome workouts at the winery. Best of all? In addition to coordinating the segment from a media perspective, I also got to participate in the staged yoga class we set up the day the station came out to shoot the piece! See if you spot me in the video!
The Winery has also gotten recent publicity in Philadelphia Magazine, Philly.com, The Philly Voice and KYW.
Pennsbury Manor:
Ben Franklin may get all of the attention in the Philadelphia area, but William Penn is really the guy who started it all…and his former estate is right outside the city in Bucks County! I've been working with this awesome historic site, Pennsbury Manor, for the past few months on media relations and developing content for social media.
Pennsbury Manor recently hosted their major fundraiser of the year, Brews & Bites, which got attention from a few of the local Philadelphia outlets, including Philly.com, Levittown Now, The Philadelphia Agenda Show, The Advance of Bucks County and more.
Writing and Content Development:
The Penny Hoarder:
I'm a new monthly contributor to The Penny Hoarder, the world's largest personal finance blog with 10+ million monthly readers. My first post for them went VIRAL! (My first-ever viral post! So cool!) As of writing this post, my contribution to TPH has nearly 2,000 likes and more than 1,000 shares + lots of comments (some of them not so nice! haha).
Read the post here:
The Write Life:
I contribute two posts a month to my favorite writing website, The Write Life. Here are my last few posts for the site:
Scribewise:
I write monthly blog posts for a great content marketing firm based here in Philadelphia, Scribewise. Scribewise is a part of Trellist Marketing + Technology.
A couple of my latest Scribewise pieces:
In addition to client work/writing, I sometimes pitch my ideas to other reputable sites as a way to get exposure for my brand. These are a few of those pieces.
Elephant Journal:
I love, love, love to read Elephant Journal. I decided to combine two blog posts I had already written for this blog into one post for EJ and they decided to publish it!
Spin Sucks:
Spin Sucks is an amazing PR blog that I love to read, so I was super excited when they invited me to contribute another post.
Blog Management:
Muck Rack:
This July, I'll celebrate three years with Muck Rack! In the past few months, we've stepped up our work together which is AWESOME.
We now:
Social Media and Marketing:
Cara Bradley and On The Verge: Wake Up, Show Up, and Shine: 
I'm super excited to continue my work with author, teacher, coach and all around inspirational person, Cara Bradley. Initially, we worked together on PR and social media for her book launch (On The Verge: Wake Up, Show Up, and Shine), but Cara has kept me on to run her social media and her email marketing initiatives!
I'm having a blast experimenting with her email marketing. We've recently been trying out different layouts and approaches to communicating with her subscribers to see what makes the biggest impact. Our email last week really resonated, so we're going to continue with this approach for now. I'm currently working with Cara to set up an email sequence so that her subscribers get even more content from her when they initially join her list.
Yoga:
As many of you know, another part of my business is teaching yoga! I currently teach twice a week at Dana Hot Yoga and just added another class to my schedule at a new studio in the Fox Chase section of Philadelphia called Unalome Fitness. Check out my full yoga schedule for details.
This summer, I'll also be teaching yoga at a Rowing Camp for high school girls in Philadelphia. Super pumped! I'm listed as a coach on their website (never been called a coach before!)
Jessica Lawlor and the Get Gutsy Brand:
I've had a busy few months completing some personal projects for the blog and my brand.
Personal Branding Bootcamp and Checklist: Back in May, I launched Personal Branding Bootcamp and sent out my Personal Branding Checklist to my email community. It felt SO good to complete that project and share it with the world.
Blog Photo Shoot: I've been meaning to update my blog/business photos for some time and I finally scheduled a photo shoot with the wonderful Chrystina Noel. We spent an afternoon taking photos in the city and I am SO happy with the results. You can check out a sampling of my favorite photos here.
Pick My Brain sessions: Over the last several months, I've done quite a few "Pick My Brain" sessions. I developed this consulting offer after I kept getting requests from people who wanted to book time with me to ask me about a certain topic (i.e. quitting your job, answering specific social media questions, freelance writing) but didn't necessarily need to hire me for a long-term project. I love doing these sessions because I'm able to provide a ton of value in a short amount of time and then set that person free to rock their thing, whatever it is! I'd love to do more of these in the next few months.
I am still feeling super honored and excited to be working with so many wonderful clients- and this is just a sampling of what I'm doing (and what I'm able to share publicly!) More updates to come!
Have any questions about the work I'm doing? I'd love to answer them in the comments.
Want more gutsy content delivered straight to your inbox twice a month? Be sure to sign up for my FREE #GetGutsy e-newsletter filled with inspiration, ideas and action items to get out of your comfort zone. When you sign up, you'll also be sent a FREE copy of the Get Gutsy ebook, filled with 19 inspirational stories to help you get gutsy.