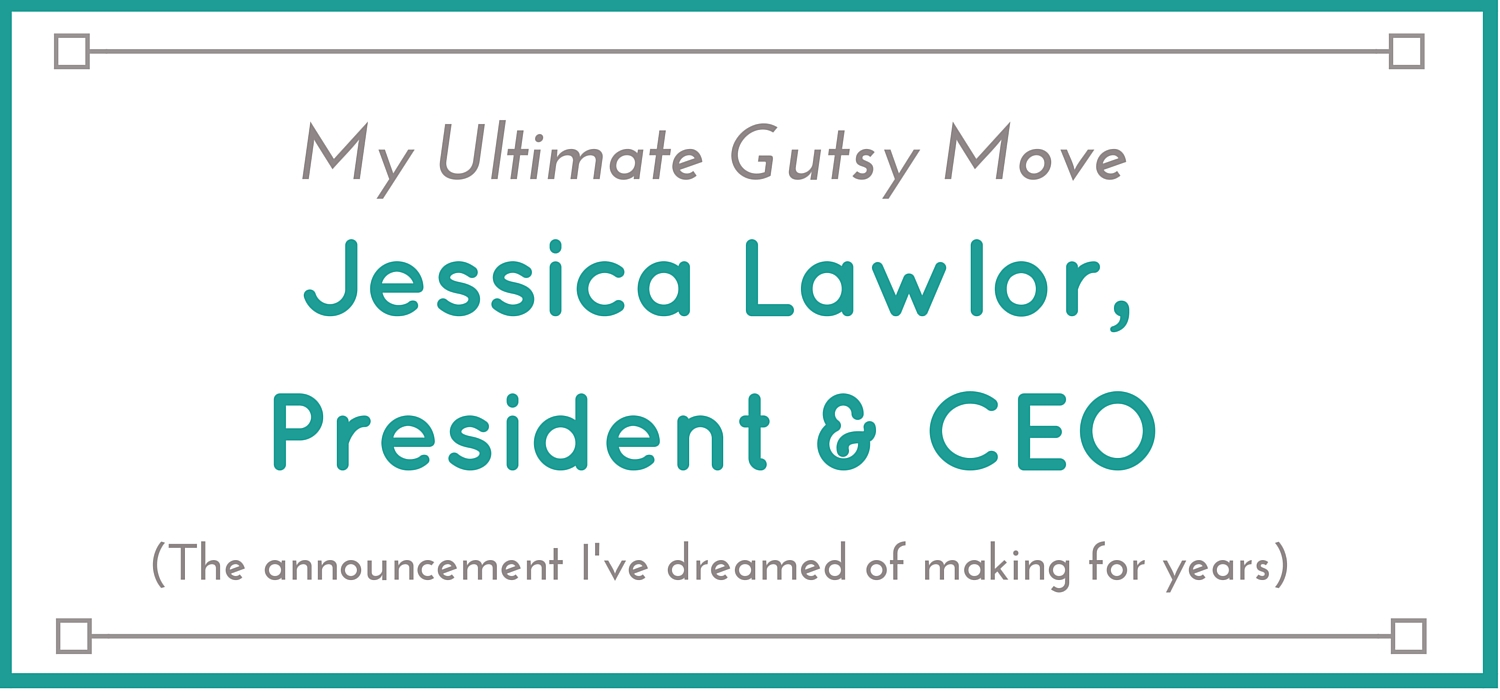 (UPDATE: Just stumbling on this post now and curious how my journey has been since making this announcement in December? Check out the full Becoming CEO series for a behind-the-scenes look at how I'm running my business!)
I've drafted this blog post in my head a thousand times.
After years of planning, hustling and dreaming, the time is here to write the words, share them with the world and start living the life I've always imagined for myself.
Say hello to Jessica Lawlor, President & CEO.
As of February 1, 2016, I am taking my business, blog, brand and teaching full time. I am turning my side hustle into my career.
That's right! Last week, I resigned from my full-time job working in public relations.
Read on for all the details!
Why and How I Quit My Job to Create My Dream Career 
Nearly seven years ago as a senior in college, I read a book about freelance writing and was enthralled by the idea of one day working for myself: choosing the projects I wanted to work on, handpicking the type of people I'd like to collaborate with and crafting a schedule of my own choosing.
"People actually do this?!" I wondered. It sounded like a dream.
Of course, I later learned that LOTS of people do this- in fact, lots of people I respect and admire have left safe, corporate jobs in order to fulfill their dreams, start companies, create products and live happy, fulfilling lives, on their own terms. I wanted to become part of that.
After college, I spent two years working in the communications department of a hospital and then four years doing public relations for a tourism office. (Fun fact: when I interviewed for my job at the tourism office, my boss asked me where I saw myself in five years and I told him I hoped to one day own my own business- maybe not the best interview move, but hey- foreshadowing!)
As I pursued a career in public relations, I kept freelancing in the back of my mind, knowing that one day, I'd find a way to be my own boss. While working at both of my jobs (jobs I truly did enjoy), I dabbled with consulting on the side.
It all started with this blog—through blogging, I developed a strong personal brand that attracted guest blogging opportunities, public speaking gigs and clients- helping individuals and businesses with content development, blog management, communications consulting and more.
My side hustle became my greatest passion. I woke up hours before I needed to be at my full-time job to work on this blog and my side projects. I'd chat with clients on my drives to and from work on my Bluetooth. I'd squeeze in phone interviews with sources for articles in the evenings. Over the past year, I added yoga to the mix as another income stream, teaching at nights and on weekends.
I hustled. Hard.
And recently, I've come to a tipping point.
My business has grown to the point where I've had to turn down potential work. Unfortunately, there simply aren't enough hours in the day to juggle a full-time job, an almost full-time side hustle, teaching/practicing yoga, spending time with family and friends and oh yeah, finding a little time to get some sleep!
I had to make a decision.
After seriously considering this move for a year and mentally/financially planning for it, now is the time to quit my day job and and turn my dreams into reality.
I'm creating a career of my own choosing- a career doing all of the things I love.
What I'm Going To Be Doing (AKA All The Services I'm Offering)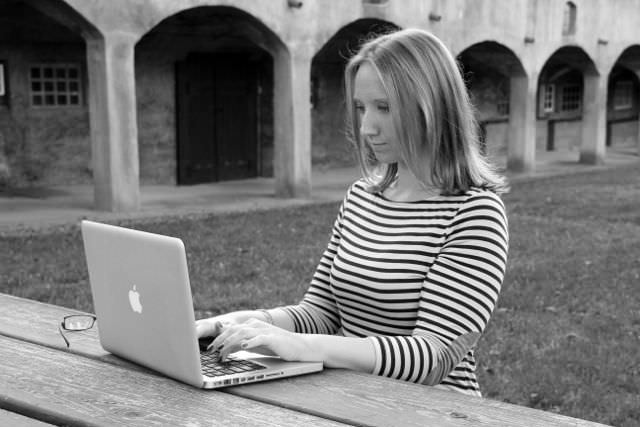 The best part about this move is that I don't have to do just one thing- I can do LOTS of things– I can combine all of my passions and skills into a career with multiple different income streams.
Here's what I'll be doing:
Content development/writing: Writing is my deepest passion and greatest skill. I work with multiple clients writing feature articles, blog posts, website content, speeches and more. I'm looking forward to taking on more writing clients to help companies and individuals communicate concisely and powerfully with their audiences.
Communications and public relations consulting: I'm leaving a six-year career in public relations, so naturally communications and public relations consulting is a service I'm excited to offer. Over the past four years, I've worked with local, national and international media on hundreds of stories for print, digital, broadcast, radio and more. Public relations can be such a powerful tool and I'm pumped to work with businesses and brands to share their stories.
Social media: Social media is one of the ways I've developed my own blog/brand and I want to help others understand the power social media has to do the same for them. With so many social media sites out there to choose from, I can help businesses cut through the noise to discover where their audiences are actually hanging out and what platforms make the most sense for them to focus their efforts.
Blog management: Making a blog run smoothly and achieve awesome results is one of my very favorite things to do. It's what I've done for the Muck Rack Blog for more than two years now, growing their feature content and developing a content team of more than 20 regular contributors. My blog management services include editorial calendar development, hiring writers, brainstorming post ideas, formatting/publishing posts and developing and executing on a strategy for post promotion.
Personal Branding Bootcamp sessions/consulting: I've built my blog and business solely through my strong personal brand. Dive deep into your own personal brand with a 45-minute personal branding bootcamp session to attract more opportunities online and off. Participants leave these sessions armed with a personal branding checklist and specific tips, tricks and suggestions for making their brand more effective. Besides these 45-minute sessions, I also offer this type of consulting on a more frequent basis!
Teaching yoga: I teach two hot vinyasa yoga classes a week and am looking to add more classes to my schedule here in the Greater Philadelphia Area. In addition, I also offer private yoga sessions, so if you're looking to start yoga, but are nervous to come to a class or simply want to advance your current yoga practice, I can help with that!
Public speaking: I LOVE speaking to small and large groups about a variety of topics around public relations, social media, personal branding and careers. I'm definitely going to be seeking out more opportunities to speak in 2016.
Blog/courses/products: While I'll be taking on new clients and work, I'll also be treating myself as a client and working to bring you lots of great blog content, new courses and new products. It's been on my to-do list for quite some time to turn the 30 Days of Gutsy course into a workbook, so that's likely the first product I'll be launching in 2016!
Want to learn more about my services and working together? Check out a full listing of what I am offering and please reach out if you have ANY questions.
What I'm Super Excited About (Because, There's A LOT To Be Pumped About)
There are SO many things I'm looking forward to about becoming a full-time solopreneur.
I can't wait to create my own schedule! I've known for awhile now through my energy management experiments that I'm most productive very early in the morning. I'm excited to be able to devote my best waking hours to the projects I'm most passionate about, without interruption and schedule my day based around when I have the most energy.
I'm looking forward to handpicking projects and clients. Is there anything better than getting to choose who you work with? I absolutely love all of my current clients! I can't wait to bring on more clients who I can teach and learn from, creating great work and results together.
I'm excited to teach more yoga! Freeing up 50ish hours in my week leaves lots of opportunity for more teaching, something I'm sure you all know I am very passionate about! I'm hoping to sub a lot more during the day, and plan to pick up a couple more permanent yoga classes per week, as an additional income stream.
I can't wait to find my creativity and inspiration again. It's not a secret that I've been feeling emotionally, mentally and creatively drained. I've felt off-balance for the better part of two years as I've grown my side hustle, while also still trying to be an A+ employee at my full-time job. I hope that by making space in my schedule, I'll free up some headspace to push past burnout to get creative and passionate again.
I'm excited to push myself. It's easy to get comfortable and complacent. It's easy to stop pushing ourselves to the limit- to stop seeking opportunities to get out of our comfort zones. I've  found myself a bit comfortable lately and I know that I do my best work when I'm feeling pushed. No doubt, this move will thrust me far out of my comfort zone!
What I'm Super Anxious About (Because, Yeah, There's A Lot of Scary Stuff, Too)
While I am beyond excited for this next step in my career and life, there's no doubt that I am TERRIFIED. Let's talk about all the real life fears, doubts and worries I'm experiencing.
Is now the right time? I've asked myself this question over and over again for the past year. Even as I prepared to walk into my boss's office to share the news, I questioned if that day was really the right day. But the truth is, there's never a good time to make a big, bold move. There will never be a day that I will wake up and feel 100 percent confident that this is the right move. As a friend said to me, "Leap, and the net will appear." It's time to leap.
Will I make enough money? Ah! Will I make ANY money? Again, the answer here is yes, but this is one of my irrational (or maybe not-so irrational?) fears that have been plaguing me as I've grappled with this decision. I'm preparing myself for the fact that things may be slow to start- I'll need to be patient as I continue growing a client base. I'll also have to get more comfortable with pitching myself to potential clients (sales! ah!)
Am I financially savvy enough to figure this out? The whole financial side of this career move is scary. I know how important being aware of my finances is, so I sat down with the help of fellow solopreneur Julia Paddison and created a budget, outlining all of my current expenses and income. THAT was a rude awakening. Julia helped me understand areas I could cut back on and areas I'd need to grow in order to maintain my current lifestyle. Putting these numbers down on paper wasn't fun, but was an important step to make sure I could realistically do this.
Health insurance?! The #1 question I've been asked when I tell people I'm quitting my job is, "What will you do about health insurance?!" Valid question, and one I'm working on. I'm still researching all of my options (I'll have my current insurance until the end of January) but believe me, health care is definitely on my mind, and I WILL have insurance. Fellow solopreneurs- any advice in this area?
Will I like this? Perhaps the scariest question of all is, "Will I even like this? Is what I *think* I want actually what I want?" I've dreamed of this move for years- what if I hate it? However, the only way to find out is to give it a try. (And for the record, I think I'm going to love it)
Over to You 
For more than three years, I've documented my entire life on this blog. Some of you have been here for every step of the journey. This means the world to me.
I'm planning to be 100 percent transparent about this process- the highs and the lows. I know many of you are interested in making a similar move (and some of you have even been here before) so I'd LOVE your feedback.
Do you have ANY questions about what I'm doing?
How I'm planning to make it work?
How I'm feeling?
What resources I'm using?
Ask me anything! I'm going to be putting together a tell-all blog post answering YOUR questions in the coming weeks. Feel free to leave your questions in the comments, tweet me or send me an email at jessicallawlor AT gmail dot com!
ALSO! Know anyone I might be able to help with any of my above services? I'd LOVE your help with making connections and spreading the word about my exciting news. Thank you, as always!
Onward!
"Every morning you have two choices: continue to sleep with your dreams, or wake up and chase them."
I'm choosing to chase my dreams. And it all starts now- as my friend and mentor, Jennifer, said to me, "It's the beginning of the beginning."
Here we go.
Here's to the journey ahead <3
Thanks for your support, love and encouragement as I take this HUGE step. I can't wait to bring you all along for the ride!
Want more gutsy content delivered straight to your inbox twice a month? Be sure to sign up for my FREE #GetGutsy e-newsletter filled with inspiration, ideas and action items to get out of your comfort zone. When you sign up, you'll also be sent a FREE copy of the Get Gutsy ebook, filled with 19 inspirational stories to help you get gutsy.