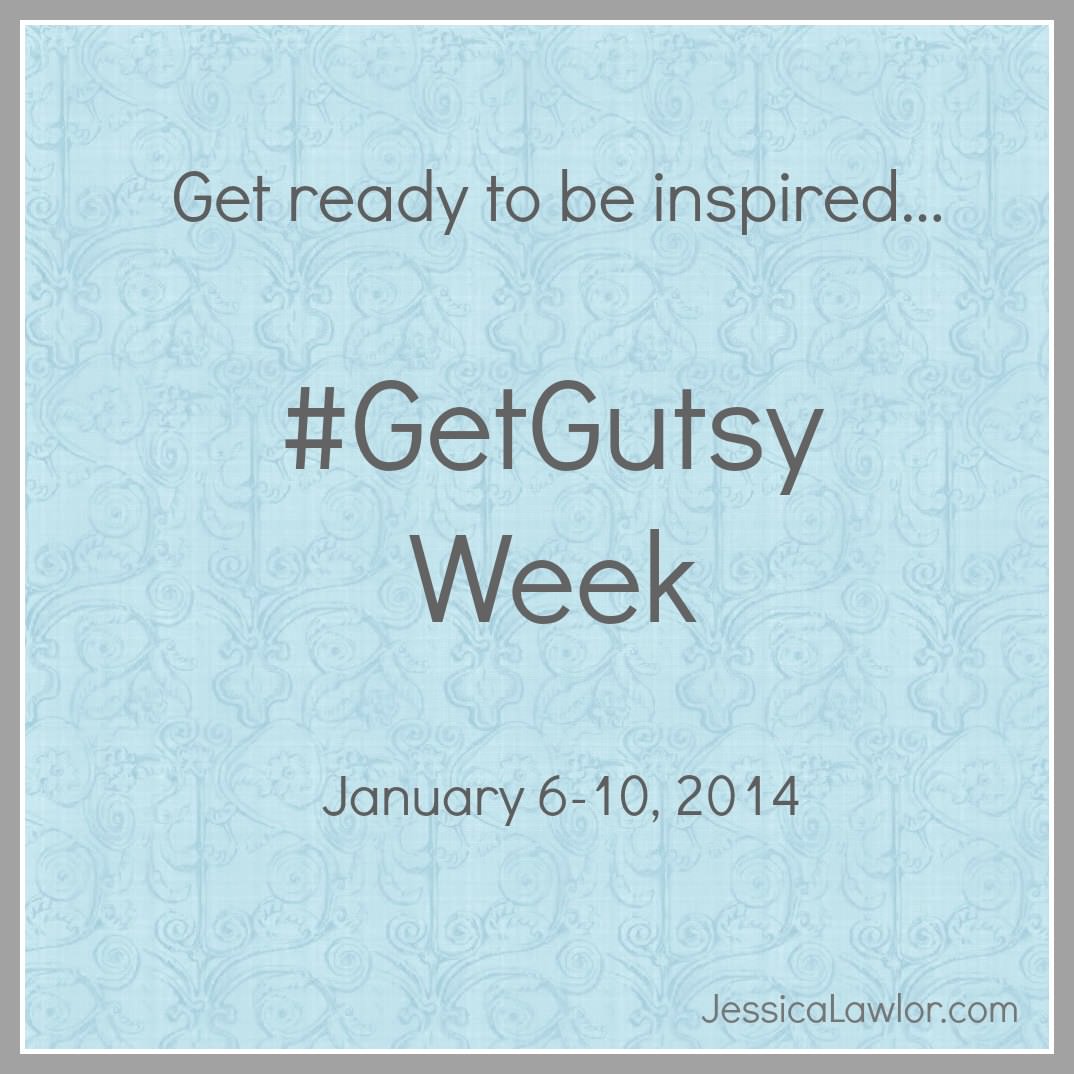 Welcome to Get Gutsy Week 2014!
It all started with a small idea.
I share what it means to get gutsy all the time here on the blog, but hadn't yet given YOU the opportunity to tell me what getting gutsy means to you.
In early December, I announced the #GetGutsy Essay Contest, never expecting that so many of you would jump on board to participate.
A month later, nearly 30 of you have bared your souls to share your own gutsy stories.
Of course, as promised, three of the entries will be crowned "winners" and be featured here on the blog this week. Stay tuned for those posts on Tuesday, Wednesday and Thursday.
*Edited (1/9/14) to add: The winners have officially been announced!
Winning Entry #1: My Journey to Entrepreneur by Caroline Winn
Winning Entry #2: Getting Gutsy- It's Supposed To Be Scary by Amy Chick
Winning Entry #3: Restricted Free-Agent by Kami Mattioli
BUT, to be honest, all of the entries are winners to me! I was completely blown away by each post and everyone's honesty, willingness to share their story and of course, gutsiness.
That's why this week we'll be celebrating the courage and gutsiness of the participants, starting today on the blog, throughout the week on my Twitter account using the hashtag #GetGutsy and on Pinterest.
Get ready to be inspired and read each #GetGutsy contest entry below:
1. When I Got Gutsy- And Finally Lost That Weight by Megan Snider 

2. Restricted Free-Agent by Kami Mattioli
3. #GetGutsy by Brie Hemingway
4. Gutsy With Intent: On Deciding and Doing by Abbigail Kriebs
5. Getting Gutsy: It's All About The Journey by Meg Huber
6. When I Got Gutsy- And Took My First Steps by Kaitlynn Ni
7. Rebuilding The Empire: Changes Afoot by Lyssa Campbell
8. Getting Gutsy In 2013 by Jade Barnes
9. #GetGutsy: How 2013 Changed My Life by Rachel Wolkiewicz
10. Here's to the New Year: #GetGutsy Essay Contest by Chasity Cooper
11. Leaps of Faith in 2013 by Alex Crispino
12. Finding It by Emily Ascani
13. Getting Gutsy: My Journey To Entrepreneur by Caroline Winn
14. Remaking Myself by Elizabeth Mays
15. Rediscovering My Comfort Zone (Or Why I Think I'll Get a Little Less Gutsy In 2014) by Dana Sitar
16. 2014: Resolve To Be Your (Imperfect Self) by Melissa Sheridan
17. Here's To A Year Of You by Jenn Rowell
18. In a Fearless Fashion by Andrea Mueller
19. Get Gutsy: The Big One by Janelle Foltz
20. How to Transform Unexpected Adventures Into Getting Gutsy by Jessica Hammond
21. How Travel Changed The Way I Set Goals by Anne Lowery
22. Gettin' Gutsy in 2014 by Alyssa Fate
23. Get Gutsy Challenge by Ashley Brooks
24. Getting Gutsy in 2013 and Even Gutsier in 2014 by Nicole Kmiotec
25. I'm A Gutsy Girl by Linda Thomas
26. Getting Gutsy in 2013 and Even Gutsier in 2014 by Heather Costabile
27. Pushing The Limits At 14,000 Feet by Sarah Schmeer
28. My 2013 Recap, or "How I Got Gutsy" by Kathleen Garvin
29. Getting Gutsy: It's Supposed To Be Scary by Amy Chick
Check out the #GetGutsy Essay Contest Pinterest Board for a visual representation of these awesome stories!
Did you miss your chance to enter the contest and share your #GetGutsy story?
No need to worry! Even though the contest has officially ended, it's never to late to share your story! Feel free to write your own post on your blog and we'll link to it here on JessicaLawlor.com. Just drop me a line to let me know you've posted your own #GetGutsy story!
How have you gotten gutsy lately? Tell me in the comments below!
Want more gutsy content delivered straight to your inbox twice a month? Be sure to sign up for my FREE #Get Gutsy e-newsletter filled with inspiration, ideas and action items to get out of your comfort zone.