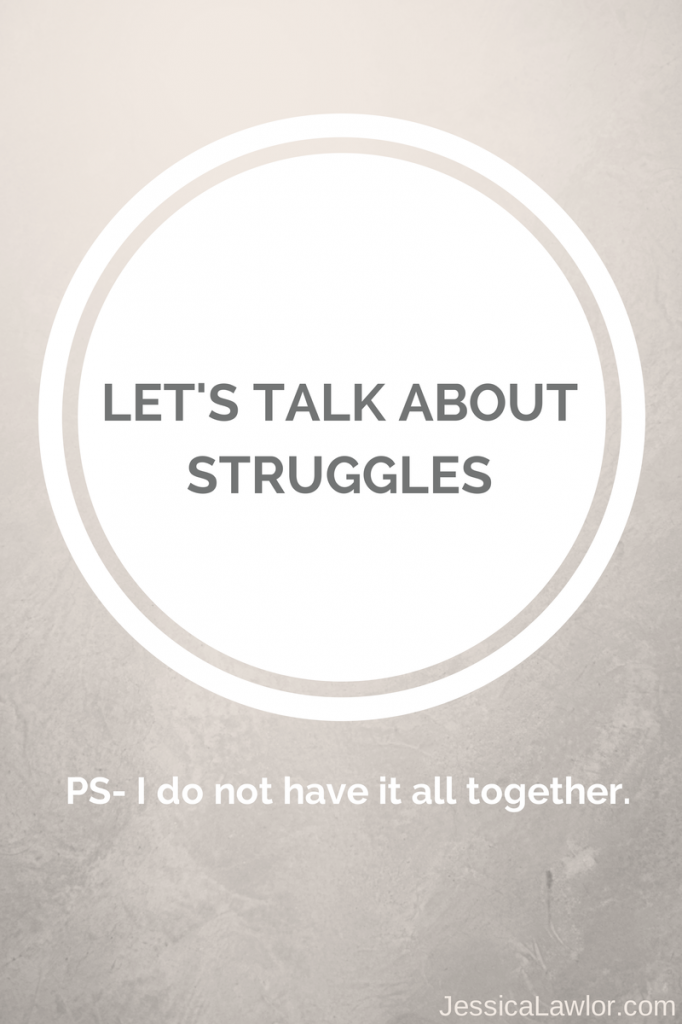 I want to let you in on a little secret…
I do not have it all together.
Seriously.
A lot of my friends and blog readers often ask me how I manage to "do it all." That's a *really* nice and flattering thing to say, but it's simply not true. I want to make it abundantly clear to the Get Gutsy community that I struggle just like everyone else. I am not superwoman. Everything does not come easy to me.
This post was very therapeutic to write, but it's NOT easy to hit publish on and share with the world. After all, I'm laying all my secret and not-so-secret problems and insecurities out on the line, but the truth is, this is reality. I always aim to be honest with the community.
After all, that's what getting gutsy is all about- doing scary, uncomfortable things in order to grow.  It means being brutally honest and keeping it real. 
Here's a reminder that even those among us who outwardly look like they've got it all together have their own struggles, no matter how big or small.
Here's what I'm struggling with right now.
Overcommitting my schedule. My single biggest struggle of the moment is that I have severely overcommitted myself for the next few months. My calendar is packed pretty much through November and while many of the events I have scheduled are fun and yes, I've chosen them, it's still overwhelming to not know the next time I can sleep in on a leisurely weekend. I'm working on guarding my calendar a little more closely- one thing I have done is blocked at least two work nights per week for yoga, so that I can at least ensure I keep my sanity and get to class.
Taking on too much. In classic Jessica fashion, I've once again taken on way too much. Between my full-time job, blog and freelance work, I'm juggling two leadership positions (one as president of an organization and the other as a VP) and I'm training for a race. I take on these things because I love them and I want to be involved, but I don't always think about myself and how much time and energy these projects will take when I commit to something.
Prioritization. Along the lines of taking on too much above, I'm letting my priorities slip. For example, my major goal this year is moving my business forward. I've picked up new freelance clients and my next goal is to create some kind of guide or ebook to sell here on the Get Gutsy blog. This is priority #1, yet I've also committed myself to a ton of other projects that have nothing to do with my big goals. If I want to move my business forward, I need to prioritize accordingly.
Finding a healthy balance. A couple of years ago, I made a huge change in my life to get healthy and lost more than 30 lbs. I've kept the weight off, but still struggle with finding a healthy balance between working out, eating right and still making time for fun and time to reach my goals. When I was at the peak of weight loss, I pretty much worked out every morning before work- now that's my prime time to write and manage my business, so I'm trying to find a way to fit working out in at other times of day. Plus, I also obviously love yoga these days and while it's been amazing for my body and mind, I know that in order to keep the weight off, I need to run and reintroduce more cardio back into my life. I'm not 100 percent happy with my body right now.
Being single. Gah, this is probably the hardest struggle to open up about because I rarely talk about it with anyone but my close friends. I've been single for a long time and go on plenty of bad dates (maybe one day, I'll write about those!) and to be perfectly honest, it sucks. I have long felt like everything is going pretty well in my life and all the pieces are coming into place with my career, business, health and other goals, but there's still that one missing piece…it's especially challenging when I am quite literally the last single person out of ALL my friends. I'm working on being proactive, yet patient at the same time, but it's not easy.
Saying no. Lately, I've been feeling like there's A LOT of demands for my time and professional expertise. I want to help as many people as I can, but the truth of the matter is, I can't help everyone. I don't have all the time in the world and I am running a business. That's not to say, I won't share my advice and opinions or give feedback, but for the most part, I'm working hard to decline requests to "pick my brain" or for free advice about starting a blog or freelancing. I'm happy to share the resources I've already created (like my freelancing guide and previous posts on starting a blog), but I unfortunately have to start declining requests for my time when they don't align with my goals.
Email management. My inbox is out of control and to be honest, I've made the conscious decision that some emails are just going to have to wait. I'm trying to remind myself that emails are generally other people's priorities and that I need to handle my own priorities before moving on to other people's. Don't get me wrong…I LOVE email. I love hearing from my readers and in general, emails excite me because they are usually full of possibility, but it can be overwhelming at times to see the mail pouring in. My personality type makes me want to reply right away to get it out of my inbox, but email is a constant, so replying right away often just means another reply comes along faster.
WHEW- that felt *really* good. 
Now that I've been brutally honest, tell me: what are you struggling with right now? Leave your thoughts in the comments below.
Want more gutsy content delivered straight to your inbox twice a month? Be sure to sign up for my FREE #GetGutsy e-newsletter filled with inspiration, ideas and action items to get out of your comfort zone.