In 2015, I resigned from my job working in public relations to take my side hustle (freelancing, blogging and teaching) full time. Throughout my first year in business, I documented every step in my Becoming CEO series. I wrote monthly reports documenting my income, lessons learned and highs and lows. As I enter year two, I'm no longer "Becoming CEO." I am the CEO! Expect quarterly updates with all the behind-the-scenes details you've come to love and expect on my journey from side hustle to CEO, along with regular pop-ins on solopreneurship, running a business, productivity and more.
[Did you miss my previous 2017 updates? Catch Q1 here and Q2 here]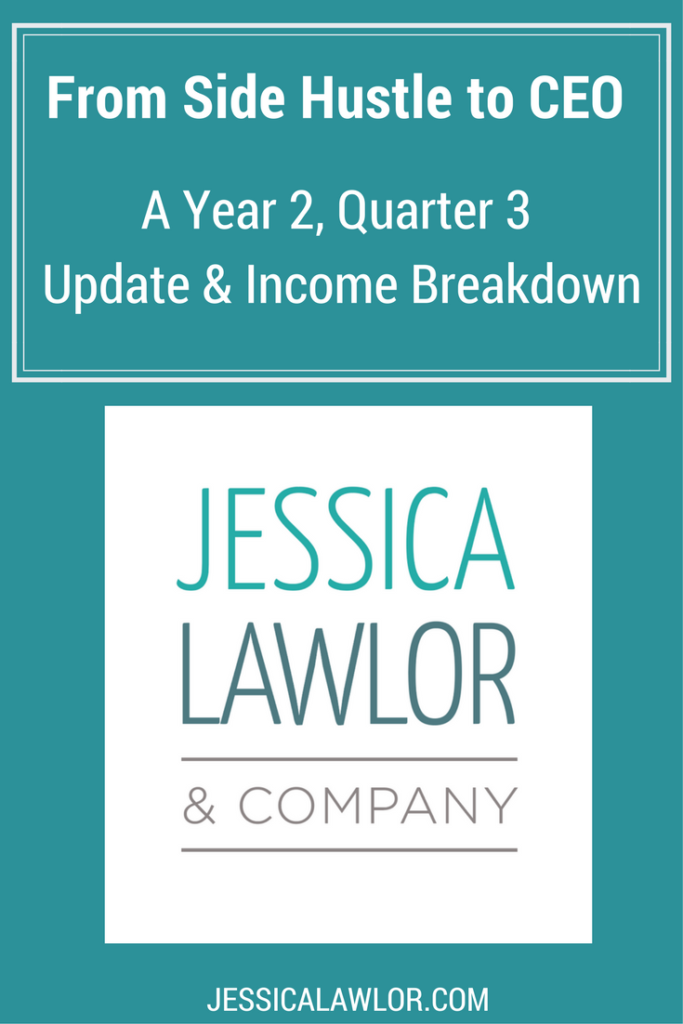 Let's take a look at Q3 of my second year in business, including a detailed income breakdown, lessons learned and more.
How Did I Make Money in Q3? An Income Breakdown
Here's an income breakdown of how exactly I made money during the third quarter of my second year in business.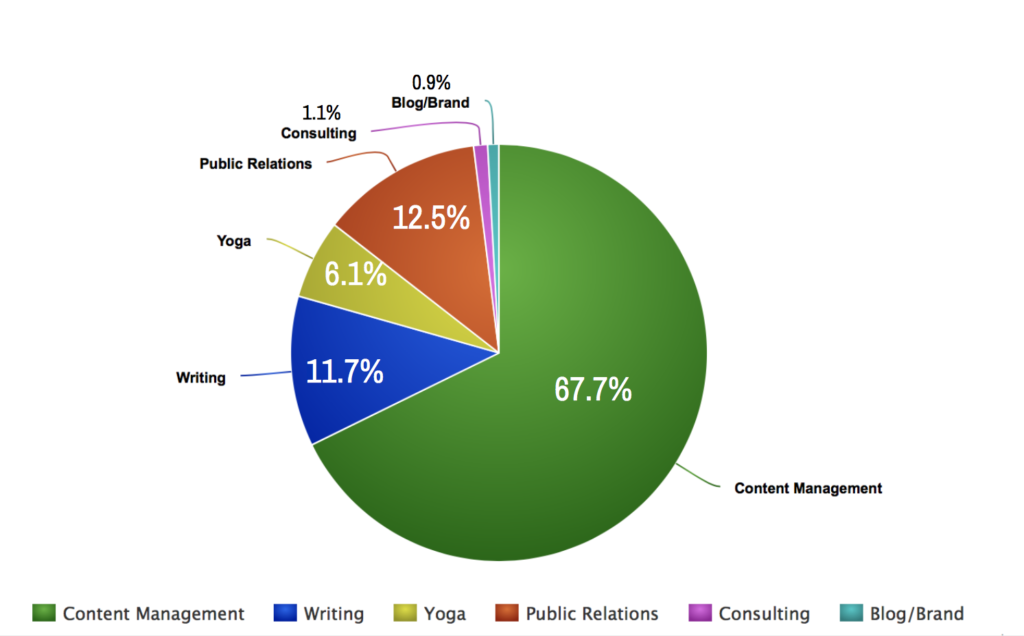 A couple of key thoughts and reflections:
This quarter, my income stayed fairly steady, increasing only 0.3% from Q2. I'm not complaining, as Q2 was one of my highest-earning months ever, but I always like to see that percentage increasing from quarter to quarter. I'm looking forward to hustling my way to the end of the year to see if I can create a new personal income milestone.
I introduced a brand new income stream — plus welcomed back one from the past. Say hello to "Blog/Brand", a new income category here at JL&Co. I've been doing lots more to make this very blog profitable, and this quarter saw the beginnings of that new endeavor. Individual consulting also made a return with one project this quarter.
My yoga income continues to decrease because I've made the decision to cut my weekly schedule in half. I expect to see even more of a drop next quarter, as this decision is fairly new. I went from teaching five classes/week to just two. The reason for this change is that I was feeling a lack of motivation around teaching, and also wasn't making time for my own practice. Now that I'm down to two regular classes a week, I'm feeling excited again!
My writing income nearly doubled from the previous quarter as I took on just a couple more high-paying, one-off writing gigs. I'd love to do even more of this type of work in Q4 and beyond.
Lessons Learned From Q3
Never stop looking for new business. I have to admit, I've been very lucky this year to have several steady retainer clients. At any given time, I typically have a general idea of my monthly income, which gives me some serious peace of mind. However, I know this won't always be the case, and with some client changes on the horizon in 2018, it's more important than ever that I make new business development a weekly priority. Luckily, I've had a few great leads over the past month, and am hopeful about some possible new client work, but I know this is an area I need to be more proactive to make things happen. I also want to be more strategic, choosing clients I *really* want to work with, rather than waiting for companies to reach out to me.
Be unapologetic about how you spend your time. One of the main perks as a solopreneur is the ability to make your own schedule. I don't always remember this little fact, but in Q3, I really put it into practice. As mentioned above, I cut my yoga schedule way back in Q3. I was teaching five or so times a week, and while I love teaching, it's not my goal to be a full-time yoga teacher. Plus, when I looked at the financials, I realized I could earn more money taking on more writing assignments + other client work. I cut my schedule in half, and I've so been enjoying my new free time during the week. I've filled it with getting back to my own yoga practice and workouts at the gym — the added endorphins are giving me energy and motivation to keep working hard on my business. I'm excited to see what else I can cut from my schedule to create some more space.
Make business fun! I started my business because I love what I do. I love writing. I love connecting with others. I love PR. I love public speaking. I love blogging. But somewhere along the way, things became a lot less fun. They became serious. Heavy. Of course, this is natural and normal, as this is now my full-time job, and the sole way I'm able to pay my bills, but that doesn't mean it can't be fun. I was able to infuse a bit more fun into my biz when I decided to change up my blog strategy — since then, I'm taking this same approach into my client work, and it makes the days a lot more enjoyable!
The Highs and Lows from Q3
There are always going to be good days and of course, there will always be not-so-hot days. Here are the things that made me smiley and excited over the past few months, along with some challenges I faced.
The Highs:
I took a real vacation and traveled to Ireland worry-free for eight lovely days, without worrying (too much) about work. I felt confident stepping away knowing that I worked way ahead on all my client work, and that my team member Rachel was holding down the fort at JL&Co HQ while I was gone.
After an inspiring trip with two fellow bloggers, I started to get serious about my blog/Instagram (more on that coming soon!)
I partnered with Pepsi and Hersheypark on a social media campaign in July. So fun!
I was invited to do an Instagram takeover for my neighborhood.
I started learning a new skill — photography! I recently purchased a Canon Rebel t6i, and am loving playing with this new toy!
I helped write and launch an ebook with my client Muck Rack, all about crafting a winning PR pitch.
JL&Co landed some great media coverage around a big client announcement — Pennsbury Manor welcoming baby sheep to the property for the first time in 10 years!
I'm doing so much better with the loneliness issue I mentioned last quarter! Thanks to my newish gym membership, I'm out and about nearly every single day, so I actually appreciate my quiet afternoons working alone in the apartment.
The Lows:
I experienced my first real "sickness" as an entrepreneur. A combination of jet lag after Ireland + a cold + fall allergies sent me straight to bed for a few days immediately upon returning home and getting back to work. My mind was super foggy, and I couldn't work on my computer for very long without getting a headache. It's a necessary evil of working for yourself, but it still wasn't very fun.
There was a bit of backlash from my feature on The Penny Hoarder. However, it inspired a blog post addressing haters, so I'd call it a win, despite the crappy feeling for a few days.
Blog Posts Published in Q3
Catch up on blog posts you may have missed from Q3:
5 Must-Have Experiences in Ireland
Grab a Glass of Vino: It's Time for a Virtual Happy Hour
Ireland Travel Guide: 8 Days in the Emerald Isle
Getting Sick as an Entrepreneur
Almost Everything You Need to Know About Planning a Trip to Ireland
5 Reasons I'm Ready For Fall Right Now
What I'm Listening To: 50+ Podcasts To Download Now
To The "Haters": You Never See The Full Picture, So Please Stop Judging
From Side Hustle to CEO: A Year 2, Quarter 2 Update & Income Breakdown
Why I Love Being Bad at Stuff (Seriously)
Have any questions about Q3? I'd love to answer your questions and hear your thoughts about this journey!
Want more gutsy content delivered straight to your inbox twice a month? Be sure to sign up for my FREE #GetGutsy e-newsletter filled with inspiration, ideas and action items to get out of your comfort zone.