Last week, The Penny Hoarder, one of the largest personal finance websites in the world with more than 16 million readers, published a profile on me and shared the story of how I quit my full-time job to start my business Jessica Lawlor & Company.
The piece (which has been viewed more than 23,000 times in under a week!) is flawlessly written and edited — shout out to author Jamie Cattanach and the editing team over at The Penny Hoarder.
I've been included in many news articles (especially over the past few months as I've ramped up my own PR efforts), but I've never been so proud of a media placement. It's a dream come true to have my story shared on an outlet I love and respect in such a beautiful, raw and transparent way.
The reaction from my community has been nothing short of incredible! From the overwhelming response on my Facebook profile to the flood of traffic to my blog to the nearly 50 new subscribers I've welcomed to my email list, plus countless personal emails and messages, I've been blown away. (Not to mention grateful.)
One place the response hasn't been nearly as positive? The Penny Hoarder's Facebook page.
The Penny Hoarder shared the article on their very active Facebook page last night, and already, as of this writing, the post has 500+ likes, 400+ shares and a stream of comments.
Don't get me wrong; I'm glad The Penny Hoarder shared my post (the visibility to the article has *way* increased thanks to their posting), but I knew that when they shared, I'd be opening myself up to LOTS of opinions — good, bad and super ugly.
You might even say I have…haters.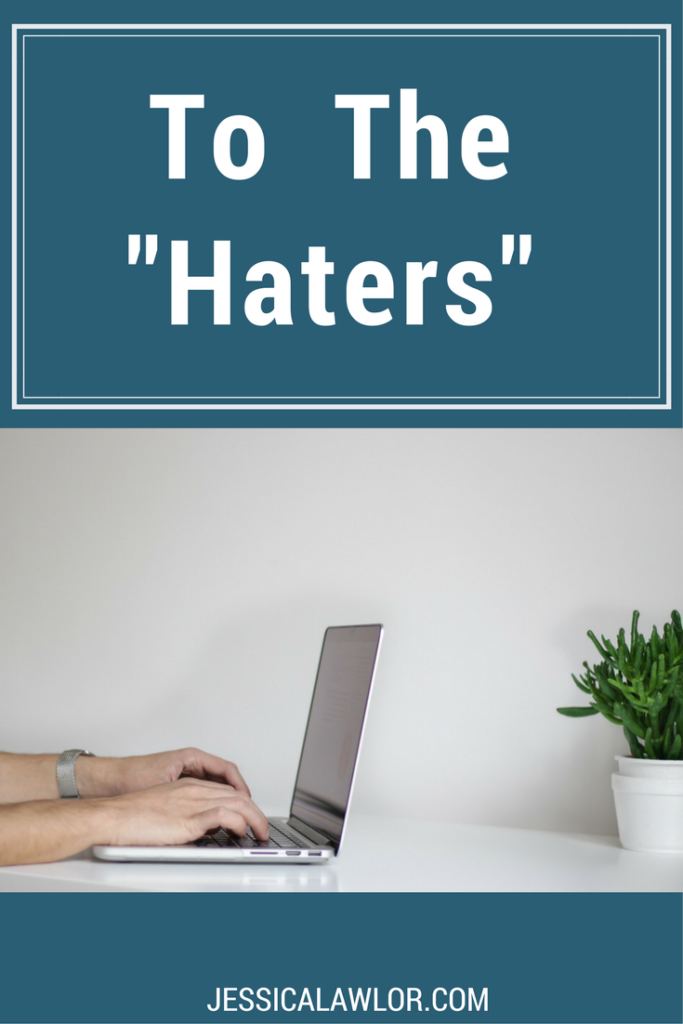 Some of the comments are upsetting. They make me want to scream, "You don't even know me! You don't know my story! Stop judging me!"
It's easy to get defensive, and I've definitely been there.
However, instead of getting mad, I've decided to address some common misconceptions from the article…and share important reminders about the stuff you read on the Internet.
A 1,000 word article doesn't tell the whole story
No matter how well-written an article is (and this one is on-point), there simply isn't enough time or space to fully dive into the nitty-gritty, behind-the-scenes details and background that paint the whole picture of anyone's personal story.
One Facebook commenter quoted a line from the piece, "First of all, she was able to save up a $40,000 backup fund in case her plans fell through…" and added, "So let's all get right on that…"
Another wrote, "Guessing she had a boatload of money to live on as she pursued her dreams."
Fair judgement…sort of.
These commenters immediately dismissed my successes (and struggles) based on one figure they read in a piece. I get it; it's a big number, and may seem out of reach for some.
So for those wondering, here's how I was able to save up a $40,000 backup fund, some of which was shared in the story and some of which was not. It wasn't a pretty process.
I've been working since I was 16 years old. I've almost always worked more than one job at a time, including as I worked my way through college. I've worked as a lifeguard, swim instructor, writing tutor, recreation center supervisor, freelance writer, PR professional, yoga teacher and more over the past 13 years I've been able to work.
I saved my money! My day job salary went to my bills, student loans and every day living) while my freelance earnings went into an account that I didn't touch for four years. My parents taught me early on the value of saving. They taught me to have goals and to spend wisely. They also taught me a lot about keeping your credit score high, so I've thankfully never been in debt.
I lived at home leading up to quitting my job at age 27.
Just remember: an article, book, TV show, documentary, song, etc. never tells the whole story. Always assume there's more you don't know.
What's luck got to do with it?
Another commenter wrote, "Think some ppl are also just incredibly lucky."
My friend and fellow writer Blake Atwood reminded me of this quote from Thomas Jefferson: "I'm a great believer in luck, and I find the harder I work the more I have of it."
Amen, TJ!
I am a firm believer that we create our own luck.
My story is not that of an overnight success. Those who have followed me know that I've been at this freelancing thing since 2011. It has been a slow and steady climb over the past several years, and there have been countless moments I've wanted to give up and wondered why it wasn't happening faster.
But here's the thing: you keep working.
There were early mornings. There were late nights. There were Fridays and Saturdays my family and friends were out and about and I was at home working. There were smart, but difficult choices made like the one to live at home with my family while I saved money.
So yes, I do count myself lucky. However, more than that, I count myself prepared. I count myself a go-getter with an unstoppable work ethic. I count myself strategic; ready to jump on opportunities as they arise.
Does luck play a part? Sure, but it's certainly not the only factor.
Timing is everything
I started my first blog and got on board with social media way back in 2008, when this whole online marketing thing wasn't what it is today. In fact, I kept that initial blog a secret because I was afraid my friends would think I was weird for writing online! Imagine that.
I've been at this a long time — I've made some invaluable connections over the years. Yes, this has helped me immensely.
Being one of the first to do something often presents a unique advantage.
In regards to me saving money before I quit my job, one commenter wrote, "For some this might be an option, but others have children and families that all their savings go toward."
To that, I reply: I totally hear you! That's your situation, and your story, so you'll need to adapt your goals and milestones accordingly.
But for me? I don't have any kids right now. The article clearly explains I'm a single 29-year-old woman, so I happen to have timing on my side at the moment. And I've had that timing on my side as I initially grew my freelance business, too, since I started at a pretty young age.
Will there be a day I won't be able to save as much for my personal rainy day fund? Absolutely. And when that day comes, I'll adapt too.
But for me, that day isn't today.
"Hug your haters"
Jay Baer wrote a book called Hug Your Haters, and I couldn't agree with his sentiment more.
While I absolutely love the kind words from my community and am so grateful for the support they give me, I also thank my haters. Weird, right?
These comments fuel me. They drive me. They push me to keep going.
To keep authentically sharing my story.
The story I'm insanely proud of.
Everyone's path is different
My story is not your story. And that's what makes life beautiful.
It appears some folks turn to stories like this one hoping for a blueprint or an all-encompassing step-by-step guide to quitting your job and starting your own business.
Unfortunately, it doesn't work like that.
We all need to create our own paths. It doesn't look the same for everyone.
Sure, let yourself be inspired by the stories you read. Let these stories motivate you to take action.
But, please, don't judge.
The next time you read an article on the internet and want to share your opinion, by all means, go for it (healthy debate is awesome!), but first, take a step back.
Ask yourself, "Is my comment coming from a place of jealousy? Is it coming from a place of ignorance? Do I understand the full scope of this article? Is something perhaps missing here?"
And if you can't confidently answer these questions, why add your voice to the fire?
Because really, life is too short to be mean. And it's certainly way too short to hate on others.
Want more gutsy content delivered straight to your inbox twice a month? Be sure to sign up for my FREE #GetGutsy e-newsletter filled with inspiration, ideas and action items to get out of your comfort zone.