In 2015, I resigned from my job working in public relations to take my side hustle (freelancing, blogging and teaching) full time. Throughout my first year in business, I documented every step in my Becoming CEO series. I wrote monthly reports documenting my income, lessons learned and highs and lows. As I enter year two, I'm no longer "Becoming CEO." I am the CEO! Expect quarterly updates with all the behind-the-scenes details you've come to love and expect on my journey from side hustle to CEO, along with regular pop-ins on solopreneurship, running a business, productivity and more.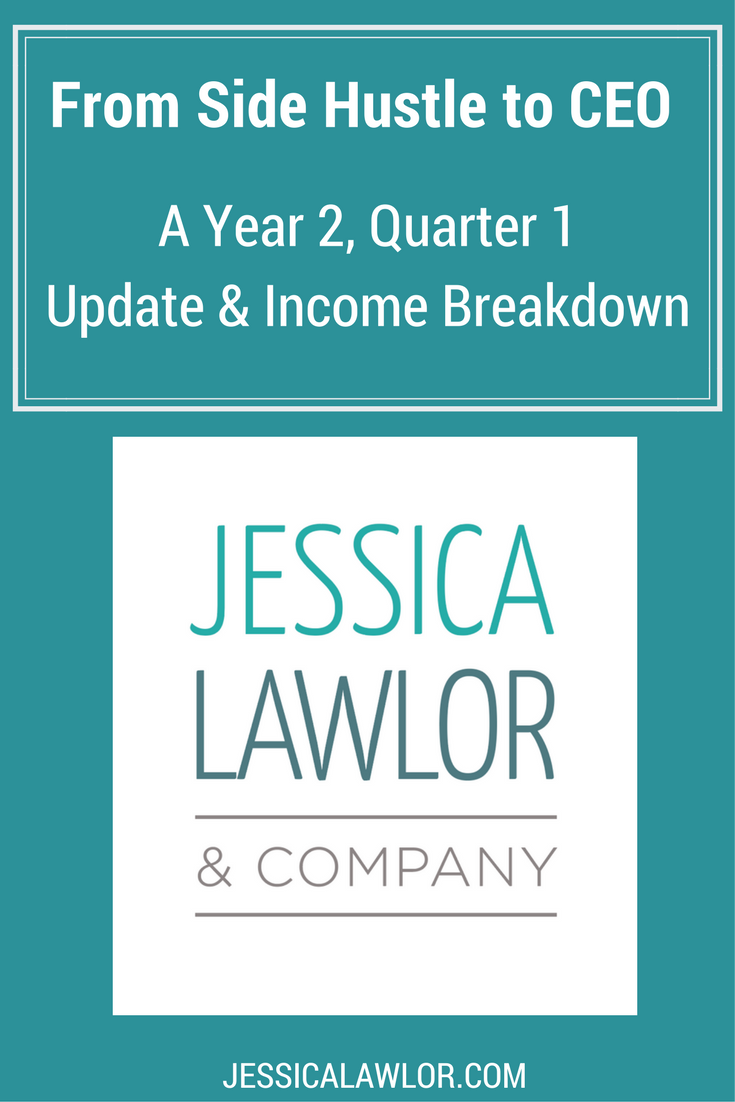 Let's take a look at Q1 of my second year in business, including a detailed income breakdown, lessons learned and more.
How Did I Make Money in Q1? An Income Breakdown
Here's an income breakdown of how exactly I made money during the first quarter of my second year in business.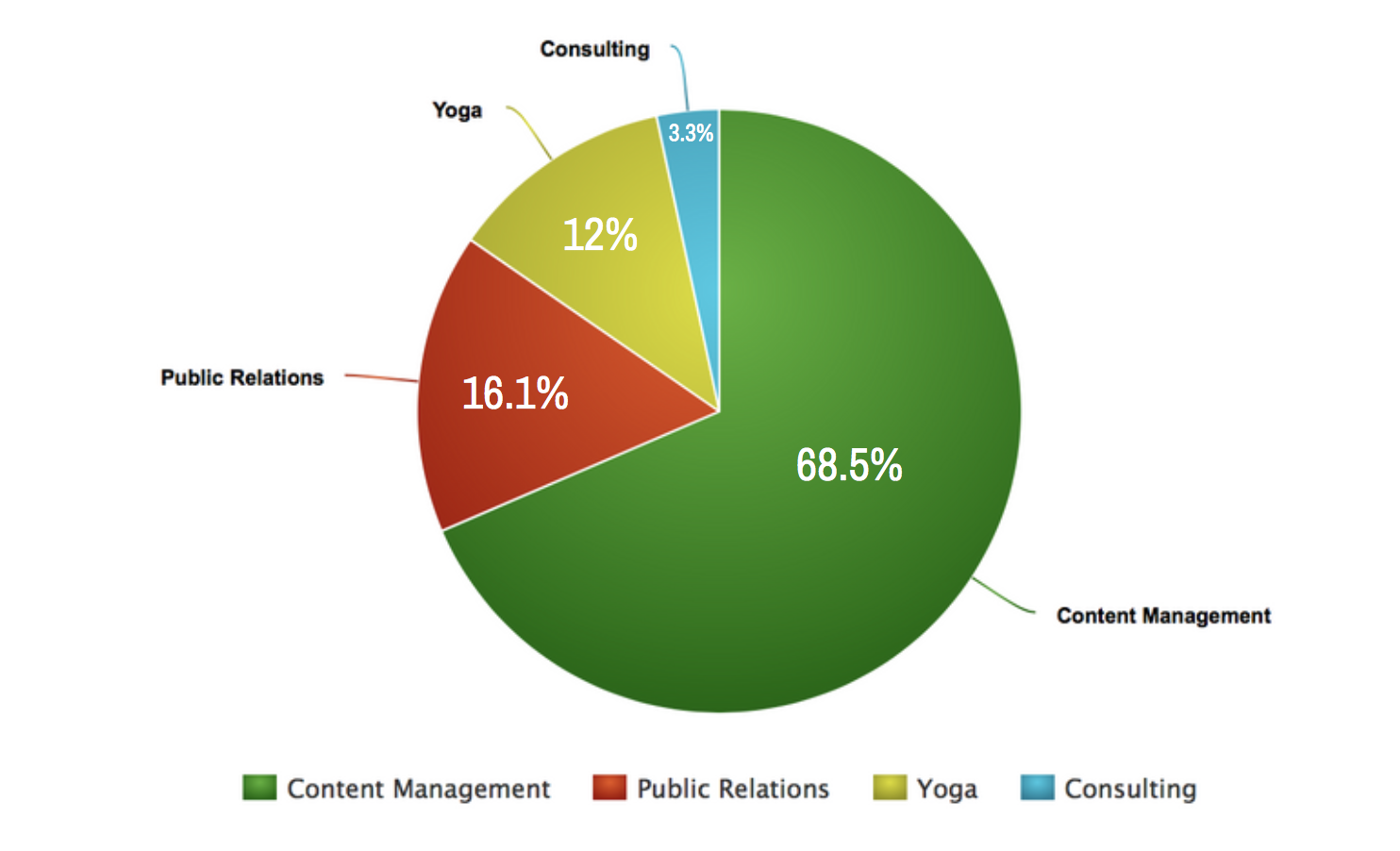 A couple of key thoughts and reflections:
Content management has clearly become the core focus of my business. My work with Muck Rack and The Write Life dominated my income stream in the first quarter of the year. This work includes managing the blogs for Muck Rack and The Write Life, but also reflect other work for these clients including writing case studies, assisting with social media and a few other special marketing projects. In year two, I'd love to bring on at least one more content management client. I love this work and know this is an area I can use ALL of my communications skills from editing to marketing to staying organized.
I was surprised to see public relations only account for 16.1% of my income in the first quarter. I absolutely love my two PR clients, and feel like I spend a lot of time nurturing these accounts. I'd love to increase my earnings in the PR realm moving forward.
Yoga continues to bring in a decent amount of income. While my yoga income doesn't technically fall under Jessica Lawlor & Company, LLC, I still count it toward these income reports, since it is still income I'm earning. I now look at yoga as my "side hustle" similar to how I once looked at my freelancing when I had a day job.
I only worked with two consulting clients in the first quarter of the year; one client was an individual (just one session) and the other was a larger business who purchased a 3-hour package. I'd love to do more of these one-off consulting projects in the coming months because it adds a little bit of variety to my day-to-day work with my retainer clients.
Lessons Learned From Q1
Tax time as a business owner is NO FUN at all. Ugh, I knew I was in for a rude awakening come tax time after a meeting with my accountant toward the end of the year, but that didn't make it any easier to write those checks to Uncle Sam. I've learned my lesson; in year two, I'm paying more in quarterly taxes, contributing to a SEP IRA and setting aside money now to pay for next year's taxes. I don't ever want that tax bill to come as a surprise again!
Take a damn vacation (and enjoy it!). In January, I went on a family vacation to Mexico. It was my first *true* vacation as a solopreneur. I put up an out-of-office responder, got ahead on client work and delegated the rest of the work and checking in to my team member Rachel. I was nervous (and admit I checked my email a little bit too often), but for the most part, I was able to relax and unwind.
Nurture and grow your relationship with existing clients. Bringing on new clients is great and exciting, but know what I love even more? Growing my relationship with *existing* clients. When I first started working with Muck Rack several years ago, I was handling solely blog management. Then we added on social media. Then we added on more editing. Then we added on case studies. Get the picture? We recently added on a few new services that I'm super excited about! You'll hear more about those in the next update! It's rewarding to grow relationships with existing clients because you already know them and their brand and don't have to start from scratch. Plus, adding on more work with Muck Rack gives me the chance to work with lots of Muck Rack employees and helps me to feel part of a team, which is nice as a solopreneur, since it can become easy to feel like you work in a silo.
The Highs and Lows from Q1
There are always going to be good days and of course, there will always be not-so-hot days. Here are the things that made me smiley and excited over the past few months, along with some challenges I faced.
The Highs:
I took my first real vacation as a business owner!
I worked on a super fun project with The Write Life — the 2017 Writer's Bundle! More to come on that in my Q2 update!
One year down! I celebrated one full year in business! Pop champagne!
I signed an agreement with Muck Rack to start doing even more work with them! I'm now handling their blog, social media, case studies and public relations.
I spoke to the Women In Hospitality Philadelphia group — on a moving boat! What an experience.
The Lows:
After losing my biggest client in November 2016, I parted ways with another amazing client at the end of January. We ended the client relationship on a very positive note — this particular client said she was ready to take everything I taught her to begin implementing on her own. We hope to work together again in the future, but this was definitely a blow to my income, especially after already losing one major client a few months prior.
Winter is hard for me in general, but these cold, dark months were made even harder by working alone from my apartment with little interaction with others. I definitely experienced a lot of loneliness and my share of tough days.
I got super burnt out on teaching yoga. With five classes on my weekly schedule and little time left for my own practice, I started feeling overwhelmed and a little bit uninspired. I recently let go of one class, and already my schedule feels lighter and more do-able.
Paid my taxes. Ugh.
Blog Posts Published in Q1
Catch up on blog posts you may have missed from Q1.
How I Landed My First Freelance Client + The Exact Strategy I Use To Find New Business
This Is Why Your Guest Post Pitch Was Rejected
Here's Exactly How Much it Costs to Run an Online Business: A Peek Inside My 2016 Business Expenses
The 96-Word Story That's Blowing My Mind
From Side Hustle to CEO: Celebrating One Year in Business
Have any questions about Q1? I'd love to answer your questions and hear your thoughts about this journey!
Want more gutsy content delivered straight to your inbox twice a month? Be sure to sign up for my FREE #GetGutsy e-newsletter filled with inspiration, ideas and action items to get out of your comfort zone.