Ready for some brutal honesty?
This week was the worst.
Getting back into the swing of things after vacation is never easy, but this week's welcome home hit me like a ton of bricks.
Just last Friday, I was on a plane flying back to Philadelphia after eight wonderful days in Ireland.
I felt refreshed and rejuvenated. Heartbroken to leave the beautiful country of Ireland, but excited to return home to see what the rest of fall has to offer. Eager to get back to my business and blog after some time and space away from email inboxes and client work.
After a relaxing weekend recovering from jet lag, I eased my way into Monday with a yoga class, time spent clearing out various email inboxes and making a massive to-do list for the week.
I felt good. I felt in control.
I went to bed on Monday night with grand plans to do all the things the rest of the week.
And then I woke up on Tuesday and I felt like crap.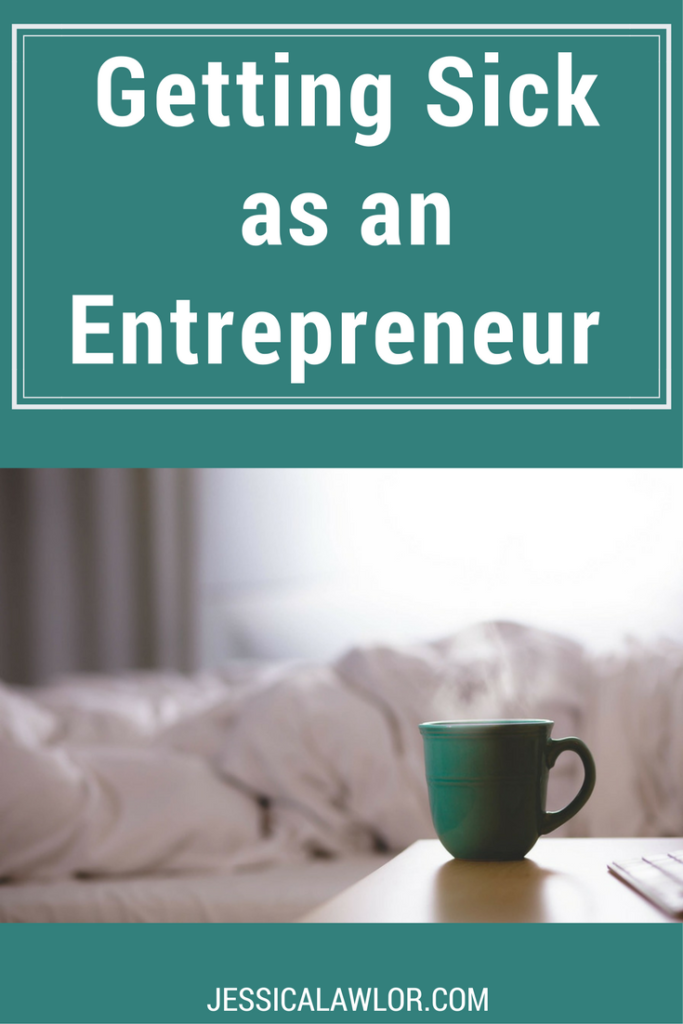 It all went downhill
I woke up on Tuesday morning with a massive cold: the kind where there never seems to be enough tissues, eyes that won't stop watering and a general feeling of fogginess that prevented me from getting anything done.
And from there, my week went completely down the drain.
My motivation. My drive. My ability to think clearly. My spirit.
I spent most of Tuesday, Wednesday and Thursday afternoon in bed. I hated that I couldn't work, hated that I felt so foggy and frazzled.
Despite my best intentions and plans for the week, my to-do list went out the window.
It was out of my control.
Getting sick as an entrepreneur
There's a catch-22 to everything, right?
As a solo business owner, I don't have a set number of sick days. I don't have to text my boss when I don't feel well to ask to stay home and rest. I can take a nap in the middle of the afternoon without consulting my client. In fact, if I don't feel like sharing, no one even has to know I'm not feeling well.
But also, as a solo business owner, if I'm not working, I'm not being paid. And this week, not a whole lot of work got done, leading to some rising stress levels, and an extra-long list of things to accomplish next week.
Luckily, I have processes in place (and an amazing, amazing team member) so even though I was out of commission, JL&Co continued to chug along (albeit a bit slower than normal), but it didn't feel great to let go of my plans for the week.
No doubt, getting sick as an entrepreneur isn't easy.
Time to rest
At the end of the day, even in the throes of it all, I knew it would be better to focus on resting and recovering vs. pushing through and completing crappy work, no matter how frustrated I felt at the time.
Been in bed sick since noon ? Feels so powerless sometimes to take a "sick day" as a solo biz owner, even though I know rest is important.

— Jessica Lawlor (@jesslaw) September 13, 2017
Life, right?
Reality check
Yes, in the grand scheme of things, this week wasn't *really* the worst.
There are folks in the world dealing with many more hardships than a minor illness derailing a work week.
But still. I always strive to share honestly here, and I wanted to let you know that for me, this was a crappy week.
Crappy weeks happen, and that's OK.
I'm already starting to turn a corner, and looking forward to drinking some extra coffee next week to power through and get myself caught up once again.
Ugh, how do you deal when you're not feeling your best? Also, if you've had a crappy week, let's commisserate. Share in the comments below.
*Photo via Pixabay
Want more gutsy content delivered straight to your inbox twice a month? Be sure to sign up for my FREE #GetGutsy e-newsletter filled with inspiration, ideas and action items to get out of your comfort zone.