"They say the clouds are lower in Ireland. I say Ireland is closer to heaven." -Michael Vatis
Confession: Ireland wasn't always at the top of my travel bucket list.
But after eight magical days in Ireland with my boyfriend Tim, I've had a complete change of heart. I get it now.
The rolling hills, the endless sea of green and the views that literally take your breath away. The winding, colorful countryside towns, each twisty-turny street more picturesque than the last. The friendly people, the lively pubs and the unique energy of each tiny village. The traditional music, passion and personality spilling out the door of each and every pub.
The memories and the moments I'll hold in my heart for a lifetime.
[Planning your own trip to Ireland? Be sure to check out my complete guide to choosing your route, shaping an itinerary, packing + more]
Needless to say, our trip to Ireland lived up to, and far surpassed my every expectation.
Here's an eight-day travel guide to visiting Ireland, including where to stay, where to eat and how to make the most of your time in the Emerald Isle.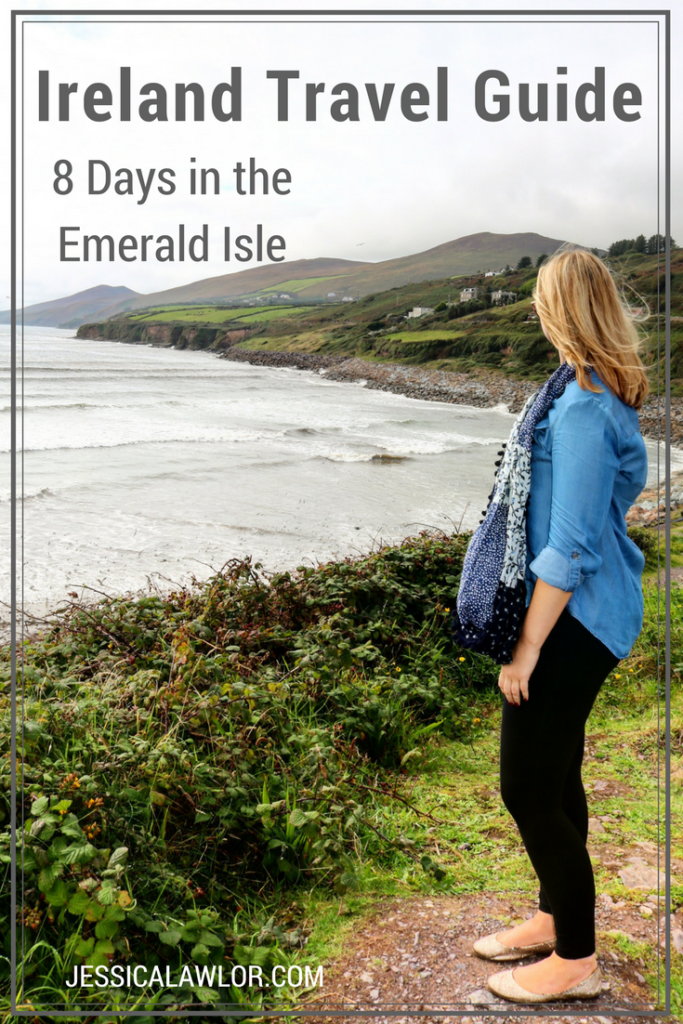 Dublin
*Days 1-2 of our trip
Many travelers tend to begin and end their visit in Dublin, and that's exactly what we did.
I absolutely loved our time in Dublin from the moment our taxi from the airport arrived in town. A lot of people advised us, "Don't spend all your time in Dublin. There's so much more to see in Ireland!", and while that's true, Dublin captured my heart, and I could have easily spent more time there.
Where we stayed:
Sandymount Hotel: The lovely, family-owned Sandymount Hotel, just a quick drive or train ride on the DART from Dublin's City Center, was the perfect place to rest our heads during the first two nights of our trip. Weary from traveling overnight, we arrived at the Sandymount bright and early, expecting to drop our bags and head into town, but lucky for us, our room was ready hours early! We were able to squeeze in a quick nap (much-needed!) prior to exploring Dublin. We stayed in a super comfortable executive room (thanks for the upgrade!) and enjoyed our stay at this gem of a hotel. My favorite part about staying at the Sandymount was exploring the surrounding neighborhood — the property is located in one of Dublin's posh little residential towns, so we had a blast wandering the streets and admiring the unique architecture of homes in the area.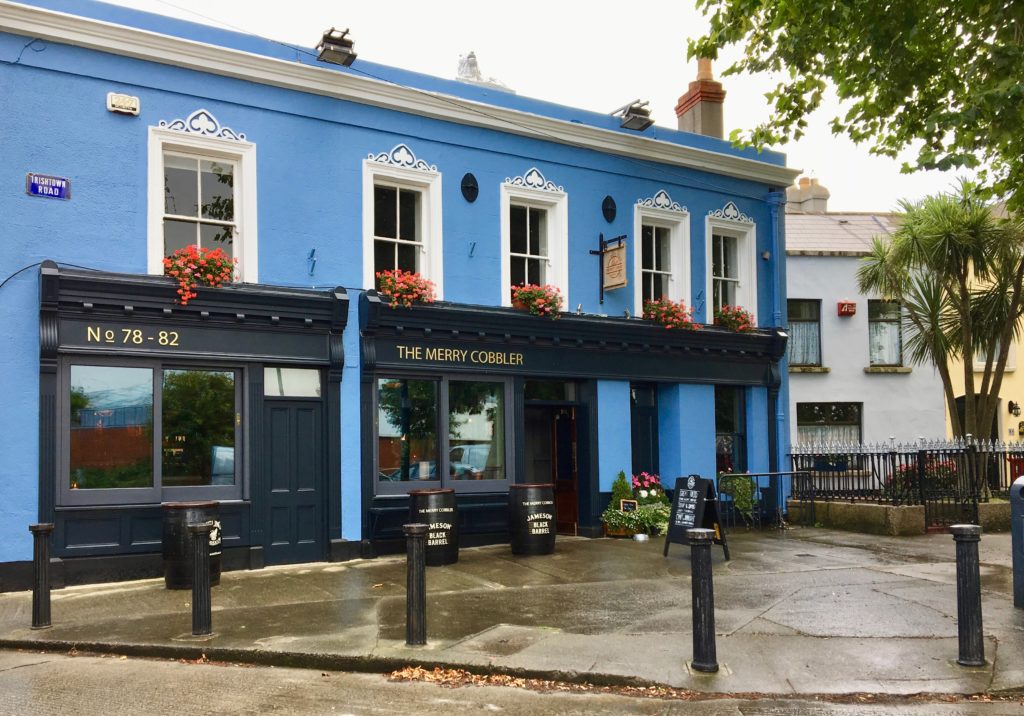 Where we ate/drank: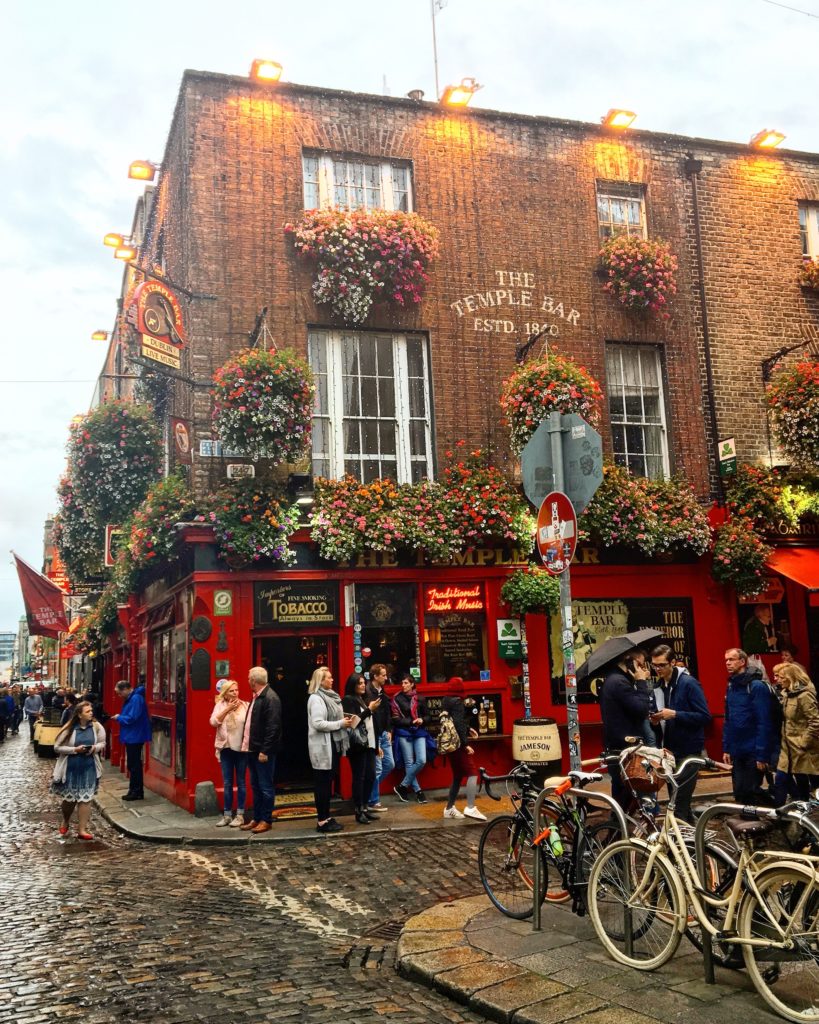 What we did:
City Sightseeing Dublin: I'm a sucker for a good hop-on, hop-off bus tour. It's one of my favorite ways to get the lay of the land while traveling! There's a lot of different tour companies in Dublin, but we really enjoyed the City Sightseeing Dublin tour — our guide Declan was super knowledgable, funny and even serenaded us with an Irish tune.
Guinness Storehouse: Even if you don't like Guinness (I'm not a fan), the tour is a must, if only to visit the seventh-floor Gravity Bar, with 360 degree views of Dublin. You get a free voucher for a pint with your tour admission!
Trinity College: Many visit Trinity College to see the famous Book of Kells, but I was there to gape at The Long Room, home to more than 200,000 books. It's truly a sight to see. I also made my only purchase of the trip at the gift shop here: a traditional claddagh ring.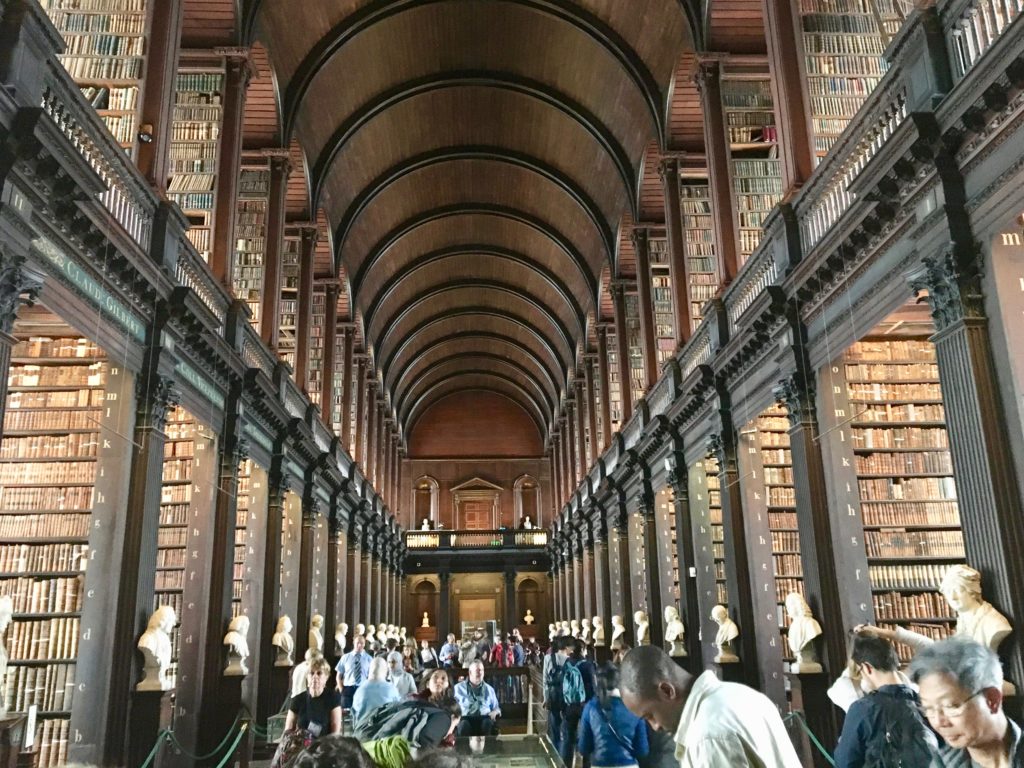 How we got around:
There are *many* ways to get around Dublin! We used UberTaxi a few times (riding in a regular taxi, but still using the Uber app to request a ride and make payment), the DART train to get to and from our hotel, and wandered around by foot the rest of the time! According to my iPhone Health app, we walked more than 12 miles during our two days in Dublin! This was probably the most exhausting part of our trip, not to mention, we were a bit jet-lagged.
Kilkenny
*Day 3 of our trip
Kilkenny was a quick stop on our way to Kinsale after picking up our rental car in Dublin. This cute town was our first taste of the Irish countryside, and I was immediately smitten.
Where we ate/drank:
Left Bank Pub: Noticing a bit of a trend here — in Kilkenny, we ate in another converted bank. This restaurant has several floors, and is apparently quite a hot nighttime spot, although we didn't stay long enough to find out.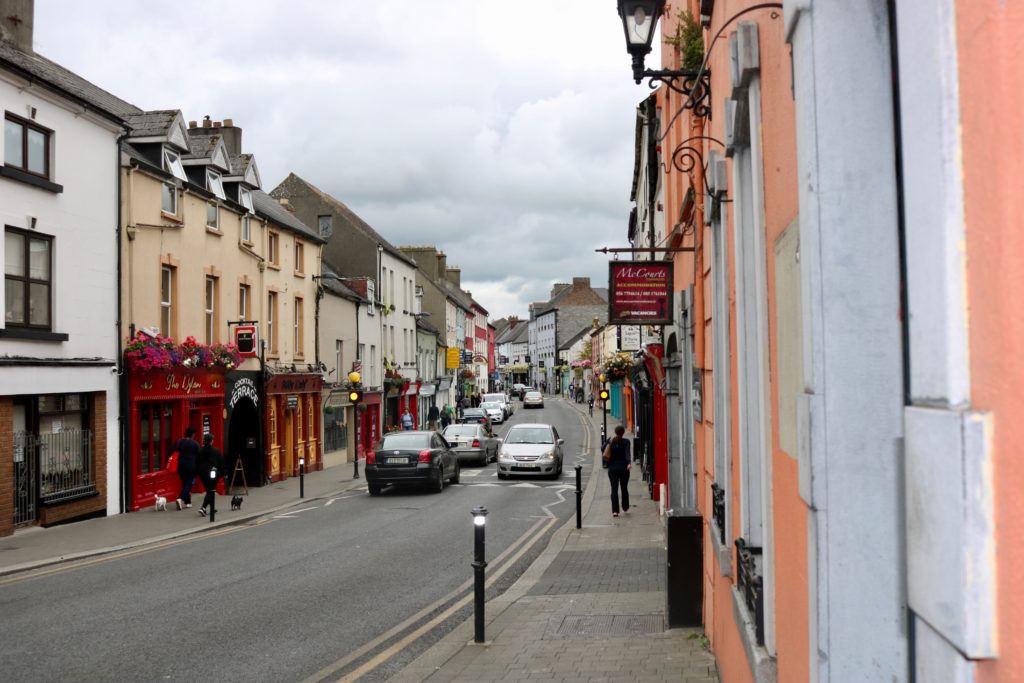 What we did:
Kilkenny Castle: While we didn't tour the castle, we did walk around the expansive grounds and marveled at the enormity of the castle, the gardens and the acres and acres of green. Amazing. (And you gotta see at least one castle when you're in Ireland, right?!)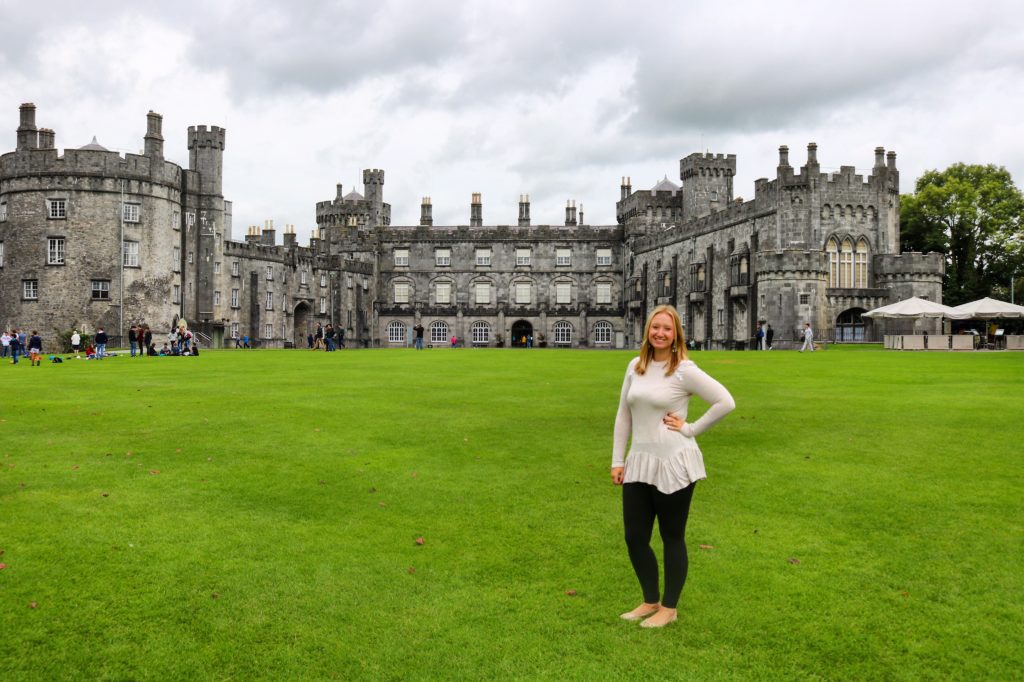 How we got around:
We parked our car at the Q-Park on Ormonde Street (close proximity to the castle and center of town) and wandered by foot.
Kinsale
*Days 3-4 of our trip
Kinsale is a charming little Irish town in County Cork, each twisty-turny street more colorful than the list. I couldn't stop snapping pics, and Tim and I raved about how this was absolutely our favorite part of the whole trip, minutes after we arrived. You must visit Kinsale when you go to Ireland!
Where we stayed:
The Desmond House: We couldn't have gotten more lucky to score a reservation at The Desmond House, the #1 rated B&B on TripAdvisor in Kinsale. Located smack in the center of town, the Desmond was the perfect spot for our first-ever stay at a B&B. We slept in the spacious Old Head Suite, and enjoyed a delicious breakfast and chat with Grainne, the owner, the next morning. Her freshly-made scones are out of this world!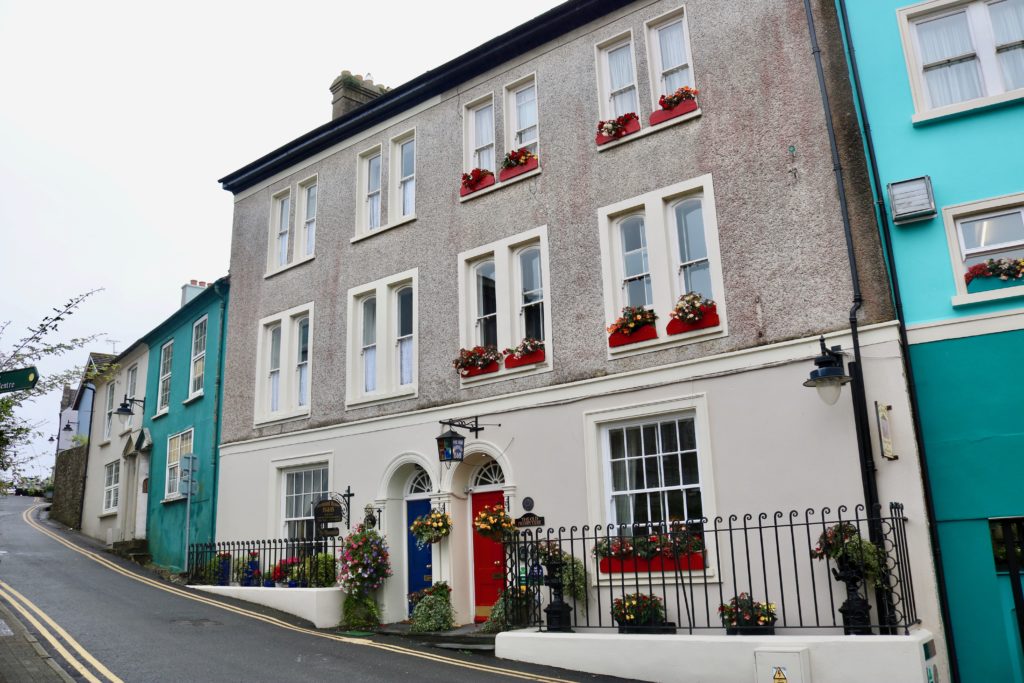 Where we ate/drank:
Fishy Fishy: Kinsale is known for their fresh seafood, and Fishy Fishy did not disappoint. I don't do seafood, but Tim raved about the local oysters on the half shell and fishy fishy pie. I did a lot of steak in Ireland, and the pan-roasted sirloin here was delicious. Be warned: This restaurant fills up quickly! Our B&B owner kindly made us a day-of reservation, but it wasn't until 9 p.m.
The Silent Banjo: Our one night in Kinsale was the *only* time it rained during our Ireland trip, so after dinner, we ducked into The Silent Banjo, seeking some place warm and dry for a drink. Luckily, we stumbled into this lively bar, and enjoyed drinks and music for the next few hours.
The Greyhound and Market Bar: On our way out of Kinsale the following day, we popped into The Market Bar for one last friendly Kinsale drink. Though Kinsale takes awhile to wake up (the pubs/shops were just starting to open in the early afternoon), we had a great chat with the friendly bartender here before getting back on the road.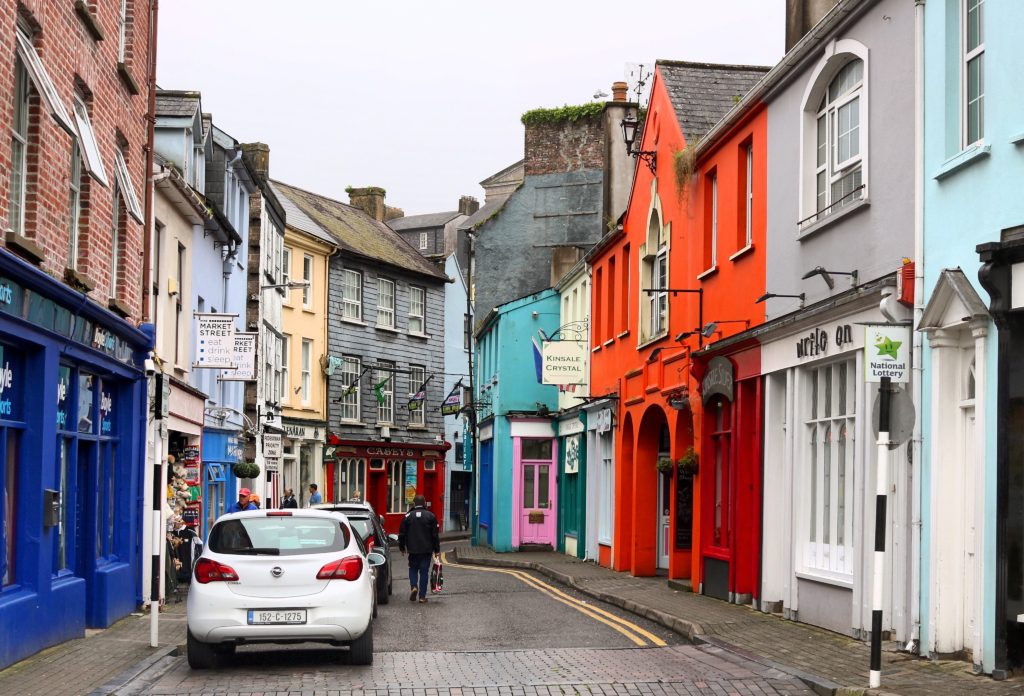 What we did:
To be honest, we didn't *do* much of anything in Kinsale. No tours, no museums, no schedule. Instead, we simply wandered the colorful streets and popped into shops (our favorite was the Canvas Works where we purchased this unique print to remember our time in our favorite Irish city).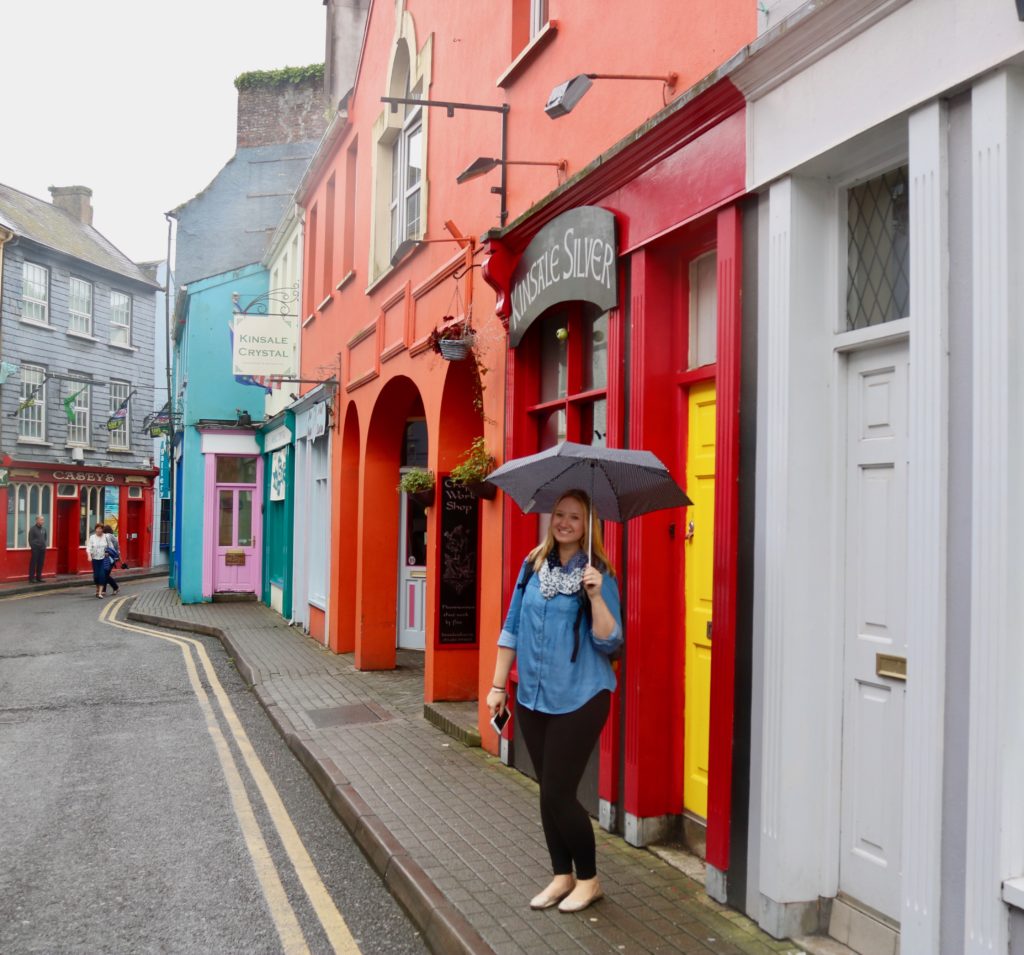 How we got around:
Kinsale is the most perfect walkable town. Park your car, and explore! Funny story — we were advised to park in the tiny church parking lot across the street from the B&B. We checked out on a Sunday morning, and were completely surprised to see our car was completely blocked in, not realizing church would be in session when we left! We asked a passerby when church would let out and he said five minutes. Sure enough, a few minutes later, folks piled out of the church and within seconds, the parking lot was clear. We were on our way!
Dingle
*Days 4-5 of our trip
Another colorful seaside town, Dingle is filled with restaurants, shops and more pubs (surprise, surprise!). We arrived in town after an incredible three-hour drive with some of the most picturesque views I've ever experienced. With only one night in Dingle, we set out right away to explore.
Where we stayed:
Cill Bhreac House: The views from our B&B, the Cill Bhreac House, were truly amazing. From bed, I could look out the window and directly into the Dingle Harbor. This B&B, set just outside of town (a bit of a further walk than we expected), was a comfortable place to spend the night with a delicious pancake breakfast the next morning!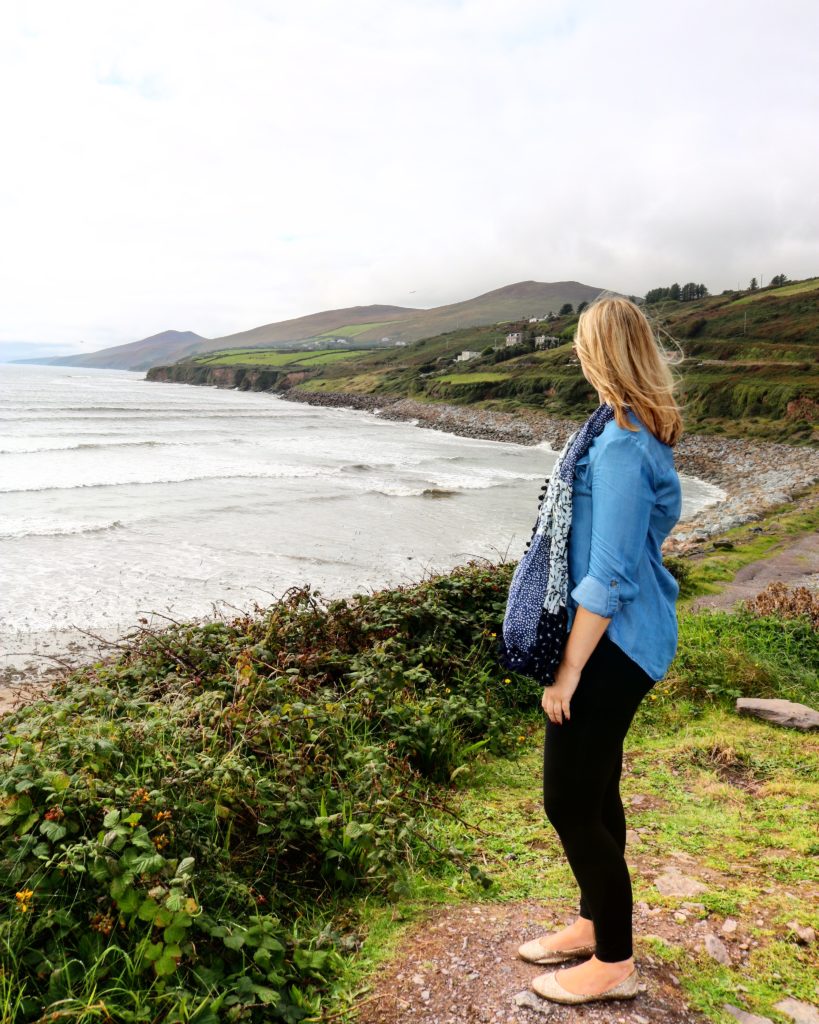 Where we ate/drank:
Marina Inn: We got our first taste of real traditional Irish music here in Dingle at the cozy Marina Inn where we enjoyed a quick bite to eat before setting out for the night.
What we did:
Self-guided pub crawl! At dinner, we chatted about our plan for the night, and after some time on Pinterest, I stumbled upon this blog post outlining the best pubs in Dingle, and we decided to take ourselves on a pub crawl. After all, with 30+ pubs in this tiny town, there are many unique bars to explore! We made stops at Dick Mack's, Foxy John's (half bar, half hardware store?), The Mighty Session, O'Flaherty's and ended our night The Dingle Pub.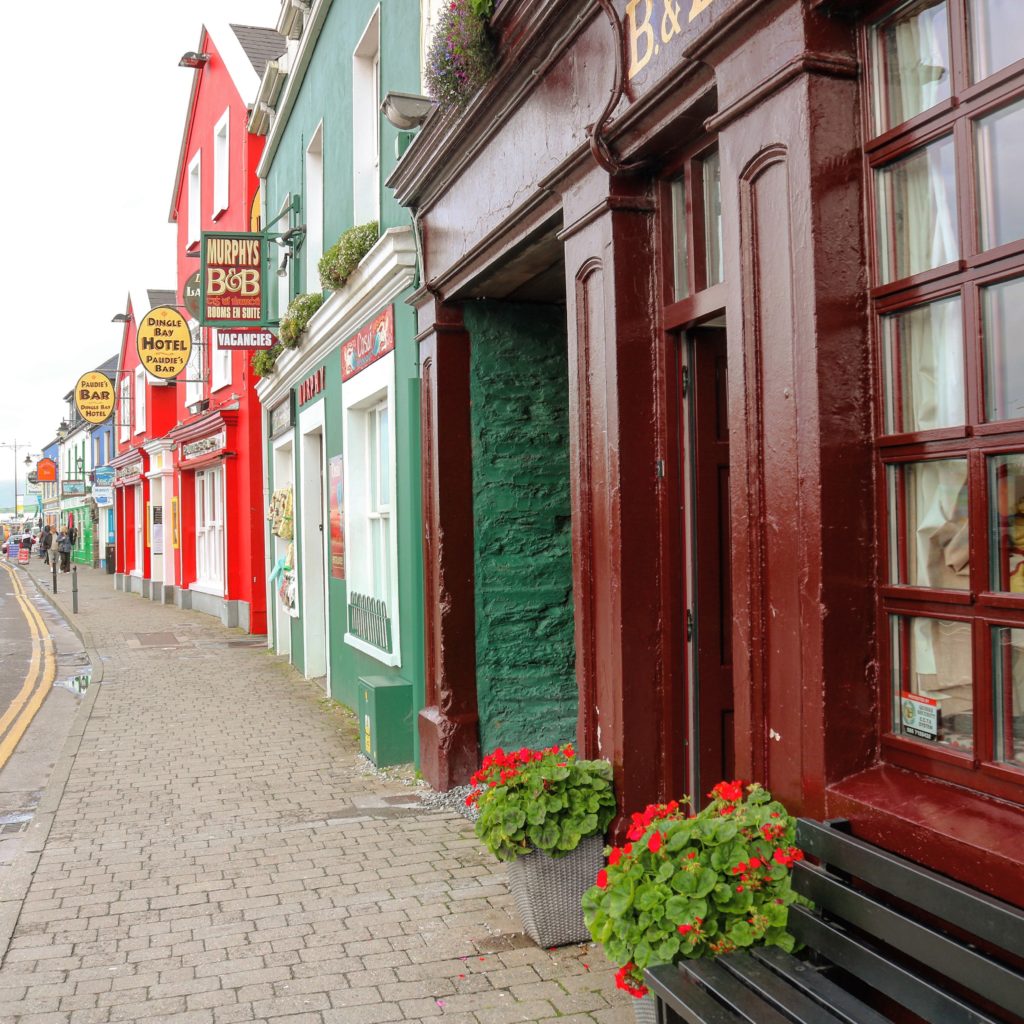 How we got around:
We parked our car at the B&B and walked into town (a 20-30 minute walk). That night, we took a cab home, although finding a cab wasn't the easiest. I happened to ask a bartender how to find a cab, and he pointed to the man I was standing next to and said, "He has a cab. He can take you home." True Irish friendliness at work! Ha. The next day, we drove into town and parked at a large "car park" as they call it right along the marina.
Doolin/Cliffs of Moher/Lisdoonvarna
*Days 5-6 of our trip
There are many towns to stay in to get yourself as close as possible to the Cliffs of Moher, and I feel lucky we stumbled upon the tiny town of Doolin. It ended up being one of our absolute favorite places! A small town, Doolin is not short on charm.
While we didn't stay in Lisdoonvarna, it's another awesome town to consider if you're visiting the Cliffs, and we did stop by for lunch after our morning at the Cliffs.
Where we stayed:
Cullinan's Restaurant and Guesthouse: Another highly-ranked B&B on TripAdvisor, we lucked out with an amazing stay at Cullinan's Guesthouse. Our room, which was actually situated outside of the main guesthouse, felt like a little private oasis overlooking a babbling brook and beautiful pastures. Breakfast the next day was delicious, and owner Carol gave us some top-secret insider tips about avoiding crowds at the Cliffs of Moher (I'll reveal those tips later this week!)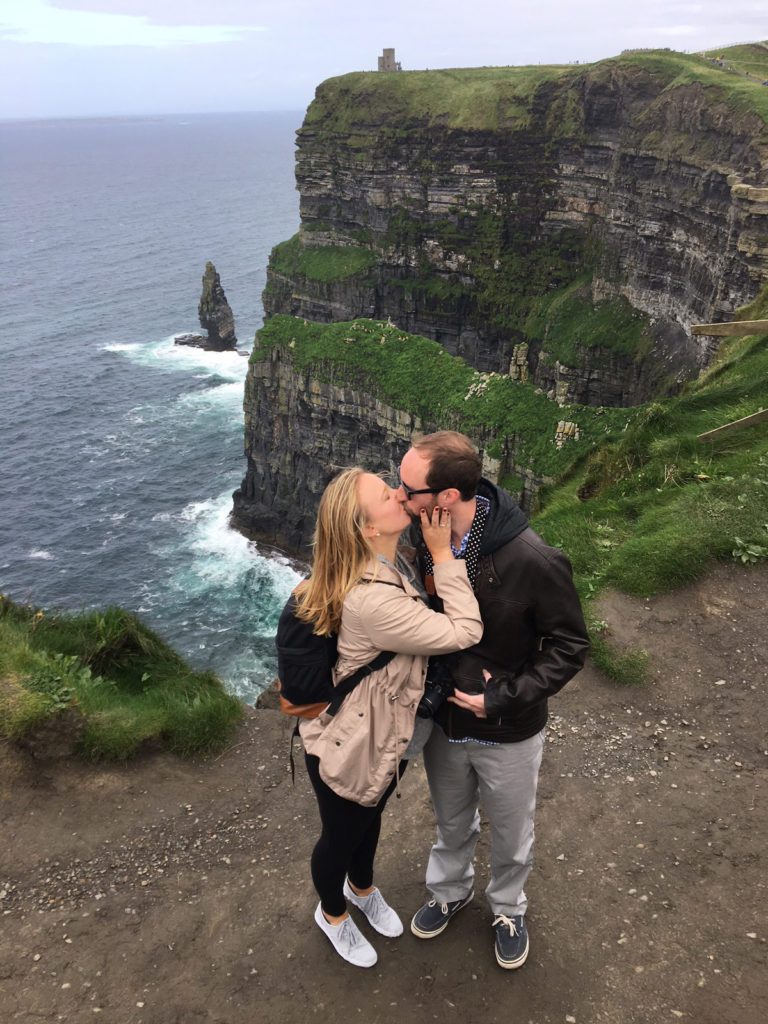 Where we ate/drank:
McDermotts Pub: We stopped at this traditional County Clare Irish Pub for dinner — this place was hopping! A little sick of eating so much red meat, I opted for a tasty chicken curry dish. Tim enjoyed a lamb burger.
McGann's: A great spot to take in some trad music! I loved seeing all the police badges at this teensy-tiny Doolin pub — and even spotted one from our very own Philadelphia Police Department!
What we did:
Cliffs of Moher: Sigh. The Cliffs of Moher. I have so much to say about this magical experience, but you'll have to wait until later this week. Suffice it to say, the Cliffs are NOT a tourist trap. They are a must-see for every visitor to Ireland. I promise, you won't regret visiting.
The Matchmaker Bar: Move over, Bumble! Lisdoonvarna is home to the world's largest matchmaking festival every September, complete with a Matchmaker Bar, and a real matchmaker making love connections around town.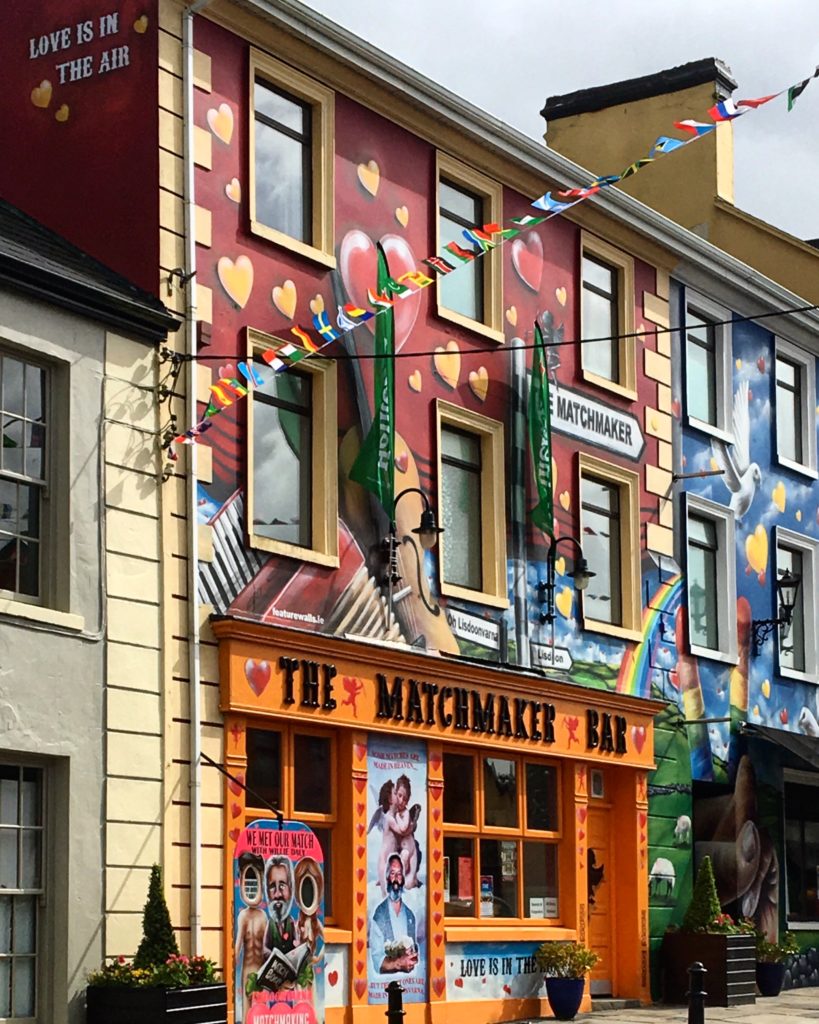 How we got around:
Once we parked at our B&B in Doolin, we set out by foot, and everything was in perfect walking distance. In Lisdoonvarna, we drove into town and parked a few blocks away from the town center.
Galway
*Days 6-8 of our trip
Unpopular opinion alert: We wanted to love Galway. In fact, we'd read that we should spend more time in Galway than Dublin! However, Galway wasn't our favorite. Perhaps we didn't do enough research ahead of time, but while we had a blast exploring at night, we didn't find much to do during the day. Still, we had some truly fantastic meals in Galway, so it's worth a visit, especially if you're a pizza lover.
Where we stayed:
The Nox Hotel: Chic is the only way to describe the Nox Hotel, just a 10-minute walk into Galway's city center. Seriously. I was blown away from the moment I walked in the door. From the unique lighting to the interesting artwork, we loved our spacious king room (thanks for the upgrade, Nox team!) and especially enjoyed the close proximity into town.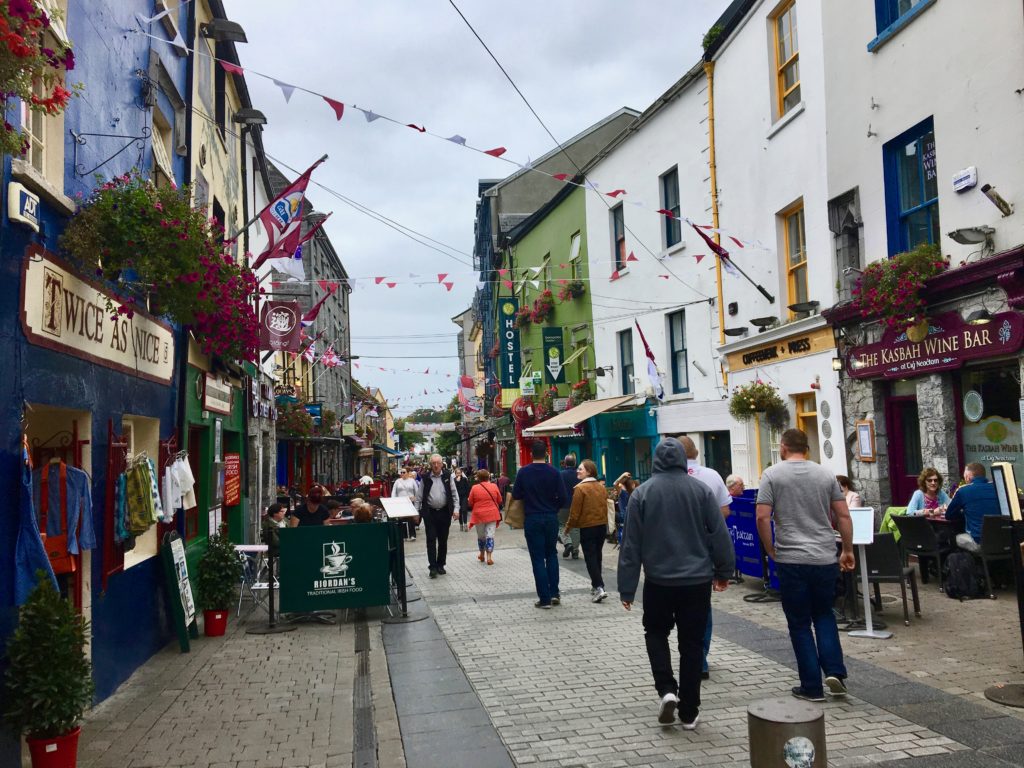 Where we ate/drank:
Dail Bar: We came to the DailBar on the night of a major soccer match, so this restaurant was filled to the brim! We waited 15 or so minutes for a table, but while we waited, I sipped on the best mojito I've ever had — spicy mango! I found Galway to be much more adventurous and modern in terms of food/beverage choices, and I certainly got my fill of fun cocktails after a week of drinking cider.
The King's Head: Billing themselves as "a medieval pub with a modern attitude", The King's Head is a hopping place for live music and hand-crafted cocktails. We loved this pub so much we came back twice!
The Dough Bros: Guys. I never thought I'd eat the best pizza I've ever experienced in Ireland (after all, I studied abroad in ITALY). But lo and behold, the best pizza in the world exists in Galway at The Dough Bros. I can't stop talking about this place: The warm atmosphere, the friendly servers and the out-of-this-world amazing pizza. GO! (We even came back the following day for lunch again!)
De Paulino's: After eating greasy pub food for a week straight, I was craving some Italian food, and De Paulino's did the trick. We shared a bottle of the Ricossa Barbara D'asti (delicious) and enjoyed a filling meal.
What we did:
As I mentioned, we didn't do a ton of Galway research, so we didn't have a set plan. We wandered the campus of the National University of Ireland a bit, but mostly spent the day popping into different pubs and exploring town.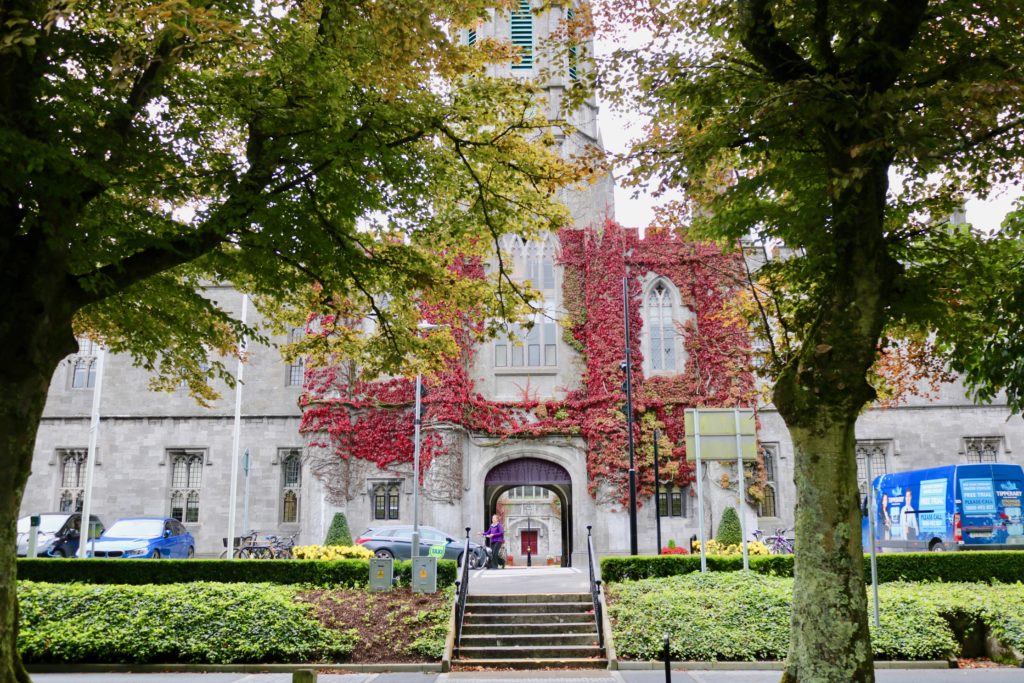 How we got around:
Cabs are abundant in Galway, and the city is easily accessible by foot.
Good to Know
We flew in and out of the Dublin Airport. Dublin is one of the few airports that offers U.S. pre-clearance, meaning you handle customs and immigration on the Ireland side. When you land in your hometown city, you're good to go, just like you took a domestic flight! This means you do need to be at the airport earlier than you think though.
We traveled August 30-September 8. We got very lucky with the weather — it rained one day (and on and off a few other times). I mostly wear jeans, leggings and layered tops. I brought two light jackets, and I was rarely cold.
Don't bother doing your hair in Ireland! With windy and wet conditions, it's just not worth it. I brought a hair straightener, but barely used it. The climate in Ireland was actually fantastic for my hair!
Have you ever been to Ireland? Tell me about your visit in the comments below! If you're planning your own trip, what are you most excited about?
Want more gutsy content delivered straight to your inbox twice a month? Be sure to sign up for my FREE #GetGutsy e-newsletter filled with inspiration, ideas and action items to get out of your comfort zone.