It's no secret. Podcasts are so hot right now.
When I discovered the world of podcasts about four years ago, I felt like I stumbled upon an amazing secret.
I promptly ditched the radio playing the same crappy song over and over again, and filled my morning commutes, workouts and general errand-running and lounging around the house with podcasts, podcasts and more podcasts.
I mainly listened to business/entrepreneurship-related podcasts, and the content inspired me as I worked on my side hustle preparing to quit my job to start JL&Co.
I was hooked.
And now, several years later, podcasts have exploded even more. Which is great! Because that means there's even more awesome stuff to listen to. And my listening taste have certainly expanded, too.
Before we get into the podcast recommendations, let's talk logistics.
How I Listen:
There are many ways to listen to podcasts, but I listen on my phone through Apple's podcast app.
It's easy to search through the iTunes Store to browse different shows. From there, I subscribe to the podcasts I'm most interested in and am alerted when new shows are published. Because I don't want to use my data, I "download" the specific episodes I want to listen to when I'm not on wifi (i.e. in the car) so I can still access them. At any given time, I usually have 2-3 podcasts downloaded to my phone to save space. The rest live in the app and I can access them when I'm on wifi again. This process has worked pretty well for me!
I've heard good things about the Stitcher app, along with Soundcloud for those who can't or don't use Apple's podcast app.
When I Listen:
When I started working from home, I was worried I'd stop listening to podcasts since I essentially gained back two hours in my day previously spent commuting. However, I find I listen to podcasts even more now! Running a solo business can be incredibly lonely and listening to podcasts as I go about my day makes me feel a little bit less alone. I generally throw on a podcast as I'm getting ready in the morning (brushing my teeth, making breakfast/coffee, etc.) and while I do chores (dishes, laundry, etc.), along with while I run errands and when I do drive various places. I probably listen to even more shows now than I did before!
Without further ado, here are 25 podcasts I listen to religiously…and 25ish more, recommended by you!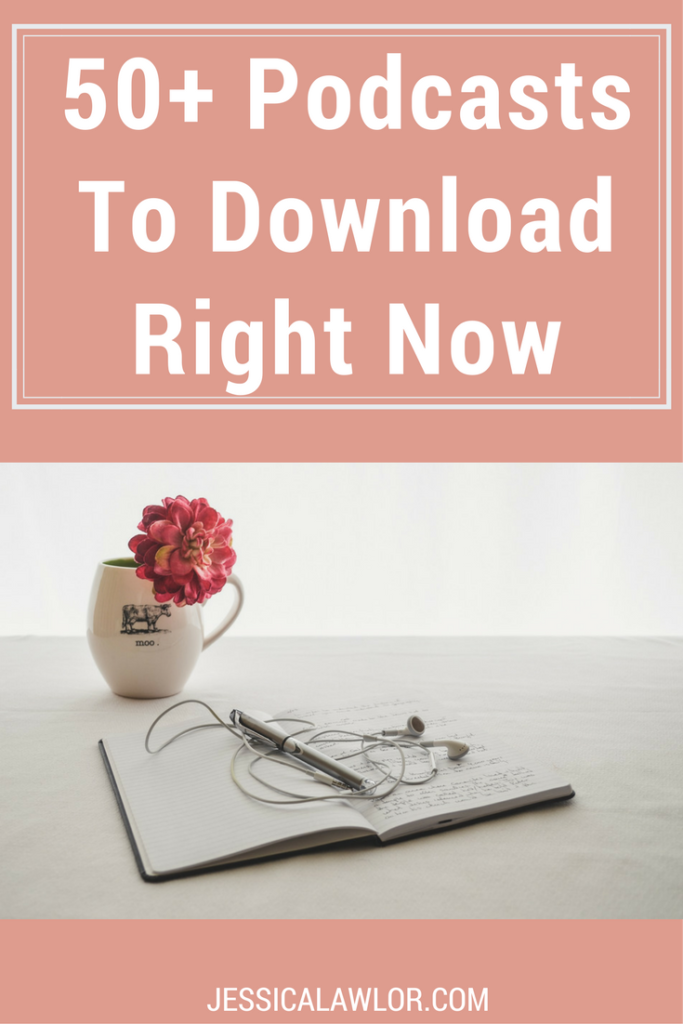 Guilty Pleasures: Reality TV & Pop Culture
Listen. The world is complicated enough. Sometimes you just need a light, fun, no-brain-power-necessary listen…and these podcasts are perfect for just that. Most of these podcasts center around entertainment…and you'll see I'm noticeably addicted to Bachelor/Bachelorette-adjacent shows.
Former Bachelorette star Kaitlyn Bristowe is EVERYTHING: she's hilarious, down-to-earth, beautiful, witty and entertaining. Her podcast is also all of those things. I particularly love the episodes she brings on the people closest to her: fiancé Shawn B. has appeared twice, as as her childhood best friend.
Must-Listen: Spencer Pratt & Heidi Montag
You may have seen "villain" Olivia Caridi on Bachelor Ben Higgins' season, but this gal is so much more than what you saw on your TV. With a broadcasting background, Olivia interviews fellow reality TV stars — and she does it super well.
Must-Listen: Michael "The Situation" Sorrentino & His Girlfriend Lauren Pesce: Best/Worst Jersey Shore Moments & Getting Sober
Bachelor/Bachelorette alums Ben Higgins and Ashley Iaconetti pair up in this weekly pod to talk all things Bachelor. I particularly like their dynamic since their personalities are starkly different from one another.
Must-Listen: All Things Dean Unglert
If you're like me and read Bachelor spoilers, you know the name Reality Steve. Well, now he has a podcast! I like this one because he interviews lots of past (think: many seasons ago) contestants from the franchise. It's fun to take a trip down memory lane, especially since these former contestants are off-contract and can speak freely.
Must-Listen: Interview with Lesley Murphy
The Ringer isn't just for Bachelor fans — they have other weekly shows (including a Game of Thrones show if you're into that), but I'm particular to Juliet Litman's Bachelorette Party. She gets interviews with recent winners (think: Nick and Ben), along with high-profile ABC execs like Rob Mills.
Must-Listen: 'Bachelorette Party' — With ABC Executive Rob Mills
This Bachelor recap pod was my very first, so it holds a special place in my heart. Each week, Emma and Claire recap the show and detail the week's aptly-named "feminism fails" (of which there are many).
Must-Listen: Bonus: 'Bachelorette' By The Numbers
The guys who host the E&G Podcast interview probably the most Bachelor contestants of any podcast I listen to, including contestants kicked off on night one. It's fun to get to know these people we only saw on TV briefly. Get ready though — sometimes this show publishes up to four times a week. I typically skip the recaps and fantasy league episodes and stick to the interviews.
Must-Listen: Packing for The Bachelorette
Moving on from The Bachelor! I also looooove me some Big Brother! This show hilariously recaps each episode and predicts what will happen next.
Must-Listen: Each show is a recap of the previous episode of Big Brother, so I recommend getting started based on whichever episode you just watched!
I don't watch Survivor (though I'm considering jumping into the next season), but past winner Russell Hantz chats with contestants on both Survivor and Big Brother, so I'm newly into this show.
Must-Listen: Casting Big Brother
The ladies behind Betches.com bring you Betch Slapped, a weekly podcast covering topics ranging from reality TV to dating to politics.
Must-Listen: There's No Filters In Real Life
Is there anything Girl With No Job doesn't do? She's everywhere…and she does a damn good job of making herself known for having "no job." Her podcast delivers her signature snark I've come to love on Snapchat and Instagram Stories.
Must-Listen: One-On-One Date With Olivia Caridi
Hanging Out With My Girls: Your New BFF in the Form of a Podcast
Working from home can be lonely, but when I listen to these podcasts, I feel like I'm hanging on the couch with a glass of wine and one of my best gal pals.
Ugh! I'm biased because I'm friends with host Caroline, but I love, love, love this podcast. As their intro states, "we hope you feel like part of the family" and you definitely will as you listen to these two sisters chat each week.
Must-Listen: Friends in Different Life Stages
There are A LOT of things I don't get when it comes to relationships, dating and being a twenty-something in 2017, and it appears I'm not alone. Ashley Iaconetti from the Bachelor/Bachelor in Paradise, her sister Lauren and former Bachelor producer Naz Perez chat weekly about all the things they just don't get. A new series on the show calls out guys who ghost! You gotta listen.
Must-Listen: To Freeze or Not to Freeze w/ Whitney Bischoff & Carly Bass
Eliza's a bit younger than most of the audience likely reading this blog (she just graduated from high school) but she's wise beyond her years. The daughter of author Gretchen Rubin, Eliza's super short podcast (think: 7-10 minute episodes,) cover a wide variety of topics, and give insight into the world of being a teenager.
Must-Listen: On Being a Sucker for Marketing
Hang out with Rachael and Sara over a boozy brunch each week as they talk all things TV, 90s nostalgia, dating, workouts, food and more. The best part of this podcast though is the super fun Facebook community they've built.
Must-Listen: Winternet is Coming
Learn Something New
Prior to starting my business, I listened to A LOT of entrepreneurship-related podcasts. Now, I skew more toward the lighter side of things since I breathe business day-in and day-out. However, these podcasts always make me feel just a bit smarter after listening!
Gold. Pure podcast gold. Hosts Emilie and Bridget tackle a variety of topics surrounding the challenges that face women today. I love that their show is extremely research-driven, so they present the facts and then share their thoughts and insights.
Must-Listen: Women and Pyramid Schemes
As a managing editor myself, I find myself nodding along to almost everything host Jess Ostroff laments about as she talks about what it means to work in this new world of content.
Must-Listen: Why Intuition Matters for Managing Editors (Shameless plug! This episode features me)
New to My Queue
I'm always on the hunt for new podcasts! I typically give them a "trial" period where I listen to a few past episodes and keep tabs on the new episodes being published. If I continue to enjoy the show, it gets a permanent spot in my downloads! Here are some new-to-me pods I'm auditioning now.
I learned about the Goal Digger podcast just a week or so ago after doing some research on Instagram pods (see episode below). I can't wait to dive into the archives of Jenna Kutcher's workshop-style business podcast for girl bosses.
Must-Listen: Why Instagram Pods Might be Hurting Your Business
After hearing the LadyGang on Kaitlyn Bristowe's podcast (there's a lot of cross-podcast pollination going on in these worlds), I decided to give them a try myself. Each week, the LadyGang invites a celebrity guest for brunch and a chat.
Must-Listen: Whitney Port
Further fueling my thirst for reality TV gossip, Kate Casey recaps shows and chats with former TV show contestants, all with her signature sense of humor.
Must-Listen: Jon Gosselin
This is brand new to my queue (as of yesterday), but the name alone had me hooked. Described as, "a podcast that dares to say what many are thinking, but only a bitch would say," I can't wait to dive in.
Must-Listen: Just downloaded after learning about the podcast on Spencer Pratt's podcast! Haven't had a chance to listen quite yet.
Retired From My Downloads, But Still Keeping Tabs
Change is inevitable, right? It's only natural to grow out of a podcast you may have once loved. These are podcasts I've listened to over the years that for one reason or another have been retired from my downloads. However, I'm still keeping tabs on most of these lovely podcasters — and pop in for an episode every now and then when something really grabs me!
The Lively Show used to be my very favorite podcast, but as the host Jess took a new direction in life, so did her podcast. If you're like me and don't quite connect with the new direction, I highly recommend digging back into the archives — Jess did tons of insightful interviews with creative entrepreneurs.
Must-Listen: Wardrobe Remixing and Closing a Business with Kendi Skeen
I'm online buds with hosts Ashley and Abbigail (and they even had me on the show once!) The podcast is currently on hiatus until season four begins.
Must-Listen: Creative Breaks
I miss this podcast so much! Mary Catherine and her husband Ben put on a great show, but took a hiatus when they had a baby. Fingers crossed this pod returns soon!
Must-Listen: Demystifying + Destigmatizing Therapy
Pat Flynn's podcast inspired me for many years when I was rocking my side hustle. It was one of the very first podcasts I started listening to, in fact! I stopped listening because I cut out most business-related podcasts when I started JL&Co.
Must-Listen: The Art of Rejection with Jia Jiang
Readers Recommend: Here's What YOU'RE Listening To These Days
I listen to A LOT of podcasts, but I can't listen to 'em all. Noticeably, I don't listen to a ton of crime, politics or news-related podcasts. So I took to Facebook and Twitter to get a pulse on what everyone is listening to these days, and let's just say, I have a long list of shows to add to my queue.
Here's what you recommended, broken down by category.
Get Smarter:
Inspiration:
Stay Informed:
Fun/Girl Chat:
True Crime/Mystery:
Biz:
Pop Culture:
Looking for even more? This Facebook thread is a wealth of awesome recommendations — there were so many I couldn't include them all here!
Help me add to MY must-listen list. What podcasts are you loving these days? Share in the comments below.
*Photo via Pixabay
Want more gutsy content delivered straight to your inbox twice a month? Be sure to sign up for my FREE #GetGutsy e-newsletter filled with inspiration, ideas and action items to get out of your comfort zone. When you sign up, you'll also be sent a FREE copy of the Get Gutsy ebook, filled with 19 inspirational stories to help you get gutsy.