In 2015, I resigned from my job working in public relations to take my side hustle (freelancing, blogging and teaching) full time. Throughout my first year in business, I documented every step in my Becoming CEO series. I wrote monthly reports documenting my income, lessons learned and highs and lows. As I enter year two, I'm no longer "Becoming CEO." I am the CEO! Expect quarterly updates with all the behind-the-scenes details you've come to love and expect on my journey from side hustle to CEO, along with regular pop-ins on solopreneurship, running a business, productivity and more.
[Did you miss my Q1 update? Catch it here]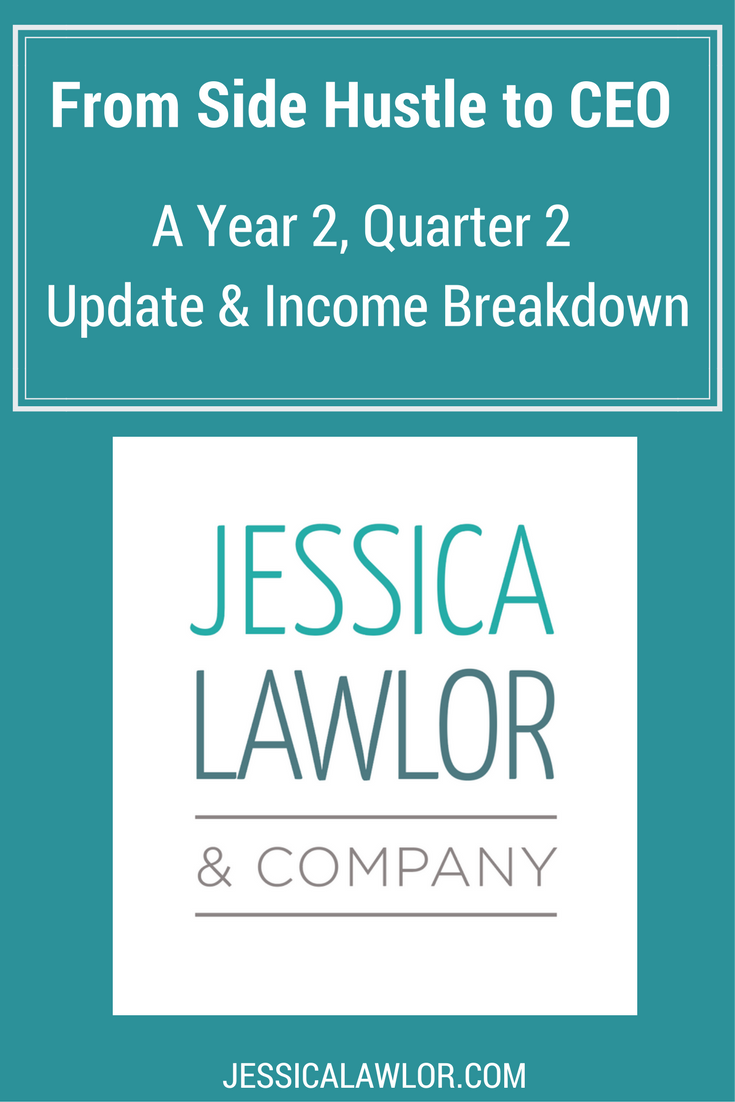 Let's take a look at Q2 of my second year in business, including a detailed income breakdown, lessons learned and more.
How Did I Make Money in Q2? An Income Breakdown
Here's an income breakdown of how exactly I made money during the second quarter of my second year in business.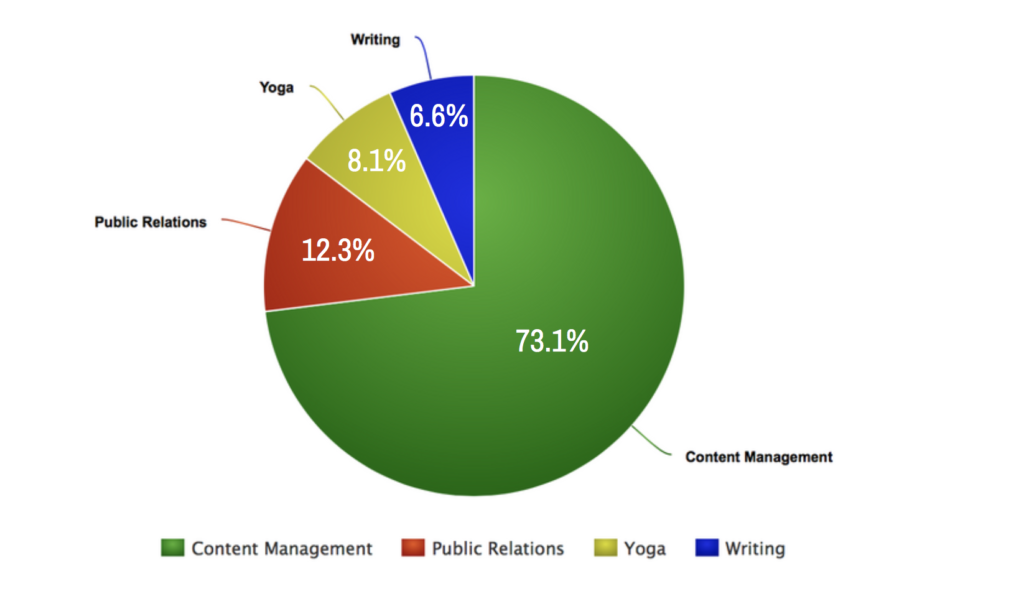 A couple of key thoughts and reflections:
Most importantly, my income increased by 27 percent from Q1! Wow. I was *not* expecting that to happen!
Writing made a triumphant return in Q2, and I couldn't be happier about it! I was super excited when a former client from years ago reached out to re-engage on a writing assignment for a magazine. Then, I was even more thrilled when I landed a new writing client through a relationship developed from this very blog's newsletter. Amazing! This blogging stuff really does work, people! It was SO fun to get back to feature writing; being handed an assignment, interviewing sources and figuring out the best way to tell a story. I have even more writing lined up for Q3, so expect to see writing back in the income breakdowns moving forward.
No consulting this month! Consulting is a service I'm not super proactive about pushing to get more clients. My approach here has been to sit back and offer consulting as an option when a prospective client isn't looking for retainer work, or is too small of a project to take on otherwise. I'm definitely open to consulting in the second half of the year, but I'm content with my income breakdown thus far without it too.
Content management continues to grow, especially as I recently added on even more services with one of my content management clients. I'm still on the hunt for one more content management client, but I'm thrilled with the way this area of my business is growing.
Interestingly, writing and yoga brought in nearly the same amount of income in Q2, yet my writing projects maybe took up six hours of my time, whereas yoga probably took up more than 50 hours of time. This makes sense, as teaching yoga isn't the most profitable area of my business, but this is a good reminder to me that I can spend LESS time working and earn MORE money, if I'm strategic about how and where I spend my time. Teaching yoga is one of my passions, so I'm happy to spend the time, but perhaps I'll aim to take on more writing in Q3 and Q4.
Lessons Learned From Q2
Treat yourself like you would treat a client. It's SO easy to forget about your own marketing and business development when you're busy taking care of clients. However, I know the only reason my business continues to grow is because I continue to put myself and my marketing at the top of my to-do list. In Q2, this meant putting on the PR hat I wear so often for my clients and doing it for myself! You'll hear more about exactly what I did in a future blog post, but I put together a pitch centered around entrepreneurship and graduation season, and already three amazing articles, including this one from The Penny Hoarder, this one from Business News Daily and this one from my alma mater have come out and have done wonders for my business. Take the time to market yourself; it's incredibly important.
Get out of the damn apartment and talk to some humans. I've mentioned before that being a solopreneur can be lonely from time to time. Days can go by that I don't speak to a single soul since most of my work is done online. I made it a point in Q2 to get out of my apartment and meet with fellow business owners and just plain good people to connect with. I spent many afternoons working from Temple University, coffee shops and my new gym. It's nice to get out of my quiet apartment and actually be part of the busy world around me.
Professional development is still important, even though I'm solo. I didn't take much time in my first year of business or in Q1 of this year for my own professional development. In Q2, I attended a blogging conference and a social media conference, both of which inspired and reinvigorated me to challenge myself and keep on learning. I LOVED school and love learning, so making a point to get to seminars and conferences is going to be key for me moving forward. Not only are these types of events great for inspiration, they're also awesome for networking and reconnecting.
The Highs and Lows from Q2
There are always going to be good days and of course, there will always be not-so-hot days. Here are the things that made me smiley and excited over the past few months, along with some challenges I faced.
The Highs:
I launched a public speaking page here on my website.
I completed a much-needed update of my portfolio. You can check out all my up-to-date work here!
I spoke to the PennSuburban Chamber of Greater Montgomery County — what an awesome group!
I spent time each week connecting with fellow business owners.
I reconnected with a former client and also landed a brand new writing client.
Attending The Blog Connect Conference gave me a very necessary boost of inspiration to focus on my blog. I'm super excited about changes in the works.
I joined an amazing new gym; one with an awesome cafe that I've been working out of a lot lately.
I completed my second term as president of the Temple Women's Network and started a term with the Temple University Alumni Association, keeping myself connected to my alma mater.
I got serious about doing some PR for myself and landed some awesome (and business-changing) media placements. See above!
The Lows:
Boy did I struggle with loneliness in Q2. Luckily, I realized it quickly and sprung into action to get out and network more.
There were a few days in Q2 I questioned if running a business was really the right choice for me. I started to doubt myself and wondered if life would be easier if I went back and got a full-time job again. Thank goodness I snapped out of that one pretty quickly!
Blog Posts Published in Q2
Catch up on blog posts you may have missed from Q2:
Big Blog Changes Are Coming (Or, Why It's OK To Do Whatever the Hell You Want On Your Blog)
I'm Having a "Pinch Myself" Moment: 6 Perks of Being Your Own Boss
It's Not Always Sexy: 7 Things That Really Suck About Running a Business
From Side Hustle to CEO: A Year 2, Quarter 1 Update & Income Breakdown
The Brutally Honest Truth About What Happens When You Turn Your Passions Into Your Career
Behind-The-Scenes of the Launch of The Writer's Bundle (And How You Can Grab $1,667 worth of writing resources for $99)
Have any questions about Q2? I'd love to answer your questions and hear your thoughts about this journey!
Want more gutsy content delivered straight to your inbox twice a month? Be sure to sign up for my FREE #GetGutsy e-newsletter filled with inspiration, ideas and action items to get out of your comfort zone.