Happy New Year! 2016 is here, but before we jump in with full force, it's time for some much-needed year-end reflection. In July I completed my mid-year check-in and now with the arrival of the new year  it's time for a full-on Get Gutsy annual review.
Every year, I detail my top highlights from the year (see 2012,  2013 and 2014 here), check in on some fun stats and numbers and reflect on my three words for the year.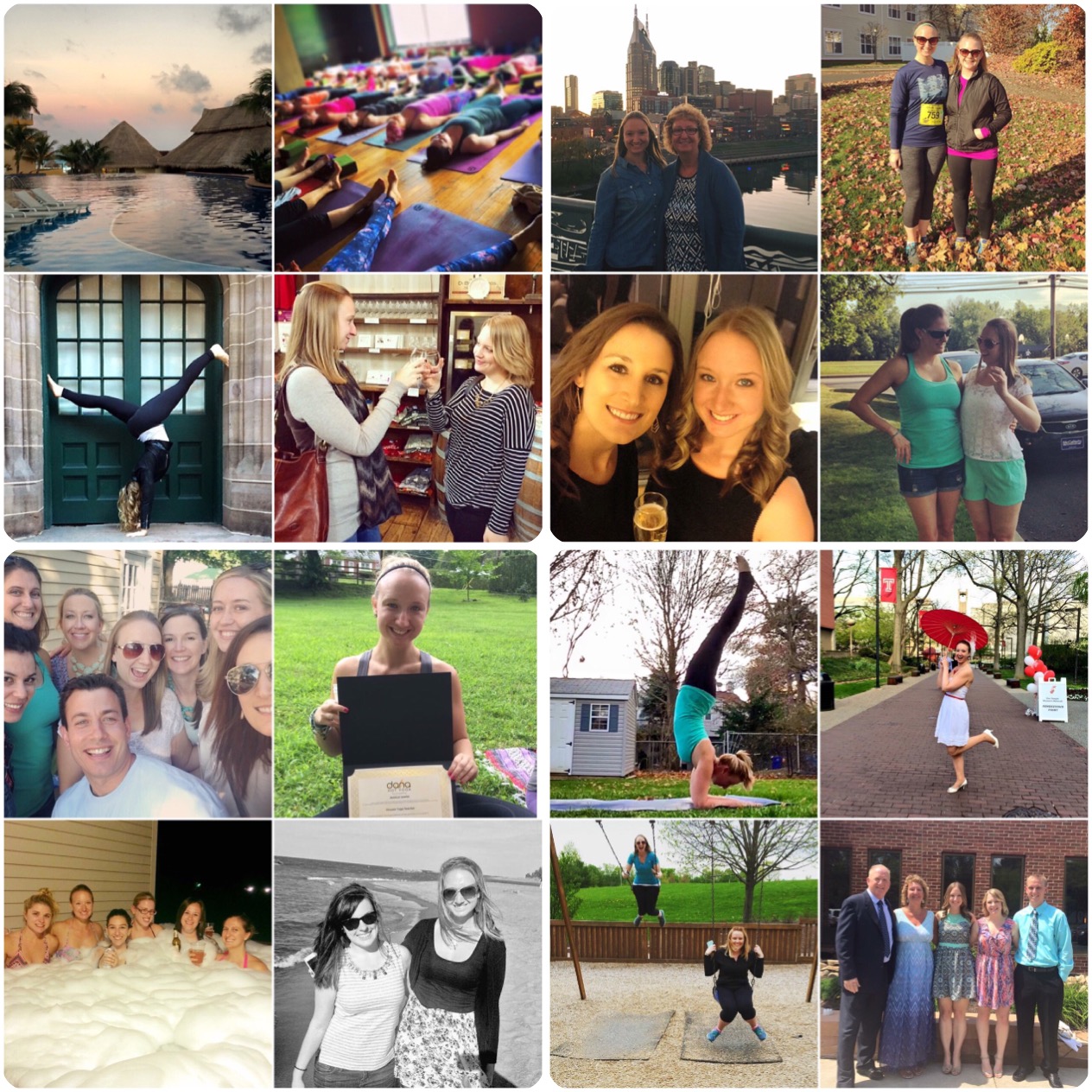 After spending some time reflecting on the year that was, here are my top 10 highlights from 2015:
1. I RESIGNED FROM MY JOB TO TAKE MY BUSINESS FULL TIME! This happened at the very end of 2015- in fact, I only just announced it earlier this week, but by far, this was the biggest thing to happen to me this year. It's something I thought about literally every day in 2015. I planned meticulously for more than a year, building a client base and saving money, preparing for this very moment. Sharing the news with my bosses was terrifying, but once I had said the words, I instantly felt like a weight had been lifted from my shoulders. I can't wait to see where 2016 takes my career- get ALL the details in this blog post.
2. I became a yoga teacher! Becoming a yoga teacher was absolutely my proudest moment of 2015. I started my yoga teacher training journey in March, taught my first yoga class in early June and completed my certification just before the start of July. Yoga teacher training completely transformed me- I feel like a brand new (and improved) person with so much more awareness and compassion for what's happening around me. After graduating, I subbed as many classes as I could and early this fall was offered two classes of my own! My classes are continuing to grow and it's SO exciting. Similarly, through teacher training, I fell even more in love with yoga and deepened my own practice, taking nearly 200 yoga classes throughout the year.
3. My business continued to grow with new services and offerings. In preparation to resign from my job, I really ramped up my business and blog offerings. Of course, I ran the 30 Days of Gutsy course (see #5), I took on new blog and feature writing clients, writing several articles for magazines and blogs. I did a little PR monitoring work, checking Help A Reporter Out (HARO) daily for a business, checking for PR opportunities for their clients. I began offering personal branding bootcamp sessions. And of course, I added a new stream of income: teaching yoga! I feel that I've diversified my offerings enough that I have lots of opportunity ahead for 2016.
4. I found true and deep friendships. To be completely honest, post-college, I found making friends challenging. Of course, I had lots of people I could chat with casually or make dinner plans with every once in awhile, but once I was out of school, I found it difficult to find true and deep friendships; the kinds of friendships where you say "What are we doing this weekend" not "Do you want to hang out this weekend?" Luckily, this year, I found those friendships I feel like I've seemingly been looking for forever! And guess where I found these lovely friends? Yoga. (No surprise there). I feel so grateful to have found these ladies and get to call them my best friends <3
5. My first course (30 Days of Gutsy) was a success! In March, I officially launched my first-ever public course, 30 Days of Gutsy. I had run the course as a beta test in November 2014 and was really scared to make it public, but I did, and it went well! Running the course made me realize that a daily email course probably isn't the best form of information delivery (for my personal preference) and I'm currently prepping to revamp the course as a workbook so people can take the material at their own pace. Running the course in this way was an amazing lesson in learning what DOESN'T work for me. I'm glad I gave it a shot and am excited to bring it back, bigger and better than before.
6. I learned how to slow down and say NO. No became a really important word in my vocabulary in 2015. I made the conscious decision that my focus for the year was on teacher training and the freelance work I felt would help me get to the point where I'd be able to quit my job. Anything else took a back seat. Thus, the creation of my reverse to-do list. Unfortunately, saying no can be difficult and can lead to hurt feelings and sticky situations from time to time. I made the hard decision to step down from a leadership position on a board I'd been part of since 2010. I said no to speaking opportunities that I didn't feel would move my brand forward. I said no to work that wasn't a good fit for me. My mental health was better for all of these no's. I felt much calmer and less anxious this year than in past years.
7. I attended my first World Domination Summit. After five years of reading blog post recaps about the World Domination Summit in Portland, I finally had the chance to attend! I had attended one of Chris Guillebeau's (founder of WDS) book signings in Philly  and received a card to register for WDS early. I took that as a sign that this was my year to go. I packed my bags and headed West to Portland where I roomed with Sara Frandina, my accountability partner and Janelle F., whom I met through this very blog. I had a blast exploring this amazing city, meeting awesome new people and of course, being inspired by the many WDS speakers.
8. The Temple Women's Network (TWN) flourished. It's no secret that I LOVE my alma mater, Temple University. For the past few years I've been involved with the founding of the Temple Women's Network, an alumnae group for Temple women. I've been president for the past year and a half and have another year and a half to go until my term ends. I'm so inspired by our incredible board and motivated members. We held so many awesome events over the past year and have even more to look forward to in 2016! Speaking of Temple University, my wonderful alma mater named me one of the Top 25 Owls to Follow on Twitter.
9. I prioritized my health and fitness. As some of you may know, I used to be an avid runner and spent lots of hours in the gym and on the roads. When yoga took center stage in my life, I let running go, and while yoga is wonderful, the lack of cardio in my life led me to start feeling a little heavier and less strong than I was before. In early 2015, one of my best friends introduced me to T25, Shaun T's Beachbody program where you complete a 25-minute workout six days a week. I was skeptical at first, but OH MY GOODNESS, it worked. The 25-minute workouts kick your butt and I quickly got whipped back into shape and as a bonus, my yoga practice also improved. I let T25 go for a little bit in the summer/fall, but re-started it in early November and have been feeling amazing since!
10. Travel yet again played a big role in my year. Oh, how I love to travel! In 2015, I started the year with a family vacation to beautiful and sunny Cancun, Mexico. We spent a glorious week on the beach and exploring the Mayan Ruins. In the summer, I headed to Portland, Oregon for World Domination Summit and ate my way through this tasty city. In the fall, I headed to Erie, PA for work (not on my travel bucket list, but interesting, nonetheless) and Gettysburg, PA for another work meeting (adorable town!). I closed out the year with a mother-daughter trip to Nashville! I quickly fell in love with this charming, musical city. Can't wait to get back there again one day!
Blog/Biz Growth and Stats
It's always fun to look at the numbers! Here are some key stats from the Get Gutsy blog/biz:
The Get Gutsy email community grew by 58 percent, surpassing the 1,000 subscriber mark!
28 emails were sent to the Get Gutsy community in 2015. My average email open rate is 34.6%.
The blog experienced record growth in 2015! had a 29% increase in page views, a 45% increase in sessions and a 35% increase in users. These numbers are WAY higher than the growth I experienced from 2013-2014.
These were the 10 most popular posts published on the blog in 2015. However, I published this post BEFORE I published my major gutsy career announcement. The stats for that post are TRIPLE any other post from 2015. If I were to re-pull the top posts list, easily, this would land at the top.
15 people participated in the 30 Days of Gutsy course when it was offered in March 2015!
66 people submitted essays to the Get Gutsy Essay Contest in 2015!
My own social media accounts grew like crazy! I surpassed 5,000 Twitter followers, gaining almost 500 new subscribers over the course of the year.
I experimented with LinkedIn publishing, republishing a few of my blog posts there.
My website was named to the list of the top 100 websites for writers by The Write Life and the 100 best sites for solopreneurs by One Woman Shop.
I wrote 22 guest blog posts, including having a personal essay published by Elephant Journal.
A Check-In On My Three Words for 2015:
For the third year in a row, I chose three words to guide me through the new year. These strong and powerful words are always on my mind, allowing me to focus on the bigger picture. Let's check in on how my three words for 2015 fared.
1. Light. The word 'light' was inspired by a concept in yoga of feeling light, yet feeling grounded to the earth at the same time. This word continued to stay impactful through the entire year- as I mentioned, I've learned how to say no to things I'm not super passionate about and that has absolutely led to a feeling of lightness.
2. Choice. Yes! Similar to wanting to feel light, I wanted to constantly remind myself through the year that everything is a choice and I have the power to do what I want, with whom I want, when I want. I certainly made many choices this year that I'm proud of, and I hope I can continue to carry this powerful word with me into future years.
3. Possibility. Oh yes. I chose the word possibility for 2015, knowing that I had this plan to eventually leave my job to do my own thing and I'm so happy that this word successfully guided me through the year. Always remember that there is SO much possibility in life- we have to be open to it!
Stay tuned! Next week, I'll share my three words for 2016!
How do you feel about your 2015? Have you ever conducted an annual review? If you've done something similar on your blog, feel free to share the link! I'd love to see it.
Want more gutsy content delivered straight to your inbox twice a month? Be sure to sign up for my FREE #GetGutsy e-newsletter filled with inspiration, ideas and action items to get out of your comfort zone. When you sign up, you'll also be sent a FREE copy of the Get Gutsy ebook, filled with 19 inspirational stories to help you get gutsy.