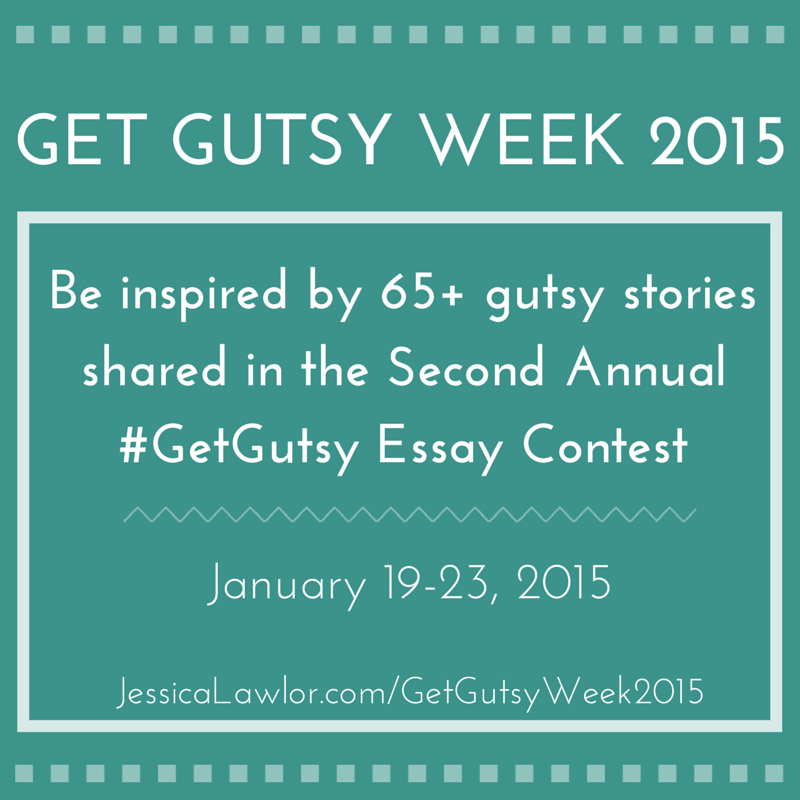 Welcome to Get Gutsy Week 2015!
It all started with a small idea in 2013.
I share what it means to get gutsy all the time here on the blog, but hadn't yet given YOU the opportunity to tell me what getting gutsy means to you and to share your own experiences and stories.
On a whim, I announced the first-ever Get Gutsy Essay Contest in 2014. A month later, nearly 30 people had shared their gutsy stories, three "winners" were crowned and we celebrated everyone's success and gutsiness during the first-ever Get Gutsy Week.
Then, in October, all of the stories were compiled and published in a FREE and inspirational ebook. (Grab your copy of the Get Gutsy ebook here!)
A little more than a month ago, I announced the Second Annual Get Gutsy Essay Contest and set a big, scary goal to reach 60 entries this year.
I'm beyond proud to share that this year's contest features 66 amazing and inspiring Get Gutsy essays. Thank you for helping me reach my gutsy goal!
Of course, as promised, three (edited to add: FOUR!) of the entries will be crowned "winners" and be featured here on the blog this week. Stay tuned for those posts on Tuesday, Wednesday, Thursday and Friday.
*Edited (1/23/15) to add: The winners have officially been announced!
Winning Entry #1: #GetGutsy + Get Out Of Your Own Backyard by Sara Frandina
Winning Entry #2: The New York City Marathon by Kim Kawecki
Winning Entry #3: Get Gutsy- Do Something That Scares You by Kate Sommerkamp
Winning Entry #4: Facing Fears and Getting Gutsy by Robin Botie
*Bonus Entry*: How a Diagnosis Led to a New Definition by Jamie Lawlor
BUT, to be honest, all of the entries are winners to me! I was once again completely blown away by each entry and each participant's vulnerability, willingness to share their story and of course, gutsiness.
That's why this week we'll be celebrating the courage and gutsiness of the participants:
Starting today on the blog with the listing of all of the Get Gutsy essays below- please read, comment and share them! The participants poured their hearts and souls into these essays.
Throughout the week on my Twitter account using the hashtag #GetGutsy
Ready to dive in and start reading these amazing stories? You'll read about topics including traveling the world, quitting jobs, starting businesses, changing directions, running marathons, battling inner demons, scary medical diagnoses, loss, births, new beginnings and so much more.
Be inspired by the 65+ #GetGutsy contest entries below.
1. On Life Plans: My Entry in the Second Annual #GetGutsy Essay Contest by Sarah Hutton
2. Get Gutsy: Don't Ever Give Up by Elizabeth Mays
3. How I Left My Day Job To Pursue a Freelance Writing Career by Corina Manea
4. Goals Understood To Surpass Yesteryear by Marie-Therese Yokum
5. Running Scared and Getting Gutsy by Dana Sitar
6. On The Rough Side of the Mountain by Lorae Bonamy
7. Get Gutsy: How a Diagnosis Led To A New Definition by Jamie Lawlor
8. Get Gutsy by Jade Barnes
9. Facing Fears and Getting Gutsy by Robin Botie
10. Getting Gutsy in 2015 by Antonisha La'Shay
11. My Get Gutsy Story: Small Wins and Book Blogs by Brittany Berger
12. Scary vs. Gutsy by Megan Wagner
13. Sometimes It's Okay To Sweat The Small Stuff by Rachel Lewullis
14. Get Gutsy: Everyday Living by Abbigail Kriebs
15. Getting Gutsy: Noise, Neurons and a New Year by Cat Kessler
16. Reflection on Twenty Years of Gutsy Moments by Mandy Fernandez
17. Get Gutsy: Be Better Than Yesterday by Amanda Piccirilli
18. How Getting Gutsy Changed My Life by Vanessa Meads
19. Gutsy Is Sprinting The Extra Mile(s) by Stephanie Vermillion
20. Little "A" Moments by Alex Crispino
21. Quitting My Job to Freelance Full-time: 3 Ways I'm Getting Gutsy in 2015 by Gina Horkey
22. The Voice by Ron Vitale
23. Getting Gutsy On My Own by Caroline Winn
24. My Theme For 2015: Vulnerability by Jessica Malnik
25. Why 2014 Was The Best Year Ever by Jill Dretzka
26. How I Got Gutsy by Jen Lawson
27. The Story of Tom Thumb Inside My Cupboard by Joseph Ratliff
28. Getting Gutsy by Holly Berg
29. Getting Gutsy By Going Solo by Amy Angelilli
30. How To Get Gutsy and Make The Big Ask To Influential People by Williesha Morris
31. Sometimes It Takes Guts Just To Get Out Of Bed by Penny Hawes
32. No Turning Back: Making The Gutsy Move For a Brighter Future by Simon Oh
33. What Wearing Dresses For A Month Taught Me by Kayla Sheely
34. From Paranoid Schizophrenic to a Life of Service by Don Karp
35. Getting Gutsy and Finally Sharing My Voice In 2015 by Kelli M. White
36. Getting Gutsy In 2015 by Betsy Decillis
37. My Plans to Get Gutsy in 2015 by Lauren K. Gray
38. Life Sucker-Punched Me (Twice!) But I Fought Back by Janelle F.
39. Getting Gutsy for Autism by Keith Green
40. Getting Gutsy in 2015 by Chrystina Noel
41. Dreaming big while staying in the moment: Getting gutsy on the trails and beyond by Christine Sandvik
42. Accepting My Reality by Josh Wilgruber
43. #GetGutsy 2: Getting *Ultra* Gutsy by Brie Hemingway
44. Get Gutsy: Do Something That Scares You by Katherina Sommerkamp
45. #GetGutsy by Chelsea Hudson
46. A Year in Words by Samantha Un
47. Get Gutsy: Get To Know Our World by Jennifer Connor
48. The Gutsiest Move I Ever Made by Steph Sides
49. 2015 Is My Gutsy Year by Kathryn Erickson
50. Changing Horses In Mid-Life by Beti Spangel
51. Get Gutsy: FORE Golf by Stephanie Bywra
52. Getting In Touch With My Guts by Victoria Musgrave
53. Get Gutsy Moving Out Of My Way To Become Me by Tiff B.
54. Getting Gutsy: A Digital Nomad Adventure by Cristina Roman
55. Getting Gutsy: Living in Lyon by Colleen Rakowski
56. KR Creative Gets Gutsy by Katie Radke
57. Geting Gutsy About Getting Pregnant by Courtney Marie
58. The Lights Are So Bright by Samantha M.
59. I Told the Story of My Sexual Assault and Healed My Voice in the Process by Kerri Lowe
60. Coming To Terms & Getting Gutsy by Kaitie Burger
61. The New York City Marathon by Kimberly Kawecki
62. Getting Gutsy One Mile At A Time by Holly Bitter
63. #GetGutsy + Get Out Of Your Own Backyard by Sara Frandina
64. Get Gutsy Essay Contest by Ashley Chaves
65. Getting Gutsy in 2015: Because I Said So by Kathleen Garvin
66. Cicelee Got Gutsy…And Is Still Getting Gutsy by Cicelee Chappelle
*Please note: the entries are not listed above in any particular order- simply by the order they were received.
Check out the #GetGutsy Essay Contest Pinterest Board for a visual representation of these inspiring stories!
Did you miss your chance to enter the contest and share your #GetGutsy story? No need to worry!
Even though the contest has officially ended for 2015 (and will return in 2016, of course!), it's never too late to share your story! Feel free to write your own post on your blog and we'll link to it here on JessicaLawlor.com during a weekly Start Your Week Right Sunday roundup. Just drop me a line to let me know you've posted your own #GetGutsy story!
Thank you to the more than 65 people who participated in this year's essay contest! Do you have a favorite Get Gutsy essay contest entry? Tell me in the comments below!
Want more gutsy content delivered straight to your inbox twice a month? Be sure to sign up for my FREE #GetGutsy e-newsletter filled with inspiration, ideas and action items to get out of your comfort zone. When you sign up, you'll also be sent a FREE copy of the Get Gutsy ebook, filled with 19 inspirational stories to help you get gutsy.