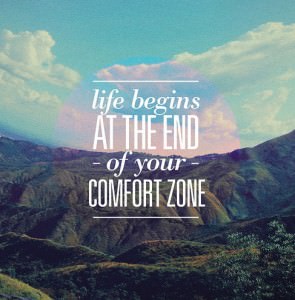 Somewhere around the beginning of 2012, I stumbled upon this pin on Pinterest and immediately fell in love with the quote.
"Life begins at the end of your comfort zone." 
I promptly tweeted the quote, made it the wallpaper of my phone and added it it to my "Be Inspired" Pinterest board. This simple, nine-word quote became my personal mantra.
Because, really, in order to reach your goals, whether personal or professional, you have to get a little messy and uncomfortable.
Say Hello to the New JessicaLawlor.com
Once upon a time (cough*five years ago*cough), I started blogging and haven't turned back since. From a personal blog detailing my college years to a book review and writing blog, this space has evolved, just as I have.
What better time than now to combine all of my passions (public relations, freelance writing, running, fitness, entrepreneurship, travel, addicting reality TV shows…the list goes on) in one blog, under the same umbrella: taking risks and not looking back.
Click around and let me know what you think. Learn more about me, check out some of my freelance writing and public relations work and see if working together might be a good fit. Most importantly, drop me a comment and let me know what YOU expect from this blog.
A huge thank you to my incredible web designer Ashley from Little Leaf Photography & Design for making JessicaLawlor.com a beautiful space that reflects my personality and goals.
What You'll Find Here
This blog will detail all the ways I'm "getting comfortable with being uncomfortable" whether that be running a half marathon, ziplining through Jamaica, quitting my job in healthcare for a brand new career in tourism and gasp, even online dating.
I'm going to bare it all, and I hope you will too. Because this blog isn't just about me. It's a community.
Stay Connected
Be sure to subscribe via email or RSS Feed to make sure you don't miss a thing.
Want exclusive content NOT featured on the blog delivered straight to your inbox? Be sure to sign up for my FREE e-newsletter, Get Gutsy, filled with ideas, tips and inspiration for getting out of your comfort zone.
Reach out! I'd love to hear from you. Let's Get Gutsy together.
And of course, if we're not already connected on social media, be sure to say hi on Facebook, Twitter, LinkedIn, Pinterest or Instagram!
Bold is better than boring, right? Here we go.