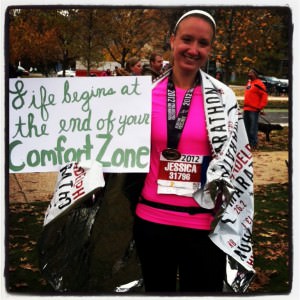 On Sunday, I ran a half marathon.
Less than two years ago, I couldn't run a block and two days ago, I ran 13.1 miles through the city I love and am lucky enough to call home.
But this story starts way before Sunday…
Training
In April (before I even ran the Broad Street Run), I crazily registered for the Philadelphia Half Marathon. I'm not sure what compelled me to sign up for the race (although the early bird price was pretty enticing), but I registered and vowed to train hard and make it to the finish line when the time came.
I began training in late August using Hal Higdon's Novice 2 Half Marathon Training Program. I used his program during Broad Street Run training too, and highly recommend any of his plans. They work very well, include strength and other forms of cross training and in general make training for a half marathon seem very manageable.
As I mentioned in a post a month before the race, this training cycle was NOT easy. Every run was not fantastic and I definitely did not look forward to waking up every Sunday morning to complete a long run. Many times, I asked myself why I was doing this and contemplated giving up, but quitting was NOT an option, and the thought of crossing the finish line pushed me to get through those challenging runs.
During Week 9 of training, I somehow injured my knee and feared for the worst. However, by being smart and listening to my body (along with plenty of icing!) I was able to rest and still get in my last few training runs to make it to the starting line feeling confident and strong.
Race Expo
On Friday night, I headed to the Race Expo to pick up my bib and shirt. I ended up browsing and spending far too much money on Half Marathon gear (all of which I'm very happy to have now that I'm officially a finisher!).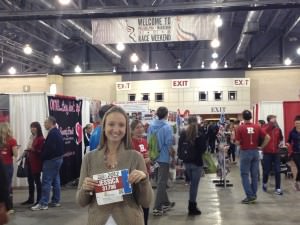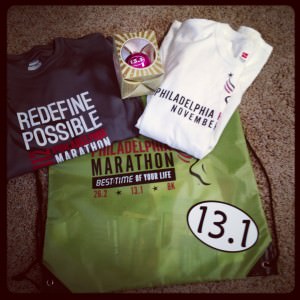 Race Eve
I honestly didn't think I would be as nervous as I was the night before the race. My family had plans to take my dad out to dinner for his birthday, and I was jittery the entire time. However, I was able to get in a delicious and very carb-filled meal, despite the butterflies in my stomach.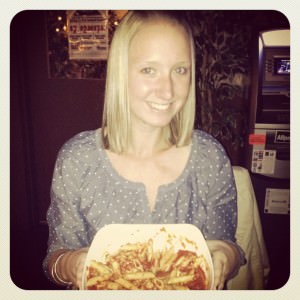 When I got home, I laid out my carefully selected race day outfit, sneakers, spibelt and race bib and headed to bed around 11 p.m. for an early wakeup call at 4:15 a.m.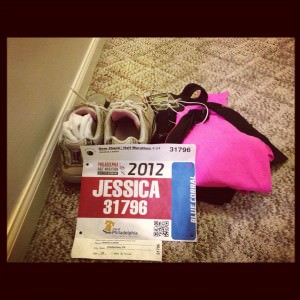 Race Day
On race day, I woke up at 4:15 a.m., got dressed, had my standard breakfast of toast with jelly and hit the road to drive into the city. I was SUPER stressed about getting there and finding parking due to road closures, but I had zero issues, and parked in one of the lots recommended on the Philadelphia Marathon website.
I got to the Art Museum area around 6 a.m. (an hour before the race was set to begin) and settled in on the steps of the statue by the museum to wait until it was time to get into my corral. I normally don't mind waiting around, but it was SO. INCREDIBLY. COLD. on Sunday morning. I brought a throwaway sweatshirt and gloves, but it still wasn't enough to keep me warm in the 30 degree temperatures. By the time I got to my corral at 7 a.m., I had lost all feeling in my feet. Seriously.  Not the best way to kick off a race…
Running the Half Marathon
The race began at 7 a.m. but my corral didn't hit the starting line until about thirty minutes later. I crossed the starting line to the incredibly inspiring (and very Philadelphia) Rocky theme song.
The first half of the race headed down the Parkway, through Old City, past the National Constitution Center and Independence Hall and down Columbus Boulevard. Very inspiring to see so much of our nation's history along the gorgeous route of the race. The first two miles were especially difficult for me, as I literally felt like my feet were ice blocks; I slowly gained feeling back and was able to get into a running groove.
Next up was South Philadelphia which was one of my favorite points of the race; the people were SO friendly, handing runners water and snacks and cheering us on. After that, we headed into Center City, where I saw my friend Gia spectating and was super excited when she joined me for a mile or so. It was so nice to have someone to chat with to distract me from how much longer I still had to go.
After Center City, we headed toward Drexel University, which is where things started to get very hilly and challenging. However, being on a college campus full of enthusiastic, drunken frat boys gave me a good laugh and the energy and motivation to keep moving. Oh, and a special shout out to the very nice Drexel DPhiE sisters who let me use their bathroom to avoid the super long porta potty lines along the race route; they saved me from completely ruining my time…those lines were at least 30 people deep every single mile.
After running through Drexel, we ran toward the Philadelphia Zoo (where we were greeted with a MONSTER hill…not fun) and then ran back down Martin Luther King Jr. Drive all the way to the finish in front of the Art Museum. The last few miles of the race were extremely difficult; the insides of my ankles hurt, my knee was starting to hurt and I was ready to be done. I started doing a run/walk combination to combat the pain, but I knew I needed to push through and get in a good place mentally and physically to make it to the finish line.
The Best Surprise Of All
But RIGHT before I crossed the finish line, I was greeted with the BEST surprise of all. I heard someone screaming my name and looked to my right and saw my little sister Jamie, who had driven with her friend from the University of Delaware to be there to see me finish the race I had trained so hard for. It was a COMPLETE surprise, as I had been disappointed in the days before the race because unfortunately, none of my family members could make it to the race. I was SO happy to see Jamie and so excited to know that she was there supporting me. I was overcome with emotion and started crying as soon as I saw her (that will make for some seriously cute finish-line photos….thanks a lot, Jamie!).
I ran to the finish line, more motivated than ever after seeing my sister, and received my much-awaited space blanket and medal.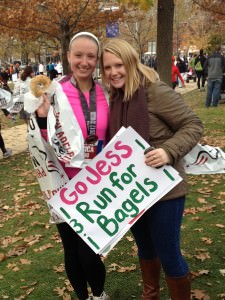 Not only did Jamie surprise me with her presence, she made me ADORABLE signs (including the one seen above and at the very top of this post….how cute is the poster with my blog's tagline?!) AND brought me an everything bagel from an amazing place on UD's campus.
I finished the race in 2:38. I had a secret goal to finish the race in 2:34, but I tried to avoid setting a time goal since this was my first half marathon and the main goal was simply to cross the finish line. I didn't want to beat myself up over a specific goal and I'm happy with my time. Now, I'm even more motivated to crush this time in my next half marathon, now that I know I can complete 13.1 miles.
What's Next?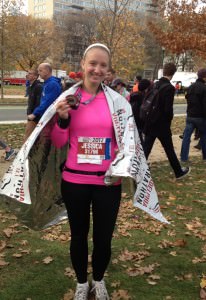 So there you have it. I'm officially a half-marathoner!
As for what's next? I honestly have no clue.
This training cycle took a lot out of me and I'm looking forward to getting back to shorter runs, more strength training (maybe even some CrossFit!), Zumba and workouts at the gym. I'm excited to do 5Ks, improve my speed and to run for fun again.
I'm sure in a few weeks, I'll be itching for a new goal. If I had to set my sights on another long distance race right now, I'd say it will probably be the Broad Street Run again, the race that made me fall in love with long distance in the first place.
Will I ever run a full marathon? As of right now, I'd say, "No, thank you" and "You're out of your mind" but never say never…
Gratitude
Most importantly, I want to thank each and every one of you who supported me throughout this journey. From my family and closest friends who endured endless hours of running talk to my Twitter followers who offered countless pieces of advice to each one of you who read my blog and offer your support on a daily basis.
It means more to me than you know. Thank you.