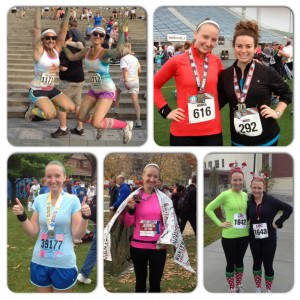 In early 2012, I set a goal to run 12 races throughout the year.
Until yesterday, I was one run away from completing my goal, with a 5K race scheduled for Sunday. But as we all know, life happens and not everything always works out the way we planned.
After witnessing a car spin out of control and crash into the turnpike divider right in front of my car during a gripping three-hour snowy drive to a family party in Hazleton on Saturday, I made the decision to sit this race out.
Even though the snow wasn't too bad where I live, the thought of braving iced over roads for a race 45 minutes away from my house and risking injury running through snowy streets just didn't seem worth it anymore.
Instead, I decided to have my own 5K. I challenged myself to one last run of 2012- a 5K on the treadmill at the gym.
After completing 11 races in 2012, it almost felt fitting to do this last one on my own, just for me.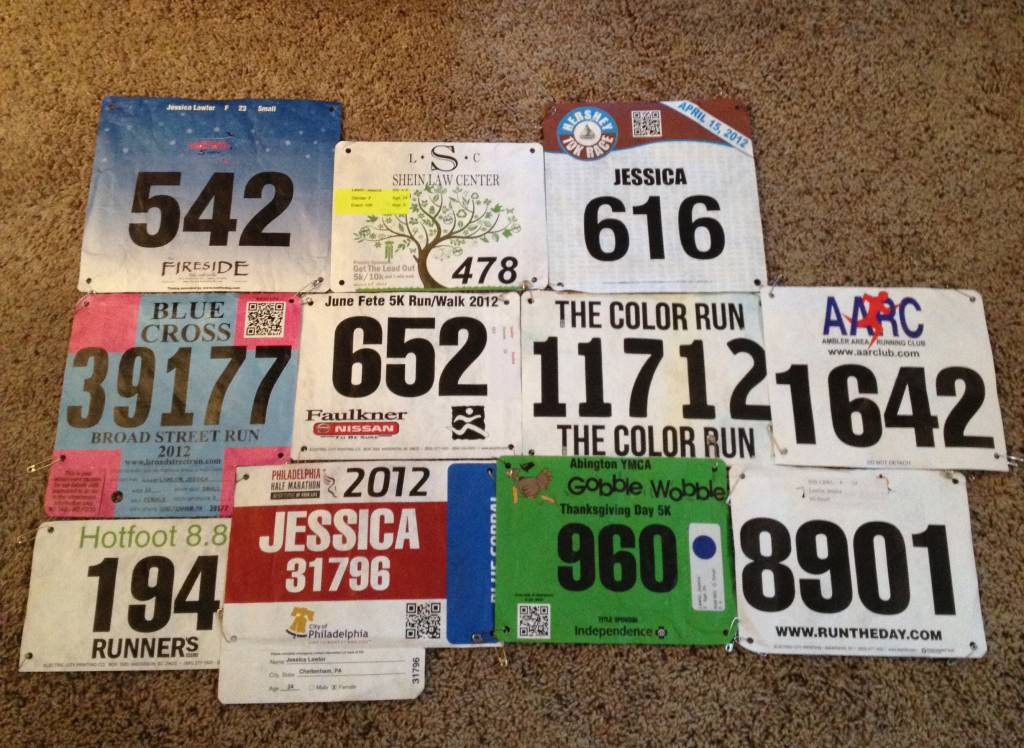 My Year In Racing
1. Frostbite 5-Miler- 2/18/12, 55:19 (11:02 pace)
2. Get Out The Lead 10K- 3/31/12, 1:08:57 (11:07 pace)
3. Hershey 10K- 4/15/12, 1:10:26 (11:17 pace)
4. Broad Street Run– 5/6/12, 1:57:37 (11:42 pace)
5. June Fete 5K- 6/3/12, 33:40 (10:49 pace)
6. Color Run- 7/8/12, 40 (12:54 pace)
7. Hotfoot 8.8-Miler- 10/13/12, 1:43:42 (11:31 pace)
8. Philadelphia Half Marathon– 11/18/12, 2:38:56 (12:07 pace)
9. Gobble Wobble 5K- 11/22/12, 35:15 (11:17 pace)
10. Jingle Bell Jog 5K- 12/8/12, 32:22 (10:18 pace)
11. Freezer 5K- 12/16/12, 32:25 (10:23 pace)
12. Personal Treadmill 5K- 12/30/12, 33:38 (10:46 pace)
Fun Facts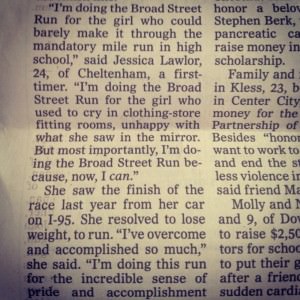 Total Miles Ran: 702 miles (200 more than 2011!)
Most Fun Race: The Color Run. How can a race where you get covered from head to toe in color at every kilometer NOT be fun? Plus, I ran this race with my good friend Anna (it was her first race!) so that made the race even more exciting. Oh, and true to my very slow time up there for this race, I clearly didn't bring my Garmin and didn't watch my pace at all on this one- In fact, I think Anna and I pranced  and skipped our way through most of this silly race.
Most Proud Accomplishment: Completing the Broad Street Run and having my story featured in the Philadelphia Daily News.
Most Challenging Race: Philadelphia Half Marathon. I blogged several times about how challenging training for this race was, and the actual race day was not much easier. I'm proud of how I ran this race, but it certainly wasn't easy.
Number of races run alone: 5
Number of races run with friends: 7
What's Next In 2013?
I'm not 100 percent sure yet.
I won't deny the fact that the idea of doing a full marathon has been dancing in my head, but I'm not ready to commit to 26.2 miles quite yet.
If I don't do a full marathon, I'd definitely like to improve my time for a half marathon. I also think that I'll likely do Broad Street again, simply because it's a race that has a very special meaning to me.
One of my major goals (stay tuned for more 2013 goal talk later this week) is to improve my speed. I'd love to do a 5K in 2013 in 30 minutes or under, so speed work will definitely be a priority this year.
Did you run any races in 2012? If so, feel free to link to your own blog recaps or share your experiences in the comments below!