"If your dreams don't scare you, they aren't big enough."
This time one year ago, I couldn't run one block without getting short of breath and giving up. I was 35 pounds heavier, dissatisfied with my body, but most of all, disappointed with myself. After graduating from Temple University in May 2010 and accepting a full-time job working in public relations, too many long work days, hours spent sitting at a desk and unhealthy eating habits led to me packing on the pounds until I decided I needed to make a serious change.
At the recommendation of a runner friend, I decided to download the Couch25K program on my iPod, never planning to run a 5K, but simply wanting to learn to run and try a new exercise. Midway through the program, I was so amazed at how much I had already improved, and cautiously registered for my first 5K. I completed that 5K in March 2011, and found myself hooked on running, but never thought I'd surpass the 3.1 mile distance of a 5K.
Last year, on the day of the Broad Street Run, Philadelphia's well-known 10-mile race down Broad Street, I was driving on I-95 and saw runners heading under the overpass making their way to the finish line. At that moment, I was struck with the desire to do something I never thought I would do before- run 10 miles with 30,000 other people. I quietly set the goal, but didn't dare speak it out loud, unsure of if one year later, I'd be able to run 10 miles.
But from that moment on, as I headed out for my daily runs and completed six more 5K races, I dreamt of Broad Street. I envisioned myself crossing the finish line.
And when the day came to register for the race, I nervously sat at my computer, determined to claim a spot. When I received my registration confirmation email on February 14 (a very happy Valentine's Day present, indeed, for this single girl) the training began.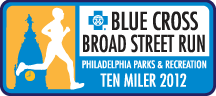 For the past three months, I've stuck to a strict training plan, running four times a week and completing long runs and training races on the weekend. Last weekend, I ran 9 miles and was amazed at how much progress I've made and how surprisingly prepared I feel to run 10 miles in just a few days.
I can't wait to run down such an iconic Philadelphia street, through the campus I called home for four years, through the city I've fallen in love with, past the stadiums I've cheered for our city's teams at and across the finish line where one year of sweat, hard work and determination will culminate in accomplishment. 
I'm doing the Broad Street Run for the girl who could barely make it through the mandatory mile run in high school.
I'm doing the Broad Street Run for the girl who dreaded clothing store fitting rooms, unhappy with what she saw in the mirror.
But most importantly, I'm doing the Broad Street Run because now, I CAN.  I'm doing this run for the incredible sense of pride and accomplishment I know I'll feel when I cross that finish line on May 6 and am rewarded with that sweet finisher medal around my neck.
While my story may not be extraordinary or unique, it is proof that it's possible to reclaim your health and happiness, and accomplish goals you may once have thought unreachable.