This time one year ago I was quite a different person.
I sat at this same kitchen table, sipping a mug of coffee, preparing to hit "publish" on a post that would kickstart a series of events that would alter my life for the better. Thank goodness I did.
A year ago today, I started this blog, coined the phrase "Get Gutsy" and made the decision to leave my comfort zone, get out of my own way and begin taking risks to reach my goals and live a happy life.
Over The Weekend…
It only seems appropriate that the weekend before the first anniversary of this blog took me further out of my comfort zone than I ever could have imagined. In addition to running a 5K and screaming my way through Eastern State Penitentiary's Terror Behind The Walls (both scary in their own right!) I did two major things that the old Jessica never would have even considered: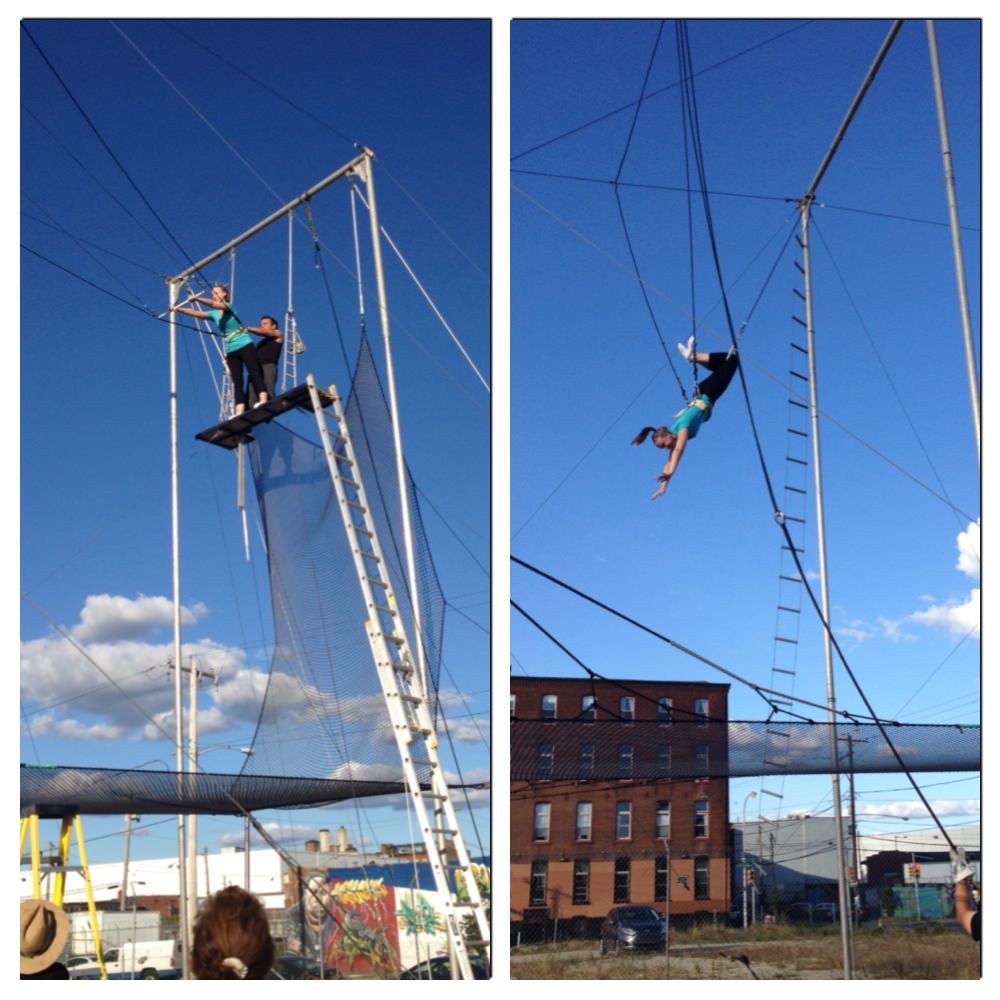 1. I took trapeze lessons. Yes, you heard that right, TRAPEZE lessons. When Aversa PR reached out and asked me if I'd like to try out a two-hour trapeze class at Fly School Circus Arts, I immediately jumped at the opportunity. After I said yes, the butterflies set in, but for the sake of the blog and practicing what I preach, I knew I had to follow through.
I arrived at Fly School Circus Arts in Philadelphia, not knowing what to expect, but excited and scared at the same time. I'm not afraid of heights, but climbing up the ladder, standing on the tiny platform and finally letting go and flying left me both terrified and exhilarated. I won't lie; there were some serious moments of panic before leaving the platform; shaky knees, sweaty palms, the whole deal, but after letting go, flying and even accomplishing hanging upside down and doing a back flip dismount, I felt more proud of myself than I ever could imagine.
Stay tuned! I'll have a full recap of my trapeze class on the blog later this week (Edited to add: here's the full recap post). In the meantime, you can check out my public Facebook album of photos from this incredible experience.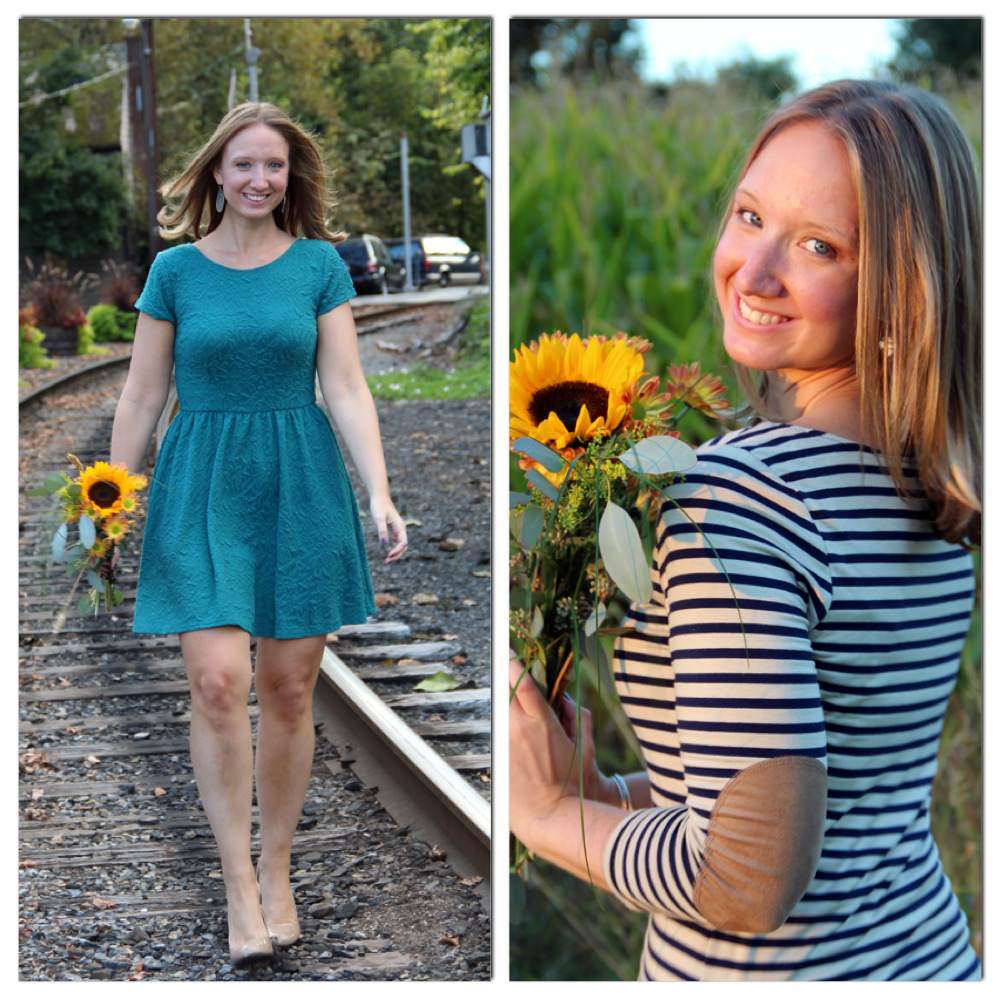 2. I modeled for a blog photo shoot. Tired of cutting my face out of group photos and calling that a "headshot," once and for all, I decided it was time to take some professional, but fun photos for my blog. My good friend and photographer Stephanie from Artfully Adored happily agreed to indulge me and follow me around New Hope and Doylestown for a day of photos.
Let's get one thing straight; I'm not a model. While I'll gladly pose for photos with friends and am even guilty of the occasional Instagram selfie, "modeling" in public on Sunday afternoon was a scary thing for me. From the dozens of people passing by as we tried to get photos on a busy walking bridge, to the random car beeps and lots of questions and comments ("Very pretty!" "See you on the cover of a magazine!" "What are you taking pictures for?") I tried to remain focused and ignore the curious stares of passerby's.
Of course, I'm a human being and as soon as Stephanie sent me a couple of preview photos, I immediately found flaws in all of them; we are our own worst critics, after all. But you know what? Even though I hate the way my knees look in the blue dress photo and my hair isn't perfect in the close-up shot, I'm sharing them anyway. Because this is who I am. I believe that I'm beautiful inside and out, I'm confident and I'm excited to share all of that with the world. I can't wait to see the rest of the photos.
Get Caught Up
In case you haven't been around for the entire year-long journey, I invite you to get to know me, subscribe to my free newsletter, learn more about what it means to be gutsy and click through to some of my most popular posts from the past year:
Answer This: When Was The Last Time You Did Something For The First Time?
Stop Trying To Find Yourself And Do This Instead
Change Your Thinking: Turn Your Quarter-Life Crisis Into a Quarter-Life Opportunity
21 Definitions of What it Means To Be A Sister
An Important Reminder: Be Kind To Yourself
There Will NEVER Be Enough Time (But If You Want Something Badly Enough You'll Find It)
Niche Blogging vs. General Blogging: Why a Multi-Passionate Approach Can Help Grow Your Blog
On Life and Loss: A Tribute to My Grandmother
Why I Wake Up At 5 a.m. (And How Waking Up Earlier Can Help You Achieve Your Dreams Too)
The Year of Conquering the Impossible
How Saying No Helped Me Open Up To A World Of Yes
Stay Tuned
The one year mark is just the beginning. There's so much more to come from this blog and I can't wait to share it with you!
Future plans include:
A #GetGutsy Twitter chat
A free ebook that I hope to launch before the new year.
A Get Gutsy essay contest with some fabulous prizes.
Even better, more exclusive and useful content in my Get Gutsy newsletter.
And of course, more of the same gutsy and motivational content you've come to expect and love here on the blog.
Gratitude
Thank YOU! Thank you for sticking around and sharing your advice, stories and inspiration with me. Your comments, tweets and emails mean the world to me. I hope you'll stick around to see where this story continues.