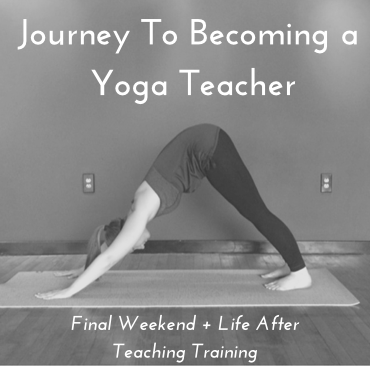 I'm fulfilling my goal and dream of becoming a yoga teacher. As promised, I plan to document my yoga teacher training journey here on the blog, mostly for myself, but also because many of you have expressed interest in learning about the process.
Have any questions about yoga or teacher training? Leave them in the comments below and I'll be sure to answer them in an upcoming post!
Before teacher training began // Weekend 1 // Weekend 2 // Weekend 3 // Weekend 4 //Weekend 5 // Weekend 6 //Teaching my first yoga class // Weekends 7 & 8
Final Weekend Recap
Though teaching training ended at the very end of June, it has taken me a long time to finally sit down and share my thoughts about this life-changing and impactful experience. Also, SO much has changed since then! Read on below.
Saturday:
On our final Saturday of teaching training, we showed up at the studio to take a 100-question test.
Leading up to the test during teacher training, I wasn't super nervous- I had been WAY more terrified to teach my first public class.  I've always been a good student, so I was confident that I could study hard and pass the test.
However, in the days leading right up to the test, I was a basketcase. As I started reviewing the materials, I started panicking. There was SO much to know! Yoga history, the chakra system, Sanskrit, anatomy, asanas, sequencing…so much material was included on this test. We had learned so much in our weekends together.
I felt like I was back in school again as I made flashcards, stayed up late studying on Friday night (I'm wild, I know!) and woke up early on Saturday to cram.
I had butterflies when I entered the studio to take the test. I've always been a fast test-taker, but in this case, I was not. I was the second-to-last person to leave the room! The test was pretty lengthy- a combination of fill-in-the-blanks, open-ended questions, matching, multiple choice and more. I took my time, checking and double-checking each answer.
I was beyond thrilled when just two short hours later, our teacher, Lisa, posted in our Facebook group that we all passed! Instant relief.
Sunday: 
Graduation day! 🙂
For me, graduation day started with a hot yoga class that was being filmed for my studio, Dana Hot Yoga's, new website (check out this beauty!) If you watch the video all the way to the end, you see my celebrity appearance and at :27, you may see me and my friend Maria doing pretty sweet crow poses.
After filming, I headed to the other studio (Dana has three locations) for our graduation celebration!
We started out by receiving our graded tests back and I was SO relieved when I saw my grade. Whew. All that studying paid off.
Next, we did our final chakra activity- I can't say too much because I don't want to give it away for future Dana trainees, but I will say that it was extremely special, tears were shed and it's a moment I will remember forever.
After that, we had a little graduation ceremony and officially became yoga teachers! After that, it was time to celebrate with a picnic at the park.
The only word I can think to use to describe the end of teacher training is bittersweet. It was the most incredible, emotional, life-changing, soul-stirring journey. I made new friends who have become family. I uncovered parts of myself I didn't know existed or I was too afraid to uncover. I gained confidence. I came into my own.
This quote, from our final chakra reading, perfectly sums up my feelings about this beautiful journey:
"And so we come at last to the end and find that it is only the beginning. But for what other reason do ends exist?"
Life After Teaching Training
Life after teacher training has been a whirlwind! Here are some of the highlights:
I've been teaching- A LOT! And it's awesome! I don't have a permanent spot on a schedule (yet! working toward it!) but I've been subbing a ton at both Dana Hot Yoga (my home studio, as well as Stillpoint Yoga Studio in King of Prussia. I love teaching more than I can possibly explain. I will always, always be a student first, but there is something so incredible about sharing yoga with others and feeling the energy in the room as students breathe and flow together. Subbing is extremely nervewracking, but I know that every time I step in front of a room full of students, it will get a little easier. As someone very special reminded me, I need to just keep showing up and with time, I will become more confident. My favorite part of teaching a yoga class is sharing a message or theme with the class. I love finding the perfect quote to set the tone for that day's practice and I love when students leave class and tell me "I loved that quote!" or "Your class really resonated with me today. Thank you." There is no better feeling in the world.
I'm working with a yoga mentor. I mentioned in my monthly check-in that I've begun working with Jennifer Kreatsoulas who owns Chime Yoga and Mentoring. I was introduced to Jennifer by my good friend Julia who thought we'd be a perfect match to work together- she was right! Jennifer specializes in mentoring new yoga teachers and helping them come into their own. Jennifer told me she started this business because she saw a need- teachers leave teacher training (which is a very intimate and personal environment) and are left to deal on their own and figure out the crazy world of yoga. I completely understand what she meant! You go from this incredibly supportive environment to a place where you need to make your place in a world you aren't totally familiar with. Jennifer and I have met several times and I am learning SO much from her. Be sure to check out her blog– it's wonderful! More on my work with Jennifer to come in future posts.
I've continued my personal practice. At heart, I am a student first. That's why I fell in love with yoga. Since teacher training, I've continued my schedule of 4-5 classes per week and I'm constantly seeing progress and making improvements. I stepped out of my comfort zone with a kundalini class down the shore, as well as a private yoga session on the beach. I took my first Ashtanga primary series led class. I'm trying new things in my practice all the time. As of today, I've taken 297 hot yoga classes- I'm approaching my two-year yoga-versary! So crazy. Taking class as a teacher is a bit of a different game now- it's a little harder to turn off my teacher brain and fully stay on my mat as a student, but I'm working through it. Some classes, I try to be fully present on my mat and other classes, I use as an opportunity to listen super carefully to the teacher's cues to pick up tips for my own yoga teaching "toolbox."
Have any questions about becoming a yoga teacher or starting a yoga practice? I'd love to answer them for you in an upcoming post! Leave them below.
Want more gutsy content delivered straight to your inbox twice a month? Be sure to sign up for my FREE #GetGutsy e-newsletter filled with inspiration, ideas and action items to get out of your comfort zone. When you sign up, you'll also be sent a FREE copy of the Get Gutsy ebook, filled with 19 inspirational stories to help you get gutsy.