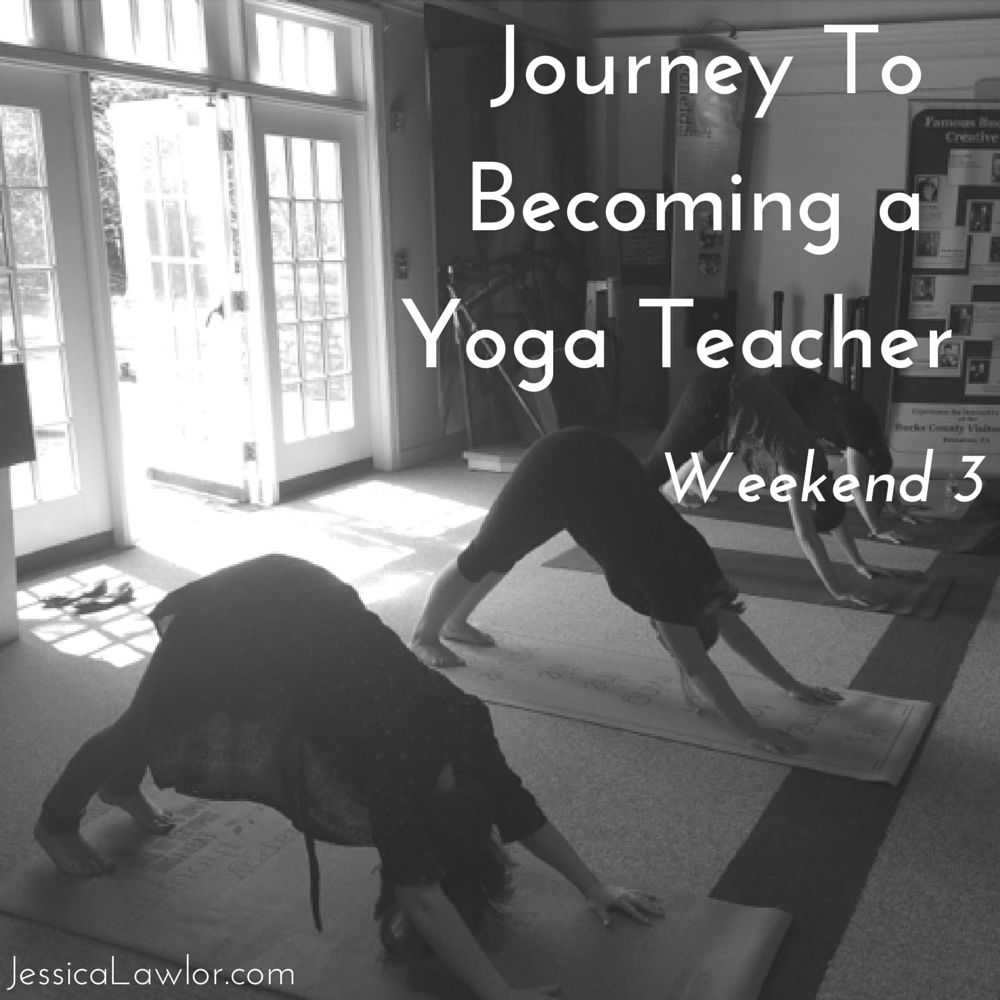 I'm fulfilling my goal and dream of becoming a yoga teacher. As promised, I plan to document my yoga teacher training journey here on the blog, mostly for myself, but also because many of you have expressed interest in learning about the process.
Have any questions about yoga or teacher training? Leave them in the comments below and I'll be sure to answer them in an upcoming post!
Interested in past yoga teacher training posts?
Before teacher training began // Weekend 1 // Weekend 2
Yoga Teacher Training Weekend 3 Recap
Saturday:
Because of Easter Sunday, we only had teacher training on Saturday of this particular weekend, so we had A LOT of material to cover.
The day started with another brand new activity that took me way outside my comfort zone.
As part of our homework from the prior weekend, we were each given a pose that we needed to become an expert in by knowing the major muscle groups used, ways to cue the pose, how to modify the pose and ways to assist someone in the pose. My pose was paschimottanasana, a seated forward fold. We broke into small groups of 4-5 and had to work together to create a 15-20 minute flow (or mini class) that incorporated all of our poses and appropriate transitions between them. This was the first time we were tasked with teaching anything more than sun salutations and it was an even bigger challenge because we had to really work together to make sure our flow made sense.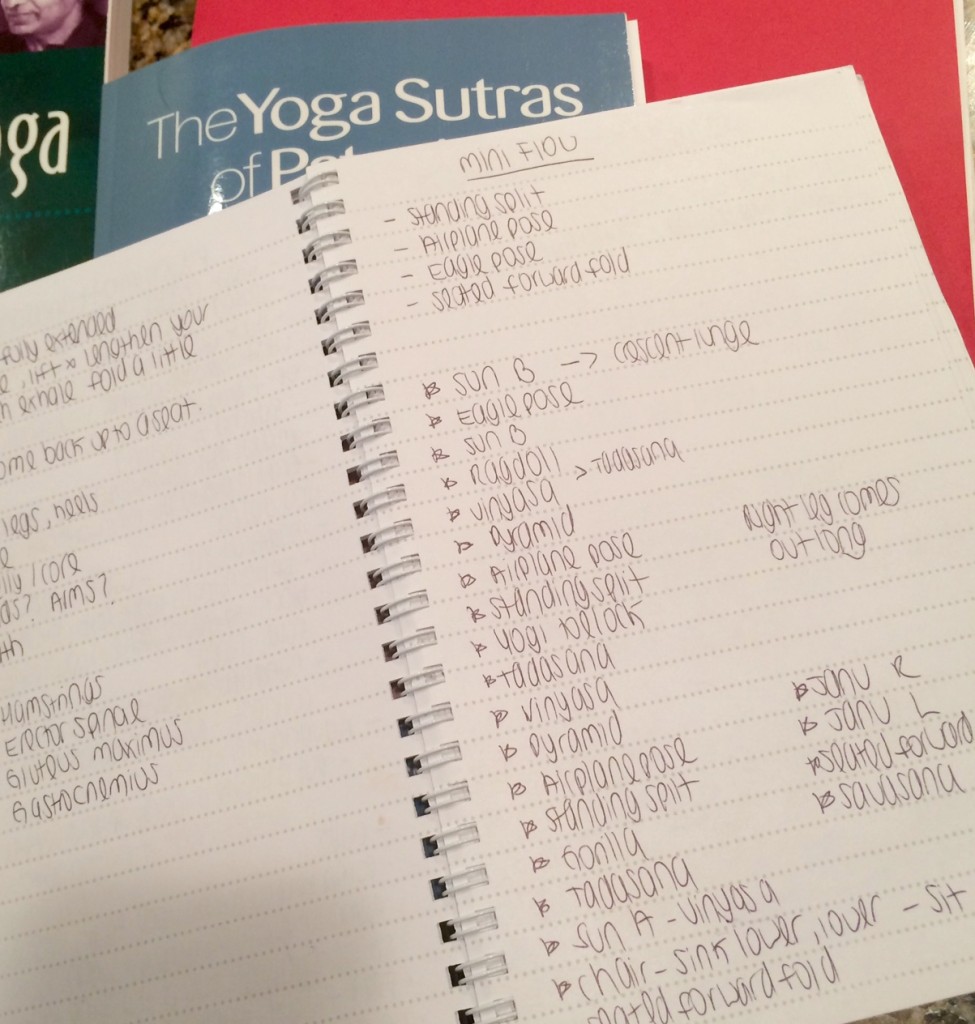 After we developed the flows (which took about 40 minutes or so) each group had to teach the flow in front of the class. That was definitely a little nervewracking as I taught a couple different poses when it came to be my part of the flow. This is something we're going to be doing for several weeks moving forward, so now I'm more prepared. This was a great activity though because it got me thinking about the class I'll need to develop to graduate and what I might like to include when I need to create my own 90-minute flow.
After our mini flows activity, we spent time breaking down certain poses in detail. Each person will eventually present the pose they became an expert in, but it takes awhile because we go into a lot of detail to learn all about a pose, so we can confidently teach them. That weekend, we broke down five poses: wide-legged forward fold, warrior 3, airplane, standing split and pyramid pose. This weekend I may get to teach my pose (that seated forward fold) and I was also assigned a second pose to prepare (child's pose…a personal favorite!).
Next, we learned how to teach a Classical Sun Salutation. Classical is a little more challenging to teach because it involves dropping the back knee and moving backward and forwards a bit. It can get a little confusing with all of the right leg, left leg discussion. Now, I know how to teach Sun Salutation A, Sun Salutation B and Classical! It feels awesome to know some of the tenets of yoga and I can't wait to continue sharing them with others.
Later on Saturday, we continued our discussion around the Chakra system. We're reading the book, Wheels of Life, and each week we discuss a different Chakra, wear the color of the Chakra and do an activity associated with the Chakra.
For this weekend, we discussed Chakra 2- the water chakra, which is all about pleasure, feelings and relationships. This was a really challenging chakra to write about and discuss…mainly because it's such a personal topic. I won't share any of the juicy stuff from my reflection paper that I submitted to my teacher Lisa, but I will share a bit from the end of paper.
I really loved the portion of the reading about change. I highlighted and starred this quote: "Without change, there is no growth, no movement, and no life. Consciousness thrives on change." I love how opposite chakra one and two are: the book describes chakra one seeking to hold on and chakra two seeking to let go. I love the polarity of these two chakras- how different they are, yet how we need both in our lives to be balanced. I like that chakra two is all about change, movement and flow because it reminds me that even though things aren't necessarily where I want them right now, in this moment, every day is a new opportunity for change and growth.
On a side note, I am seriously LOVING learning about the chakras- if you have any interest in learning about them, I highly, highly recommend reading Wheels of Life.
Major Takeaways/Lessons Learned From Weekend 3
Call the pose first. Throughout our mini flows, our teachers, Lisa and Rachel, reminded us of how important it is to call (or say) the pose name first before describing it. As an example, if I were cueing downward facing dog, I'd say out loud, "Downward facing dog- plant both hands firmly on the ground, engage even the fingertips, hips lift high like an upside down V, feet hips-width distance apart, heels reaching toward the ground." A lot of us (definitely myself included) had the tendency to want to explain the pose first and then say the name of the pose.
If you ever have trouble keeping a leg lifted in a balancing position like a standing split (ugh, standing split) I learned a great analogy from our teacher Rachel. She shared an example to encourage us to keep a strong, firm and flexed flying leg, rather than letting it flop around or hang lazily, like dead weight. The example she gave was to think of a happy baby running into their parent's arms- the baby often feels light and buoyant because all of its muscles are engaged. Now think of picking up a sleeping baby- much heavier, right? That's because it is completely at rest and not at all engaged. The same thing goes for your own leg in standing and balancing positions. Mind = blown.
Practicing teaching on real people is helping me so much. I've scheduled weekly lunchtime yoga classes with my colleagues at work (see photo above!) and it is giving me SUCH great experience to teach people who are brand new to yoga, for the most part. When we teach each other in teacher training, it's obviously great experience too, but for the most part, we all know how to do the poses we're teaching so even if the practice teacher says something wrong, our bodies often know where to go. With my lunchtime yogis, they truly are listening to my every word to know what to do next, so I really need to choose my words carefully to help them in the most effective way possible.
It's REALLY hard to teach without relying on demonstrating. When I teach my class to graduate (and from there on out) when I teach, I will not be on a mat. Instead, I'll be walking around the room connecting with my students, adjusting them and helping them physically get into poses. I won't be taking class with them or showing them how to do every single move. Instead, I really need to use my words to guide the class. Much easier said than done, I'm learning! It's much more comfortable to stay near your own mat where you can show, not tell, but an effective teacher is able to walk around and connect with students in a more powerful way. Definitely something to continue practicing.
Number of Yoga Classes Taken Since Weekend 3:
As part of my teacher training certification, I need to complete 60 classes by the end of June.
I've taken 8 classes since the end of teacher training weekend 3, bringing me to 25 total classes since the beginning of teacher training. 35 classes to go!
Teacher Training Weekend 4 is this weekend! (Whoa! How are we already at Weekend 4?!) Can't wait to continue learning and exploring. Have any questions? Leave them below!
Want more gutsy content delivered straight to your inbox twice a month? Be sure to sign up for my FREE #GetGutsy e-newsletter filled with inspiration, ideas and action items to get out of your comfort zone. When you sign up, you'll also be sent a FREE copy of the Get Gutsy ebook, filled with 19 inspirational stories to help you get gutsy.