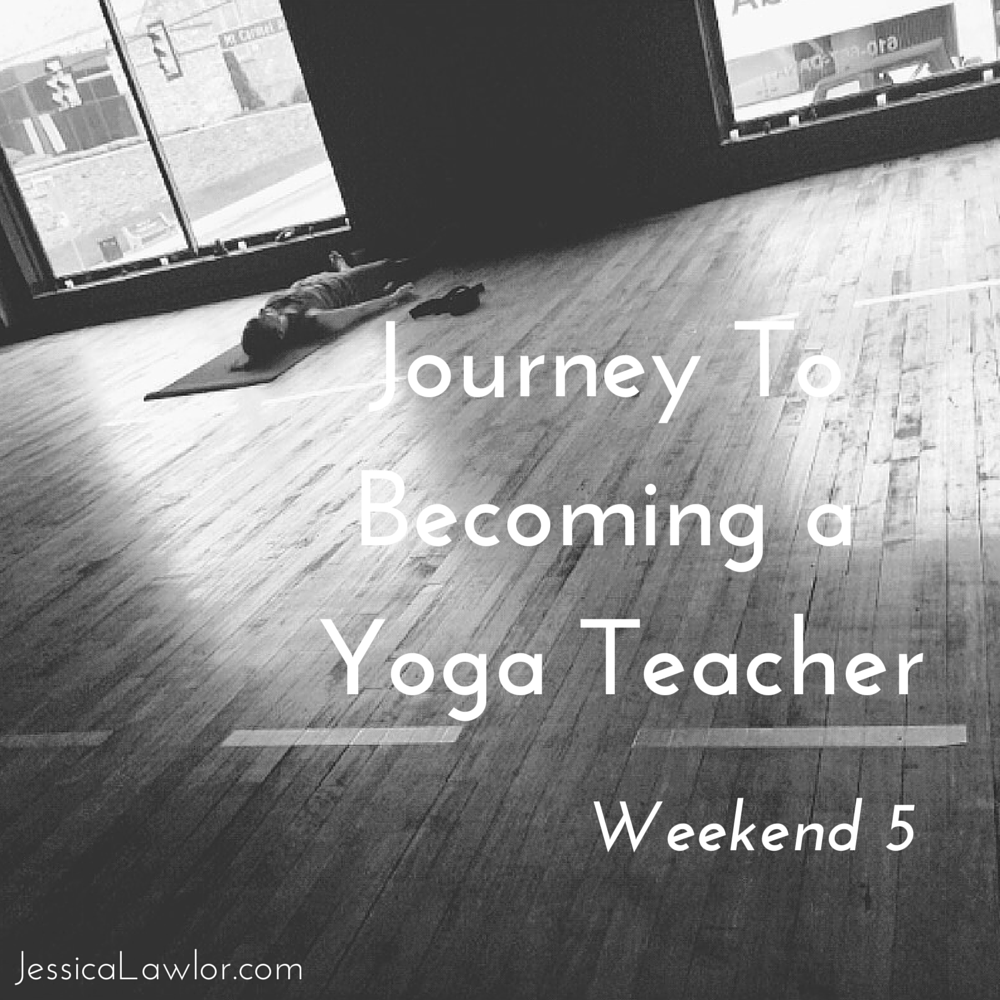 I'm fulfilling my goal and dream of becoming a yoga teacher. As promised, I plan to document my yoga teacher training journey here on the blog, mostly for myself, but also because many of you have expressed interest in learning about the process.
Have any questions about yoga or teacher training? Leave them in the comments below and I'll be sure to answer them in an upcoming post!
Interested in past yoga teacher training posts?
Before teacher training began // Weekend 1 // Weekend 2 // Weekend 3 // Weekend 4
Yoga Teacher Training Weekend 5 Recap
Saturday:
Saturday started off with an overview of what our first experience assisting a class will be like. As part of my training, before I teach my first full class, I will assist two classes. This will involve leading the class through the sun salutations, walking around the room giving hands-on adjustments throughout class and then leading the class out of Savasana. My first assisting class is coming up next week (ah!) so this discussion helped me get more comfortable with exactly what I'd be doing during the class. I'm excited to see the class from a teacher's perspective without the pressure of actually teaching the whole class. I think it's going to be an eye-opening experience!
Next on this day, we moved our attention to anatomy and covered the gluteal region and the piriformus. Anatomy is still by far the most challenging material we've covered in teacher training. I've never been a science person, but I'm trying my best to get a basic understanding of anatomy to ensure my classes are safe and make sense to a person's body.
Later on Saturday, we had a discussion about Avidya, or ignorance/a lack of knowledge. There are four branches of Avidya that we discussed:
1. Raga: when we want something we don't have or want something that we previously had.
2. Dvesa: aversion or a sense of rejection, the inability to step outside our comfort zones
3. Abhinivesa: fear, feelings of doubt or uncertainty
4. Asmita: ego, creating feelings of inferiority
In the afternoon, we spent some time revisiting teaching sun salutations since it's been a few weeks since we've practiced as a group. We got into small groups of four and took turns teaching Classicals, Sun As and Sun Bs to one another.
For the bulk of the afternoon on Saturday, our class was divided in half and we were asked to create another mini-flow using the poses we'd been assigned to become experts on. However, this mini-flow had a twist! For this flow, we were asked to incorporate two different sutras from the Yoga Sutras; this was the first time we were assigned to work a little inspiration and messaging into our teaching. It was really fun to chat with my group about which sutras resonated with us and which we'd like to incorporate into our flow.
One of the sutras we chose that I was responsible for delivering the message for was Sutra 2.14: "The karmas bear fruits of pleasure and pain caused by merit and demerit."
Again, heavy stuff, but the text goes on to explain it in this way: "A happy or unhappy life is your own creation. Nobody else is responsible. If you remember this, you won't find fault with anybody. You are your own best friend as well as your worst enemy."
After we chose our sutras and developed our flow, it was time to practice! The other group taught their flow and we listened and practiced it and then vice versa.
Sunday:
To start the day on Sunday, we practiced our sun salutations once again. We've been practicing these since the first weekend, so I'm starting to get very comfortable with them, which feels great.
Next, we spent some time breaking down more poses and learning how to teach them and assist students in them. Some of the poses we broke down included child's pose, camel, wheel, shoulder stand, plow and fish pose.
We finished the day by discussing the fourth chakra, the heart chakra, all about love. We're reading the book, Wheels of Life, and each week we discuss a different Chakra, wear the color of the Chakra and do an activity associated with the Chakra.
I discovered this quote in the fourth chakra section and I loved it so much, I want to share here:
"Love, like power, is something we all want and need. Few ever feel they have enough. Many live in fear of it. Nearly no one understands it. Yet, we all search for it and gauge our lives by it when it is found. What is this mysterious force? Why does it have such power in our lives?"
Here's a blurb from my reflection paper that I submitted to my teacher Lisa:
Another favorite part of this chapter was this quote: "Most important, we need to relax and let it happen. Sometimes the most profound love is that which can simply let things be the way they are." This is a great reminder to me, especially as I am often frustrated about my relationships and lack of romantic love in my life. People always say, "It will happen when you least expect it" (one of the most annoying things as a single woman to hear) but in some respects, I do find that true. Through yoga, I am learning to trust the universe- to trust that it has a bigger plan for me than I have for myself. Instead of stressing, fearing and worrying, I should relax, stay open and take things as they come. Certainly easier said than done, but it's something to constantly work toward.
After a fun discussion about the heart chakra (including dating/relationship stories- I may have even shared one myself!) we got right to our heart chakra exercise. I so wish I could talk about the exercise here on the blog because it was really interesting and powerful, but these activities are meant to be a surprise, so I don't want to ruin it for any future trainees.
Major Takeaways/Lessons Learned From Weekend 5:
Teaching is not easy. In class, from a student's perspective, my amazing teacher's make it look so easy. They exhibit such confidence and calmness. They always know the right words to say. Sure, they make mistakes every once in awhile, but they just keep moving forward seamlessly. Now that my full flow is written, I've been practicing teaching my class and WHOA. Teaching is not easy. Even simple things like remembering body part names has been challenging for me! I can't seem to string the right words together. I mix up my lefts and rights. I know it will take time and practice, but man, it is not easy at all.
Teacher training has been SO good for deepening my yoga practice. While we don't actually practice full classes while in training, the things I'm learning during my teacher training weekends are changing my entire class experience when I'm on the mat. I'm listening more closely to what my teachers are saying, I understand cues better and instead of trying to take things deeper, I'm listening to my body and being happy with where I am in this moment, which leads me to my next point…
I almost feel like I've taken a step backward in my personal practice, but in the best way possible. Prior to teacher training, every time I nailed (or thought I "nailed") a new pose, I was constantly reaching for the next most advanced posture. Now, I'm taking a bit of a step back and working on some of the basics, ensuring that my form is correct. Sure, there are still more advanced poses I'm working on (ahem forearmstand, I will get you one day!) but for the most part, I'm not attached to the idea of "nailing" poses and am instead focusing on my form and doing things right.
Like any big goal, teaching my first yoga class requires many different steps. For this reason, I've broken down my goal of teaching into a series of smaller goals with deadlines to help me get there. I know this schedule will help me see this goal as less overwhelming and much more attainable.
Number of Yoga Classes Taken Since Weekend 5:
As part of my teacher training certification, I need to complete 60 classes by the end of June.
I've taken 8 classes since the end of teacher training weekend 5, bringing me to 42 total classes since the beginning of teacher training. 18 classes to go!
Teacher Training Weekend 6 is this weekend! Can't wait to continue learning and exploring. Have any questions? Leave them below!
Want more gutsy content delivered straight to your inbox twice a month? Be sure to sign up for my FREE #GetGutsy e-newsletter filled with inspiration, ideas and action items to get out of your comfort zone. When you sign up, you'll also be sent a FREE copy of the Get Gutsy ebook, filled with 19 inspirational stories to help you get gutsy.