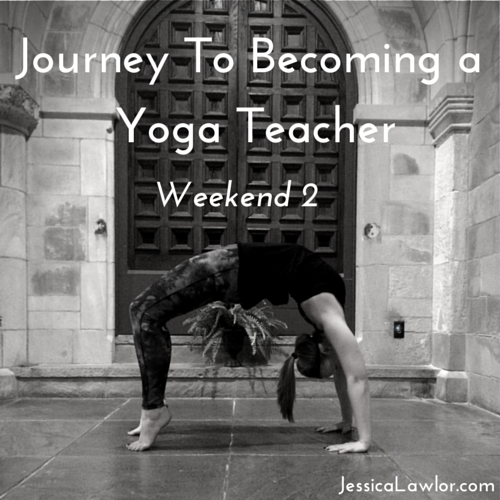 I'm fulfilling my goal and dream of becoming a yoga teacher. As promised, I plan to document my yoga teacher training journey here on the blog, mostly for myself, but also because many of you have expressed interest in learning about the process.
Have any questions about yoga or teacher training? Leave them in the comments below and I'll be sure to answer them in an upcoming post!
Yoga Teacher Training Weekend 2 Recap
Saturday:
Saturday started off with a super interesting discussion on the ethical rules of yoga- the Yamas and Niyamas. We talked about each and how they apply to being a yoga teacher.
A couple of examples:
-Satya= speaking the truth. As a yoga teacher, we can practice Satya by ensuring we keep students safe by guiding them in a gentle way to not attempt something they may not yet be ready for. As an example, if someone clearly not ready for Wheel pose is struggling to get into the posture, we can offer them Bridge variation. We also talked about how it may be tempting to say something like, "Great job!" when a student listens to an adjustment you give them, but still isn't quite there yet, but it may be more truthful to say "Better!" This way, the student knows they still have some work to do on that pose and doesn't feel mislead by you saying "Great!" even if something isn't so great.
-Asteya= non-stealing. However, non-stealing means so much more than what you likely initially think of when you hear the word. As a yoga teacher, Asteya can mean starting and ending class on time to not "steal" time from others when they've taken the time to make it to class.
After our discussion of the ethical rules of yoga, we spent some time going over anatomy (by far, this is still the most challenging part for me to grasp).
Later on Saturday, we began our discussion around the Chakra system. We're reading the book, Wheels of Life, and each week we discuss a different Chakra, wear the color of the Chakra and do an activity associated with the Chakra (Can't blog about these activities because they usually take you far outside your comfort zone and are a surprise. I don't want to ruin it for future Dana Hot Yoga teacher trainees!)
For this weekend, we discussed Chakra 1- our root chakra, which is all about being grounded and staying present in the moment. Prior to class, we read a chapter on this Chakra and submitted a reflection paper. I've pasted a bit from my reflection paper below:
Staying grounded and being present in this moment is a major challenge for me. I'm the type of person who often says yes and takes on too much without considering my limitations. My brain runs a million miles a minute and while I'm completing one task, I'm already thinking ahead to the next three items on my to-do list. I am a meticulous planner, often looking toward the future without fully noticing or appreciating the present. I'm constantly asking myself the question, "what's next?" wondering where I'll be next week, in one year, in ten years, and so on.
I haven't pinpointed an exact reason WHY I operate in this way, but I do think a lot of it has to do with fear of the unknown and feeling a lack of control in what may happen in the future. The root chakra has a lot to do with safety, survival and trust. Trust is something that challenges me, but something I want to become more open to.
Sunday: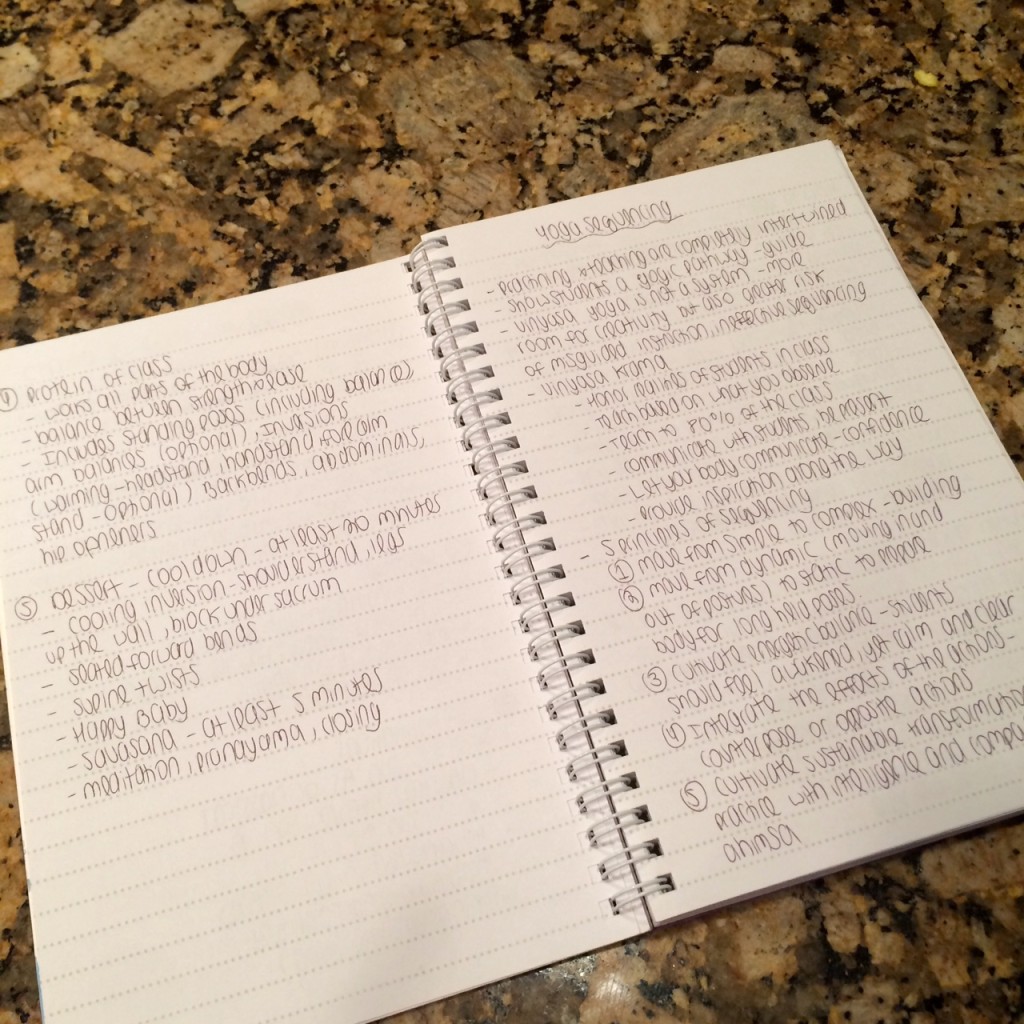 Sunday was my favorite day of teacher training thus far!
We spent the first half of Sunday diving into the "Yoga Recipe" or the proper way to create and format a yoga class. The recipe involves several different parts: Centering/Grounding, Warmup, Sun Salutations, the "Protein" of class and "Dessert" or the cooldown.
During this discussion, we talked in detail about each part of class, what it should include and the types of poses that might take place during this time. After we broke down the recipe, we spent time talking about yoga sequencing for various types of poses: backbends, arm balances, twists, forward bends and hip-openers.
In a short span of a few hours, I felt like I had been given SO much knowledge to move forward with becoming a teacher. This lesson was seriously eye-opening.
Sunday afternoon was a doozy! I figured we'd spend some time working in small groups practice teaching our Sun Salutations A & B to one another, as we had the previous weekend. I was WRONG.
Our teacher, Lisa, has us set up our mats as if we were taking class and let us know that we'd each be teaching the WHOLE CLASS, two Sun As and two Sun Bs. Immediately, I felt super nervous. Up until that point, I had only practiced my Sun Salutations to up to two people at a time. Now, I was going to be teaching them to a room full of 17 other people. SCARY.
My mat was positioned squarely in the center of the room, so I had quite a ways to go before it was my turn to teach. This was a good thing because I got to hear a lot of other people take their turn and it refreshed my memory, but it also made me even more nervous because I kind of wanted to get it out of the way, so I could relax a little.
Finally, my turn came and I took my place at the front of the room. After my initial nerves passed, I felt excited as I wandered throughout the room cueing Sun As and Sun Bs. It felt SO amazing to see a room full of people listening to my voice and doing the poses I was guiding them through. This gave me just a small glimpse of what it might feel like to teach a full class and it made me REALLY excited for the rest of teacher training.
After I taught, my fellow teacher trainees provided me feedback and I was really happy when they told me that I sounded confident and that my pacing was on point. A little confidence boost, for sure!
Sunday afternoon was INTENSE though because for those not familiar with Sun As and Sun Bs, they can be pretty physically grueling, especially when you flow through 75 of them total, with 18 different people teaching. The weekend ended and I was sweaty, sore, but satisfied!
Major Takeaways/Lessons Learned From Weekend 2
After learning the "Recipe" class makes SO much more sense to me now. I've been practicing for a year and a half, so over the months, I've definitely come to understand that there is a certain flow to class, but now that I have a sheet of paper breaking it all down, everything is much more clear. Having this recipe gives me the confidence to eventually create my own flows, knowing that I have this as a tool to guide me.
One of the reasons I almost didn't sign up for teacher training was because I felt like I wasn't "advanced" enough. There are SO many poses I can't do and I still definitely struggle during class. I felt serious impostor syndrome thinking I could become a yoga teacher when there are things I can't even do. However, this weekend, more than ever, confirmed that my thinking around the topic was completely silly. Just because you're an advanced yoga student doesn't mean you'll be an amazing yoga teacher and vice versa. Of course, I want to continue to improve my practice, but more than that, I want to be a GREAT yoga teacher and guide. I want to help students have their own personal breakthroughs and moments of clarity in class. I'm so happy I didn't let impostor syndrome hold me back from this journey.
Being thrown into the fire of teaching an entire room was definitely scary, but it also gave me a little boost of much-needed confidence! I think getting this fear out of the way early on in training was the perfect way to lay the groundwork for the even bigger challenges that are sure to come.
Doing 75 chaturangas for two and half hours straight = mentally, physically and emotionally exhausting. This was completely grueling, but also an amazing lesson in that sometimes life is uncomfortable, but we need to push through it. It was also a great way to bond with my fellow teacher trainees as we all discussed the experience in our Facebook group and chatted about it throughout the next week when we saw each other in class.
Practice makes permanent. I've been practice teaching as much as I can with people who have practiced yoga for awhile, as well as complete beginners. I've been keeping up with once or twice-weekly lunchtime yoga sessions at work with my colleagues, along with staying after class to teach some of my teachers. It feels good to get more comfortable and confident with the words as I continue practice teaching.
Number of Yoga Classes Taken Since Weekend 2:
As part of my teacher training certification, I need to complete 60 classes by the end of June.
I've taken 9 classes since the end of teacher training weekend 2, bringing me to 17 total classes since the beginning of teacher training. 41 classes to go!
Teacher Training Weekend 3 is this weekend! Can't wait to continue learning and exploring. Have any questions? Leave them below!
Want more gutsy content delivered straight to your inbox twice a month? Be sure to sign up for my FREE #GetGutsy e-newsletter filled with inspiration, ideas and action items to get out of your comfort zone. When you sign up, you'll also be sent a FREE copy of the Get Gutsy ebook, filled with 19 inspirational stories to help you get gutsy.