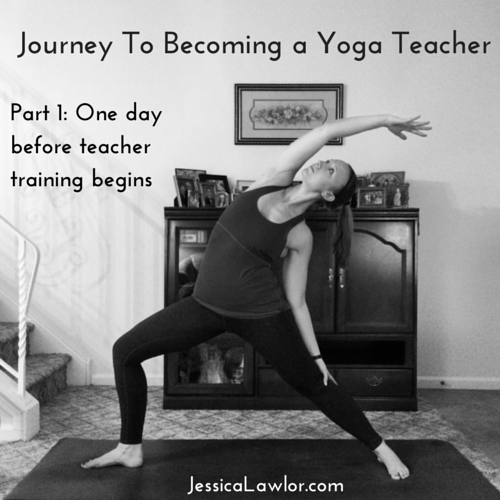 This weekend, I'm getting gutsy and starting a brand new adventure and journey. One that I know will push and change me and take me far beyond my comfort zone.
Tomorrow marks the beginning of my journey to becoming a yoga teacher. It's finally time for the first weekend of yoga teacher training!
I plan to document the journey here on the blog, mostly for myself, but also because many of you have expressed interest in learning about the process. Have any questions about yoga or teacher training? Leave them in the comments below and I'll be sure to answer them in an upcoming post!
My History With Yoga
Back in 2010, my job at the time offered free yoga classes after work. I was skeptical, but I decided to give it a try. Almost immediately, I hated it.
I took classes every other week or so for about a year, but didn't feel any real passion toward the practice. I also didn't really like myself and my body at the time, so I think that made it difficult to truly open up, become vulnerable and embrace yoga. I also had always thought yoga wasn't a "real workout" and wasn't able to open myself up to accept the messages and positivity you can receive through yoga.
From there, over the next few years, I fell in love with running, lost 30 lbs and made the decision to turn my life around with a more positive attitude and approach to healthy living.
In June of 2013, my friend asked me to join her to a free outdoor yoga class. I reluctantly purchased a cheapie mat, joined her and ended up loving the class. I found myself in a much better place to fully embrace yoga and its message. From there, I was hooked.
After that, I began taking inexpensive yoga classes at my local Whole Foods taught by teachers from a nearby studio, Dana Hot Yoga. I enjoyed those classes so much that I bought a Groupon to DHY and began practicing there in October 2013. Yoga quickly became a passion and obsession and I haven't stopped since and now practice 4-5 times per week.
I participated in a yoga Instagram challenge with DHY last May (and learned a ton of lessons in the process) and detailed more of my yoga journey and 100 lessons learned when I took my 100th hot yoga class.
Why Yoga Teacher Training?
I've been thinking about yoga teacher training (YTT) since the summer, finally decided to apply in November and have been dreaming about it ever since.
I almost didn't apply. I'll admit, I felt (and sometimes still feel) a serious case of impostor syndrome when I think about becoming a yoga teacher. I'm not the most advanced yogi- I can't do all kinds of crazy poses and I know my practice has a very, very long way to go. BUT, with all that said, the rational part of my brain knows that yoga teacher training isn't about those things. It's about sharing your love and passion for yoga with others.
Yoga teacher training seemed like a natural next step in combining several of my passions. Here on the Get Gutsy blog, I (hopefully) teach and inspire through my words and writing. I hope that I can bring some of the lessons/messages I've learned to my future yoga students and I hope I can bring lessons from teacher training and eventually teaching yoga here to the blog.
Through yoga teacher training, I hope to deepen my practice, become even more ingrained in the DHY community, learn more about the history and practice of yoga and eventually become confident enough to teach and help others find themselves and their passion through yoga.
Since I've found yoga, I've become fascinated with the practice and how it has changed and shaped so many people. I know in practicing for the past year and a half, I've been forever changed and I'd look forward to the opportunity to introduce others to the practice through teaching.
How I'm Feeling Right Now
Textbooks and highlighters! It feels good to be a student again!

I'm REALLY excited to be a student again. I LOVED school with a passion and getting my YTT syllabus and book list excited me more than it probably should have. We have several books on our
reading list for the duration of teacher training and each week we'll have various homework assignments and reflection papers. We even have a supplies list! I need to bring a journal and colored pencils with me to class.

I'm SUPER nervous. Any time you step out of your comfort zone, it's natural to feel a little fearful. I'm nervous that teacher training will open me up emotionally in ways I haven't discovered before. I'm scared to meet a whole new group of people who I'll be spending several weekends with from now until June.
I just submitted my first pre-homework assignment- a reflection paper about our first assignment called the Embodiment Project. We were given a list of several poses to take photos of ourselves in and asked to reflect on what surprised us about the photos. Submitting homework is scary! I haven't done this for almost five years!
I feel ready. I feel ready to take this next step and push myself out of my comfort zone in a way that's totally different than other things I do in my life. I'm looking forward to throwing myself wholeheartedly into yoga for the next few months, while allowing myself to take a break from the craziness and sometimes stressfulness of running an online business. It feels good to make a choice to make YTT my priority for the next several months.
I feel humbled. Already in completing the Embodiment Project, I know I have a long road ahead of me. Yoga is about progress, not perfection and I'm ready to accept criticism and feedback to constantly improve myself and my practice.
I can't wait to learn more about yoga and myself…and share my love and passion for yoga with others through teaching! Let the journey begin!
Wish me luck! As always, if you have any questions or thoughts, please drop them in the comments below! I can't wait to share this experience with you.
Want more gutsy content delivered straight to your inbox twice a month? Be sure to sign up for my FREE #GetGutsy e-newsletter filled with inspiration, ideas and action items to get out of your comfort zone. When you sign up, you'll also be sent a FREE copy of the Get Gutsy ebook, filled with 19 inspirational stories to help you get gutsy.