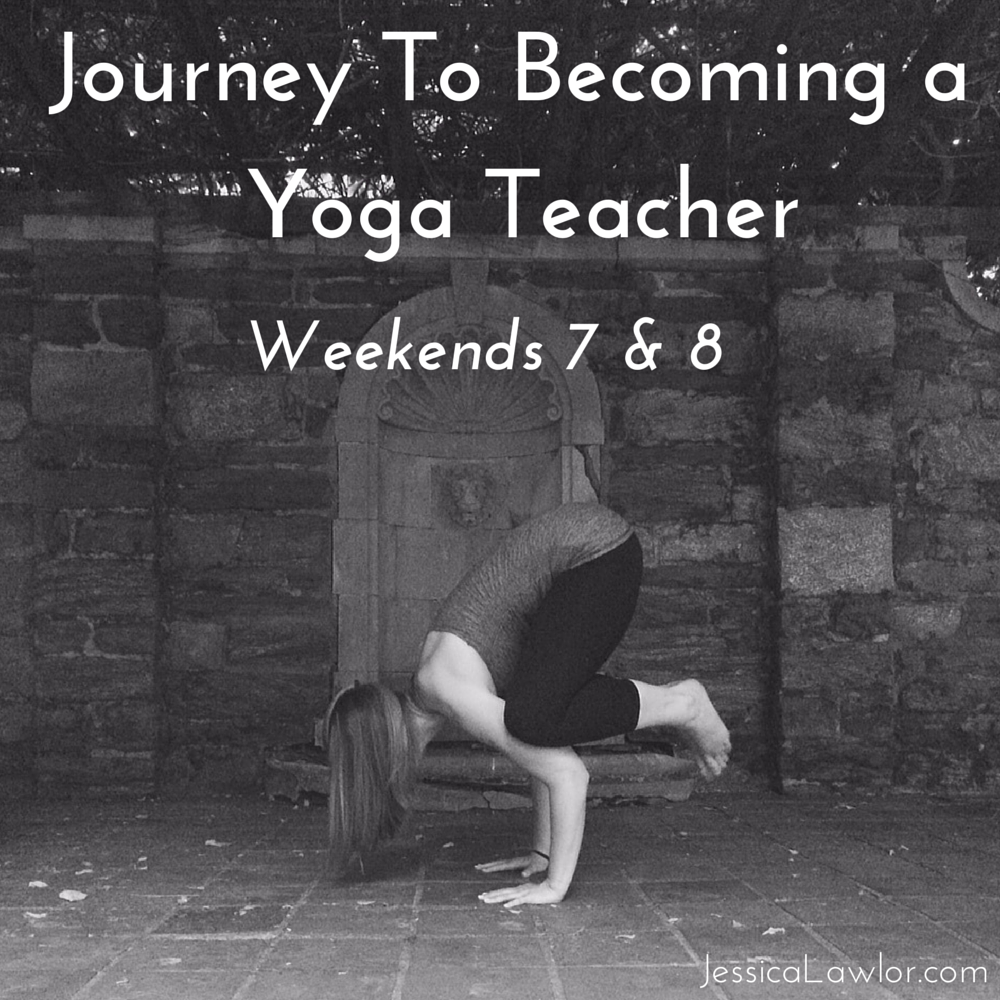 I'm fulfilling my goal and dream of becoming a yoga teacher. As promised, I plan to document my yoga teacher training journey here on the blog, mostly for myself, but also because many of you have expressed interest in learning about the process.
Have any questions about yoga or teacher training? Leave them in the comments below and I'll be sure to answer them in an upcoming post!
Before teacher training began // Weekend 1 // Weekend 2 // Weekend 3 // Weekend 4 //Weekend 5 // Weekend 6 // Teaching my first yoga class
Yoga Teacher Training Weekends 7 & 8 Recap
Weekend 7
Sunday:
Weekend 7 was a little different for me because I attended my cousin's wedding on Saturday and missed a full day of teacher training. I returned on Sunday and was able to attend the last half of the weekend.
On that Sunday, we spent some time discussing our silent nights as a group. I had already completed mine a few weeks prior due to the wedding, but it was fun to hear about the experiences of my fellow teacher trainees.
After that discussion, we began to learn about specialized teaching. Yes, you can take yoga in a studio or at a gym, but there are so many other things to consider when practicing or teaching yoga. For example, yoga can be taught in an alternative environment like a prison or a school. As a teacher, you may encounter students with various injuries or a student who may be pregnant. These are all situations I need to be familiar with to be able to assist all of my future students.
We broke into small groups and were each assigned a "specialized teaching" topic to read about and then teach to the rest of the class. My partner and I were assigned yoga and pregnancy. It was so interesting to learn that if you already regularly practice yoga (even hot yoga!) it's fine to stay in a regular all-levels class as long as you're feeling good throughout your pregnancy. Of course, there are physical modifications to make (like minimizing twisting and taking savasana on your side) but for the most part, yoga is widely accepted as a great form of exercise for pregnant women.
Some of the other topics covered included teaching in alternative settings (prisons, outdoor festivals, corporate settings, etc.), low back pain and scoliosis, shoulder injuries, teaching beginners, PTSD and yoga and depression.
To start the discussion, we watched this super inspiring short video of someone's life completely transformed by yoga…be warned, you may tear up!
We finished the weekend by heading to the park across the street from the studio, breaking into small groups and practicing teaching one another 15 minutes of our flows. This was great practice, as my first public class was exactly one week away!
Weekend 8
Saturday:
Saturday started with a discussion about what it was like teaching our first public yoga classes. It was really interesting to hear about everyone else's experiences, as we all had such different feelings. I detailed my thoughts about my first class in this post, but overall, it was an amazing experience. I was so incredibly nervous, but it was so rewarding and I can't wait to do it again!
After that, we started talking about the Bhagavad Gita. This was actually a text I was required to read in college and I remember not understanding it and not really liking it, so I wasn't looking forward to this experience. However, the version of the book that we read provided detailed explanation of the book and now years later, with a better understanding of life, I was able to really appreciate the text. One of our assignments was to write a compare and contrast paper between The Gita and The Yoga Sutras. I haven't written a paper like this since college, so it was definitely challenging. Overall, The Gita has so many amazing messages about life and contains themes including non-attachment, fulfilling your duty in life, karma and finding your true self.
Next, we had a discussion on the business of yoga. Our teachers answered questions about how you get paid as a teacher, how you start to go out into the world and find people to teach yoga to and other business-related items. I learned that I will need to officially register with the Yoga Alliance if I want to become a Registered Yoga Teacher (RYT) rather than a Certified Yoga Teacher (CYT) which is what I graduate as. I will also need to get insurance. We also talked about teaching private yoga classes and how to charge for them. This was a really interesting discussion, especially since I love all things marketing and business. I'm excited to get out there and start introducing yoga to the world!
After a couple hours of these discussions, it was time for some yogi playtime! We spent a few hours practicing arm balances and inversions and learning how to teach some of these more challenging poses. We spent time on crow, side crow, headstand, handstand and forearm stand. I was definitely tired afterward!
We finished the day with a discussion of chakra six, the third eye chakra, responsible for vision. Each week, I normally include an excerpt from my chakra paper, but in this case, I was so inspired by the topic, I actually wrote an entire blog post based on it, so you can feel free to check that out here.
Sunday:
On Sunday, we spent some time learning about Ayurveda, which is the sister science of yoga. Ayurvedic practices include a variety of things you can do throughout the day to truly be your best and most healthy self. There are daily and seasonal routines associated with Ayurveda.
We talked about the "Doshas." There are three Doshas- Vata, Pitta and Kapha. We took a little quiz to figure out which one we most closely identified with and pretty much everyone in my class with the exception of a couple of people were Pitta.
After our Ayurveda discussion, it was time for some Yoga Jeopardy! To complete my teacher training, I will need to pass a 100 question test this weekend. The test will include topics like: asanas (poses), Sanskrit vocabulary, yoga history, chakras, anatomy, Ayurveda, the Yoga Sutras, The Gita and more. The test is multiple choice, fill-in-the-blanks and matching. It covers everything we've learned throughout teacher training.
Yoga Jeopardy went over some of the most important items that will be on the test. All that's left to do is study, study, study! I'm in the process of creating flashcards, so hopefully I'll be well prepared. Wish me luck!
Major Takeaways/Lessons Learned From Weekends 7 & 8
I haven't included this in my teacher training recaps, but before I taught my first public class, I had the opportunity to assist two classes. Assisting classes included teaching the sun salutations, walking around the room physically adjusting students and observing and then bringing the class out of Savasana and closing class with an Om. I was SO nervous to assist, but as soon as I started teaching the sun salutations, I began to relax. That was when I realized that I think I really love teaching. Obviously, teaching my full class confirmed that, but assisting was a great way to ease into it. After assisting, my teacher Lisa provided me with feedback.
Fun fact: when we learned about inversions, I learned that in headstand, only about 20% of your body weight is in your head. Many people are fearful of headstands because of the pressure on their head, so this was a great stat to learn that I can incorporate into my teaching.
The Business of Yoga discussion was fascinating to me. There's so much to learn! I know that yoga is something I want to be a part of my life for a long time, so I'm looking forward to learning even more as I dive in and begin to substitute classes and seek out teaching opportunities. Teaching privates was something I hadn't really thought about, but after our discussion, I felt excited about the possibility.
Number of Yoga Classes Taken Since Weekends 7 & 8
As part of my teacher training certification, I need to complete 60 classes by the end of June.
In the past few weeks, I finally reached 60 classes, officially taking 64 regular classes (including some of my fellow teacher trainee's first classes) + three special workshops for a total of 67, as of today. I have three more classes I'm taking before Sunday when I graduate, so in total, I'll have taken 70 yoga classes between March 7 and the end of June.
Yoga was already a regular part of my week (prior to teacher training, I went around three times a week) but teacher training really kicked it up a notch, motivating me to take even more classes to continue deepening my own practice and learning from other teachers.
My FINAL Teacher Training Weekend is this weekend! I'm so sad for this teacher training journey to end, but I know that this is really only the beginning. Have any questions? Leave them below!
Want more gutsy content delivered straight to your inbox twice a month? Be sure to sign up for my FREE #GetGutsy e-newsletter filled with inspiration, ideas and action items to get out of your comfort zone. When you sign up, you'll also be sent a FREE copy of the Get Gutsy ebook, filled with 19 inspirational stories to help you get gutsy.