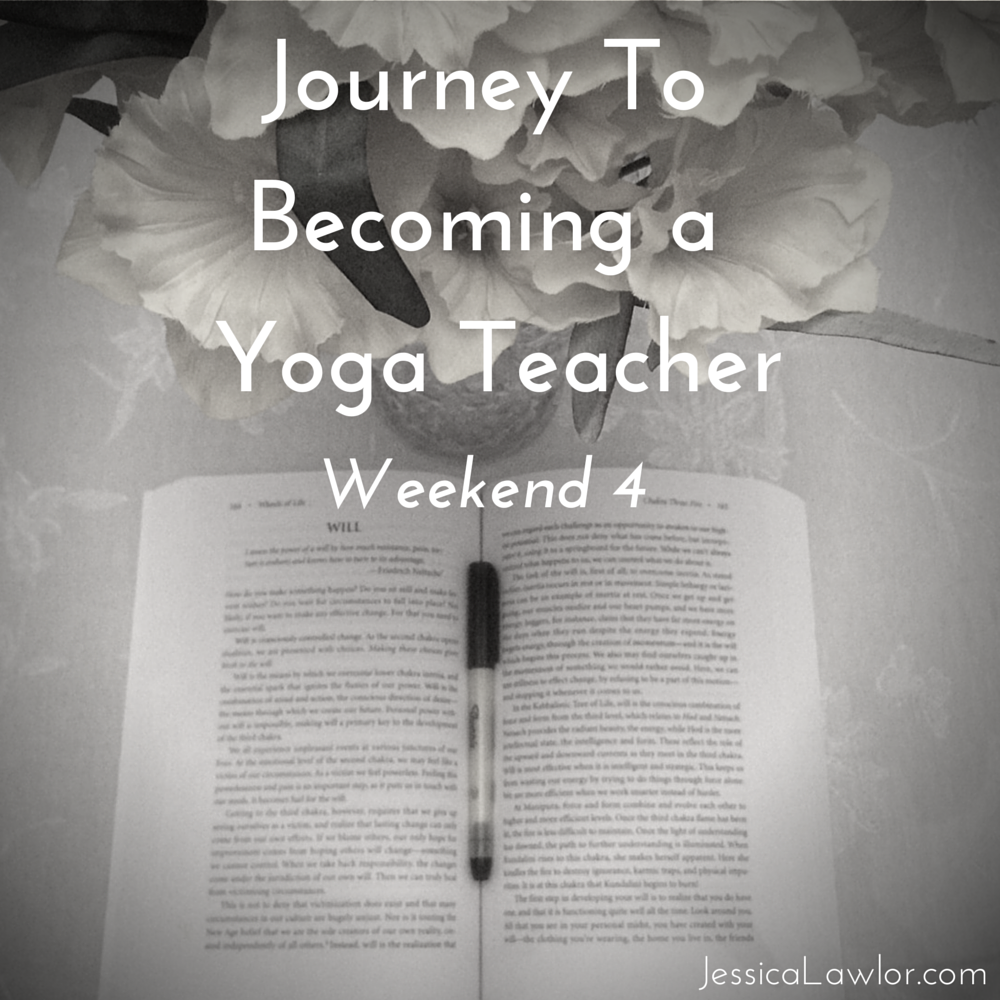 I'm fulfilling my goal and dream of becoming a yoga teacher. As promised, I plan to document my yoga teacher training journey here on the blog, mostly for myself, but also because many of you have expressed interest in learning about the process.
Have any questions about yoga or teacher training? Leave them in the comments below and I'll be sure to answer them in an upcoming post!
Interested in past yoga teacher training posts?
Before teacher training began // Weekend 1 // Weekend 2 // Weekend 3
Yoga Teacher Training Weekend 4 Recap
Saturday:
Saturday kicked off with a discussion of the alternate style yoga class we attended for the previous week's homework. Because I'm learning to teach a vinyasa style yoga class, we were asked to attend something completely different. I chose to take a yin yoga class. Some of my overall thoughts about the class were how completely opposite yin is from the type of yoga I normally practice. Yin yoga is all about doing less and slowing things done. We used a lot of props (bolsters, blocks, blankets, etc.) and held each pose for several (think 10-12 minutes) each. Again, totally different than the fast-paced vinyasa yoga I am used to. It was a great experience. It was so fun to hear about the experiences of my fellow teacher trainees- most students chose to attend a yin or Kundalini style class.
Next, we began our discussion around Book 1 of the Yoga Sutras of Patanjali, one of the most important texts in yoga philosophy. It kind of feels like the "yoga bible" if you will. It's filled with 196 sutras (directly translated to mean "threads") or teachings on yoga- and when I say yoga, I don't mean the physical practice. I mean yoga's entire philosophy and lifestyle.
To get the discussion started, we were each handed a post-it note and asked to write down our favorite sutra. From there, we placed the post-its on the wall and each picked one from the wall that wasn't ours. We then had to introduce it to the class and explain its importance. The Sutra I picked from the wall was this:
Yoga Sutra 1.33: By cultivating attitudes of friendliness toward the happy, compassion for the unhappy, delight in the virtuous and disregard toward the wicked, the mind-stuff retains its undisturbed calmness.
Kind of heavy stuff to read, but the book gives great descriptions, stories and examples.
After a lengthy discussion on several of the important Sutras from Book 1, we got back into small groups to develop another mini-flow. As I mentioned in last weekend's recap, the first time we got together to develop these flows, it was super challenging. This time, it started to feel a little easier and a bit more natural. We spent time in our small groups writing our flows and then actually walked over to a local park (it was a GORGEOUS day) to actually teach our flows to another group. I believe we'll be doing mini-flows again this coming weekend and I'm looking forward to doing it for a third time because each week we gain more knowledge of how to actually put together a coherent flow that feels good and makes sense.
Saturday ended with a little yoga anatomy, focused on the soaz muscle.
Sunday:
On Sunday, we started the day by discussing the third chakra, the fire chakra, all about power. We're reading the book, Wheels of Life, and each week we discuss a different Chakra, wear the color of the Chakra and do an activity associated with the Chakra.
I discovered this quote in the third chakra section and I loved it so much, I want to share here:
"Will is the realization that we can regard each challenge as an opportunity to awaken to our highest potential…While we can't always control what happens to us, we can control what we do about it."
I felt such a strong connection to this specific chakra's reading. Here's a blurb from my reflection paper that I submitted to my teacher Lisa:
One of the reasons this chakra speaks so much to me is because it is all about transformation and taking action. In my own life and through my blog about getting gutsy, I write often about how we need to step outside our comfort zones— we need to take action. We can't be afraid to try new things. I love the quote from the book that says, "We need confidence to venture into the unknown." So true! The tagline of my blog is very similar: "Life begins at the end of your comfort zone." I started the blog because I felt myself getting stagnant, bored and in my own personal state of inertia a couple of years ago. I was 30 lbs heavier, unclear about my direction, confused and just generally unhappy with myself. I knew that to turn things around, I had to make some serious life changes. Once I got out of my own way, I found the will, motivation and power to make those changes. Part of that eventually led a much happier me to yoga.
After our chakra discussion, we settled in to learn about the Bandhas, which  means to bond or to lock. We discussed three in particular: Mula Bandha, Uddyana Bandha and Jalandhara Bandha. One thing that really struck me here was that when you engage the Bandhas (specifically Mula Bandha) you are able to become more light in your physical yoga practice- so cool! I've been practicing that ever since and can see a major difference, especially when jumping back from my chaturanga.
Finally, to close out the day, we spent some time breaking down more poses and learning how to cue and assist them. These are the poses we spent time breaking down: chair, standing figure 4, pigeon, warrior 2, triangle, half moon, crow, staff and hanumanasana (full split).
Two BIG things happened during Weekend 4:
1. We selected the date for our first classes! As part of my training, I will be teaching a class that is open to the public. My class is on June 7! It's official and has a date. Yay!
2. We were assigned homework to write our complete 75-minute flow for our first class. Our flows were due at the beginning of this week. I spent so much time writing my flow- I can't wait to get feedback from my teachers! I'll talk more about my flow in next time's recap.
Major Takeaways/Lessons Learned From Weekend 4
This is a journey. It's a lot of information and knowledge to take in and absorb, but I'm trying not to get too overwhelmed. I'm trying to take things one step at a time, just like I do for any goal I set for myself. One thing I'm trying really hard not to do is get too far ahead of myself. I even try not to look too far ahead at our syllabus, because I'd rather stay focused on this moment.
Writing a complete class flow is HARD. I've taken more than 200 yoga classes at this point. You'd think with that experience, I would be able to sit down and write a full class, just by absorbing so much information through practicing. Nope! There is a serious difference between practicing and teaching. Sitting down to write my flow was an intense process and I know it's only the first draft and will change many times between now and June 7 and that's okay.
I am already LOVING teaching and I haven't even officially started yet. As I mentioned before, I've been scheduling lunchtime yoga for my colleagues and the most exciting part is that they LOVE it and look forward to it. When one of them can't make it to "class" they tell me how sad they are and how much they needed yoga that week. One of my coworkers texted me the night after our lunchtime class and said she was showing her husband the poses I taught that day and was proud of herself for making progress in one of the more difficult poses. This was SO cool to get that text and see the difference yoga is already making to the people I'm teaching. I can't wait to bring this message and amazing practice to even more people.
Number of Yoga Classes Taken Since Weekend 4:
As part of my teacher training certification, I need to complete 60 classes by the end of June.
I've taken 9 classes since the end of teacher training weekend 4, bringing me to 34 total classes since the beginning of teacher training. 26 classes to go!
Teacher Training Weekend 5 is this weekend! Can't wait to continue learning and exploring. Have any questions? Leave them below!
Want more gutsy content delivered straight to your inbox twice a month? Be sure to sign up for my FREE #GetGutsy e-newsletter filled with inspiration, ideas and action items to get out of your comfort zone. When you sign up, you'll also be sent a FREE copy of the Get Gutsy ebook, filled with 19 inspirational stories to help you get gutsy.