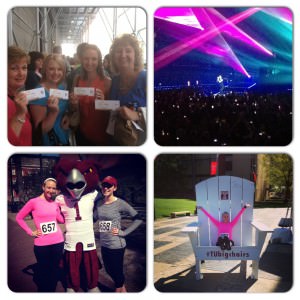 Spring is off to a great start! April was an awesome month filled with lots of fun activities and from the looks of it, May is shaping up to be even more exciting!
Each month, I share three things I accomplished in the previous month and preview three things I'm excited about or hoping to accomplish in the month ahead. It's fun to look back and forward, and as an added bonus, these monthly check-ins keep me accountable to reach my goals.
I hope you'll join in and share your three things in the comments section! I've also been thrilled to see that other bloggers enjoy my monthly check-ins and have adopted the format for their own blogs- this is AWESOME! If you write a similar monthly check-in/look ahead post, please feel free to utilize this format (I'd appreciate a brief shout-out) and be sure to leave a link in the comments below so we can all support you in your goals for the coming month!
In April, I…
1. Saw Maroon 5 perform live in Philadelphia. Seeing Maroon 5 was the perfect way to kick off my summer of concerts (Train, Gavin DeGraw and John Mayer coming up next). Neon Trees and Owl City opened for Maroon 5 and I really enjoyed both of them, as well. Obviously, the highlight of the night was Maroon 5…they are FANTASTIC live; Adam Levine has so much energy and they put on a great show with a solid mix of old favorites and newer tracks. I can't wait to see them again!
2. Ran a 5K at my alma mater, Temple University. In an epic weekend of running madness, I completed a 9 mile training run on Saturday and then ran my fastest-ever 5K on Sunday. Best of all? The race was at one of my favorite places on earth, Temple University, as part of Alumni Weekend. It was so fun for me to run throughout campus- it was especially meaningful because as much as I loved Temple, I had a very unhealthy lifestyle in college, so it was great to come back as a new person to do something I never could have done three years ago. And, the fact that I PR'd my 5K time was the icing on the cake! While I was there, I also finally got my photo with the #TUBigChairs (see above). SO awesome.
3. Sent out my first e-newsletter! As I promised last month, after surpassing 100 email subscribers, I finally sent out my first e-newsletter. If you haven't signed up for the newsletter yet, you can read the web version of the first one here. I was completely blown away by the amazing response to the first e-newsletter- I received so many positive emails and many of you opted to share your big, scary goals with me. Let's just say that AMAZING and inspiring things are happening in this little community of ours. Be sure to subscribe, so you don't miss future emails filled with ideas, inspiration and action items to reach your goals.
In May, I will…
1. Complete the Broad Street Run. This weekend, I will complete my second Broad Street Run. This race is my absolute favorite. Not only is it a great course through the entire city of Philadelphia, it's also a huge social event- I know dozens of people racing this weekend and although 40,000 runners is quite a lot, last year, I somehow managed to spot most of my friends either before or after the race. I'm looking forward to attempting to beat my time from last year- stay tuned! If you're racing this weekend, be sure to check out my post with 10 tips for Broad Street Run newbies.
2. Travel to Memphis, Tennessee for the PRSA Travel and Tourism Conference. I'm really excited for the opportunity to travel to Memphis this month for a tourism PR conference for work. Attending conferences is always so inspirational and I come home with lots of new ideas and a renewed passion for the communications industry. As an added bonus, one of my best friends who lives two hours away also happens to be attending this same conference for her job, so I'm pumped to be able to spend some time with her! I'm looking forward to checking out Tennessee, as I've never been before. Any must-see's while I'm there or amazing restaurants I need to check out?
3. Continue freelancing and developing my e-newsletter strategy. Since returning to blogging in October, I've been working hard and have been lucky enough to freelance for many well-known websites and blogs. As I continue to build my portfolio, more exciting writing opportunities have come my way, so I'd like to spend time this month brainstorming and writing posts for these freelance assignments, while still keeping the content here on JessicaLawlor.com strong. Also, now that I've kicked off my e-newsletter initiative, I'd like to come up with a solid strategy and content calendar to continue to grow this exciting new venture.
April Posts You May Have Missed
Land That Job: Top 6 Tips for Internship and Job Seekers
A Coward's Guide to Kickstarting Your Courage- Guest Post by Karen Vitale
5 Easy Ways to Overcome the Fear of Public Speaking
Q&A: Authorpreneur Dana Sitar's Secrets for Publishing and Promoting an Ebook
I Am A Runner (And You Likely Are Too)
Broad Street Run (Take 2!) 10 Tips for Runners
What did you accomplish in April and what are you looking forward to accomplishing in May? Share your three things in the comments below!
I sent out my first Get Gutsy e-newsletter this week. If you haven't subscribed yet, you can check out the first one here and decide if it's for you. If you'd like to receive a free email two times a month filled with inspiration, ideas and action items to get out of your comfort zone, subscribe here.