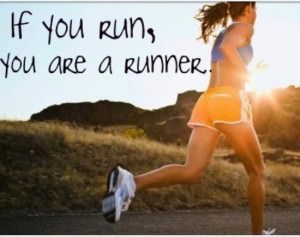 I started running two years ago, but only in recent months have I taken to calling myself "a runner."
You see, even though I ran 4-5 times a week, completed my first 5K and went on to run more than 20 races over the past two years, one of which was a half marathon, I still had trouble defining myself as a true runner.
I'd call myself a "newbie runner." In fact, that's what my Twitter bio still says. When friends asked questions about my running progress, I'd say, "Oh, I'm really slow." I thought that real runners were more experienced, speedy and confident than I'd ever be.
But now I know differently.
I am a runner.
And you likely are too.
A runner isn't someone who finishes a race first. A runner isn't someone who has fancy running clothes and an expensive GPS watch, although those things are nice. You don't have to run the entire time to consider yourself a runner; walk breaks are great! You don't even have to participate in races to be a runner.
You simply need to have the motivation and drive to get outside and put one foot in front of the other, no matter how slowly you go.
But being a runner is more than just a physical activity; it's a way of life…a true community.
When I started running on a nearby trail a couple of years ago, I was amazed at how every runner who passed by smiled, nodded or said hello to me. More than just amazed, I was a little taken aback. Who were these friendly people, full of endorphins and happy to encourage someone they had never even seen before? I quickly learned: they are runners.
Go to any race, whether it's a marathon in a big city or a community 5K in a small neighborhood. There will undoubtedly be people on the sidelines and at the finish line, cheering on their loved ones and perfect strangers, alike. Those are the spectators. They, too, are an important part of the running community.
The terrible events in Boston last week have shown the world the true meaning of being a runner.
You've likely heard the heroic stories; after the bombings, marathoners continued running past the finish line straight to the hospital to donate blood. Others ran toward the explosion site to help the injured. Runners in cities all over the country organized group runs (more than 2,000 participated in Philadelphia) in support of Boston. Thousands of runners are frantically searching for red socks to wear on May 5 at the Broad Street Run.
While I'm extremely saddened by what happened in Boston and incredibly angry that someone would attack the community I've fallen in love with over the past few years, I'm still hopeful.
And more than ever, I know now.
I am a runner.
When did you begin to define yourself as a runner? Share your story in the comments below.