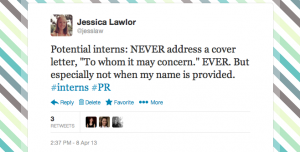 There's no doubt about it; applying for internships and jobs can be challenging. Career advice ranges from person to person and industry to industry. Ask 10 people the same career-related question and get 10 very different answers. It's enough to drive any job seeker crazy.
One of my favorite parts of my full-time job working in communications at a tourism office is managing our internship program. After completing multiple internships in college, I understand the value of those experiences and strive to be a mentor to my interns and provide them with the opportunity to get the most they can out of their time with our organization.
It's mid-April and it's peak application season for those seeking summer internships. Every day, I receive multiple resumes and cover letters, some excellent, but most very, very poorly written.
Let's get this out of the way first…I'm not a career expert and I don't claim to be. With nearly six years experience applying for internships and jobs and a year and a half managing an internship program, these are the things I wish candidates knew when applying for a job.
Here are six simple tips for job seekers applying for their next opportunity.
1. Fully read and understand the job description. Read the job description once…and then read it again and again. Before you apply for a position, make sure that it meets all of your requirements and that you meet all of the company's requirements. Recently, I've scheduled intern interviews with a few candidates only to have them cancel because they didn't realize it was a non-paid internship (which is clearly stated on the description). Not carefully reading a job description wastes the employer's time, but your time, as well.
2. Address a cover letter properly. Every time I receive a cover letter that says, "To whom it may concern," I actually cringe. Who is teaching internship and job seekers that this is good advice? My full name is on the job description, and even if it wasn't, my name is included in my email address. If a name is NOT included, I recommend job seekers do two things: the first is figure out the proper hiring manager's name through either LinkedIn, website research or simply calling the company and asking the best name to address a cover letter to. If all else fails, I recommend addressing the cover letter to the department i.e. Communications Department at XYZ Company. And when you do have the hiring manager's name? Use Mr. or Ms. and the person's last name (i.e. Ms. Lawlor). Simple and professional. Here are a few more tips on writing the all-important cover letter.
3. Save your resume and cover letter's file name correctly. When you send a resume and cover letter to a potential employer, save the documents with a file name that is both professional and descriptive. I've received countless resumes with the file name "Resume." Think about the employer and make it easy for them to find YOUR resume and YOUR cover letter. When I go through resumes and cover letters at work, I save them into a prospective intern file on our server so all members of the team can review. Make our lives easier and save your resume and cover letter with your name and what the document is (example: Jessica Lawlor_Resume) so that when I save your files, I can easily access them. Oh, and PLEASE turn your resume and cover letter into a PDF.
4. Have multiple eyes review your resume. Resumes are tough. It's a skill that's glossed over in most college curriculums even though it's of the utmost importance. Do not rely on the Internet alone to help you format and create content for your resume. Be sure to have multiple eyes review the document before sending it off to a potential employer. I'd recommend taking it to a college career center, asking a professor to look over it and even sharing it with your peers for their feedback. Here's another idea: put a call out on Twitter– most professionals are happy to help. When I was job searching, many of my Twitter followers graciously offered their advice on my resume. Most people are more than happy to help if you ask in the right way- I know I would be. 
5. Remove these things from your resume. I've seen some weird things on resumes lately. One candidate shared their marathon time…perhaps this might be a fit if he was applying for a company dealing with physical fitness (although even that's a stretch) but for a communications internship in a tourism office? I don't think so. Similarly, Microsoft Word, Excel and PowerPoint should not be listed in the skills section of your resume; it's understood now that you bring knowledge of those programs to the table. Lesser known softwares like Microsoft Publisher or InDesign? Yes. Absolutely. Another thing I don't like to see on resumes are the courses you've taken in school- if you really have no other experiences to share, include those, but for the most part, if you're studying public relations, I know that it's required for you to take courses like PR Writing, PR Campaigns, etc. These don't set you apart from other candidates.
6. Follow up after an interview. If I could only give job seekers ONE piece of advice, it would be this: follow up after an interview. Plain and simple. There are a lot of questions around when to send a follow up and how to send a follow up, but the important thing to know here is just to do it. My rule of thumb is: send an emailed thank you note within 24 hours of the interview and mail a hard copy thank you note the day after your interview, so that it arrives a few days later as a reminder of what a stellar candidate you are. Here's a great post from the HR Bartender with specific tips for what to say in your post-interview follow up. Believe me when I say, there are companies out there that absolutely will not consider hiring a candidate if they do not follow up after an interview. When you leave an interview, you may think it's the employer's job to take the next step, but know that the ball is very much in your court.
Like this post? Click here to tweet it.
Do you have additional tips for job seekers? Share them in the comments below!
PS- Looking for more awesome tips for finding your dream job or internship? I'd recommend my two favorite career-related blogs. The first is Brazen Careerist, a blog written by multiple young professionals from all different industries (full disclosure: I write for Brazen from time to time). The second is Ask A Manager, written by Alison Green, who answers questions from job seekers throughout the week and provides insanely useful, actionable advice.