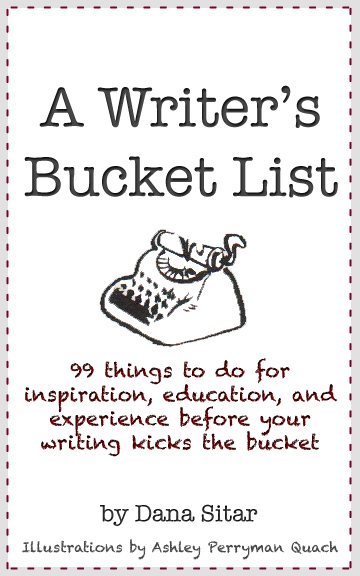 Today I'm thrilled to welcome "authorpreneur" Dana Sitar to the blog for a Q&A about all things ebook publishing and promotion.
When Dana launched her ebook, A Writer's Bucker List, a few months ago, I was super impressed with the strategic way she promoted the book. From guest posts to a blog hop to a "launch team" on Facebook, she covered all angles and made a huge splash online to spread the word about the book.
On a personal note, I LOVED A Writer's Bucket List. It's easy to read, full of wisdom, fun illustrations, inspiration and more. I highly recommend it to writers of all experience levels.
This week, Dana announced the launch of the book for Kindle and to celebrate, I asked her to share some of her lessons learned and tips for those looking to publish their own ebooks. She shares some serious gems in the Q&A below….read on!
1. You launched your newest ebook, A Writer's Bucket List, in February. Give us your 140-character Twitter pitch for the book.
Wanna be a writer, but you're not sure where to start? A Writer's Bucket List is 99 tasks from the writer's life to get you going! Free at writersbucketlist.com 🙂
2. I was super impressed when I read your post about publishing and launching the book for less than $150. What are your top three tips for keeping costs down when publishing an ebook?
Learn as much as you can about all aspects of publishing, and be willing to wear multiple hats. You have to know how to be a designer, marketer, manager, event organizer, and more. If you only want to write, you'll have to pay people to fill all these other roles, or appeal to a traditional publisher to do it for you.
Get free stuff! Information, tutorials, software, and training can come free or very cheap. Many self-publishers go into the process expecting to pay thousands of dollars, so they just shell it out. Start with the assumption that you won't spend money, and you'll find affordable options. A few places to start: Free ebooks from bloggers (you have to grab Pat Flynn's eBooks the Smart Way) and free webinars (my favorites are from Alexis Grant and Firepole Marketing). You can even rent Photoshop and other Adobe software to use when you need it!
Know who you know. Leverage your existing network to fill in holes for skills you don't have. I crowdsourced editing and beta feedback from DIY Writers, and I took advantage of my boyfriend's design and video-editing skills to help with promo materials. Don't be afraid to ask for favors, as long as you're willing and able to repay them.
3. Let's talk about promotion. One of your major strategies for spreading the word about the book was writing guests posts and Q&As for relevant websites and blogs. Why is guest posting so important when launching a book or product?
This was by far the most important and most effective piece of my Launch Week promotion. I knew going into publishing this book that I needed to tap into other people's audiences to make it successful, because mine is just not big enough (yet!)
Guest posting on targeted, influential blogs is key to any platform-building. It gets you in front of new readers who see you as an expert. It helps you network with influencers in your niche by offering something of quality for their readers. And it forces you to hone in on exactly what value you or your product offers readers, because you have to figure out how to portray that value to various audiences who don't already know and trust you.
4. Tell us about your social media strategy before, during and after the launch. 
For the month of January, I focused on growing my blog readership and engagement, and my newsletter list. I started using Twitter more strategically to get attention and engage with people by asking questions, sharing retweetable content, and @replying to posts by readers and the bloggers I wanted to notice me.
During Launch Week, I had a Twitter bonanza 🙂 I emailed every supportive person in my network with info and tweetables. Tweets don't sell books well, but they're good for other things:
They allowed me to identify and personally thank supporters, which I couldn't do if they shared the book through Facebook or email.
Tons of @mentions streaming in throughout the day fueled me with the positive attention I needed to keep active during an exhausting launch week.
Tweeting is an easy way for someone to support you. Even if they don't spend much effort, once someone has supported you or your product, they feel more invested, more interested in seeing what you do next, and more likely to stick around for more from you.
After the launch, I went into community-management mode, and I'm still there (probably always will be). I'm still focused on growing, but now there's also a layer of maintaining and nurturing the relationships I built with readers and influencers before and during launch week. (I'm using the Facebook group and Twitter lists heavily for that, and I'm working on a whole post about that strategy.)
5. You formed a "launch team" when you were preparing to launch the book. How cool! Can you share a bit about the strategy behind that and how it worked?
My launch team was inspired by and the strategy largely lifted from Jeff Goins' recent launch for his book Wrecked, which, I believe, was inspired by Michael Hyatt's explosive launch of Platform. I had no idea what to expect when I decided to try it, and I was blown away by the response from readers and everything I learned from my launch team.
The basics of what I offered launch team members and what I asked of everyone are in the articles linked above. The basic concept is that you pull a tribe together around the book, brainstorm promo ideas, and garner reviews and word-of-mouth for when the book launches.
6. What is one thing you wish you knew before the launch that you know now about publishing and promoting an ebook?
A little bit of laser-targeted promotion is much more important than a lot of noise all over the place. Both sort of serve their own purpose, but targeted promotion is what will sell books. I'm taking this approach this week with the Kindle promotion, rather than expending a lot of energy on a gigantic launch. For the first launch week, I could have likely written about half the guest posts and just sent a round of emails and sold the same number of books I did with a dozen guest posts, social media promotion, a blog tour, etc.
7. I LOVE your e-newsletter. Tell us a bit more about that, what subscribers can expect from it and how it helped you launch your book.
Thank you! (And I'm excited to see yours). The newsletter is for kind of "insider" updates from DIY Writing. You'll get weekly updates on blog posts (but not full posts rewritten in the email), plus an additional tip or two on the week's topic, and be the first to see special offers and opportunities, like joining the launch team or editing the book. Plus, everyone who subscribes now gets a free copy of A Writer's Bucket List!
I hired editors and farmed beta readers entirely from my email list. Most people who joined the launch team and the blog hop came from there, too. I used my access to readers through the email list to build buzz for the book leading up to and during launch week by sharing regular updates and revealing info about the book (like the cover) early to them.
8. You have a ton of useful and free resources available for download on your website (publicity checklist, goal setting worksheet, contacts spreadsheet). Why give away all this for free?
Good question! The altruistic reasoning is that I just enjoy producing these guides and want to share the information with my readers — and that's true. I have a small budget for books myself, and I'm happy to share something of value with readers who aren't able to spend a lot of money on a fledgling career or hobby.
The PR reasoning — just as true — is that when you're generous with your audience, they'll be generous back, and they'll be loyal to your work. Win them over with something of high quality and value, and they'll want to stick around to see what's next. That means you'll build an audience willing to buy books in the future, join an e-course, attend webinars, hire you for coaching, etc. I'd rather not nickel-and-dime my readers for small ebooks when I can instead gain their trust and form a connection that means I'll be the first person they turn to when they decide they want to spend money on their writing career.
Thanks so much for sharing your wisdom on ebook publishing and promotion, Dana!