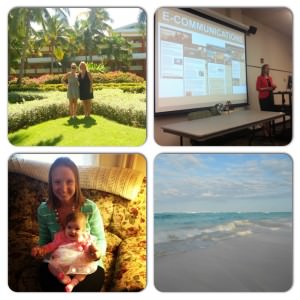 Between my 25th birthday and vacation in Punta Cana, March proved infinitely better a month than February. In fact, it was a pretty incredible month and a fabulous way to start my 25th year!
Each month, I share three things I accomplished in the previous month and preview three things I'm excited about or hoping to accomplish in the month ahead. It's fun to look back and forward, and as an added bonus, these monthly check-ins keep me accountable to reach my goals.
I hope you'll join in and share your three things in the comments section! I've also been thrilled to see that other bloggers like Stephany from Stephany Writes enjoy my monthly wrap-ups and have adopted the format for their own blogs- this is AWESOME! If you write a similar monthly check-in/look ahead post, please feel free to utilize this format (I'd appreciate a brief shout-out) and be sure to leave a link in the comments below so we can all check out your recap and support you in your goals for the coming month!
In March, I…
1. Celebrated my 25th birthday! I'll be completely honest, turning 25 freaked me out just a little bit; I'm not sure if it's because I'm now a quarter century old, or that so many people lament the infamous quarter-life crisis, or just the fact that I've officially exited my "early twenties," but the number definitely gives me a much-needed reality check. I guess I'm officially a grown-up now. However, spending my birthday on a beautiful beach in Punta Cana was the perfect way to escape reality and disconnect. Having an entire resort of people sing happy birthday in Spanish to you also helps!
2. Traveled to a new destination- the Dominican Republic. My mom was kind enough to take me on a long weekend to Punta Cana to celebrate my 25th birthday. Five days in paradise was the perfect amount of time to unplug, bond with my mom, catch up on reading and soak up the tropical sun. While I was there, I had the opportunity to try something I've never done before- barefoot running! I ditched my sneaks for my first-ever run in the sand, right along the water's edge. It was definitely more challenging than running on the road, but the view made it completely worthwhile.
3. Honed my public speaking skills by teaching two classes and presenting to an organization at Temple University. My love for my alma mater is abundantly clear, so when I was invited to speak to three different groups on campus, I jumped at the opportunity. When I was in college, I really appreciated classes and organizations that brought in professionals who actually worked in the field I was interested in, so I'm always honored when I'm asked to share my experiences with students. For the most part, for each of my presentations, I spoke about my career, social media, tourism PR and personal branding, but tailored each presentation to better fit the group I was speaking to at the moment. From a small, but engaged class of 13 people to a larger class of 60 to an organization full of public relations majors, I thoroughly enjoyed each presentation and can't wait to seek out more opportunities to get of my comfort zone through public speaking.
In April, I will…
1. See one of my favorite bands perform live. Little known fact: I am obsessed with Maroon 5. I saw them perform for the first time in 2005 when I was a junior in high school at the Liacouras Center before they hit it really big and have loved them ever since. I've seen them live a few more times since then, and can't wait to attend their show in Philadelphia this month. I've deemed this spring/summer my "epic summer of concerts" because I'm going to have the opportunity to see ALL of my favorite bands perform: Maroon 5, Gavin DeGraw, Train and John Mayer. There's nothing better than live music!
2. Attend a taping of the Rachael Ray Show. Interesting story. Three years ago, my mom was watching the Rachael Ray Show and learned about how you could apply online for tickets to a taping. She asked me to sign us up, so I did. A few weeks ago, I received an email that we had finally been selected and were asked to attend a taping in April. Literally, when I got the email, I thought it was spam because I didn't even remember applying, since I filled out the online form so long ago. In any case, we're thrilled and can't wait to head to New York City for the taping! I'm crossing my fingers that an awesome celebrity happens to be interviewed on the show the day we go.
3. Finally kick off my e-newsletter initiative. I've talked about it here on the blog before, but haven't yet tackled the goal of sending out my first e-newsletter. The reason? I'm really nervous! But that's what getting gutsy is all about, right? Taking chances. I know that developing an e-newsletter list and continuing to nurture the community I'm building will only help me in the long run. I vowed to myself that when I hit 100 subscribers, I'd send out my first email. I surpassed that number (woo!) about a week ago, so if you've already subscribed to my list (thank you!) you'll be receiving your first email full of exclusive content very soon. And if you're not yet subscribed, it's not too late! Subscribe here!
March Posts You May Have Missed
Social Media Marketing Done Right: How FatCow Won My Heart (And Business) For Life
Three Lessons Learned From Five Days Unplugged
Google Reader Alternative: How To Use Feedly To Keep Up With Blogs
Niche Blogging vs. General Blogging: Why a Multi-Passionate Approach Can Help Grow Your Blog
What did you accomplish in March and what are you looking forward to accomplishing in April? Share your three things in the comments below!