For years, I've been back and forth on my stance about new year's resolutions or goals.
Last year in 2017, I decided there were no rules — I purposely chose not to set any type of goal or intention for the year. That was important for me, coming out of perhaps the most change-filled, tumultuous year of my life. It felt freeing.
In 2016, 2015, 2014 and 2013, instead of setting goals, I selected three words to guide my year. That was helpful, although to be honest, by March, I had all but forgotten the three words I chose.
And this year, I'm back to setting goals. I didn't set out to come up with goals or resolutions this year. Actually, I hadn't even given it very much thought. But last week, I sat down at my computer the Saturday before New Year's Eve to do some work, and inspiration struck.
I clicked open a blank document and began jotting down goals. They came to me easily, and after I finished, I felt good. I felt a sense of direction and purpose for 2018.
These goals naturally fell into three categories — my blog, business and personal life. My nine goals for 2018 feel challenging, yet attainable. Some of the goals are extensions of activities and actions I've already taken — others are brand new and require some serious stepping out of my comfort zone.
All I know is I felt a sense of excitement when I set these goals. And I'm ready to take on 2018.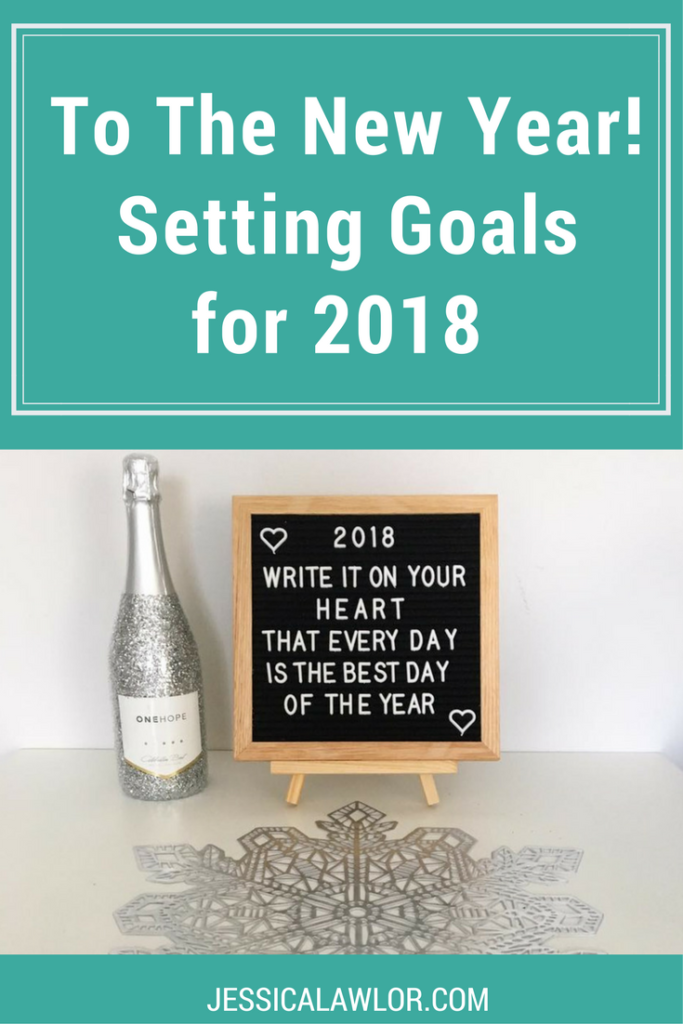 Blog:
Blog consistently. In 2017, I published 32 posts (as compared to 97 in 2016). While a lot of that had to do with discontinuing weekly/monthly features and focusing my efforts on meatier, more useful posts, I simply didn't write as much as I'd have liked. This year, I want to at the very least be more consistent with when I blog. At minimum, I plan to blog three times a month, but in an ideal 2018, I'm aiming for 4-5 posts a month. To help me get started, I'm finally implementing an editorial calendar (I'm using WordPress's Calendar plugin), instead of waiting for inspiration to hit me each week because we all know that doesn't always happen on cue. [Have you taken my blog survey yet?! If not, I'd love your feedback!]
Partner with more travel destinations and brands. In 2017, I forayed into travel blogging, and even developed partnerships with various destinations and properties to visit and write about my experiences. I want to do much more of this in 2018, and I have four specific destinations on my wish list who have already expressed interest in working together. Now it's time to set some dates and get traveling!
Get my affiliate marketing in order. I've always been curious about affiliate marketing, and making it work for monetizing my blog in an authentic way, but I wasn't really sure how to go about it. Last year, I dove deep into affiliate marketing with one of my clients, and it inspired me and gave me lots of fresh ideas about incorporating it seamlessly into my already existing content.
Business:
Earn six figures. JL&Co did really well in 2017, growing 20 percent from the year prior, and I have even loftier goals for 2018. My financial goal is to earn $100,000 from my business. It's a big goal, but I know it's achievable, especially if I focus and prioritize new business development this year.
Redesign my website. Gah, this is the mother of all business/blog-related goals, but it needs to happen. This website design hasn't been touched since it launched five years ago (See sidebar photo for proof! So old!) — and since then, this site has morphed from just a blog to being a blog AND my business. That's not reflected now, and I'm excited to make some changes, though I am overwhelmed by the enormity of this project. Know of any fabulous designers? Send 'em my way!
Get bylines. Freelance writing is something I'm super passionate about, but since starting my business, I've focused more on client work/content marketing and less on pitching my own stories to publications. This year, I want to get more of my work published by other websites and publications. This means pitching (and facing rejection) and writing a whole lot more!
Personal:
Read at least 12 books. If you've been around these parts for awhile, you know that this very website used to be a book review blog! Yup. You wouldn't know it from my current reading status though — I probably read four or five books in 2017, all while on vacation. This year, I want to read at least 12 books, and make it a part of my day-to-day, not just my vacation life. Gimme all your book recommendations, please!
Continue my health and fitness journey. No big weight loss or milestone goal when it comes to fitness this year. Since November, I've recommitted to my health and fitness in a major way, and I simply want to continue that momentum into the year. Work out at least five days a week, cleaner eating, drinking less wine — all that not so-fun-stuff that keeps us healthy.
Reconnect with old friends + make new friends. It's no secret — making (and keeping) friends as an adult can be challenging. In the past two years, I've gone through a lot of changes when it comes to friendships, and to be honest, it has been pretty difficult. In 2018, I'd love to reconnect with some friends from my past, and also make an effort to meet new people and make new friends. Want to get together for a friend date?! Let me know!
Here's to the new year! Let's make 2018 amazing.
"Write it on your heart that every day is the best day in the year." -Ralph Waldo Emerson
Tell me! Do you set goals for the new year? If so, drop them in the comments below. I'd love to hear your 2018 plans!
Want more gutsy content delivered straight to your inbox twice a month? Be sure to sign up for my FREE #GetGutsy e-newsletter filled with inspiration, ideas and action items to get out of your comfort zone.