And so it seems that every time you step out of your comfort zone, that comfort zone stretches just a litttttttle more, making each next step a bit scarier.
But, as I've always said, the best things in life start happening when you push yourself just beyond that point of discomfort.
Better known here, of course, as getting gutsy.
Once again, I'm taking a dose of my own medicine and stepping out of my own comfort zone. A comfort zone I thought I was completely done with — one I've tackled in the past, but one I've since learned, I'll tackle time and time again throughout my life.
I'm stepping outside my health and fitness comfort zone (again).
I'm reprioritizing my personal health and fitness in ways I've never pushed myself to do before.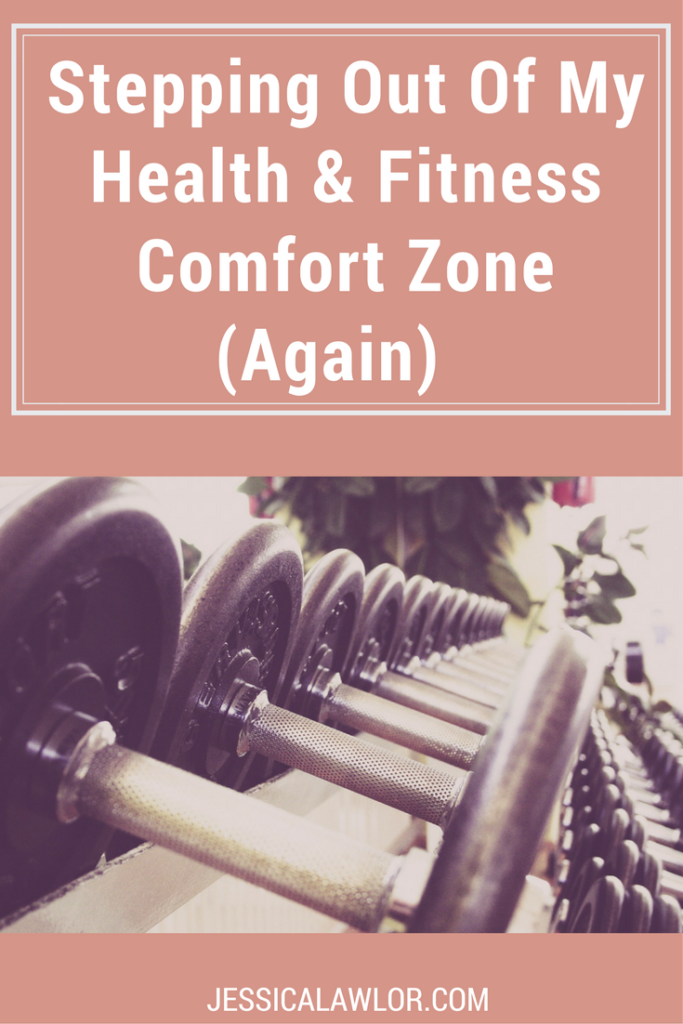 Flashback to 2011
Let's travel back in time to visit 23-year-old Jessica because six years ago is where this story begins.
In October of 2011, I proudly wrote a blog post sharing the story of how I lost 30 pounds, after finding myself the heaviest I've ever been post-college.
After seeing that figure staring back at me on the scale, I made some big changes in my life, which I detail in the tell-all post.
Losing the weight was a catalyst for me — I emerged with a new sense of confidence and a new sense of purpose.
Telling this very personal story inspired me to share even more of my vulnerabilities online. It's what led me to rebrand my website to what you see today — The Get Gutsy Blog.
It was a transformative time, and one I look back on with pride.
A bumpy road
Here's one important fact I didn't realize when I wrote that post six years ago: Losing the weight actually was the easy part (though it didn't feel that way at the time).
Maintaining the weight loss has been the massively challenging part of the process.
And over the past six years, no doubt, my weight has fluctuated. Dealing with the (natural) ups and downs became a bit of struggle, but things never felt too out of control.
My fitness routine changed — I went from loving running and Zumba (even ran a half marathon back in the day!) to a more yoga-based workout regimen.
My eating habits changed — I went from a very, very strict diet and portioning out all of my food to becoming a little bit more lax and then eventually, a lot more lax.
I wasn't always thrilled with the way my body looked, but I felt strong. I had made peace with my body. Or so I thought…
Which leads me to now…
Fast forward to today.
My life looks nothing like it did six years ago.
Let's review: I no longer have a full-time job. Instead, I work for myself from home. I'm no longer single. I've been dating my boyfriend Tim for more than a year. I no longer live with my family. I live in a two-bedroom apartment with Tim.
Oh, and notably, I no longer run, and I practice yoga far less than I did before. I still work out, but since starting my business, it has become less of a priority.
So yeah, things have changed just a bit, to say the least. And with those big life changes, my schedule, habits and body has changed too.
I've found myself in a bit of a health and fitness rut.
Relationship weight gain? That's a real thing. Yeah, I'd much rather sit on the couch watching Netflix and drinking wine with my babe than hitting up a 7:30 p.m. hot yoga class on a weeknight.
Getting comfortable in my new place and with exploring cooking new foods? Awesome, but also sometimes a detractor from eating super healthy, since I haven't always been mindful of what I'm cooking.
Dealing with the stress of running a business? Sure, that bag of chips seems like a mighty nice way to ease my anxieties right now.
And so it wasn't one big thing, but a thousand small habits and choices that led me to where I am today.
Jeans from last winter just a tad more snug than they were when I last wore them. A general feeling of bloat the morning after a few glasses of wine or an unhealthy meal. Staring at myself in the mirror during a barre class wondering when that extra bit of stomach pudge appeared.
I realized: I'm not happy with my body at this very moment.
But…unlike six years ago, this time I know what to do. I know what works. I have a plan of action.
Making changes
Over the summer, I joined a brand new fitness club in my area, Life Time. What a game-changer.
With a massive weekly roster of fitness classes, a healthy cafe, a spa, indoor/outdoor pools and more, I spend a lot of time here.
So when I saw that Life Time was offering a 60-day challenge right around the same time I came to the realization I needed to create some change in my life, I jumped right in.
The Life Time 60-Day Challenge kicked off last week, and runs through the beginning of January (perfect for keeping on track during the holidays!). The challenge includes a meeting with a trainer to set goals, weekly weigh-ins, daily emails with recipes, workouts, resources and motivation, and so much more.
I'm blown away by this program — seriously. Just a week or so in, and I've already learned so many new nuggets of information…and I've already made some big changes.
I also love this 60-day challenge because each week I have to weigh in and then send my results to my trainer. No excuses. It holds me accountable.
Taking action
The only way to create actual change is to take action! So here's exactly what I'm doing to get my body and mind back where I want it to be.
Fitness:
I already felt pretty good about my workout schedule (prior to the challenge, I was at the gym 4-5 times per week), but the challenge has definitely encouraged me to step up my game.
I'm working out 5-6 days, per week — a mixture of cardio, core and strength work.
I joined a small group training at the gym called Team Alpha (more on that below!)
I also frequent other classes throughout the week, including barre, yoga, circuit-style classes and a barbell strength class. I'm also planning to give spin another try, though it wasn't my favorite when I tried it back in the summer.
Food:
Food is my biggest area of struggle. I LOVE to snack (purple bag of Doritos, anyone?!) and I tend to not pay super close attention to portion size.
I'm changing up my snacking. No more Doritos (well, maybe once in awhile, I know that cutting something out of my diet completely only makes me want it more). Instead, I've been buying and chopping up bell peppers to eat with hummus. I've been pinning lots of healthy snack ideas and recipes to my recipe Pinterest board.
Breakfast? I normally eat a piece of toast with jelly. When I told my trainer this, she gave me a look and told me I could probably make some better breakfast choices. So! I'm giving smoothies a try as an attempt to get some veggies in first thing in the morning. Please give me all your smoothie recipes!
I'm paying close attention to portion size. When I snack on pretzels or veggie sticks, I put them in a bowl, rather than munching out of the bag. When Tim and I eat dinner together, I figure out my appropriate portion (which now I know, is quite different than what my 6'4 boyfriend needs to eat) and immediately put my leftovers in the fridge for a healthy next-day lunch.
Lifestyle:
I'm already a big water drinker, but I'm trying to up my water intake even more.
When I'm out and about at a restaurant or a bar, I'm trying to make healthier drink choices like choosing a glass of wine over something heavier and more calorie-laden like a cider.
I love me some wine (ugh! so much!), but I'm trying to cut back, keeping wine to nights out or special meals, rather than a casual glass with dinner.
I'm aiming to get more sleep — we've been trying to go to bed earlier.
Here's the thing though. I'm also being gentle with myself. I'm allowing myself some indulgences, especially over the holidays.
The big mistake I made the last time I lost weight was being way too strict — strict to the point that I was no fun, and where the choices I made weren't sustainable in the long run.
Getting uncomfortable
To be frank, all of the above is pretty uncomfortable for me.
After all, who wouldn't rather be munching on chips and hanging out on the couch over hitting the gym six times a week? Sorry, but I'd much prefer the couch.
However, there's one part of this process in particular that's pushing me so far out of my comfort zone, I can't even see where I left that comfort zone behind.
I mentioned it above, but it's my Team Alpha small group training. I made a commitment to train with this group three times per week for at least three months — big commitment!
The training is intense. I'd compare it to a Crossfit-style workout, incorporating lots of weight training, strength and cardio.
We practice in a different area of the gym with all kinds of equipment I've never seen before. Our instructor writes out workout on a whiteboard, and often times, I have no idea what most of the words even mean.
No joke, I am the weakest, most uncoordinated, slowest person in the class.
But hey, sometimes it's fun to be bad at something, right?
Well, yes, I do enjoy trying new things, and I don't mind being bad at them, but it can also be uncomfortable and embarrassing to be the odd one out in a group who seems to know what they're doing.
That's how I feel in Alpha.
The instructors often tell the workout to the group (some of whom have been part of it since the gym opened in the spring, and other relative newbies like me) and then usually need to come over to help me modify or figure out what I'm doing.
Just a few sessions in, I've already learned to be humble, and accept where I am right now in this journey. I know that with time and practice, I will improve. I'll need less guidance. I'll get stronger.
But for now, as I often preach here, I'm attempting to embrace this uncomfortable place, exactly as it is.
A lifelong journey
I guess I had this naive notion when I first lost weight back in 2011 that I'd get thin once and magically stay thin forever.
(Wouldn't that be nice?)
But, like most things in life, health and fitness is a constant journey. Something I'll have to work at throughout the different phases of my life.
So for awhile, I let that focus on my health go, but right now, I'm making it a priority.
Let's see how the next 60 days go
Tell me a bit about your health and fitness journey! I'd love to hear if you've experienced some of the same struggles as me. Oh! And if you have a favorite healthy snack or smoothie recipe, I'd love to see them in the comments!
*Photo via Pixabay
Want more gutsy content delivered straight to your inbox twice a month? Be sure to sign up for my FREE #GetGutsy e-newsletter filled with inspiration, ideas and action items to get out of your comfort zone.