It's hard to believe that another year is about to come to a close. 2017 flew by in the blink of an eye!
Each year, I always love taking the time to review how my blog performed throughout the year. (It's seriously one of my favorite blog tasks each year!) I dig into my analytics, send out a reader survey to hear directly from you and compile my top posts from the year to see what type of content resonated the most with the community.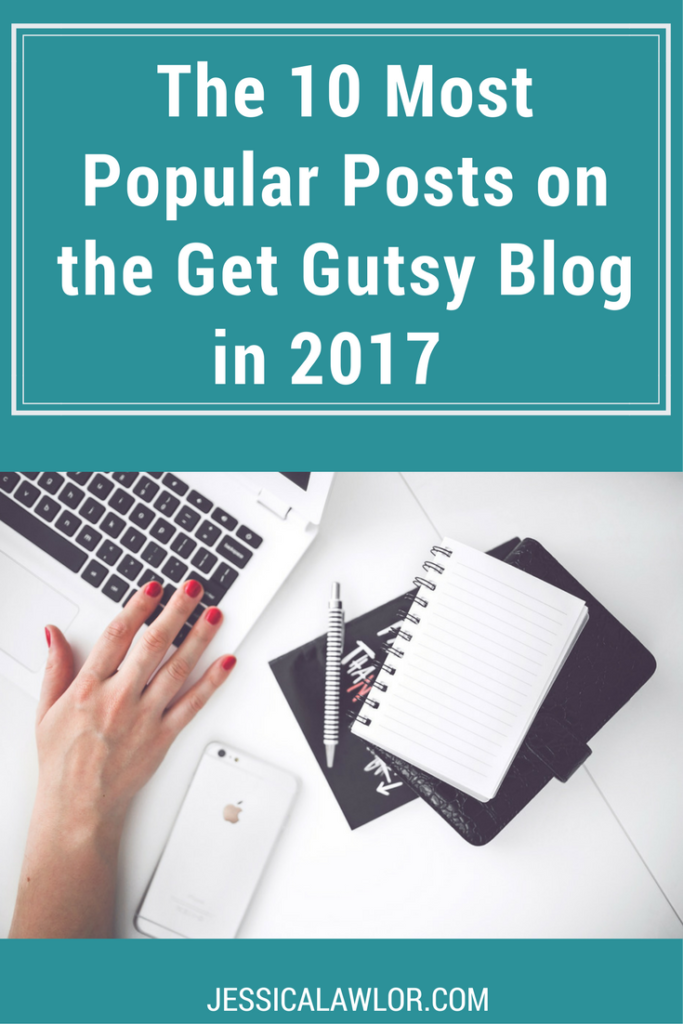 Help shape the future of the Get Gutsy blog — time for a reader survey!
To make the blog, newsletter and community even stronger, I've put together a short survey that will help shape the future of the Get Gutsy brand.
I'd really appreciate it if you'd take a couple of minutes to share your thoughts and feedback. Complete honesty is encouraged!
The survey will close on January 10, 2018. Thank you in advance for your feedback!
The 10 most popular posts on the blog in 2017
I wrote 32 posts in 2017, by far the least amount of posts I've written in my nine years of blogging. However, this year, I focused much more on making every single post as useful as possible. Most posts exceeded 1,000 words and with each post I published, I aimed to provide serious value and takeaways for those reading.
1. This Is Why Your Guest Post Pitch Was Rejected
2. What I'm Listening To: 50+ Podcasts To Download Now
3. How I Landed My First Freelance Client + The Exact Strategy I Use To Find New Business
4. It's Not Always Sexy: 7 Things That Really Suck About Running a Business
5. To The "Haters": You Never See The Full Picture, So Please Stop Judging
6. Here's Exactly How Much it Costs to Run an Online Business: A Peek Inside My 2016 Business Expenses
8. From Side Hustle to CEO: Celebrating One Year in Business
9. Big Blog Changes Are Coming (Or, Why It's OK To Do Whatever the Hell You Want On Your Blog)
10. They Actually Work: 10 Real Strategies I'm Using to Grow My Instagram
More important than just sharing these posts, I use this list as a way to check in with you to see what types of posts resonate and which topics you clearly enjoy reading about.
Here are three important lessons I picked up from reviewing my most popular posts
You still love posts about how I'm running and growing my business. When I started JL&Co, I knew I didn't want this blog to become a straight business blog, but I did knew I'd likely spend a lot of time talking about this subject because it's a major part of my life. I'm so glad these topics resonate with you! Depending on how you sort them, 6ish of the top 10 posts related in some way to running a business.
You're totally open to me making changes to the blog. In the summer, I had a major breakthrough: I rekindled my love affair with blogging when I decided to stop censoring myself topic-wise and got back to my blogging roots. When that post went live, I heard from so many of you who encouraged me to blog about everything: travel, business, social media, fitness, life stuff. Your words helped me so much, and because of that I really focused the second half of the year on growing my blog's topics — and many of those posts landed in the top 10, so thank you!
Vulnerability and honesty still draws people in. I've always prided myself on being vulnerable and open here on the blog, and that became even more of a priority as my business took off. A few of my very vulnerable posts ("To the haters" and "It's not always sexy") made the list, and that makes me really happy. You seem to like when I tell all, and I'll absolutely continue that in 2018.
Thanks for another amazing year here on the blog! I would love to check out your most popular or favorite posts from 2017! Feel free to drop a link or two in the comments below.
*Photo via Pixabay
Want more gutsy content delivered straight to your inbox twice a month? Be sure to sign up for my FREE #GetGutsy e-newsletter filled with inspiration, ideas and action items to get out of your comfort zone.