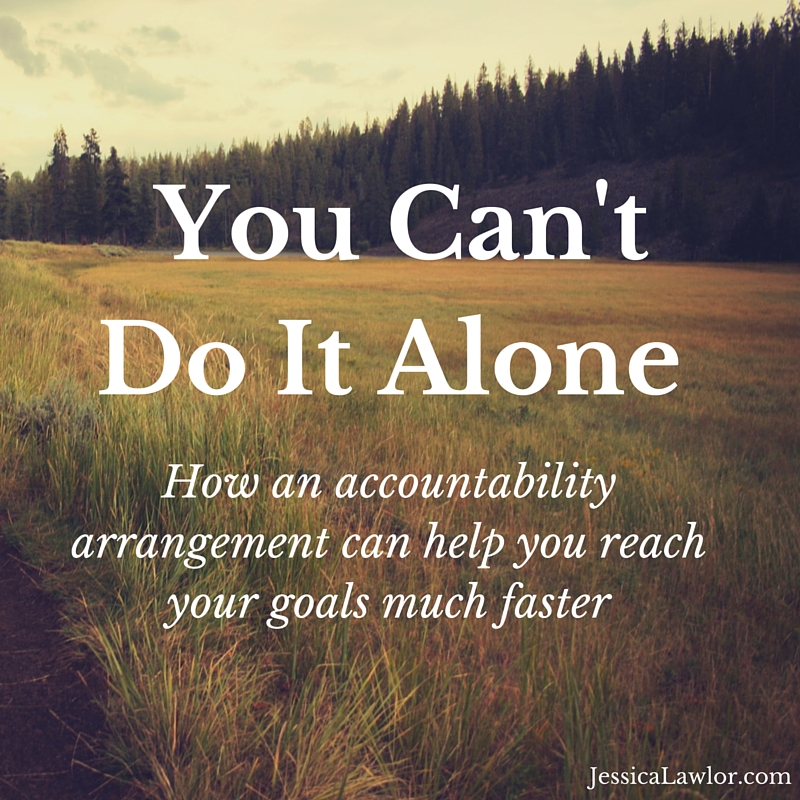 The truth is, most goals can't be accomplished alone.
While setting a goal can be an internal and deeply-rooted process, when it comes to actually working toward and achieving a big goal? You need a cheer squad. People to support you, push you, challenge you and encourage you along the way.
That's where an accountability arrangement comes in.
Whether it's a one-on-one accountability relationship or a group mastermind, having other people to lean on can help you reach your goals much faster.
Here's why an accountability arrangement works:
When you know you have someone you need to check in with on your goal however often, you're more likely to hold up your end of the bargain by doing what you say you're going to do. We're human and we don't like to let other people down.
You extend your team. When you have an accountability buddy, you now have someone to ask questions to and bounce ideas off of. An accountability partner is an excellent sounding board for questions, concerns and ideas.
You'll have someone to celebrate with! Accountability partners are great for motivation, but most importantly celebration when you achieve something new or get closer to or accomplish your goal.
I've experienced two types of accountability systems you can employ to help get a little closer to your goals with the support from those around you.
1. Accountability buddies. A traditional accountability arrangement is often a one-on-one relationship where you establish a set time each week (or whatever frequency you decide) to check in with one another on your progress. My accountability buddy, Sara Frandina, and I meet once a week on the phone every Monday morning. We chat for 20-30 minutes about what we accomplished the previous week, our top priorities for the week ahead, any roadblocks we've encountered along the way and anything exciting we want to recognize or celebrate. Our Monday morning calls are the perfect way to start the week and really get me to focus on the one or two projects I need to prioritize and work on that week because I know I'll have to report back to Sara the following week. We also email, text or gchat in betwen sessions with additional questions or updates.
Pros:
Develop a close-knit one-on-one relationship with someone who truly supports you in your goals.
Easy to set a consistent time each week that works for both parties.
Perfect sounding board for future ideas and projects.
Cons:
I truly can't think of any real cons! The one con I can think of may be that if you become close with your accountability buddy (which is likely to happen!), you may start to feel uncomfortable calling them out or giving them some tough love from time to time when they don't do what they say they are going to do. Sometimes people need a push and it may not always feel comfortable to do that in a one-on-one setting.
2. Mastermind group. A mastermind group generally includes more than one person, but works in a similar fashion to a traditional one-on-one accountability arrangement. Masterminds can include anywhere from three people to seven or eight people. The mastermind group I was part of for awhile included six people. We met every other week via Google Hangouts and would each take turns sharing one success since the last time we met and then picked a topic or major question we had that we wanted everyone's opinion and feedback on. This was a fantastic way to crowdsource ideas and advice, get validation for a future project or simply have a cheer squad of five or six awesome people excited for you to reach your goal.
Pros:
Many opinions and different perspectives to hear and learn from can help you think about your goals and ideas from a broader perspective.
You may feel even more motivated to do what you say you're going to do, since you have a large group to report back to.
Cons:
Many opinions to hear and learn from can also lead to confusion and lack of direction.
Our biggest challenge in the group I was part of was finding a time that worked for everyone. Between different timezones and work schedules, it was a challenge to get everyone together consistently.
Whatever arrangement you choose, know that having someone to lean on in this fashion can truly help you get to your goal faster.
What do you think? Could an accountability relationship help you reach your goal?
Want more gutsy content delivered straight to your inbox twice a month? Be sure to sign up for my FREE #GetGutsy e-newsletter filled with inspiration, ideas and action items to get out of your comfort zone. When you sign up, you'll also be sent a FREE copy of the Get Gutsy ebook, filled with 19 inspirational stories to help you get gutsy.